Interstyle Launches Earthenglass, an Earth-Friendly Innovation
In 2008, when the the world was reeling from the Great Recession, Kim Hauner was inventing. Hauner, president of tile manufacturer Interstyle, was searching for a way to reimagine a product that hadn't seen much change in over 2,000 years. What he came up with is a tile that embodies the values of the 21st century.
After years of research and development, Interstyle has finally readied Hauner's idea for market. Earthenglass, Interstyle's latest introduction, is the world's first tile to use a blend of 100% recycled glass and regionally sourced clay. The glass comes from the waste the brand creates when manufacturing its other tile lines, and the clay is a blend of waste and imported material from Kentucky. Earthenglass is crafted and textured by hand, and comes in a range of colored glazes that are also derived from waste materials.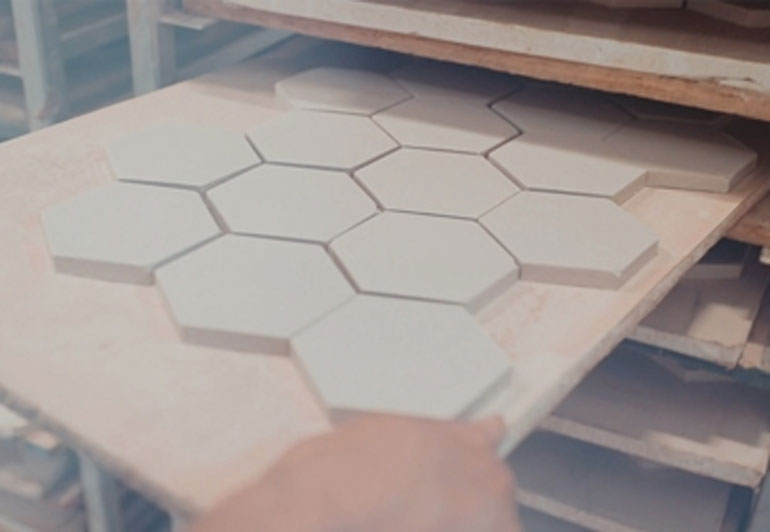 "Earthenglass came out of a need to recycle and innovate at a very trying time in the economy," Hauner says. "After 40 years of making glass and clay tiles separately, we figured out that fusing those materials together created an outstanding and eco-friendly product."
The manufacturing process dramatically cuts down on waste, as well. When making porcelain, a kiln needs to be around 1,200 degrees Celsius. When adding glass to the clay mixture, the required temperature drops to 1,000 degrees Celsius. "That 200-degree difference is the most expensive part of the operation," Hauner says. "By incorporating the recycled glass, we reduce energy input requirements by 25%."
There are three texture patterns available for Earthenglass, one of which, Hauner recounts, came about in an artistic fit of rage. "As we were experimenting with how to make the product look good, one of our employees got so fed up with the tile that he threw it against a wall," Hauner recounts. "The pattern that imprinted itself into the mixture was actually quite beautiful. We made a mold of that piece of wall and still use it today."
You can't get more hands-on than that.