Intuit by Clive Wilkinson Architects and WRNS Studio: 2017 Best of Year Winner for Large Creative/Tech Office
An integrated team for a well integrated program. Interior Design Hall of Fame member Clive Wilkinson took on the interiors, naturally, for this Silicon Valley headquarters, while WRNS founding partner Bryan Shiles oversaw site planning and the building's architecture. Objectives for the finished product: to attract and retain talent and to foster community spirit at an increasingly global operation, providing financial and tax software for small businesses.
The ground-up structure, four stories totaling 185,400 square feet, reads low and horizontal, a condition enhancing flexibility and "certainly encouraging connectivity," Shiles says. The atrium and the deployment of the surrounding neighborhoods are key, too, as Wilkinson explains: "Each landing and bleacher stair along the atrium connects directly to a large 'living room' with pantry functions and generous collaborative work space." Another factor promoting corporate camaraderie is the mechanical and elevator cores' perimeter location. That means more room not only for team configurations but also for break-out areas, lounges, and conference rooms. To that, add bike facilities, showers for the bikers, and terraces. A green roof, planted with native and adapted species to help manage rainwater runoff, literally tops it all off.
Project Team: Clive Wilkinson Architects: Brad Carpenter; Sasha Shumyatsky; Sam Farhang; Ben Howell; Meghan Kelly; Amlia Wong; Caroline Morris. WRNS Studio: Sam Nunes; Brian Milman; Pauline Souza; Raul Garduño; Moses Vaughan; Rodney Leach; Annelise Devore; Jason Halaby; David Gutzler; Li Kup; Kevin Muni; John McGill.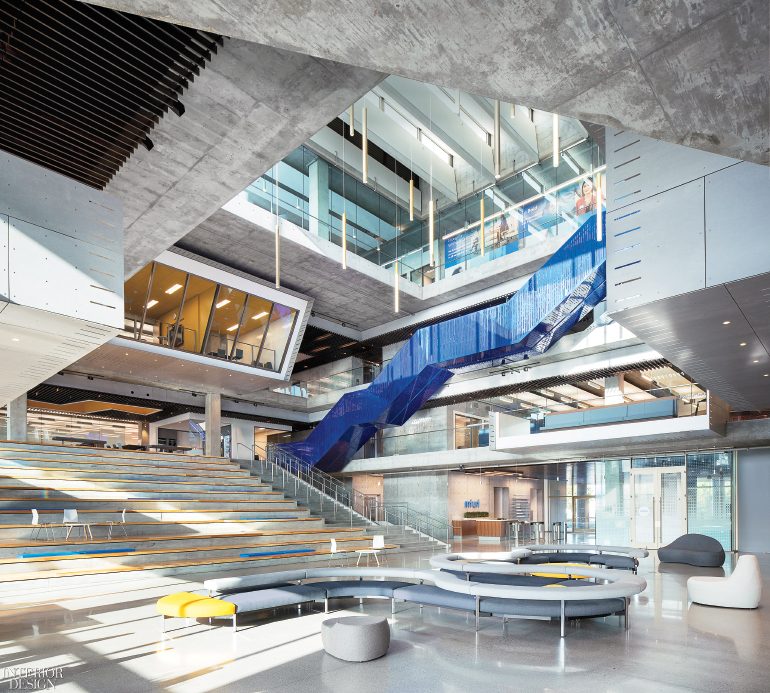 > See more from the December 2017 issue of Interior Design
> See all 2017 Best of Year winners and honorees