Jeanne Gang will Lead Studio ORD in an $8.5 Billion Expansion of O'Hare International Airport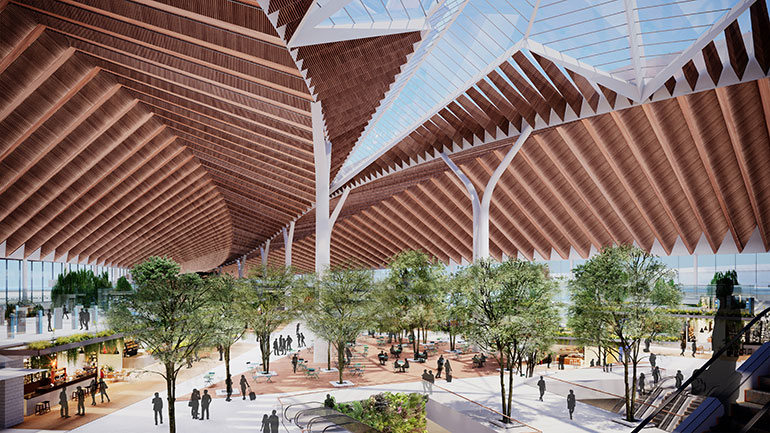 Architect and MacArthur Genius Grant recipient Jeanne Gang will lead a Studio ORD team in expanding Chicago's O'Hare International Airport. Gang, who is the founder of architecture and urban design practice Studio Gang and the lead designer of Studio ORD, led one of five teams shortlisted in an international design competition in which teams representing Santiago Calatrava, Norman Foster, Curtis Fentress, and Skidmore, Owings & Merrill (SOM) were also finalists.
The objective of the design competition was to conceptualize the airport's new Global Concourse and Terminal. Studio ORD's winning design will span more than two million square feet, replacing the airport's existing Terminal 2. The execution of the design, which is now entering contract negotiation, is expected to break ground in 2023 and has been celebrated for its openness and airiness. Functionally, the concourse and terminal will unite international and domestic arrivals and departures.
Read More: Gensler Redesigns San Francisco International Airport
Read More: Students Imagine the Airport of the Future
Three distinct "branches" of the terminal converge into a 'Y' shape, evocative of the Chicago river. Curved corridors, which are intended to improve navigability, lead to a light-filled central Oculus. The design will be required to meet a LEED Gold Status certification, according to a statement from the Mayor's Press Office.
"The new Global Terminal and Global Concourse is a critical project for unlocking both O'Hare's potential to be a leader in aviation and Chicago's future success as a contemporary, economically strong, and truly global city," said Gang in a statement from Studio ORD. "As a native Chicagoan, I understand deeply the importance of O'Hare to our city's identity, and I am honored that my hometown has provided my team the opportunity to realize a design that can demonstrate Chicago's unique culture, traditions, and diversity to visitors and residents alike."
Read more: Reservations Open at Eero Saarinen's Iconic TWA Terminal-Turned-Hotel at JFK Airport