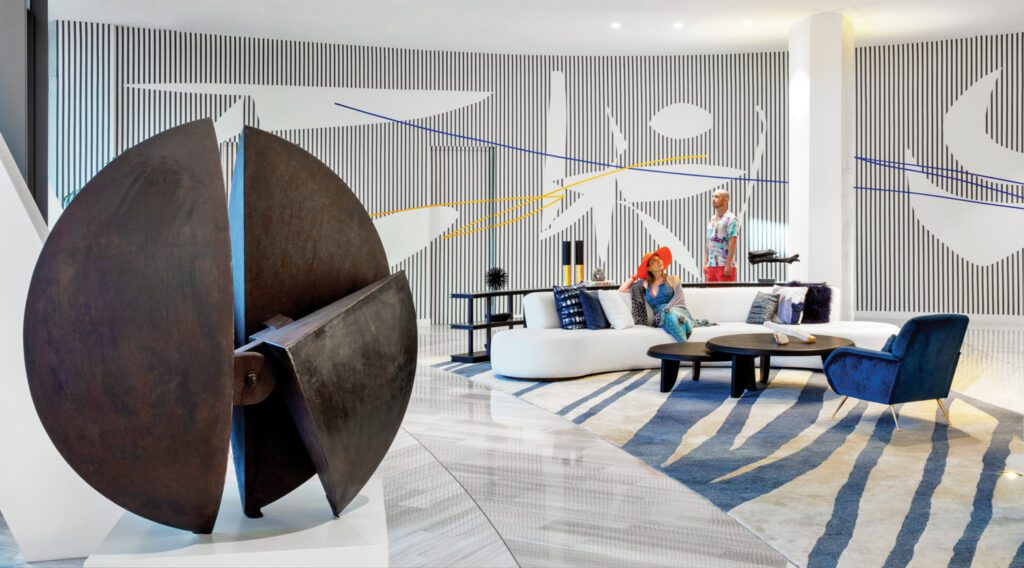 Jorge Pérez's Private Collection on Display at One Park Grove in Miami by OMA and Meyer Davis
"Let's build sculpture." That's how Will Meyer, principal of Meyer Davis, recalls the design team of One Park Grove—the last of three towers to be built in a Coconut Grove, Miami, waterfront residential complex—being rallied by Jorge Pérez, chairman of Related Group, which co-developed the project with Terra Group. "Jorge didn't say, 'Let's build a box and decorate it,'" Meyer notes. "It's a totally different approach to design."
Pérez, one of Miami's preeminent art collectors (his name graces the Pérez Art Museum Miami by Herzog & de Meuron) assembled an all-star lineup to bring One Park Grove to life. OMA, led by partner Shohei Shigematsu, envisioned the tower's undulating architecture of exterior concrete columns that swell and contract like the trunks of royal palm trees. Studio Sofield designed the understated kitchens and bathrooms in the residences.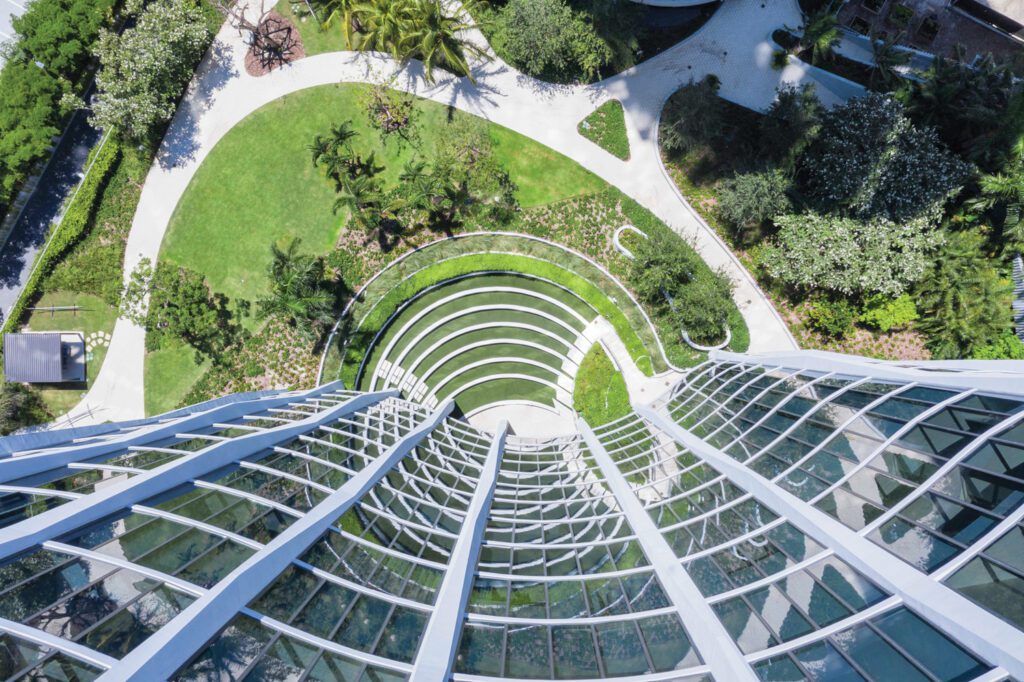 Landscape architect Enzo Enea laid out the parklike grounds, which cover 5 acres and include an outdoor amphitheater, a ribbon of swimming pools, and a sculpture park. And celebrity event planner Colin Cowie programmed services and experiences from music playlists to poolside towel and sunscreen selections.
Meyer Davis's charge was designing the tower's lobby, amenity spaces (more than 50,000 square feet of them, including a screening room, spa, and wine room), and other public areas, incorporating artwork from Pérez's extensive private collection. "There are a lot of branded towers in Miami, but this one has a real personality," co-principal Gray Davis says. "It touches on all the sensory points that make an enjoyable experience and give the project a real soul."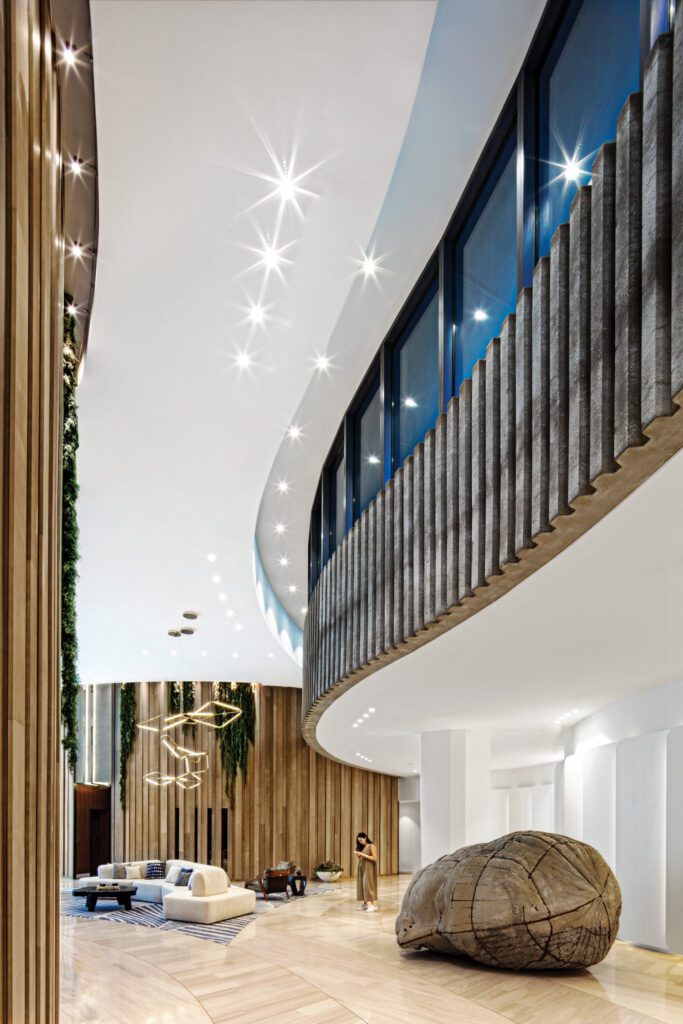 Meyer Davis senior project manager Sonya Cheng calls One Park Grove's interiors "bohemia on the bay." That's a reference to Coconut Grove's long history—it's the city's oldest neighborhood—and reputation as Miami's free-spirited artistic and intellectual hub. Onetime abode of John Singer Sargent, Tennesse Williams, and Joni Mitchell, the Grove, as it's known, is home to the city's top private schools and the former Coconut Grove Playhouse. The neighborhood also happens to be one of the city's leafiest, with a dense tree canopy that stretches to the shores of Biscayne Bay. "I thought we should provide something of the essence of Coconut Grove, immersed in nature and maximizing exposure to light and air," Shigematsu says of the 23-story tower's 68 residences, which he likens to "stacked villas."
Shigematsu cites another influence on OMA's architecture: Christo and Jeanne-Claude's 1983 Surrounded Islands, where they wrapped an archipelago of tiny islets in nearby Biscayne Bay in sheets of hot-pink polypropylene. Cheng also mentions the installation as influencing how the lobby interiors negotiate the tower's unique peanut-shape footprint—pinched at the center with two elevator cores—and multiple grade changes. Similar to the way the islands were encircled with concentric bands of pink fabric, the designers layered ribbons of stone flooring that radiate outward from the core. "Where all those lines converge and intersect, we created 'islands' of seating groups," Cheng explains. Patterned rugs ground those sitting areas—Meyer describes them as "moments of serenity, the residual between waves"—as they float between the core and the lobby's curved glass exterior. The language of undulating forms continues vertically, with core walls clad in slats of white oak and others hosting a palisade of backlit white panels. "It's not a traditional layout—it's organic and really out there," Meyer acknowledges. "It was hard to describe to people who weren't on the team exactly what we were doing. It's really a new language with its own logic, rules, and geometry, but it creates its own sense of space."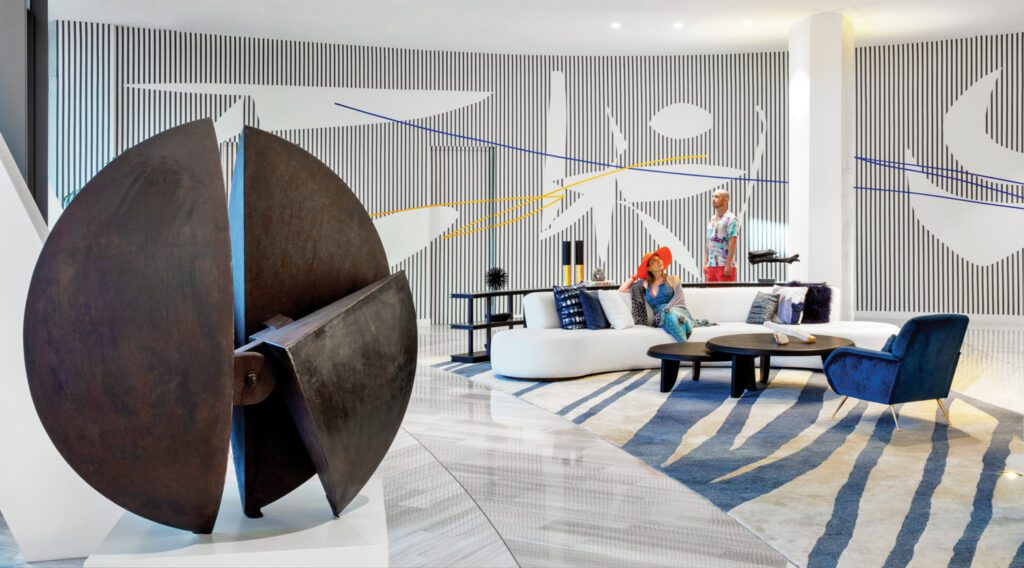 Positioning large sculptures from Pérez's collection also directed Meyer, Davis, and Cheng's choreography of the lobby's interior. At times, circulation took a backseat to art placement, in which Pérez played an enthusiastically active role. "Sometimes, we'd pick a spot and Jorge would say, 'No, this piece works better over there,'" Cheng recalls. Sometimes the team accompanied Pérez to his private storage facility to preview artworks, other times to the art museum in downtown Miami. "We turned the typical design process upside down to achieve a different result," Meyer notes.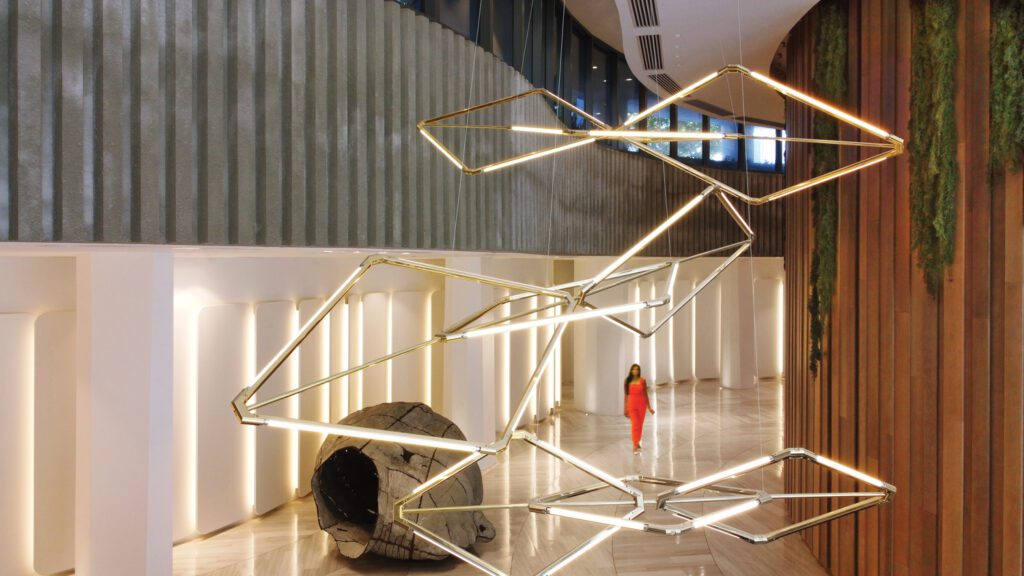 An early recommendation was South African artist Ledelle Moe's ensemble work Memorial Collapse, a trio of monumental heads, laid on their sides, with rebar emerging through the concrete. "When Jorge suggested those, our response was a resounding 'Hell, yeah!'" Meyer recalls. "He gets really excited about art. When he sees the direction a designer or architect is going in, he wants them to take it as far as they can. If you lean in on his spirit, you get results."
Other works populating One Park Grove's public spaces run a gamut of styles and media. Outside in the gardens, Jaume Plensa's The Poets in Bordeaux (Body Soul God, Country, Water Fire), which comprises three 35-foot poles topped by illuminated resin busts, changes appearance as the lights cycle through different colors. Interior amenity spaces feature more subtle works, including delicate vellum drawings by Miami-based artist Michele Oka Doner and a Richard Serra etching.
One Park Grove's well-orchestrated blend of architecture, design, and art bears an ultimate stamp of approval: Earlier this year, Pérez, who has lived on the Coconut Grove waterfront for decades, decided to trade in his Venetian palazzo-style mansion for a penthouse at One Park Grove. He donated the $33 million proceeds from the sale of his house to The Miami Foundation.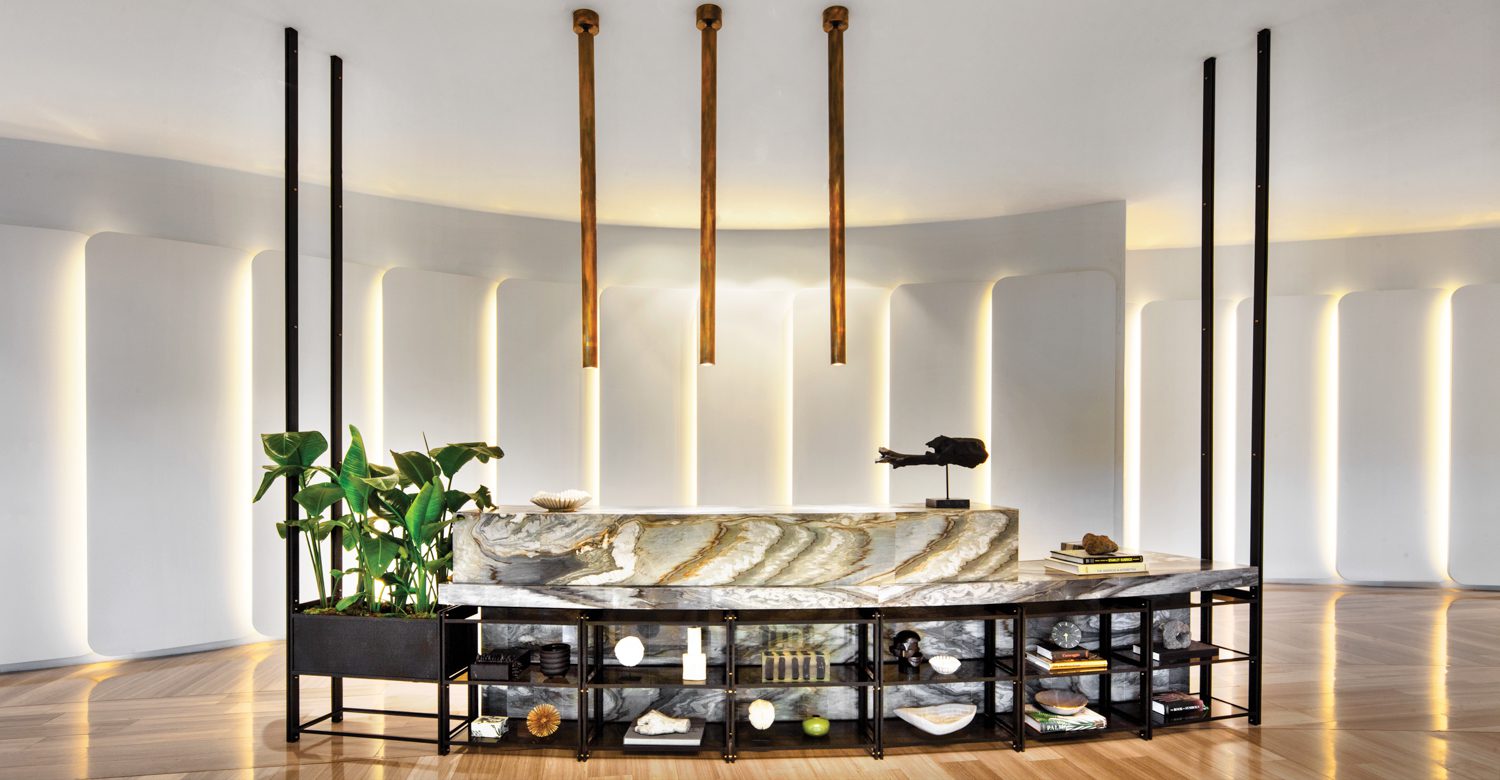 project team
product sources from front
throughout