Joris Van Apers Designs a Belgian House for His Family and the Environment
In 2000, Joris Van Apers was a young man in Belgium working for a big international engineering firm. That was also the year he built himself a house, next door to his parents', in Duffel, a town approximately 15 miles south of Antwerp. For work, he had been helping plan massive state-of-the-art industrial plants all over the world. So he was yearning for a project on a smaller, more personal scale, one that would serve his own needs and be more reflective of his own taste. His parents owned Andreas Van Apers BV, a company named after his father that acquired and sold reclaimed wooden beams and other upcycled building components, which meant he had a ready supply of sustainable materials at hand.
The experiment crafting the 5,400-square-foot house turned out to be pivotal in several ways. Van Apers started working at AVA and eventually, in 2008, took the helm of what's now called Joris Van Apers BV. From the experience of designing his own house, Van Apers launched an interior design practice as an arm of JVA. So, in addition to sourcing and providing reclaimed materials for such design-world notables as Jacques Garcia and Axel Vervoordt and operating a showroom in nearby Reet, JVA increasingly completes full-house renovations for other clients. In fact, the design studio now makes up 70 percent of the business.
As for his own three-bedroom home—which he shares with his wife, Caroline, JVA's CFO, and their two teenage daughters—that's evolved, too. Over the years, he has reworked the interior to the point where no room looks the way it did two decades ago. Although the basic layout and key features
remain—the varying ceiling heights to create spaces that alternate between expansive and intimate, à la Frank Lloyd Wright, one of his heroes; the ground level's checkerboard floor of tile salvaged from castles and monasteries in Burgundy, France—the interior has turned warmer and more expressive. "It works well for our family and our minds," the engineer turned designer begins.
A case in point is the metamorphosis of the central staircase, a series of two spirals that cleave to each other and the two floors through which they rise—it was Van Apers's riff on M.C. Escher's famous graphic depiction of endless staircases. When he first built the stair in 2000, he rendered it in stainless steel and glass. That old "carcass," as Van Apers puts it, is now sheathed in a creamy white mix of plaster and hard micro cement, giving it a fluid, organic look. "It's less transparent, more mysterious," he notes.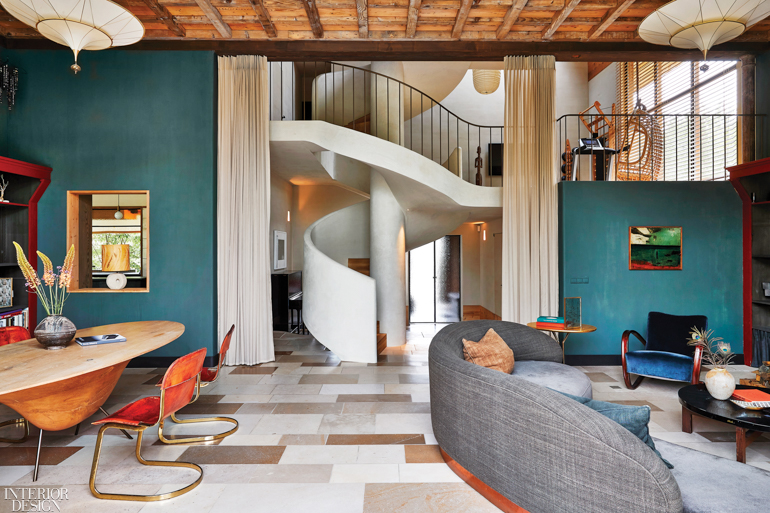 Off it, on the ground floor, the spacious open-plan living/dining area has a 14-foot ceiling and a wall of windows overlooking the verdant property with swimming pool. Its new palette of jewel-toned reds, greens, and blues for walls, artwork, and upholstery were derived from Paul Klee paintings. The moody hues "embrace you," Van Apers says, helping to temper the height of the space. A new ceiling adds warmth, too: Its grid pattern formed from reclaimed pine beams was inspired by the one in the lobby of the Gramercy Park Hotel in New York. Furniture includes vintage dining chairs found in a shop on Antwerp's famous Kloosterstraat and a copper-toned side table by fellow Belgian Ado Chale joined by pieces of Van Apers's own design. There's his curved sofa, with an actual copper base, a dining table—a sculptural oval in oak he made by hand, his first furniture design—and, in an homage to Isamu Noguchi, a coffee table near it in black slate, a material Van Apers likes for its tactile quality.
It reappears in the living area's fireplace surround as well as topping and facing the center island in the adjacent kitchen. That island is decorated with handmade black raku tiles, some of them on hinges so they function as doors, swinging open and revealing household items stored in cubbies. Part of the kitchen renovation entailed Van Apers installing a small gas fireplace in a wall. It's used "every morning when we sit there with our kids and every noon and evening," he says. "When you see the little flames, it immediately puts you in a different state of mind."
Physical fitness is also important to the family, so the staircase landing a half-story up is devoted to it. There, the parents sometimes unfurl yoga mats and follow an online instructor on the big-screen TV. Their younger daughter, a devoted soccer player, might run on the treadmill when she can't get out for a jog. Another half-story up are two bedrooms belonging to her and her sister, and at the top of the house, under the eaves, is the main suite. The deep window seat in that bedroom hides a whirlpool tub; when the pine seat is lifted and the tub filled with water, "We can open the window to the outside and, even in the winter, sit in a warm bath and take in fresh air," Van Apers says. Their bathroom shower also has a hammam function for steam baths. Floor tiles are reclaimed from terraces and pathways in York, England, and the ceramic basins are set on a nutwood counter that came from an old bank.
Outside on the 8-acre grounds, there's a barrel sauna and a nearby pool house,
including a bar, bathroom, and covered outdoor lounge area with fireplace. The pool is thermally heated, so the family swims year-round. During the pandemic, they have used the pool area to maintain a modicum of a social life, inviting one or two friends over to gather around the fire for a drink.
Project Team: Km Tuinplanning: Landscape Consultant. Anthracite Interiors: Upholstery Workshop.
Product Sources: Fortuny: Pendant Fixtures (Living/Dining Area, Entry). Cosyflame: Fireplace (Kitchen). St James:
Sink Fittings. La Cornue: Stove.