Jouin Manku Creates Glittering Flagship for Van Cleef & Arpels in Tokyo
Futuristic and traditional, simple and luxurious, light and dark. With the Parisian jeweler Van Cleef & Arpels's flagship in Tokyo, Interior Design Hall of Fame member Patrick Jouin and his partner, Sanjit Manku, were looking for multiple methods of engineering an elegant Franco-Japanese fusion. "The question was how to translate the spirit of Van Cleef & Arpels in the context of Japan's rich history and culture—or at least an outsider's interpretation of that culture," Manku says. "For a foreigner, there is so much that is impressive about Japan."
The Tokyo shop is the latest of Jouin's collaborations with the jeweler, starting with his solo renovation of the original Paris store, opened in 1906. Jouin Manku has subsequently completed an annex to that boutique as well as independent locations in New York, Hong Kong, and most recently a "super-slick" version, Manku says, in Miami's Design District. Also part of Jouin Manku's ongoing Van Cleef lineup are jewelry exhibitions in Paris, New York, Shanghai, and Singapore.
In Tokyo, Van Cleef would have to compete with what Manku describes as the "powerhouse macho braggadocio" of the high-end commercial facades lining nearby streets. So he and Jouin opted to go in the opposite direction. Covering most of the facade, delicate but seriously high-tech latticework combines the lightness of origami and the effervescence of champagne, with gold pigment added to the silvery paint to intensify the luster. Doubling up on Van Cleef's diamond logo, the screen's openings are diamond-shape, and some are filled, partially or entirely, by different sizes of diamond lozenges, seemingly arranged at random but more closely concentrated at the top. Glittering with reflected daylight on the outside, they allow varying amounts of sun to filter through into the interior while providing a measure of privacy. At night, Manku says, the facade "twinkles and sways like a cocktail dress"—an illusion of movement created by the scintillating performance of programmed LEDs embedded in the lozenges.
As Jouin notes, "It's a simple concept but an extremely complex structure." Development of the screen took more than six months of collaboration between Jouin Manku, the lighting consultant, and local contractors. An initial resin model was made in France. Then a prototype was produced in Japan to test technical feasibility before the final 2-inch-thick screen was cast in aluminum.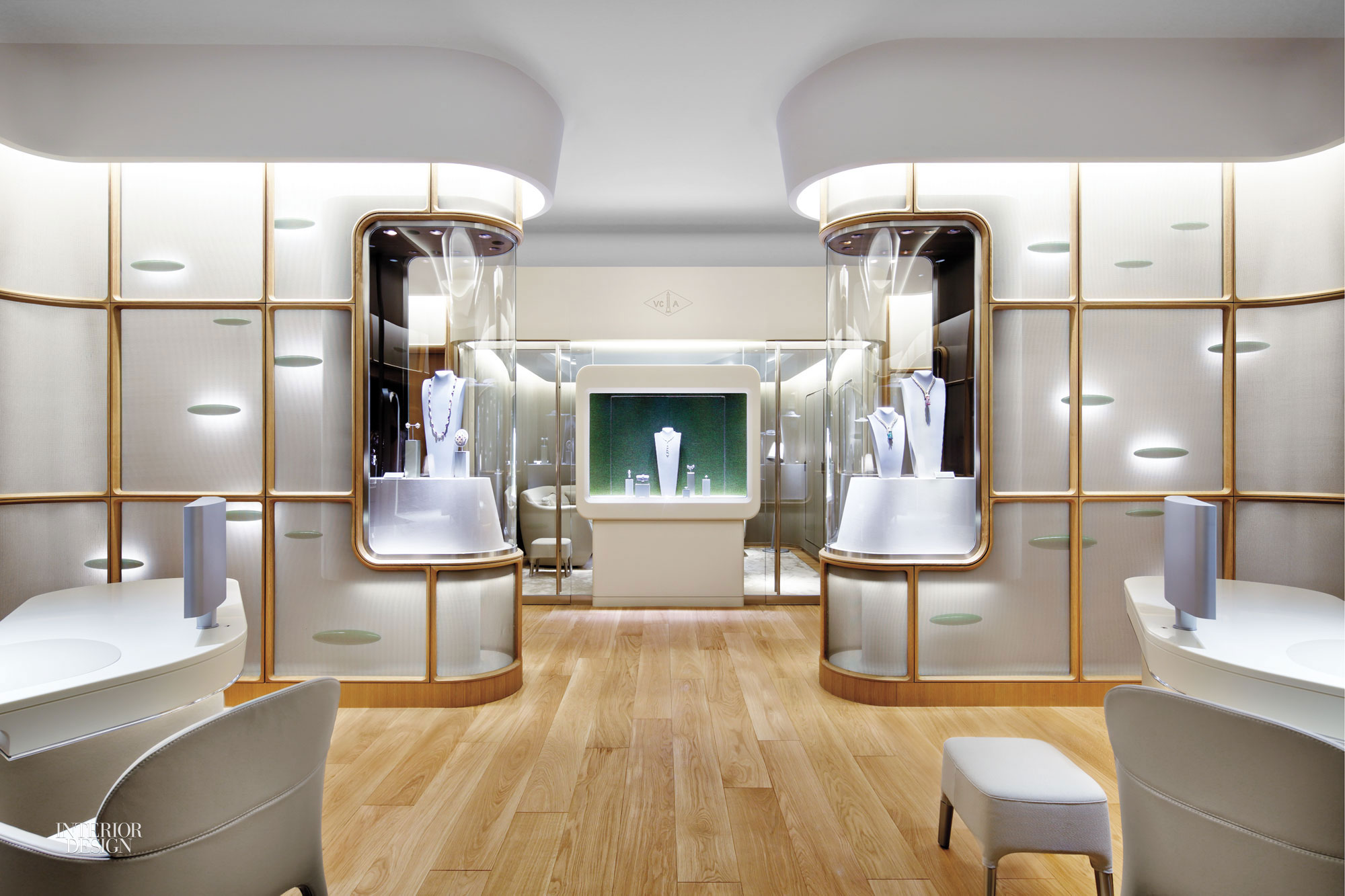 While the exterior sparkles, the interior glows softly. Inspired by shoji screens, walls of salons on the first two levels feature a grid of panels, only these are not paper but gauzy polyester stretched over oak squares. Behind the fabric floats a sprinkling of small ovals enameled green, symbolic of nature. With solid-oak floor planks and mushroom-colored carpet, the salons are cocoons of serenity. "They have a beautiful flow. Even though they're brightly lit, there's a kind of domestic intimacy and comfort, the charm of a private house. You're ready to sit down for a while," Manku says. "They are exquisite but not ostentatious. There's no crystal or gold anywhere, no 'luxury' clichés."
Up on three, the level reserved for private meetings and receptions, a pleated greige fabric covers the walls except where they're punctuated by a large display niche. The niche is backed in aluminum lacquered an unusual bright blue, and the same lacquer can be seen through the glass top of the adjacent conference-dining table. Its base is white solid-surfacing, also used for desks and columns. The niche displays dome-topped glass cases, among the many elements that by now have become synonymous with the Van Cleef & Arpels style as interpreted by Jouin Manku. Almost everything is softly rounded, from the niche itself to the full-length mirrors, the upholstered sofas and chairs, and the boomerang-shape desks. The restrained materials palette used globally also happens to dovetail perfectly with Japan's typically pared-down aesthetic. Here, the characteristic list of wood, polished nickel, and glass expands slightly to include the solid-surfacing and white-enameled hammered steel, the latter used instead of plaster for curving, ornamental forms on the ceiling, as mandated by earthquake safety concerns. "Those seismic regulations were among the most difficult aspects of the project, because many materials were just not possible," Jouin says.
Splendid staircases have become Jouin Manku signatures, too. The Tokyo stair is wide, dark, and powerful, almost mysterious. A combination of natural-finished and smoked oak, with massive balustrades, it wraps around a dramatic installation of frosted illuminated columns. "The Japanese are not afraid of shadow. You could probably do a whole shop in black in Japan," Manku notes. "Never in the U.S. or Europe."
Project Team: Mio Shibuya; Lin Xiao; Martin Kloeckner; Kim Jong; Julien Lize; Charles Pons: Jouin Manku. Axe Design Co.: Architect of Record, MEP. Voyons-voir: Lighting Consultant. Asahi Building-Wall Co.: Facade Contractor. Kabuki Construction Co.: General Contractor.