Joyce Wang Studio Embraces East and West to Transform The Arts Club of London
Founded in 1863 by a triad of inspired masterminds that included Charles Dickens, The Arts Club of London—one of the world's most revered and exclusive private members' clubs—has been growing steadily ever since. Its first international outpost is set to open in Dubai later this year, followed by a swanky new build on L.A.'s Sunset Boulevard. London's glory days, however, are far from over, courtesy of Joyce Wang Studio, which recently transformed the Arts Club's Mayfair location with a refined Japanese restaurant and a new cigar lounge.
The Japanese restaurant, Kyubi, has migrated from the club's second floor to its third, where it has been completely reconfigured. In its old footprint now lies Oscuro, an eclectic new venue for cigar collectors, where dark woods and bold florals brush shoulders with tobacco leaf motifs. The design also features a custom pewter and scallop leather-fronted bar, cocooning armchairs, and a lush terrace complete with a living wall.
In Kyubi, the look is more contemporary and infused with a refined Meiji period aesthetic. "The Meiji period marked the first time in history when western influences in design and culture flowed into Japan," says studio founder Joyce Wang. This aesthetic is peppered throughout, with historical Japanese woodblock and screen prints, traditional Noren curtains, and Yosegi timber flooring. Says Wang: "I wanted to embrace the spirit of cultural exchange and interpret traditional Japanese craft with our signature take on materials that still felt authentic to The Arts Club."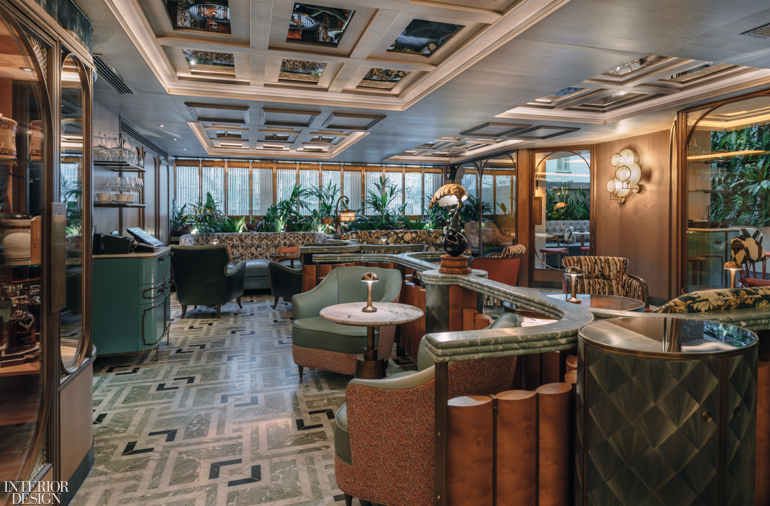 Read next: M-Rad Gives the Social Club a Modern Update at Philadelphia's Fitler Club