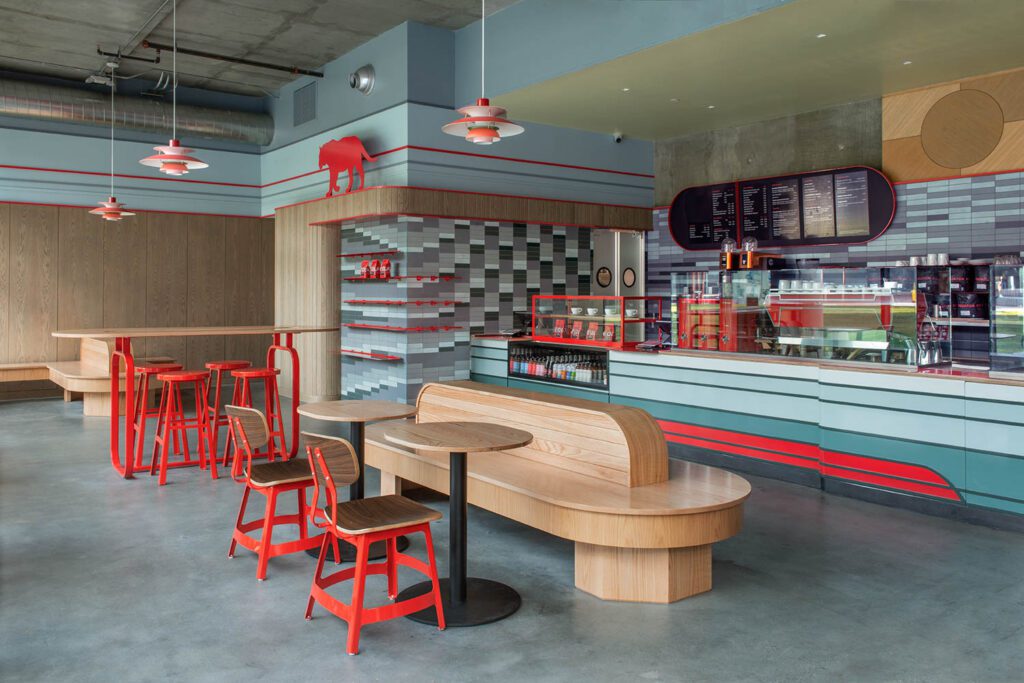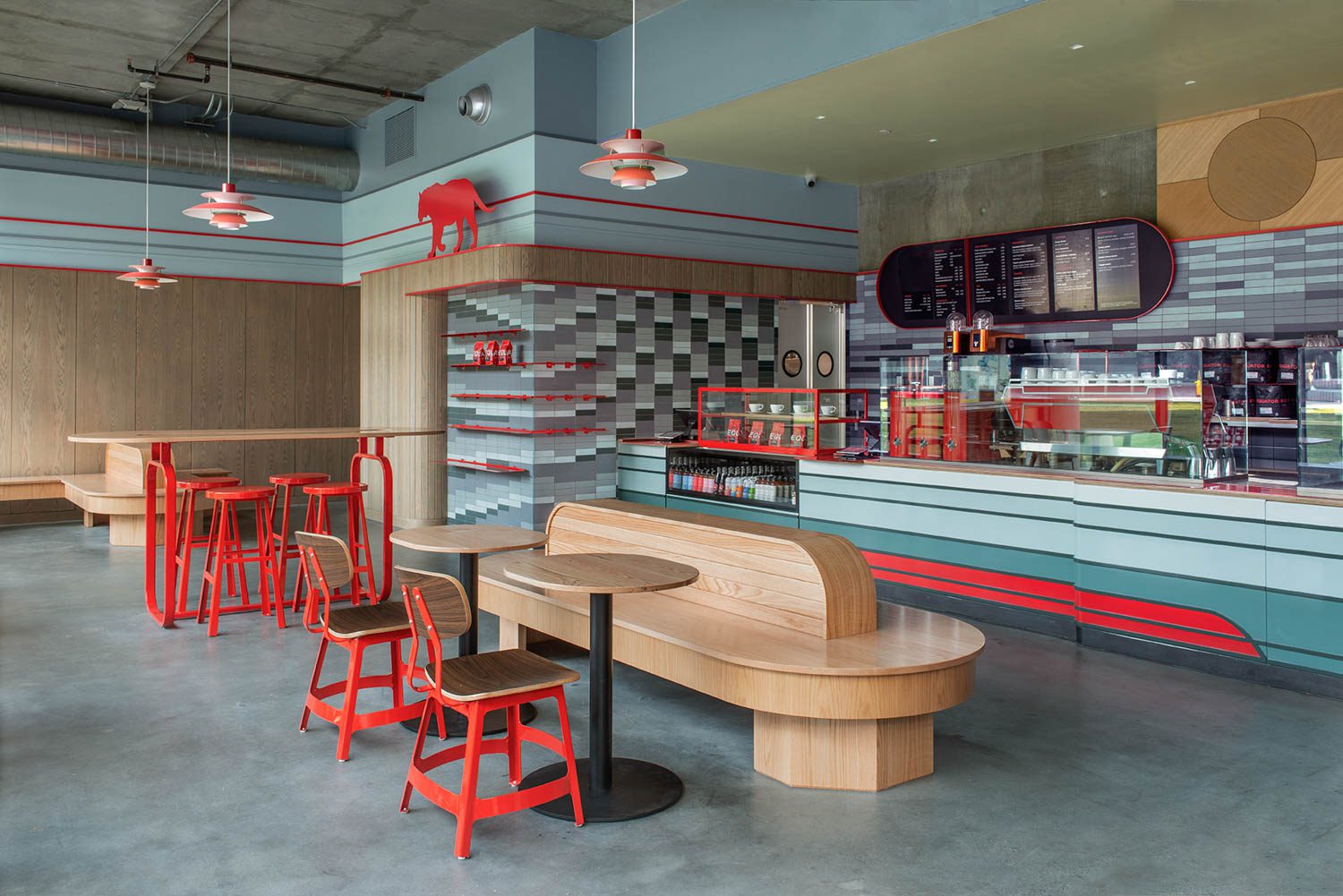 Kellie Patry Serves Up Espresso Futurism Via Equator Coffees in Los Angeles
Los Angeles's insatiable caffeine craving sees a newcomer to its burgeoning coffee culture. Equator Coffees, a stalwart of the NorCal scene with nine cafés heads south to open its tenth, a vibrant 1,400-square-foot shop at Culver City's Ivy Station, a five-acre complex comprising HBO's new 240,000-square-foot headquarters, residential, retail, and hotel The Shay. Credit designer Kellie Patry, a veteran in the coffee and cocktail arena, with the literal and figurative buzz.
Female-founded in 1995 by Helen Russell and Brook McDonnell, Equator identifies as third-wave coffee, i.e. a product dedicated to high quality, sustainability, and the importance of everyone in the supply chain, customers included. Even though it's an esteemed commodity in the Bay Area, Equator made no consistent design or branding statement tying together its locations. Good news for Patry. She had a clean slate to create an LA presence "from scratch in a massive new corporate building."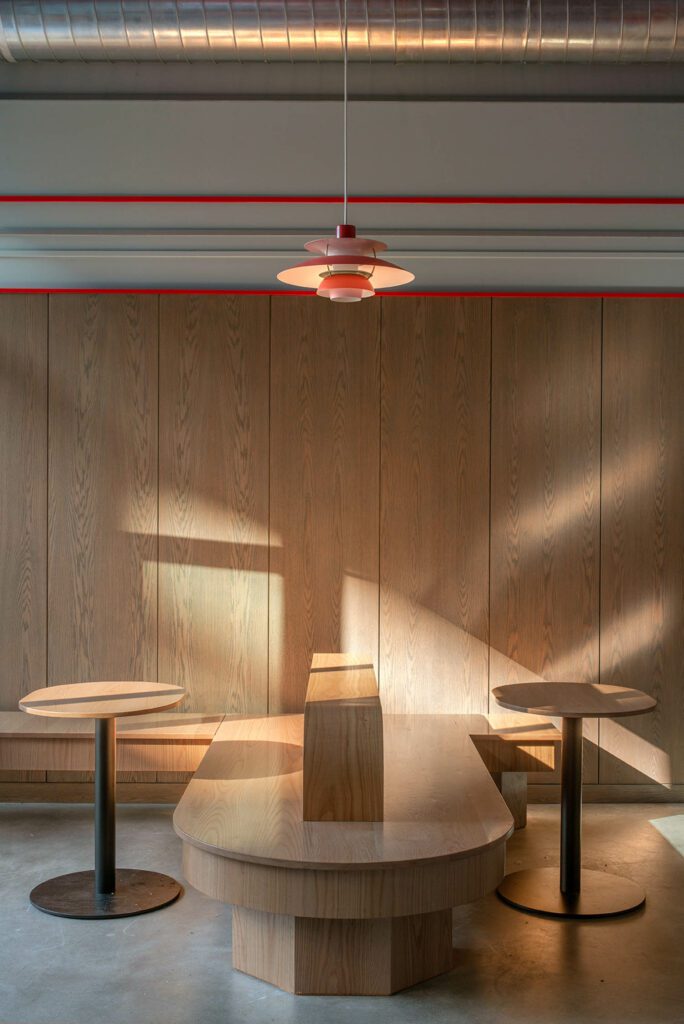 Maverick ideas fueled her imagination. First came the notion of steam. Sure, it creates foam for espresso and macchiato drinks. For Patry it went beyond, leading to thoughts of steam engines for trains, which led to motion, which conjured up visions of Futurism, the early 20th-century Italian art movement celebrating dynamism and energy. In fact, she shared images of canvases by Tullio Cralli with Interior Design to make the point and aptly nicknamed her project "espresso futurism."
The coffee bar, a prime example, has its front lacquered in raised horizontal stripes of blue, gray, and Equator's signature red to suggest forward action. Meanwhile, more of that brilliant Ferrari red comes at the lacquered steel counter. Thomas Williams's mural of integrally colored, custom cement tiles, stretching behind and wrapping a perpendicular wall, suggests energetic movement, too. In this case it's ocean waves.
"With all this color I designed the space for people in film," Patry notes. "The industry has an appreciation for it."  So, creatives from HBO and Amazon's nearby film and television studio, as well as folks using the adjacent Metro station (its stair wall coincidentally crimson) grab their drinks from La Marzocco KB90, "a beast of a machine" and head to seating either indoors or out. Custom curvilinear benches, tables, and millwork are red oak in varying stains; chairs and stools are powder-coated steel. Overlooking the interior, Poul Henningson's PH5 pendants supplement Los Angeles's famed daylight penetrating glass walls. Maybe most special of all is the aluminum tiger surveying the scene from above. The backlit piece is a female Bengal, and some of Equator's profits go to protection of her species in nature.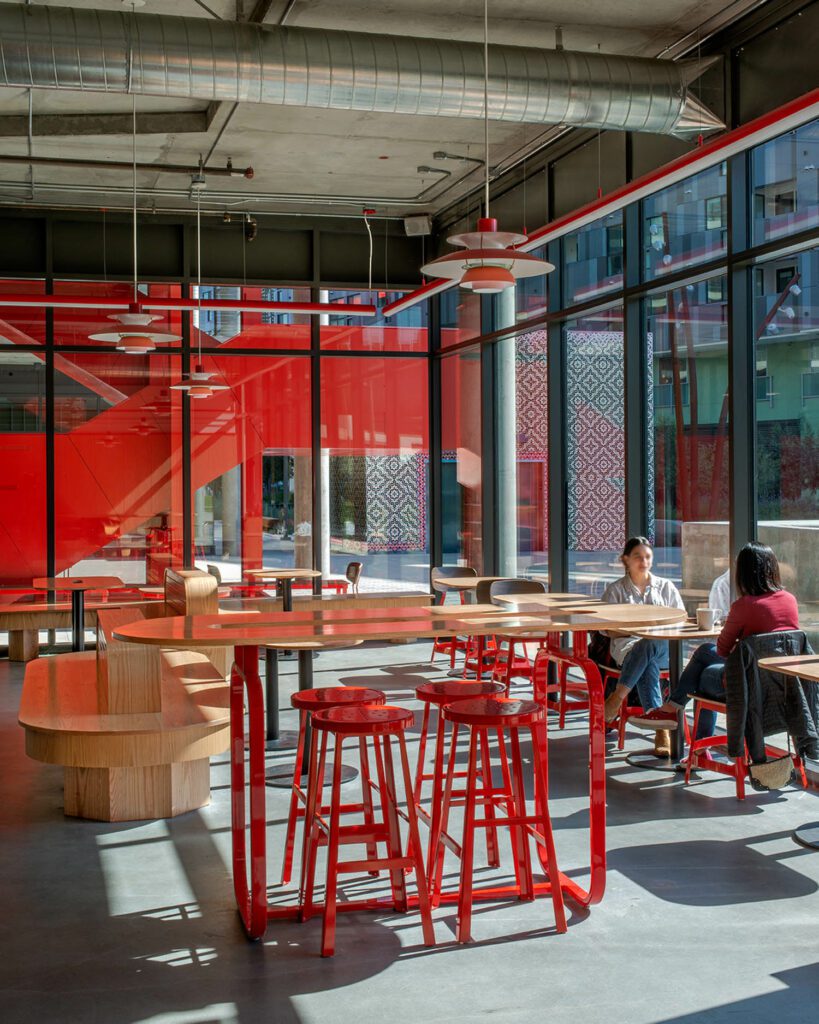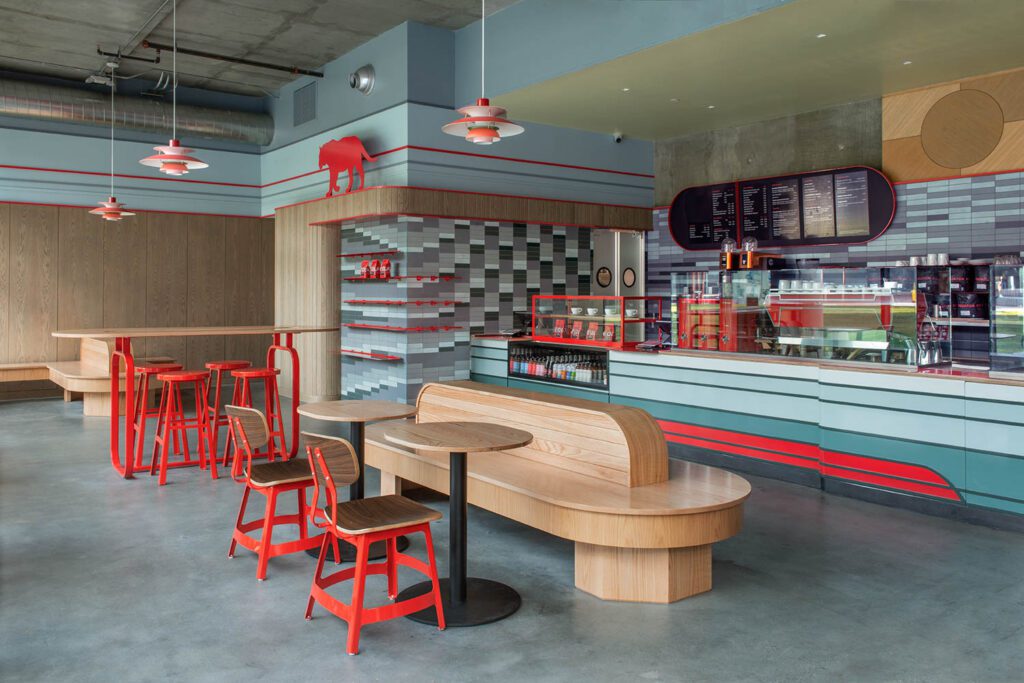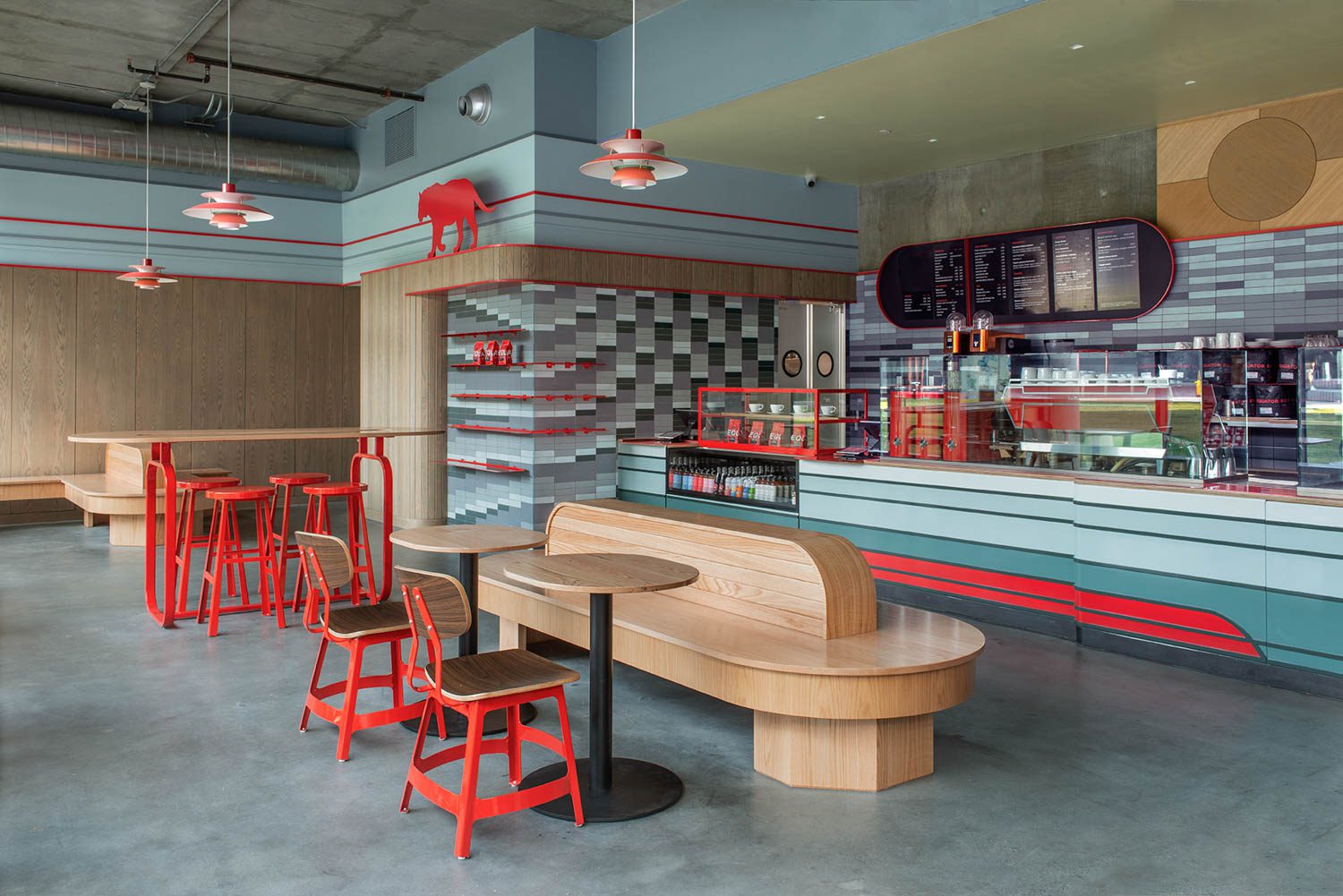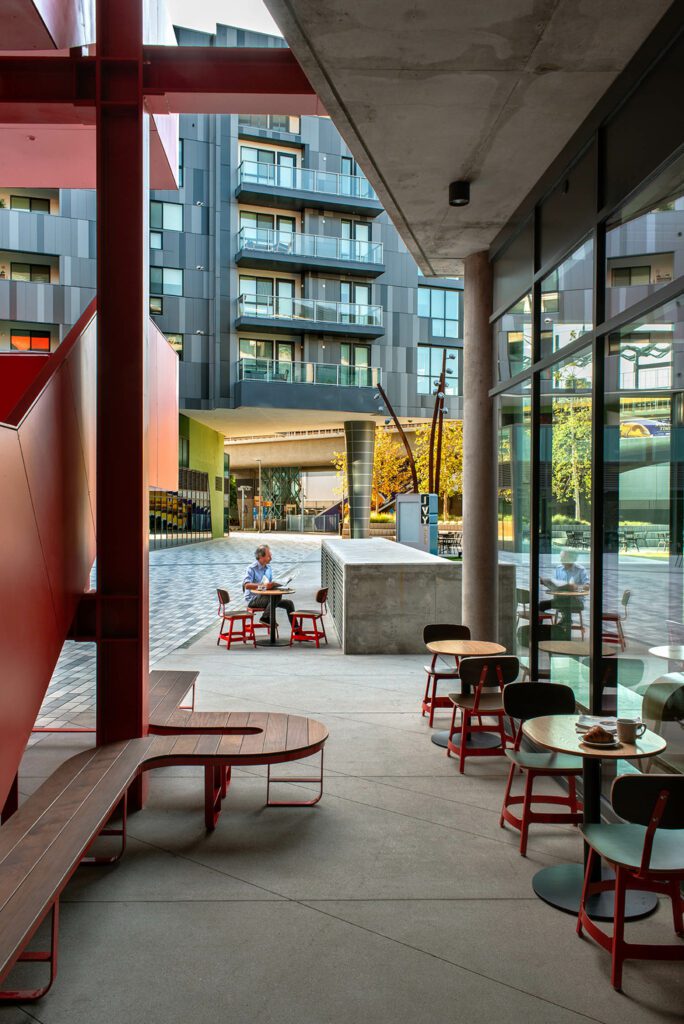 read more