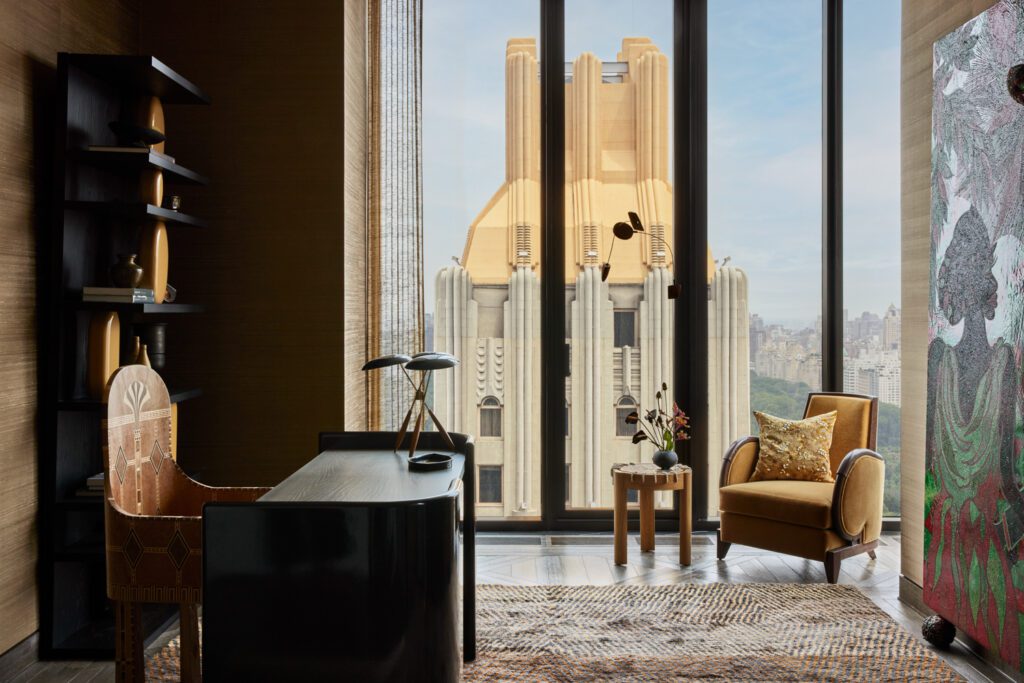 Kelly Behun Melds Modern Art and Design in This Manhattan Apartment With Sweeping Views
111 West 57Street, with its landmarked 1925 Steinway Hall by Warren and Wetmore and new tower addition by SHoP Architects, is a true work of art overlooking Central Park. So who better to design its Studio Sofield interiors than Kelly Behun, who's been bridging the worlds of fine art and architecture since founding her studio in 2001?
Behun's Tower Residence 34 spans the full-width of the tower, with 4,500 square feet across three bedrooms and three and half bathrooms—and perfectly-framed views of Central Park. "What I love about this apartment is how it feels as though it was magically dropped into the geographic center of Manhattan, with the city appearing to unfurl equally in all directions around you," she says. "So you will see that there are echoes of the neighboring gilded roof in the living room's custom chandelier, that the green silk velvet on the sofa harmonizes perfectly with the trees in the park, and the dusty lavenders and greys that evoke both the sky and skyline that this home feels so much a part of."
Behun custom designed or curated every piece in the residence. For the artwork, she partnered with advisor Valerie Cueto to place a collection including work by Phoebe Washburh, Gonzalo Lebrija, Manolo Valdes, and Alexander Calder. "The building is a beautiful marriage of modern luxuries with quintessential old world details," Behun says—and, thanks to her, of modern art and design as well.