Kiki & Joost Founders Detail How They Reclaimed a 19th-Century Dutch Farmhouse
For most of the 20th century, Eindhoven was home to electronics giant Philips, which made the Dutch city a center of innovative technology and design. And so it remains today—two decades after the multinational shuttered its factories, leaving unemployment and empty real estate in its wake—thanks not only to smart public/private entrepreneurial partnerships that have repurposed vacant buildings but also to the presence of Design Academy Eindhoven, one of the world's most respected schools.
Two DAE graduates, Kiki van Eijk and Joost van Bleiswijk, exemplify the city's rich design culture. Partners in business and life, they work individually or jointly as Kiki & Joost, their brand of furniture, textiles, lighting, and other products. The couple's studio/workshop/showroom sprawls over 9,600 square feet in a former Philips laboratory, an appropriate setting for the kind of research and experimentation their design involves. "The building is filled with creative people and companies," van Eijk reports, "everything from DJs to fabricators." Kiki & Joost even does some of its production on site.
The couple's home—amid fields 20 minutes away—is also reclaimed: a dilapidated but landmarked 19th-century brick-and-timber barn, much of which had to be reconstructed. "Basically, we built a new house inside an old shell," van Bleiswijk explains. "Most of the interior—walls, doors, even the steel staircase—was done by us in our workshop."
Open and flowing, the 4,520-square-foot, two-story residence centers around a double-height living area with an enormous window wall overlooking the artfully unkempt back garden—van Eijk's domain—and the countryside beyond. The light and airy interiors are furnished with a who's-who of contemporary Dutch design. "It's a combination of our own prototypes and pieces we've swapped with other designers, some vintage and industrial items, and things we've found while traveling—really personal stuff," van Bleiswijk says. "But it's a family home, not a showroom. With two young boys, above all it has to be a comfortable house."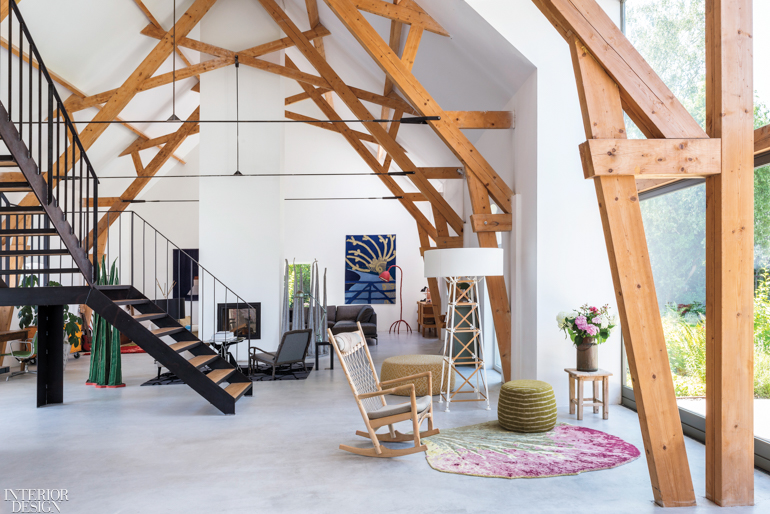 > See more from the Fall 2019 issue of Interior Design Homes