Kingston Lafferty Design Modernizes a 200-Year-Old House
Bolton Hall is a landmarked Georgian country house in Rathfarnham, a suburb of Dublin. In 2015 the building and its 4 ¾-acre grounds were bought by Homeland, a real estate developer that received permission to create 20 new luxury residences on the site. After building 17 townhouses, Homeland's principals, Aoife and Neil Collins, turned their attention to the overgrown, partial ruins of the estate's original vaulted stables and adjacent paper mill, with the notion of erecting three more units in and around the surviving 200-year-old brick and granite structures. To create the interiors for the largest of these conversions—the two-story, 3,000-square-foot Coach House—Homeland hired Kingston Lafferty Design, a Dublin firm founded by Róisín Lafferty, who had previously worked on one of the development's townhouses.
Happily, Lafferty was brought onto the project early enough to collaborate with Ferreira Architects on fundamental decisions of layout, materials, and finishes. Among the signature gestures she brought to the four-bedroom house were her frisky sense of color and irreverent brand of modernism. "To me," she says, "the layout of the project was very much about creating an exciting and unexpected journey that gives people options for how they circulate through it."
Overall, the design—a mix of restored and newly built sections—is a study in balance. To contrast with the rough-hewn walls and overarching barrel-vaults, Lafferty chose floors of polished concrete, limed-oak parquet, and a wide variety of tile. In the kitchen, she juxtaposed new walls of polished plaster—which,  she notes, "has an almost textural tonality to it and feels soft to touch"—with an imposing island of Nero Marquina marble. To define spaces, she subtly reined in the free flow of rooms with custom portals of mild-steel and rippled-glass. These industrial
elements, set in a preindustrial environment, frame views that make moving from one space to another an event. By introducing such refined architectural flourishes, together with cosseting upholstered furniture, Lafferty created an appealing equilibrium between the rigorous and the relaxed, the masculine and the feminine, the old and the new.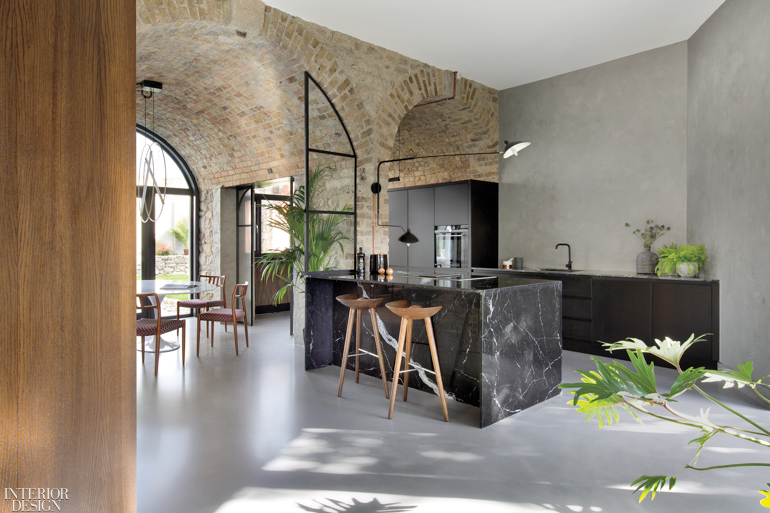 The decorator's enthusiastic use of color also governs how the house is experienced. Apart from the kitchen/dining area, there are two main common spaces in the residence: One is the formal living room in the old section, the other a brighter lounge in the new part. The former's walls are painted a dark "dirty teal," applied over rough sand and cement render, but in an unexpected high-gloss finish. For the lighter lounge, which can be closed off from the kitchen with a large oak barn door, Lafferty designed a lime-green velvet sofa to fit the room's ample dimensions. "We wanted it to be strong yet whimsical," she says. "Some people were skeptical about a big piece in such an assertive color, but I think it pulls the space together."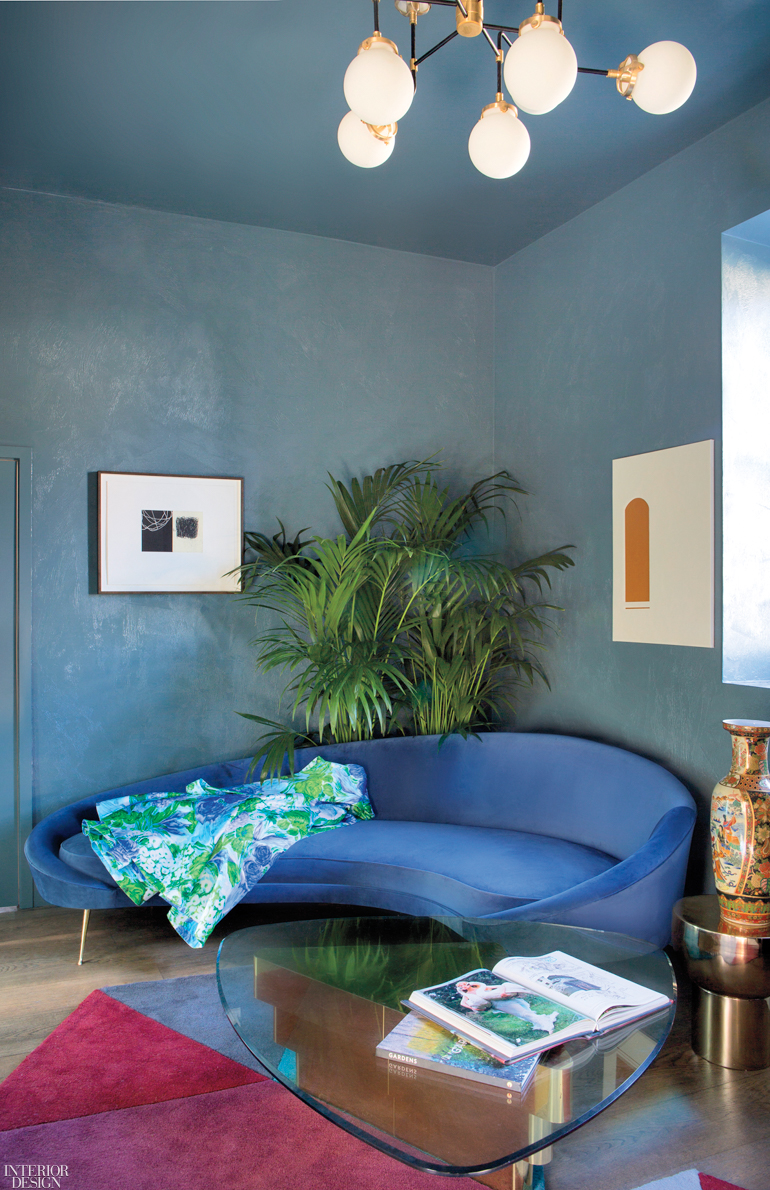 Lafferty also brought her love of tile to the project. "People think of it as cold and hard, for bathrooms and kitchens only," she says. "But I like it in living and dining spaces and even in bedrooms." In fact, she's used it in various forms all over the house, from solid and decorative Moroccan tiles made in the traditional way to contemporary geometrics that recall the groundbreaking ceramics of Italian architect and designer Gio Ponti. She covered an entire corner of the kitchen in dark blue zellige tiles, which she also used on a cantilevered bench and moisture-resistant timber table that extends through accordion windows onto a patio, maximizing the relationship between indoors and out.
Another of Lafferty's personal obsessions is lighting, particularly over-size ceiling fixtures. "The scale of most of the light fittings is bold and playful," she reports, "but they're quite refined in themselves." A case in point: the Edizioni Design fixtures, hanging like giant hoop earrings over the dining table, are both enormous—3 feet in diameter—and delicate. The ultimate shock-star in this light galaxy, however, is a fantastical Maison Dada pendant—a 5 ½-foot-tall, bright-scarlet gobsmacker—suspended above a rosy-pink custom banquette in the barrel-vault reading nook.
The nook itself summarizes a lot of the project's design strategies. The banquette's felt upholstery softens, feminizes, and modernizes the space: the solid color not only contrasts with the complex tonality of the surrounding walls but—thanks to the  hue's distinctly 1970s vibe—also fast-forwards the antique brick- and stonework into the new millennium. Lafferty covered the entire arched end-wall of the barrel-vault space with mirror, creating an infinity effect that makes the nook seem endless. "We wanted to showcase the arches as much as possible," she says. "Clients think big mirrors are too glitzy, but when they fill a whole wall, they're quite invisible. They just extend the space."
As thoroughly appealing as the Coach House looks, Lafferty is most gratified by the way it feels. "It's the nicest space I've ever done," she says. "I think I probably put a bit of my heart into it. If I could have moved in myself, I would have."
Keep scrolling to view more images of the project >
Project Team: Becky Russell, Amira Al Shater: Kingston Lafferty Design. Ferreira Architects: Architect of Record. SMC Group: Concrete Screed. Moore O'Gorman Joinery: Woodwork. Homeland: General Contractor.
Product Sources:
From Top: Maison Dada: Pendant Fixture (Reading Nook). Portmarnock Furnishings: Custom Banquette. Atelier Areti: Sconces. The Vintage Hub: Dining Chairs (Formal Dining Area). Knoll through Nest: Dining Table. Edizioni Design through Artemest: Pendant Fixtures. CA Design: Shell Chair (Lounge). Orior: Custom Sofa. Artemest: Round Coffee Table. Bluesuntree: Metal-Wire Side Table. Habitat: Black Side Table. Herman Miller through Nest: Pendant Fixtures. iRugs UK: Vintage Persian Rug. Acquired: Vintage Sofa (Living Room). Mid-Century Online: Vintage Tiered Brass Coffee Table. Inscapes Design: Pendant Fixture. Made: Wool Rug (Living Room), Sconces, Pillows (Guest Room). Villeroy & Boch: Toilet, Bathtub (Bathroom). Alape: Sink. Peronda through Best Tile: Floor And Wall Tile. Seletti through Out There Interiors: Pendant Fixture (Child's Room). Out There Interiors: Wooden-Bead Chandelier, Leather Side Table (Guest Room). Through Bluesuntree: Gray Throw. Through Ferm Living: Rose Throw. By Lassen: Oak Bar Stools (Kitchen Area). Bluesuntree: Two-Arm Sconce. Armourcoat: Polished Wall-Plaster. Habitat: Concrete Stools (Indoor/Outdoor Dining Area). Hicken Lighting: Sconces. Mosaic Factory: Blue Zellige Tile. Throughout: Best Tile: Moroccan Encaustic Cement Tile.