KOVA Brand Covers Material Selection at Every Stage of a Project
Designers always welcome opportunities to streamline processes, especially when it comes to the nuances of adding finishes to a new build or renovation project. Once construction is complete, elements such as lighting and plumbing fixtures can be a hassle to install, presenting additional design challenges. As the demand grows for housing that melds contemporary aesthetics with sustainable materials, designers are left searching for tools and systems that enable them to work more quickly and efficiently.
Katerra, a technology company, is leading the charge in developing such solutions. The company is set on redefining the construction industry by offering an expansive range of services, including the recent launch of its own building products brand—KOVA. KOVA enhances Katerra's current portfolio, positioning the company as a one-stop-shop for solutions within the building industry. For designers, this integration eases the specification process for bath accessories, door hardware, kitchen appliances, mirrors, tile, wood trim, and plumbing and lighting fixtures.
"Katerra's creation of KOVA allows for material costs to be controlled throughout the project, since everything can be specified and selected in the very beginning. KOVA also eliminates costly last-minute sourcing and the typical final-hour shuffle to find that perfect fixture or piece of hardware," says Trevor Schick, head of the KOVA Materials Business. "Katerra's use of technology and cross-functional planning teams reduce timelines and create savings throughout every step of a project. This approach also applies to the finishing process, which is generally the most costly and least efficient part of a building project."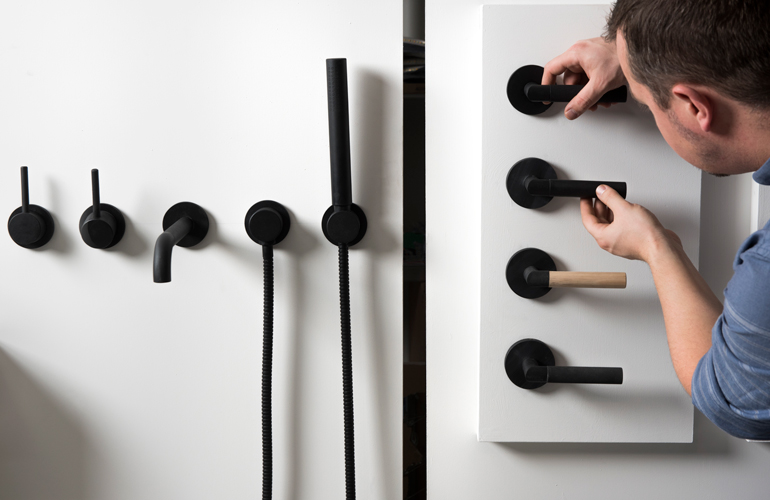 KOVA's name, which draws on the Latin root of "go" (va) and "together" (co), reflects its mission—products designed to work well together in any setting. An integrated team of experts, ranging from those in product design to engineers and materials scientists, worked to develop KOVA's curated product line, ensuring the brand's portfolio is crafted to elevate an array of aesthetics, deliver quality, and provide value.
Designers will take comfort in knowing KOVA enables them to outfit an entire multi-family complex with high-quality and cohesive finishing materials at reduced cost from one vendor. As the demand continues to climb for mid- to large-scale residential buildings, KOVA provides design teams with accessible options to optimize development, design, and construction at every stage of the process.
"Katerra's central goal is to change the way we build to deliver improved environmental performance and reduce the carbon footprint left annual by construction activities," says Schick. "This extends to KOVA products which meet the highest environmental standards." All KOVA appliances are ENERGYSTAR Certified, and plumbing elements are CalGreen and WaterSense certified.
Plans already are in the works to expand KOVA's product portfolio over time, featuring additional finish categories, exterior products, rough materials, furniture, whole-room assembly kits, and more. KOVA products are available to a wide range of developers, designers, contractors, and renovation clients through direct sales, select partners, general contractors, and as a part of the Katerra Developer Program.