Le Berre Vevaud Updates a Classic Parisian Apartment
For many, the dream of Paris intrinsically involves the thought of living in a Haussmannian apartment—the typical late-19th-century residences characterized by stately marble fireplaces, ornate wall and ceiling moldings, and chevron-pattern parquet flooring that the French call pointe de Hongrie. Yet, for designers and interior architects Raphaël Le Berre and Thomas Vevaud—whose firm Le Berre Vevaud is located in the tony 16th arrondissement, a hotbed of Haussmann-era buildings—such interiors are, if not mundane, then at least commonplace.
"It's like asking a Roman to be amazed by an ancient stone wall," Vevaud says. "They're part of our heritage, our DNA. Both Raphaël and I grew up in such spaces." When hired to rework one, the designers' approach is always the same: If the decorative elements are not top-notch, they prefer to remove them; if, on the other hand, the embellishments are of quality, the designers resolutely celebrate them, but often by giving them a contemporary twist.
This 2,400-square-foot, four-bedroom flat close to the Parc Monceau certainly fell into the second category. Its owners, a couple with two young children, were drawn by its generous volumes and ceiling height, and the possibility it offered to create a large living space for the family.
Le Berre and Vevaud made very few structural changes. They simply reduced the size of the entry hall to accommodate a guest bedroom, removed several partitions to open up the living room, and relocated the kitchen so the two spaces are adjacent at the front of the flat. "Our clients wanted something very convivial," Vevaud says. "Having the kitchen island visible through the door is like an invitation to have a drink. It allows them to entertain in a more informal fashion."
The owners initially imagined a more conventional décor. "It's true that my tastes were rather traditional," the husband admits. "I was thinking of something pared-down in beige, white, and gray tones. I was also fanatical about things being centered, but I learned from Thomas and Raphaël that an arrangement can be asymmetrical and still remain coherent."
In the designers' words, each new project represents "a field of exploration," so they were more than intent on shaking things up. "'Our goal is to shock you, to see how far we can go,'" the husband recalls them saying. Their most dramatic invention came through the use of bright colors. They originally proposed that the entry hall be completely Yves Klein blue, which proved a little too daring for the couple. Rather, the color appears on several walls as large rectangles that are painted deliberately not to align with the existing paneling. "It's a way of giving a spin to the traditional architectural elements," Le Berre asserts.
For the designers, each room ought to have its own distinct personality. "It's like in a play or a film," Vevaud explains. "There should be a number of different acts." One of the apartment's most emblematic spaces is the kitchen that, along with its angular, faceted island carved from Blue Wood granite, features a poetic, shimmering mural commissioned from French decorative painter Solène Eloy. "We used luxurious materials and gave it the same level of treatment as we would a sitting room," Le Berre says. One element did prove slightly problematic: The plaster-and-bronze dome pendant fixture turned out to be so heavy that the ceiling had to be reinforced with steel to support it.
A significant amount of the flat's furniture was either custom, like the bespoke green-marble and stained-oak dining table, or selected from Le Berre Vevaud's in-house collection, such as the ball-foot slipper chair and the
upholstered brushed-oak and lacquered-steel bench in the main bedroom. Their inspiration is drawn from various sources—the Bauhaus, movie and advertising posters, and postwar Italian sports cars—but almost all of their creations share a predominance of rounded forms. "They make rooms more fluid and give more ease to daily life," Le Berre reasons. And they were more than appealing to the homeowners: "With two young children, we wanted to avoid anything with sharp angles," the husband emphasizes.
The rest of the furnishings include a sculptural porcelain chair by Agnès Debizet, a vintage Tre Pezzi armchair by Franco Albini, and quirky ceramics with faces on them by both Atelier DaLo and Julien Michaud. Le Berre and Vevaud's favorite item, however, is quite possibly the cloudlike assemblage of biomorphic paper lanterns that hangs above the dining table. "It's at once voluminous and very light and diaphanous," Vevaud remarks. "Which makes it perfect for here."
The resulting décor may not at all be what the clients envisioned, but once they let go of their initial preconceptions, the couple was more than won over. "At the beginning, I was a little unsettled," the husband admits. "But in the end, it was me who encouraged Raphaël and Thomas to go even further. Even if given the choice, I wouldn't change a thing."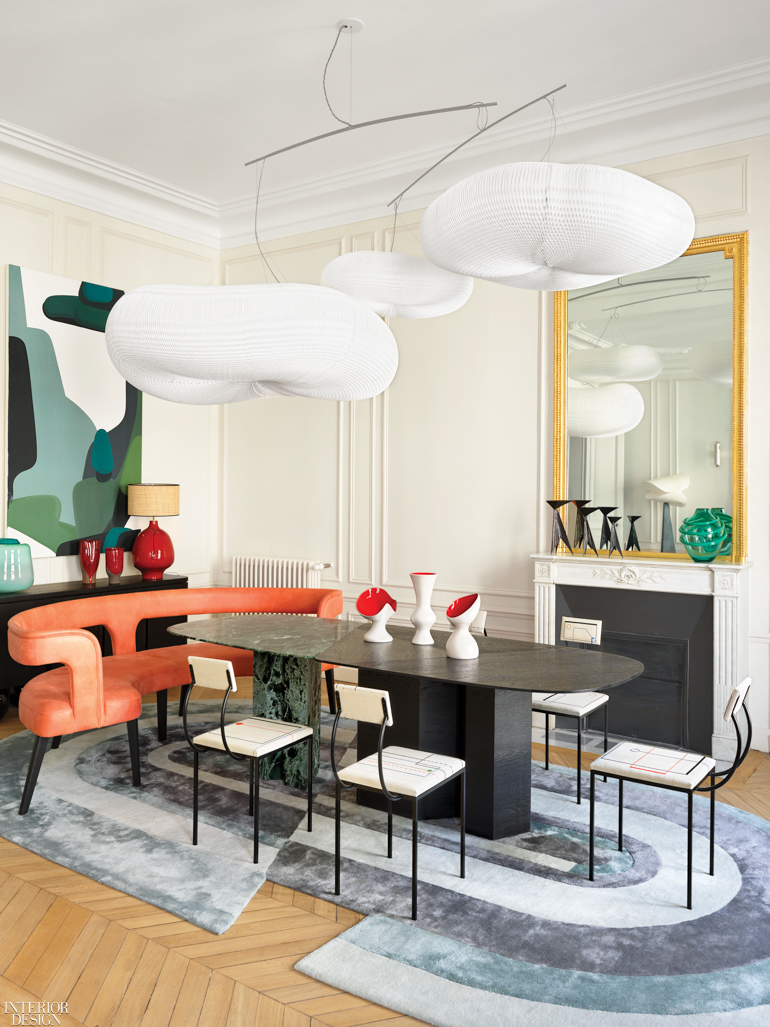 Project Team: Laura Djian: Le Berre Vevaud. Renaissance & Restauration: General Contractor.
Product Sources: Dining Area: Galerie Mouvements Modernes: Chairs. Le Berre Vevaud: Sideboard, Custom Bench, Custom Table. Molo Design: Pendant Fixture. Thomas Fritsch – Artrium: Ceramics on Table. Galerie Sandy Toupenet: Ceramic Lamp and Vessels on Sideboard. Galerie Anne Jacquemin Sablon: Glass Vase on Sideboard. Galerie Pierre-Alain Challier: Candlesticks on Mantle. Pierre Gonalons: Glass Vase on Mantle. Angelo Rugs: Rug. Living Area: Le Berre Vevaud: Large Coffee Table, Console, Rug. Galerie Glustin: Vintage Sofa. Galerie Mouvements Modernes: Vintage Armchair. Gubi: Lounge Chairs. Galerie Avant-Scène: Ceramic Bowl on Large Table. Galerie Anne Jacquemin Sablon: Candlesticks on Marble Table. Edition Alexandre Biaggi: Floor Lamp. Joseph Dirand: Sconces. Kitchen: BassamFellows: Stools. Gilles & Boissier: Pendant Fixture. CFOC: Ceramics on Island. Theoreme Editions: Resin Jug/Vase on Counter. Cristal Saint Louis: Glasses and Pitcher. Puiforcat: Salt and Pepper Shakers. Entry: Galerie Jean-Marc Lelouch: Mirror. Le Berre Vevaud: Console, Custom Screen. Galerie Yves Gastou: Porcelain Chair. Pouenat: Sconces. Galerie Saint Valentin: Ceramics. Codimat Collection: Rug. Bedroom: Le Berre Vevaud: Bench, Slipper Chair, Rug, Custom Headboard. Charles Zana: Table Lamp. Society Limonta: Bed Linens. Bathroom: Le Berre Vevaud: Stool. Throughout: Ressource Paints: Paint.