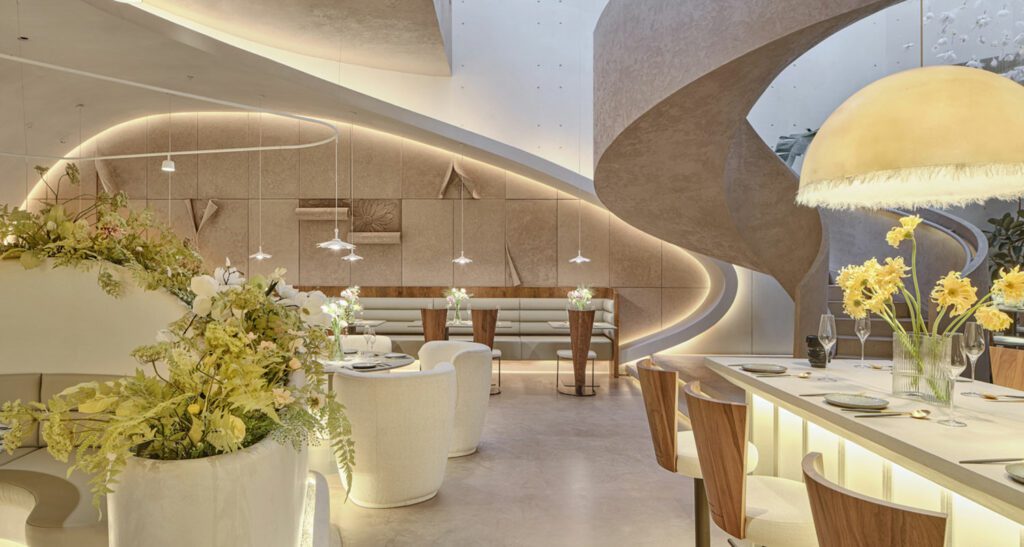 Liang Architecture Studio Uses Botanical Forms for the Tomacado Restaurant in Shanghai
To create an oasis within the Shanghai International Finance Center, Liang Architecture Studio founder Liang Xu leaned on the botanical form for the restaurant Tomacado. "Isolated from the noisy city, flowers can share love and beauty," Xu explains. The theme begins on the exterior, with flowers formed in plaster relief. Inside, abundant artificial arrangements spill out of a curving central island while suspended silk magnolias accent a spiral staircase.
Throughout the space, a neutral palette combines with contemporary and clean elements. "The selection of materials was simple and practical," Xu notes. Microcement and terrazzo mix with warm wood and textiles. After a meal, diners can stop by the floral boutique at the restaurant's entry to grab a bouquet—and take the calm of the space with them into the city.