Lifetime Television's Drop Dead Digs by HOK
"Connect. Play. Share." says the tagline of mylifetime.com. Aside from urging followers of Lifetime Television to explore its website, those words handily sum up the design direction of the company's nine-month-old office in Manhattan.
Lifetime Television occupies a 70,000-square-foot space within the Port Authority's erstwhile freight-sorting facility. Designed by HOK , it replaces a previous New York satellite—several floors that had previously belonged to the advertising giant Ogilvy.
"It was a rat ward," HOK senior principal and director of design Rick Focke, who oversaw the new project, recalls of the repurposed midtown headquarters. "People were housed in existing offices and high-paneled workstations; you didn't see any daylight, and finding your way around was really difficult."
In contrast to its Ogilvy inheritance, the client "wanted the new space to be a fun place to work, very open and collaborative," Focke says. Fun greets visitors in the lobby, where lavender Barcelona chairs sprawl across a Paul Smith–designed Swirl rug. Lavender is the cable network's signature color, and it reappears in the so-called Main Street that HOK used as a major organizing device for the office. An expanse of LED-backlit Panelite traces this curved path, with the embedded diodes grazing the floor with lavender and other color sequences. "The wall is all pink during Breast Cancer Week, and for the Fourth of July it looks like fireworks are going off," Focke says of the 10 different lighting patterns HOK had programmed for the wall.
High-tech lighting aside, an abundance of daylight differentiates HOK's creation from Lifetime's old perch. The client would not eliminate the perimeter offices in which sales executives take important calls, but those offices are smaller and walled in glass.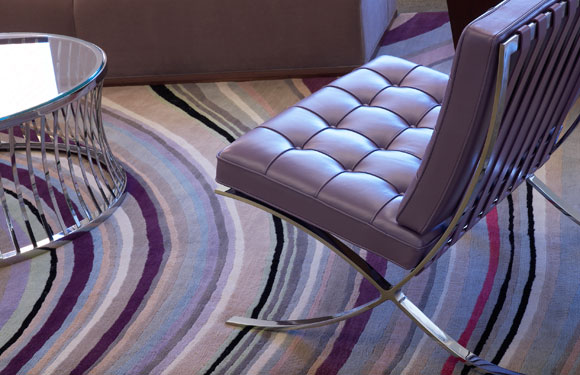 To ensure that daylight penetrates deeply into the office, remaining employees sit at Knoll workstations sporting low partitions. In addition to making sure the workstations create adjacencies between team members that didn't exist previously, the low-height cubicle dividers also helped HOK encourage interaction among the staff.
Breakout zones—including a red Panelite "huddle room" that also serves as a video-conference venue—interspersed through the workplace also facilitate connections. Employees can share knowledge away from their everyday routine, too, by convening in one of the comfortable vignettes found in the Town Hall tucked just behind the lobby. This old Port Authority truck dock steps down from the main area, and its old concrete surface is recovered in shiny faux-bamboo Armstrong flooring that reflects the pendants suspended from the ceiling. In addition to serving as an informal living room and cafeteria, Lifetime can quickly rearrange the room, auditorium style, for company-wide presentations or advertiser screenings.
Are these offices for women? Not exactly, Focke says, pointing out that clients' desire for collaborative office space cannot be pegged to one gender. But a majority of the Lifetime's New York–based employees are women, Focke says, and HOK has made at last one concession to them: "We built two small men's restrooms and two larger women's restrooms with makeup areas."
Images courtesy of HOK Architects.
Project Credits:
Architect: HOK. Design Team: Juliette Lam, Rick Focke, Kaleena Brzozowski, May Julsuwan. Engineer: MSJ/Pennoni. Contractor: Lehr. Project Team: McCann Systems, TM Tech Partners, CBRE, Taconic, Time Warner Cable, ESI Systems, Robert Hanson Associates, Syska Lighting.