Los Angeles Residence by Clive Wilkinson Architects: 2019 Best of Year Winner for City House
A new wife meant a new life. Architect Clive Wilkinson had two small kids, Elisabeth (now proudly Mrs. Wilkinson) had one teenager. Each needed a bedroom. The other chief consideration was the steep hillside site in Los Angeles. Though challenging, it gave the Interior Design Hall of Fame member the opportunity to build the home he had long desired. "It's inspired by L.A.'s modern floating houses, like tethered spaceships on stilts," he says.
The setting prescribed organization: the children's rooms plus a studio on the ground floor, the master suite and guest quarters on two, social spaces for the family above. The latter features an expansive balcony off the living-dining-kitchen area, which is warm and welcoming with sandblasted Douglas fir paneling and wide-plank white oak flooring. The adjoining library-media room has custom steel shelving. They're all contained in an angular blackened-zinc volume that appears to float above its paler base.
Green weighs in, too, as the 3,700-square-foot house is harmoniously scaled to its surroundings and includes such eco-friendly considerations as a water-retention system and energy-efficient lighting. The project proves Wilkinson to be a good family man and a good citizen.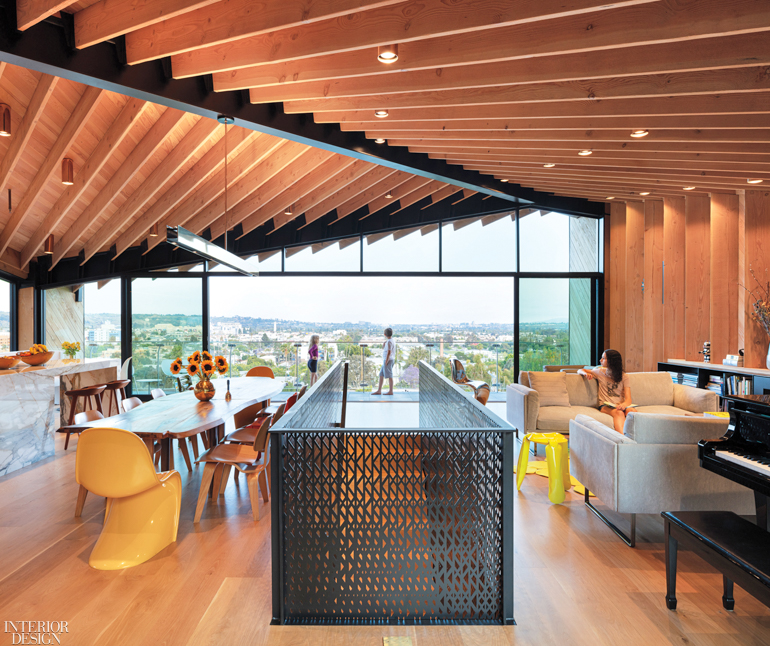 Project Team: David Burns; Ben Howell.
> See more from the December/January 2020 issue of Interior Design