Lotus Square Art Center by Shenzhen Dae Interior Design Co., Ltd: 2018 Best of Year Winner for Outdoor
It's basically common knowledge these days that installing a green roof on a building helps reduce its energy use, absorb stormwater, and combat air pollution. This practice has become increasingly mainstream in hotter developed land masses known as urban heat islands. One such is Hengqin island, overlooking Macau. That's where this sculptural verdant roof tops a 32,000-square-foot art exhibition hall: the Lotus Square Art Center.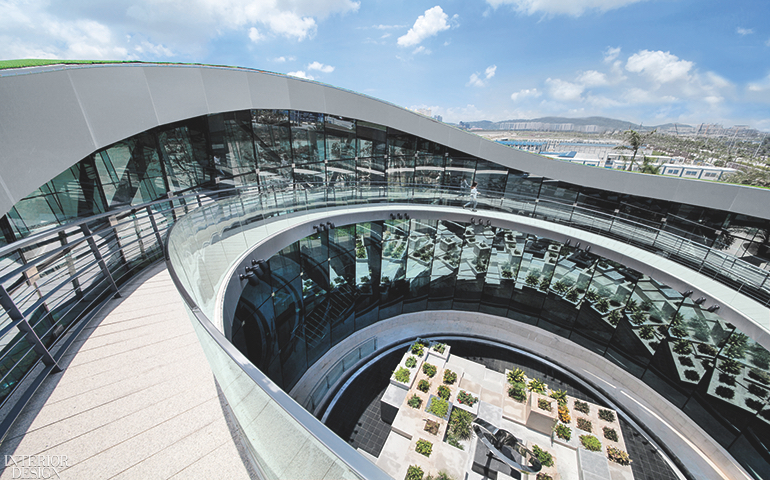 Inspired by the shape and movement of fish, Shenzhen Dae Interior Design Co., Ltd director Raynon Chiu planned the building so its roof rises seamlessly from the surrounding terrain, undulates, and curves toward the Zhujiang River Estuary, its peak a prime vantage point for taking in views of the spire of Macau Tower, the rippling facade of the MGM casino, and the lotus leaf–shape Grand Lisboa hotel visible across the water.
These landmarks can also be seen from inside the art center, thanks to its curtain wall of low-e glass, which reflects heat while maximizing natural light, reducing the need for artificial illumination. Just as the building's environmental impact is minimal, so, too, is its visual impact on the landscape. From afar, supported by treelike columns, it appears to be a natural elevation of the terrain.
> See more Best of Year Project Winners from the December 2018 issue of Interior Design