Ludovica+Roberto Palomba and GS Collection Transform a 19th-Century Puglia Home into a Boutique Hotel
For well-traveled Italophiles having already summered in the usual hot spots—Portofino, Positano, Capri—another, more remote locale beckons of late: Puglia, at the tip of the boot's heel. It's there, in the village of Gagliano del Capo, where the
Adriatic and Ionian seas collide, that
Palazzo Daniele, an ancient ancestral home transformed into a nine-suite
hotel, is constituting a major draw. Grazie goes to the team: architects Roberto Palomba and Ludovica Serafini of Ludovica+Roberto Palomba-Palomba Serafini Associati, GS Collection founder Gabriele Salini, and Francesco Petrucci. The latter's family has owned the property for five generations since its construction in 1861, the year of Italy's unification.
Ludovica+Roberto Palomba may seem a stretch for the commission. Although the Milan-based studio is known globally for top-tier product design, it had few hospitality-design credits. But, years ago, a mutual friend introduced the married principals to Petrucci, who, after visiting their poetic, whitewashed summer residence—a renovated oil mill in nearby Sogliano Cavour—hired them for the project.
"Francesco asked us to re-invent his home as an artists' residence," says Palomba of the initial intent of the client, who is a philanthropist,
major art collector, and founder of the Puglia-based nonprofit Capo D'Arte. "Instead of him living alone there, it would be another way to use it." He and Serafini's initial guiding concept centered on emptiness. Or, as Serafini puts it: "to restore the spaces to their core essentials."
As their work neared completion, enter Salini, who also considers Puglia a second home. "He saw its potential as a hotel," Palomba notes. Given the project's new incarnation, the architects' commission expanded to include furniture selection. Still, Serafini adds, there would be only a "few functional elements." As for Salini, he envisioned a place "of contemporary nostalgia, one that resembles a private property where visitors feel like intimate guests at a grand palazzo." If it sounds contradictory in terms of aesthetics, we thought so, too. But it turns out that minimalism and the palazzo's neoclassicism, its ornate wall and ceiling frescoes and intricate mosaic floor tile, are actually highly complementary, the result binding design, history, authenticity, and art.
Originally designed by local architect Domenico Malinconico, the 7,500-square-foot, stone-and-plaster structure comprises two wings flanking a courtyard, "the architectural centerpiece," Salini says. Palomba and Serafini retained many original elements, celebrating the majestic volumes and their centuries-old frescoes. They stripped away wall coverings, replacing them with gentle washes of blues and celadons inspired by the glorious paintings. "It's clearly new," Palomba says, "but in keeping with the sense of the place."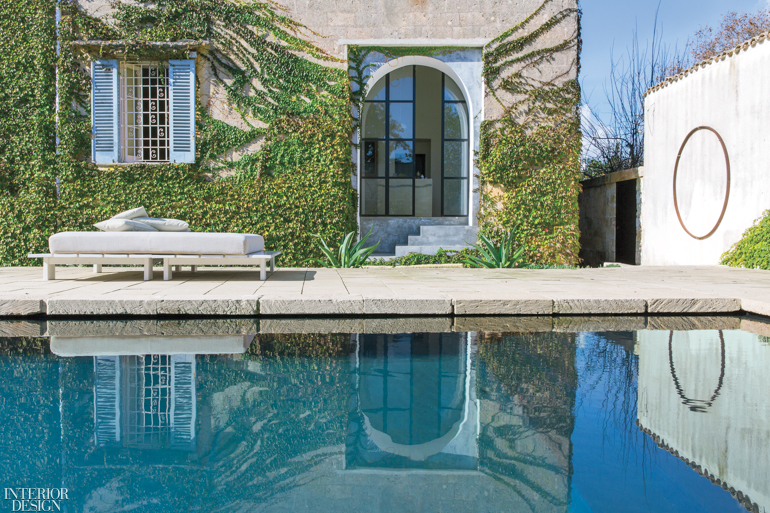 The hotel's interior public areas are predominently in one wing. They include a trio of salonlike "common" spaces, as the architects call them, two double-height with frescoes, one of which leads to an intimate bar called Holy Spirits. The third, more human-scaled space is the salotto, or living room. All are sparsely furnished with the streamlined Lirico seating the couple designed for Driade along with select vintage pieces.
> Check out our projects page for more design inspiration
The junior suites, each upwards of 300 square feet, are in this same wing. Though individually unique, they
share one element: Each has a wall hosting a black-and-white light-box work by Rome-based artist Simon d'Exéa. In fact, contemporary art appears throughout the hotel, and it rotates under the curation of Petrucci. Currently on show are pieces by Carla Accardi, Roberto Cuoghi, Eva Jospin, and Christian Frosi.
Bold works by Sergio Breviario and Mohamed Namou hang in the suite apartment, formerly Petrucci's private domain, which occupies the other wing. At 2,200 square feet, it offers comprehensive quarters: three bedrooms and bathrooms, a living room, a kitchen, and a dining room as well as private access.
At the rear of the property, another original component stands amid a verdant orangerie. Its insides a riot of polychromed surfaces that have held up over the decades, the structure was originally a folly, but is now the Kaffeehaus. It's where guests can enjoy coffee, tea, or aperitivo as well as commissioned private dinners, all of which are prepared in a kitchen attached to the main wing of the hotel. That brings us to the project's new elements. Said kitchen is a glass-faced addition reached via concrete steps shielded by a perforated steel screen painted black, all new. (The hotel does not have an official restaurant, but breakfast and lunch are served in the kitchen.) Nearby is the recently installed swimming pool, its inky black tiles retaining the water's heat for the six months that Puglia sees summer.
The Palazzo Daniele suites aren't all restoration and renovation either. Their bathrooms have modern interventions in the way of fixtures and fittings, most designed by Palomba and Serafini. One suite even has a bona fide contemporary-art installation: A rain shower takes advantage of the room's vaulted ceiling, cascading water some 10 feet down onto a guest standing in a large round basin created by Milan artist Andrea Sala. It's like a luxurious baptism.
Keep scrolling to view more images of the project >
Project Team: Francesco Bianconi; Anita Maria Cintia Sala: Ludovica+Roberto Palomba-Palomba Serafini Associati.
Product Sources: From Top: Driade: Sectional (Salons), Chair (Junior Suite). Maisons Du Monde: Umbrella (Pool Terrace). Sys Piscine: Pool. La Tessitura Di Antonia Calabrese: Bed­ding (Junior Suites). Ikea: Sconce. Zucch­etti: Rain Shower Fitting (Bathroom). Ceramica Flaminia: Double Sinks.