Magni Kalman Design and Shubin Donaldson Redefine California's Mid-Century Legacy With a Contemporary Home
The Pacific Palisades holds no shortage of contemporary houses. Stunning, some. Large, many. This collaboration between Magni Kalman Design and Shubin Donaldson is decidedly both.
What makes the property a standout, for starters, is its views of a state park on one side and the Pacific Ocean opposite. The site itself, however, was challenging, a hillside that had never been built on. Regardless, architects Russell Shubin and Robin Donaldson were convinced of its viability. They proposed a plan that responds to the topo­graphy, with a 14,500-square-foot main house, plus 2,500 square feet for a separate building containing a gym, sauna, and game room.
The owners—he a tech entrepreneur, she in finance—would be moving from a floor-through condo elsewhere in Los Angeles. They had no kids at the project's inception. There were three by completion, five years later.
> Browse through other residential projects featured in Interior Design Homes
In broad strokes, the ground level is a U shape, while the upstairs, farther up the hill, gains a fourth side to form an O. The moment of genius was to embed a six-car garage inside the hill, at the center of the U. A garage at the heart of a floor plan? Yes, since the customary rear motor court would have obstructed views. On top of the garage, the center of the upstairs plan is a courtyard, complete with craned-in olive trees. This solution also made the encircling rooms on both levels relatively shallow, so sunlight easily penetrates.
Approaching, past the walls that conceal the infinity pool, deck, and terrace, you get that this house is no monolithic box. The architecture immediately reads modernist yet organic. "Handcrafted rather than machine-made," Shubin notes. Donaldson adds, "Creating architectural assemblages that articulate a distinction between materials is important to us." Ergo the way the giant slatted panels outside the window walls can swing back and forth, serving as sunshades. Or the way the entry staircase's treads float upward over a triangular reflecting pool lined with river rocks. Why opt for hard flooring when a shimmery water feature would be ever so celebratory?
That's design drama. Drama in the medium of painting is represented by the entry's massive Sean Scully composition of stripes in a saturated color palette. "My art adviser of 35 years—also a friend of the artist—called me on a Sunday morning to tell me of the work's availability," James Magni recalls. "Would it be right for a client?" You bet. The owners of the house jumped to make their first significant art acquisition.
The word palette of course applies not only to art but also to materials. Magni and Jason Kalman, a trained architect and an interior designer, respectively, made choices that refer to Shubin Donaldson's architecture. "We brought the exterior inside," Kalman explains. A limited palette of stone and wood pervades. Exterior walls and terraces are the same limestone as flooring and fireplace surrounds on the ground level, varying only in finishes: split-faced, honed, or textured. Sapele mahogany, which frames the doors and windows, reappears as the slats of dividers and as the treads of the main staircase. Its dark steel rods recall the outdoor framework's steel, painted black.
Furnishings, meanwhile, are entirely the brainchild of Magni and Kalman. They started their process with a 20-page questionnaire, followed by "hundreds of research books," Magni says. The goal: to impart comfort and coziness "within a contemporary piece of architecture," he continues. "Cozy" in a 23-foot-high living room? Sounds like an oxymoron. But not for these designers. They mixed it up, careful to avoid a showroom look.
Vintage enters the picture in the living room with a pair each of Gio Ponti and Finn Juhl chairs, the former chenille-upholstered and the latter covered in textured leather. A cocktail table in polished bronze and cast glass and a sofa with a rosewood back, both pieces custom-designed for the project, have subsequently been integrated into the Magni Home Collection. Ditto the gridlike chandelier in bronze and glass, conceived to humanize the soaring scale of the room.
Read More: Kengo Kuma Refreshes Exquisite Paris Residence Designed by Kenzo Takada
No less recherché was Magni and Kalman's approach to the dining room. For a touch of artisanship, they turned to a San Francisco furniture studio known for its work with large slabs of wood. Together, the team crafted a 14-foot-long walnut oval top and an oil-rubbed bronze base for the table. Overhead, a lighting cove surfaced in white-gold leaf casts a glow on family and guests.
When the wife cooks dinner—much of the fruit, vegetables, and herbs coming from the terraced garden—the kids watch or draw at the live-edge walnut island. Or everyone can hang out in the corner den, whether sprawled on the sectional or perched on T.H. Robsjohn-Gibbings ottomans. (Don't miss the red, yellow, and green Robert Rauschenberg hanging by the entry.) At night, the kids sometimes drag mattresses into the master suite to bunk down next to the platform bed.
The master suite, at 2,000 square feet, is the size of a generous apartment. That's divided between what is actually a small bedroom and a bathroom that practically qualifies as a full-on spa, with two separate sink vanities and WCs, a super-glam makeup counter, an immense freestanding shower, and a designated massage space.
In addition to the master suite, the upstairs is home to the kids' own rooms, a playroom, and an office, all encircling the courtyard. Extending in front of all that, connected by a bridge, the ocean-facing mezzanine features a sentimental memento. A glass box, which serves as a cocktail table, encases an alfalfa bale, the last one harvested by the wife's father, an immigrant from the Basque country of France, on their family's farm in California. Cool, definitely. Cold, anything but.
Keep scrolling to view more images from the project >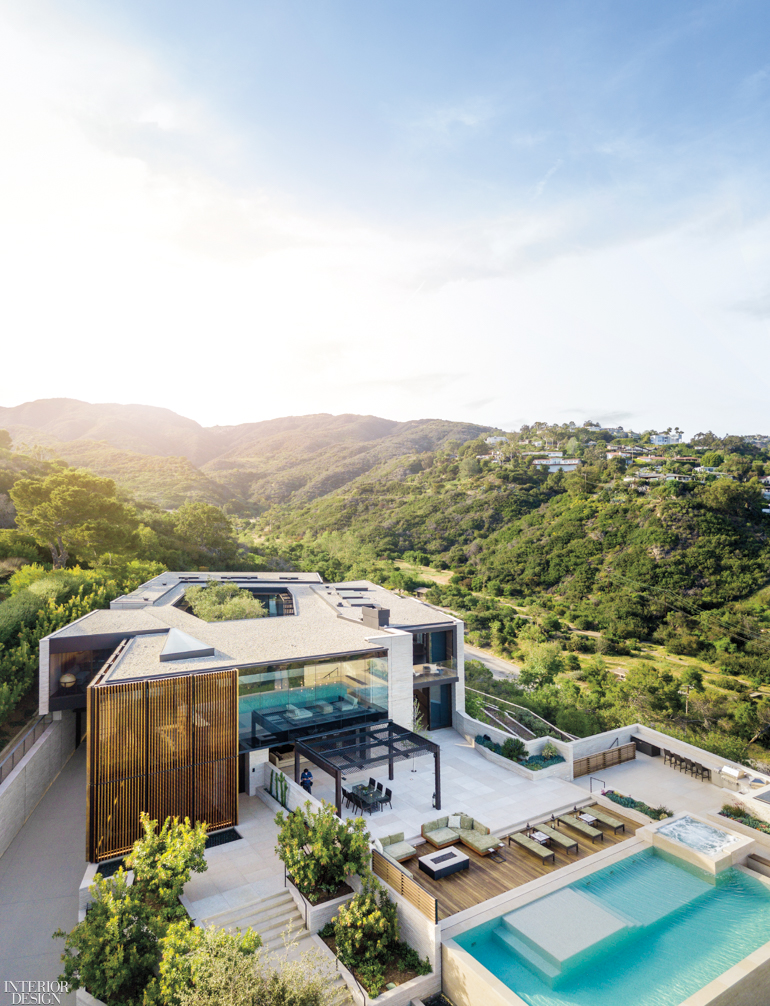 Project Team:
Bradford Kelley: Shubin Donaldson. Stonemark Construction Management: Construction Manager. AHBE Landscape Archi­tects: Landscaping Consultant. HLB Lighting Design: Light­ing Consultant. Audio Command Systems: Audiovisual Con­sultant. Michael Thomas: Art Consultant. John Labib & As­so­ciates: Structural Engineer. Vision Mechanical Ser­vices: MEP. Fuscoe Engineering: Civil Engineer. Newson Brown Acoustics: Acoustical Engineer. Miller Woodwork­ing; Spectrum Oak: Woodwork. Winters-Schram Asso­ciates: General Contractor.
Product Sources:
From Top: H2o Design and Platinum Pools: Reflecting Pool (Entry). Chista Through Thomas Lavin: Cocktail Table (Living Room). Magni Home Collection: Chandelier, Custom Daybed, Sofa, Stools, Square Cocktail Table (Living Room); Loveseats (Din­ing Room); Sectional Sofa (Den); Custom Bed, Nightstands (Bedroom). Holly Hunt: Daybed Fabric (Living Room). Travers: Daybed Pillow Fabric. Cowtan & Tout: Sofa Fabric. Cortina Leathers: Stool Upholstery. Mansour Modern: Rug. Through Lon Hamaekers: Beige Armchairs (Living Room), Ottomans (Den). Chivasso: Armchair Fab­ric (Living Room). Through Haskell Antiques: Side Tables. Finn Juhl: Rust Lounge Chairs. Keleen Leathers: Lounge Chair Upholstery. Kenneth Cobonpue: Dining Table (Terrace), Outdoor Lounge Chair (Bedroom). JANUS et Cie: Dining Chairs (Ter­race), Chaise Lounges (Deck). Marksman Building & Design: Screen (Dining Room). Legrande Studios: Gold Leaf. Studio Roeper: Custom Table. Blackman Cruz: Chairs. Villa Nova: Chair Fabric. Ashbury Hides: Love­seat Upholstery. Zanetto: Candlesticks. Finish Rite Construc­tion: Sectional Sofa (Deck), Screens (Exterior). Summit Fur­niture: Sectional Cushion Fabric, Chaise Lounge Fabric (Deck). Bulthaup: Cab­inetry, Island (Kitchen). Caesarstone: Countertop Solid Surfacing. Inox; Viking: Hood. Miele: Oven. Wolf: Range. Dornbracht: Sink Fittings. Zele: Stools. Eco­sense: Cove Lighting. Inter­na­tional Flooring: Carpet (Den), Wood Floor­ing. Calvin Klein Home; Spectra Blinds: Curtain Fab­ric (Den). Myung Jin: Sec­tional Fabric. Micana Fine Tex­tiles: Pillow Fabric. Dan Pollock: Coffee Tables. Dedar: Ottoman Fabric. RH: Throw. Roche Bobois: Sofas (Mezzanine). Jim Thompson: Sofa Fabric. Scott Watkins: Custom Cocktail Table. Azurelite: Guardrails. La Form: Wood Paneling (Bed­room). Water Studio: Fireplace. Lapchi: Rug. Design Within Reach: Bench. Charles Jacobsen: Pendant Fixtures. Frette: Bedding. Dreamscape Lighting: Mirror Lights (Bathroom). Axor: Sink Fittings. J.L. Møllers Møbelfabrik: Stool. Shaw & Sons Concrete: Driveway (Exterior). Optic Arts: Cove Lights. Throughout: Stoneland: Stone Flooring. Azurelite; Fene­stra; Sun Valley Skylights; Triview Glass: Custom Windows, Custom Skylights. Lucifer Lighting: Downlights. Behr: Paint.