Magu Design Goes to the Core of Norway's Aker BP Collaboration Center Experience
When technological advances allowed Norway's oil exploration and development company Aker BP to digitize its entire work process, the firm needed a new workspace to encompass the novel workflow. Enter Magu Design, who developed its 7,500-square-foot Onshore Collaboration Center in Stavanger as a hub for the various teams.
"We wanted to design features that support Aker BP in relation to transparency," says partner Gudbjørg Simonsen. "Rooms and activities that were previously closed are now opened up, to enable work performed more seamlessly with each other regardless of which department they belong to."
To unify the various workspaces, Magu just looked up. "The new digital infrastructure required that we demolish all existing construction," Simonsen says. "The new large canvases required extra headroom, which meant that all existing ventilation and infrastructure had to be relaid so we could lift the new ceilings in the operation areas." This challenge, however, led to opportunities. A light gray metal ceiling in the corridor offers a nod to Aker's industrial character, while the dark wood ceilings in the operation rooms soften the mood.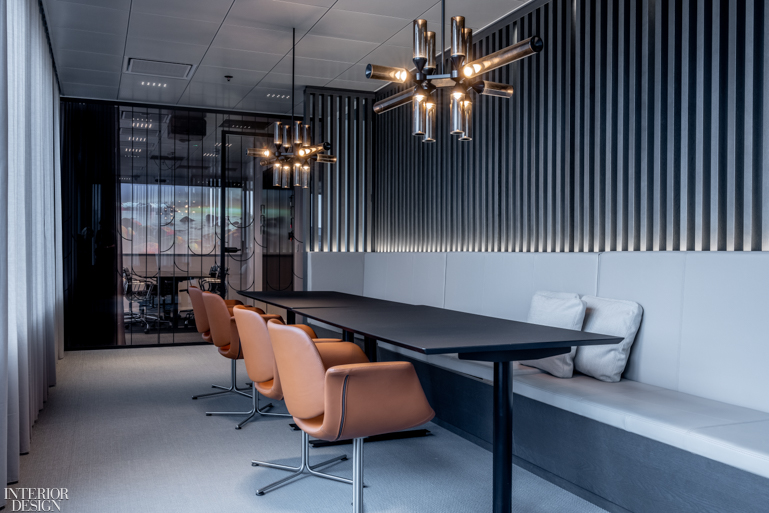 "The big surprise is in the lounge," Simonsen says, "where layers upon layers of sand-colored textile create forms in the ceiling mirroring the strata found in a drilled core sample. The ceilings have a lot to say for the experience, we think. They separate the premises from a regular office."
Read next: Utilitarian Forms and Fun Inspire Paum-Designed Offices for PETSHOP in St. Petersburg