Marc Corbiau Creates Live-in Studio for Artist Sophie Cauvin
Marc Corbiau is the king of the white cube in his native Belgium. In affluent Brussels suburbs, a Corbiau home carries a certain cachet, denoting art-collecting residents who value the clean lines and pure forms of his spare, roomy interiors. "My designs are oriented toward art," Corbiau affirms. The Bureau d'Architecture Marc Corbiau principal has been a collector himself for 50 years, acquiring works by Donald Judd, Richard Serra, and Robert Mangold, and his buildings are similarly minimalist. They draw the eye toward light and nature.
Never, though, had Corbiau created a studio for a working artist, whose inherent messiness might seem at odds with his pristine constructions. Belgian painter and sculptor Sophie Cauvin has enlisted him to do so twice. The first project was a workshop adjacent to her previous home. But when she found a bucolic plot of land nearby, in Sint-Genesius-Rode, she asked Corbiau to design an entire
creative retreat. Cauvin, who met Corbiau through the art world 20 years ago, had a clear vision for the 10,000-square-foot studio and residence. "She wanted to create an ideal place, in terms of architecture and landscape, so her work could flourish," Corbiau recalls. "It would encompass a vast space to paint in, separate but visible from another for sculpture, and a basement-level space for ceramics."
Cauvin's mixed-media artworks need both ample square footage and a connection to the outdoors. She has buckets of materials collected from around the world—sand, soil, ash, minerals—which she mixes with water and lathers on canvases with a broom. Her earthy, textured pieces reflect on geology and our place in the universe—the kind of heady topics that require an artist to unplug.
Though close to Brussels, the property feels isolated, ringed with evergreens and no buildings in sight. When landscape architect Piet Blanckaert first saw the site, it was largely overgrown and planted with nondescript shrubs, but had one standout quality: a magnificent 150-year-old red beech tree. "A big one like that is quite rare in Belgium," says Blanckaert. "It's planted on a little hill, which makes it grow twice as fast because the water runs off. The roots come to the surface like a sculpture."
Blanckaert, Corbiau, and Cauvin, who worked closely together throughout the two-year process, agreed from the start to orient the structure around the beech. Blanckaert cleared out the land around it to make a lawn with the tree and a koi pond at its center. Floor-to-ceiling windows in the painting studio and living area face the verdant expanse. Other parts of the grounds take the form of Japanese-style gardens, with Belgian bluestones and clipped hedges. The sculpture studio, where Cauvin also hosts events and exhibitions, opens onto a Zenlike terrace shaded by oak, medlar, and box trees. For Cauvin, the lawn and Japanese gardens each form a discrete microcosm, offering unique perspectives into the natural world.
Three UV-coated skylights filter northern light into the studio spaces, even down through a stairwell to the ceramics area. "The entire design is based on light," Corbiau explains. "There's no point of shadow in the studio—all is uniform—which is crucial for Sophie's work." He also considered circulation and sight lines, making distinct spaces that flow into one another and frame views of the gardens. Visitors enter directly into the studio and turn left for painting or right for sculpture; the open foyer creates a vista across the vast cement-floored rooms. A three-sided open gas fireplace separates the painting studio from the living and dining area, where interior designer Vincent Bruyninckx, another project collaborator, deployed a Piero Lissoni sofa and Hans Brattrud chair that sit on a cowhide carpet.
Cauvin, attuned to materiality given the tactility of her work, chose Valser quartzite for the exterior and some interior walls. "It's the stone that Peter Zumthor used for his thermal baths in Vals, Switzerland," Corbiau notes. "Sophie wanted something that felt timeless and soothing." Cut into horizontal strips, the stone shimmers with silver mica and white quartz. From afar, the structure looks like a Brutalist monolith, but up close, there's texture and warmth. The quartzite also extends indoors, cladding much of the serene upstairs residence, which includes a spalike bathroom, massage room, and bedroom. In the bath, it's kept rough on the walls, but sanded down for the sink, vanity, and tub. Cauvin took leftover stone strips and made a circular sculpture on the lawn.
For Corbiau, who has visited countless studios over the years, the work was pure pleasure. "It was a bijou of a project," says Corbiau. "It was a dream for me to design a grand atelier." Best of all, he adds, Cauvin is happy there and shares the space with others. It's an open studio in every sense of the word.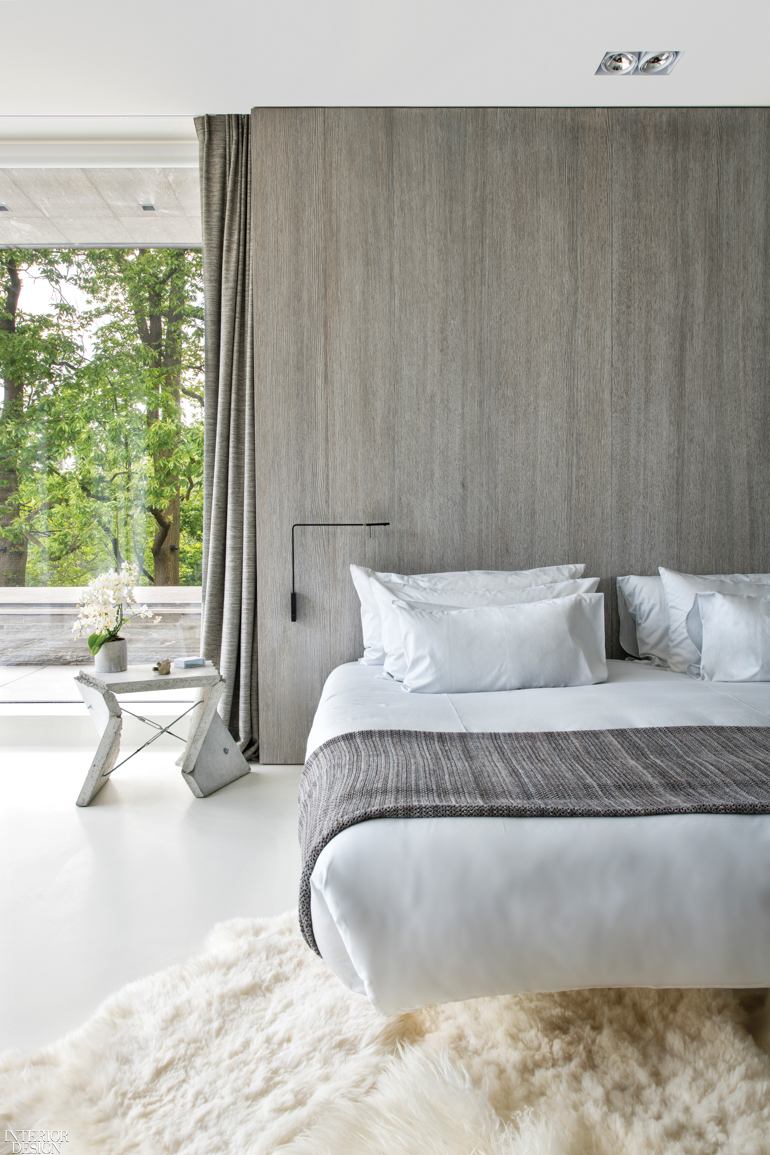 Project Team: Vincent Bruyninckx: Interior Design, Project Design. Piet Blanckaert: Landscape Consultant. Dimension Lumière: Lighting Consultant. Stream Service: Audiovisual. Marlière: Woodwork. Truffer Ag: Stone Supplier. Socatra: General Contractor.
Project Sources: At Chapes: Flooring (Studio). Erco: Lighting. Delta Light: Lighting (Living Room). De Puydt Haarden: Fireplace. Living Divani: Sofa. Limited Edition: Carpet. CEADESIGN: Sink Fittings.
Read next: Agence DL-M Conjures a Grand Apartment on Paris's Magical Île Saint-Louis