Martin Brudnizki Makes Glamour a Key Ingredient at Bullion in Dallas
Can there ever be too much gold? Not for Martin Brudnizki, who got his start in London and today creates some of the world's hottest hospitality venues. The Hartland-Mackie family brought him to Dallas, where Gensler was renovating the Hartland-Mackies' office tower, 400 Record, to feature an elevated pod to house a restaurant. Named Bullion, it would be an haute French experience presided over by Michelin-starred chef Bruno Davaillon in his Dallas reboot. (He had been chef at the Rosewood Mansion on Turtle Creek.) Gensler's pod enclosure gleamed positively golden, thanks to its fish-scale surface. Kismet.
So Brudnizki made glamour a key ingredient in his recipe. Yet the 5,700-square-foot space was still to read casual, à la brasserie. Sound like an oxymoron? Not under his deft hand. "In a brasserie, there are restricted components," he explains. "One chair, one leather or fabric. Then the details can be fancy, but not too much." A rose-gold gilded ceiling, for example, extends from the bar-lounge through the dining room. The blue-and-gold palette is a favorite of royalty, naturally. But what about that splash of scarlet? It's a mural by Matthew Chambers, who makes representational paintings, cuts them up, and uses the resulting ribbons of canvas to create abstract works.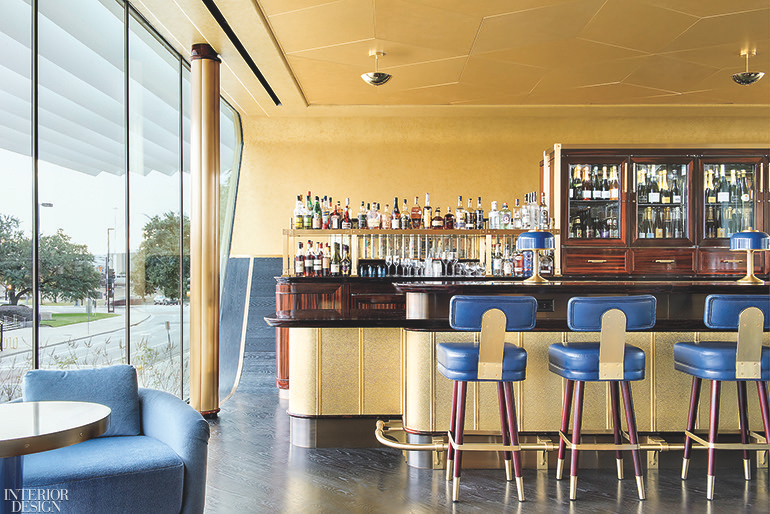 Product Resources: Quality & Company: Custom Banquettes, Custom Stools. Vaughan Benz: Custom Tables, Custom Host Stand. Studio Art Leather Interiors: Leather Upholstery. Ceilings Plus: Custom Ceiling Gilding. Parquet By Dian: Flooring. Robert Shaw Manufacturing Company: Woodwork. Dallas Metal Fabricators: Metalwork.