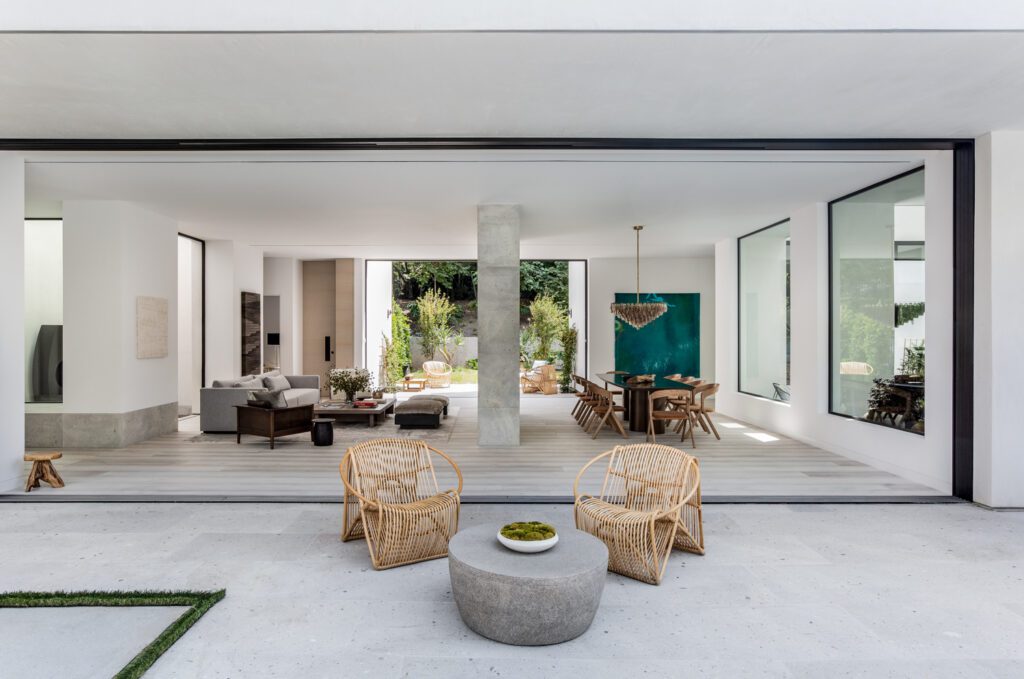 Masastudio Designs a Bucolic Beauty in Los Angeles
Marwan Al-Sayed and Mies Anderson literally came from worlds apart: he born in Iraq, she from Australia. But they met in Arizona, bonded over a love of art, and ended up in L.A. where they co-founded Masastudio in 1997. An early project was a true stunner, one we all dream of visiting. The Amangiri resort and spa in Utah was a collaboration among Interior Design Hall of Fame member Rick Joy, Wendell Burnette, and them. "All three firms had been in business for only about three years," Al-Sayed recalls. They were all so young. Thus comes introduction to a current Masastudio project, equally stunning in its own way and, for a residence, similarly grand. Situated on three quarters of an acre in the Mandeville Canyon section of Los Angeles, the house encompasses more than 12,000 square feet with five bedrooms and baths spread out over two floors.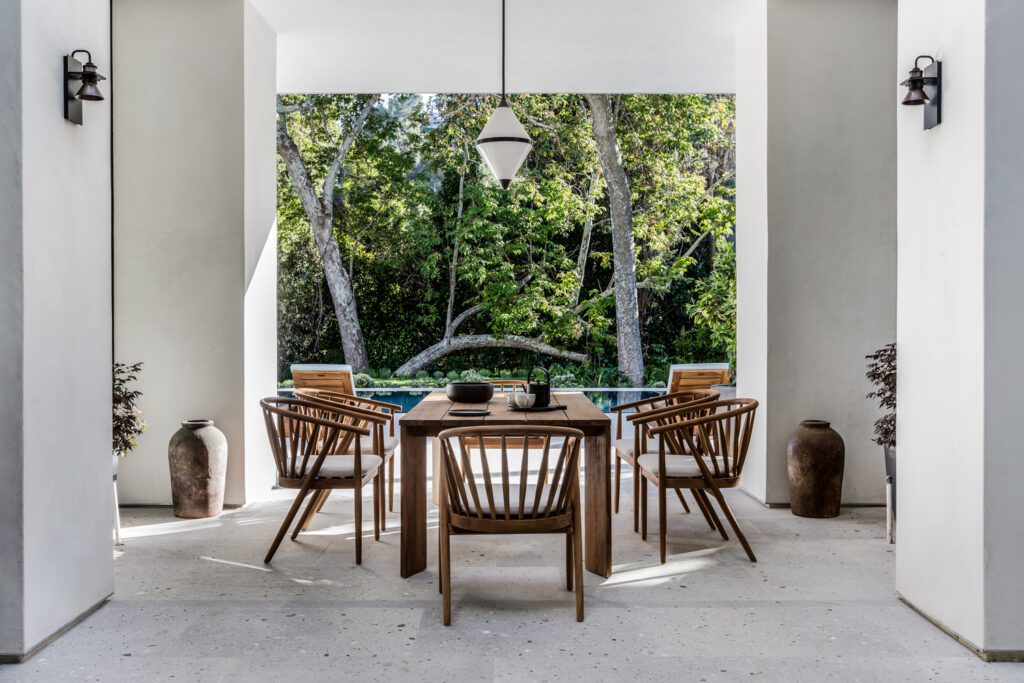 Though technically within city confines, Mandeville Canyon is more akin to a country setting. The site here was resplendent with mature sycamores, which were not only to be retained, but celebrated. Thus, says Al-Sayed, the architect, the house in plan assumes a snake-like linearity, yet its twisted volume is "a response to the trees." And, since the site is graded on a downward slope, Al- Sayed and Anderson (the interior designer) chose to start off with terraced gardens set with platforms, each for a tree. Much like a piece of sculpture would be mounted on a pedestal.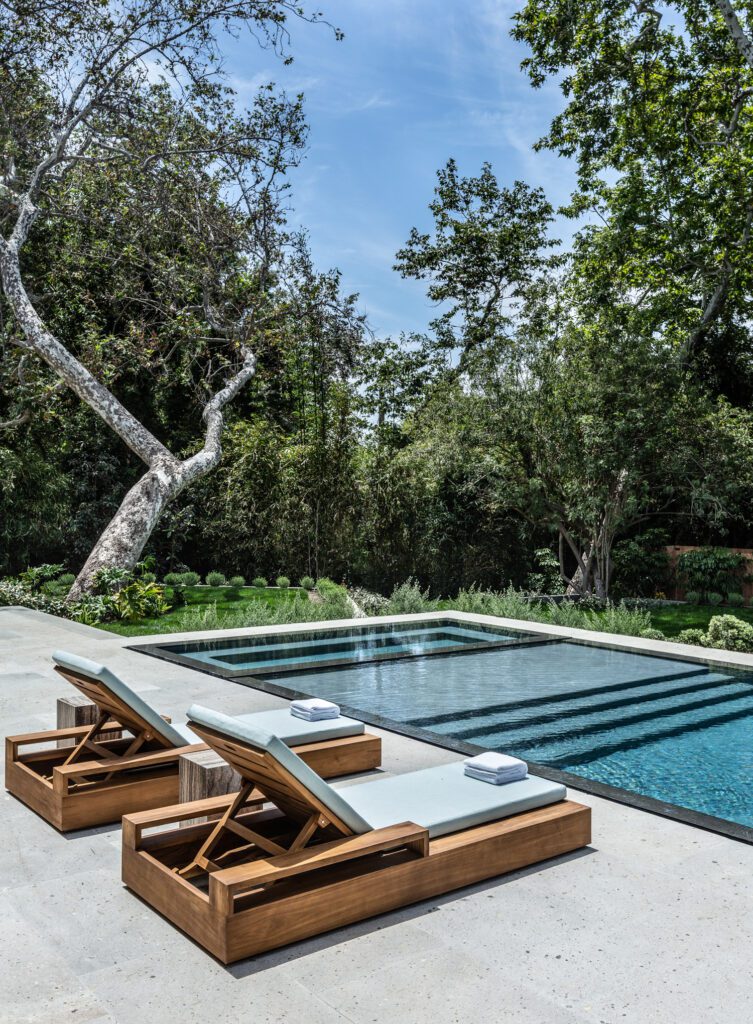 Exterior-wise, the house's front face presents a crisp white form of plaster and stained Douglas fir as evinced in the slatted screen and entry door, which are tucked beneath the second floor's overhang, plus the garage. The ensuing composition creates an auto court meant to be equally at home as an events space. No mere driveway here. Meanwhile, the opposite elevation is strictly linear with a series of stacked wood balconies overlooking the de rigueur pool, here eminently made for swimmers. Inspiration for those overhangs, notes Anderson, is clearly Donald Judd, a favorite of both.
Inside the palette is similarly serene, a play of tone-on-tone pales pleasing to all. An important consideration since the house was built on spec and subsequently sold. Flooring pervades as bleached oak, the same used for cabinetry. Pavers and the double-faced fireplace wall are a volcanic Mexican stone, its aggregate subtly recalling the sycamores' distinctive bark. Textiles for the mostly custom seating elements are creamy wool. Only the vibrant and jazzy marbles in some of the baths pose an exception to the rule.
Outstanding about this project are the ways in which Masastudio organized the interior to embrace and interpret the indoor-outdoor premise that's clearly the major draw of SoCal living. The entire wall stretching from entry through the living and dining expanse is glass, six stacked sliders fitting into pockets and opening to the stone terrace and that pool straight out of a David Hockney painting. Meanwhile, that divider articulating living and dining zones is more of a freestanding partition than bona fide wall, allowing the spaces to comingle. Next in line come a family room, guest quarters, and a deep-blue velvet screening room whose double row of settees accommodates eight.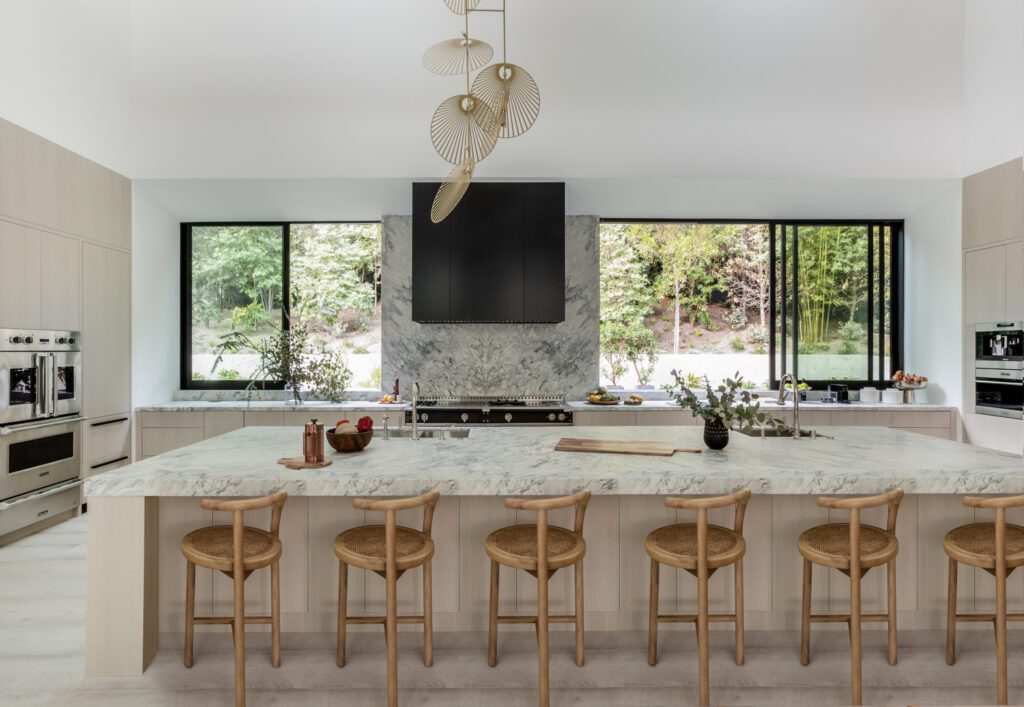 The kitchen, aligned along the wall opposite poolside and facing a hill of greenery, is immense. A skylight-capped, double-height volume, it showcases a customized pendant of cascading aluminum components, resembling, yes, leaves from the London-based studio Luum. The space is also long enough for an 18-foot island surrounded by plenty of work room for the family, said to enjoy cooking at the La Cornue range with custom steel hood. The floor plan's standout, though, is a pair of two open-to-the-sky courtyards. One, incorporating a water feature, occurs at entry. The other transects dining and family rooms.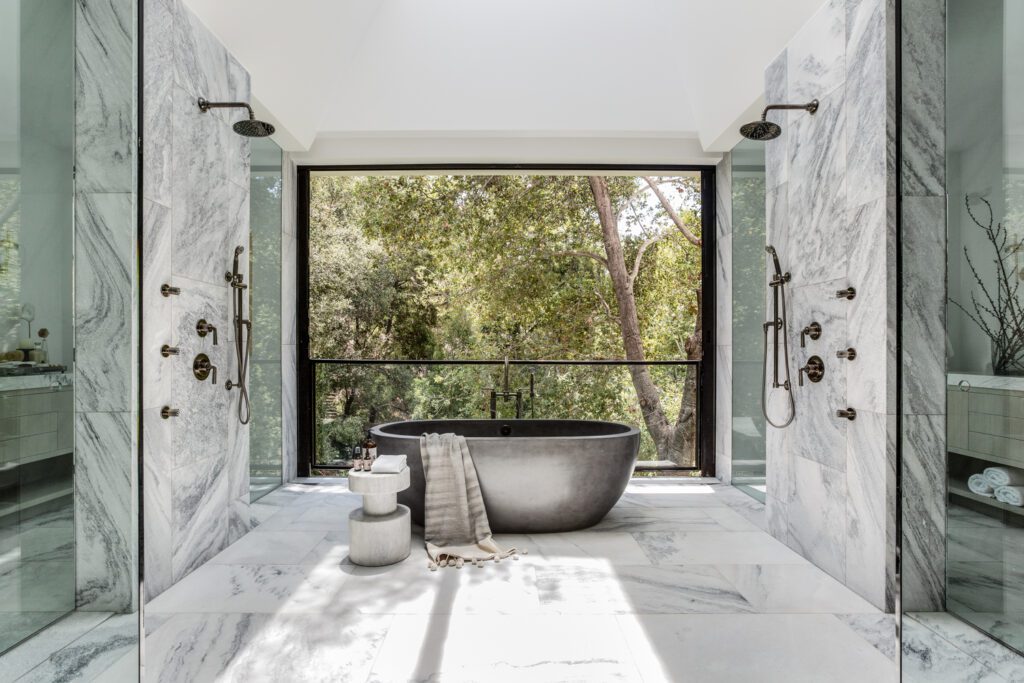 Upstairs, adjoining the principal bedroom with custom velvet platform bed cum oak paneled backboard, the pièce de résistance stands as the bath. Talk about a tree-top aerie. The glass-cube shower enclosure opens to the outdoors via sliding panes above a transparent balustrade, the only true divider between indoors and nature serving as backdrop to the freestanding cement tub. Make that a backdrop to the entire house. And make the dwelling analogous to a personal spa.