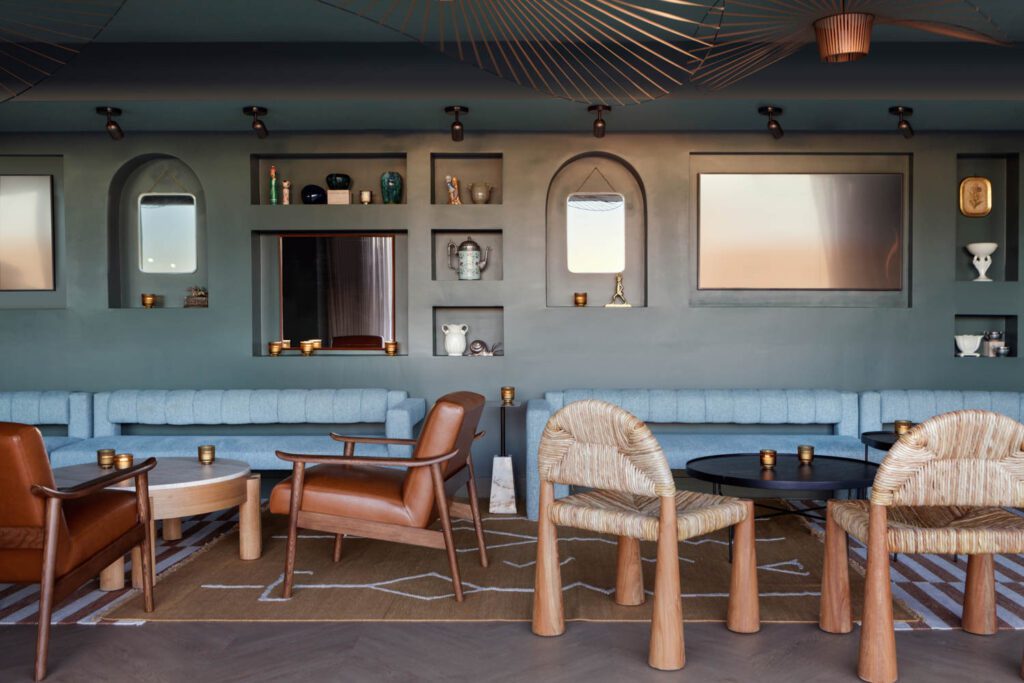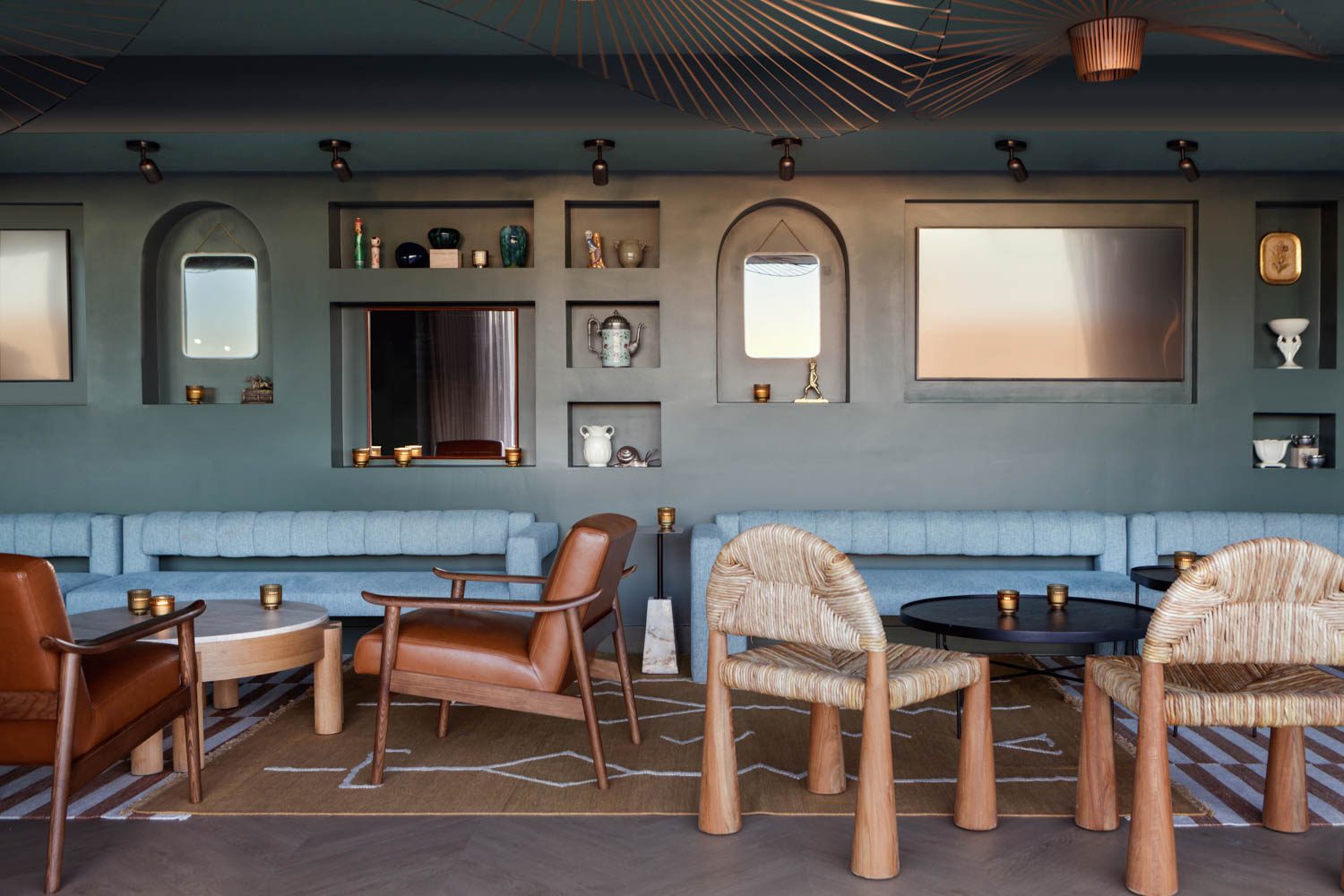 Mason Studio Draws on the Capital City's Rich History for the Renovation of the Kimpton Banneker Hotel in Washington, D.C.
With a gobsmacking rooftop view down 16th Street NW all the way to the White House and the Washington Monument beyond, the Kimpton Banneker Hotel occupies an enviable spot in the nation's capital. Mason Studio's recent $20 million overhaul of the 16-story boutique property—formerly the Kimpton Rouge—has leveraged that insider position by celebrating local art, culture, and character. "We really wanted to weave in a narrative of Washington's history, monumental architecture, and contemporary culture to offer a guest experience that is both reflective, yet a unique interpretation of the city," says Stanley Sun, founding partner of the Toronto-based studio, which previously designed the Kimpton Saint George in that city.
D.C.'s rich and complicated history is reflected in the hotel's name, which pays tribute to Benjamin Banneker, an 18th-century African-American polymath and surveyor who helped establish the federal district's borders and also corresponded with Thomas Jefferson about slavery and racial equality. An abstract portrait of Banneker by Rob Matthew welcomes guests in the main lobby. Near it, a striking mural by Nigerian-American artist Victor Ekpuk is one of many works by notable BIPOC and other artists, both local and international, which populate the hotel's public areas and 144 guest rooms. "We consciously placed artwork throughout spaces in a way similar to galleries, with work isolated for guests to view and appreciate as art versus decoration," Sun reports. Other artists of note include Aziza Claudia Gibson-Hunter, co-founder of Black Artists of D.C.; Patty Carroll; Susana Raab; and Lori Katz.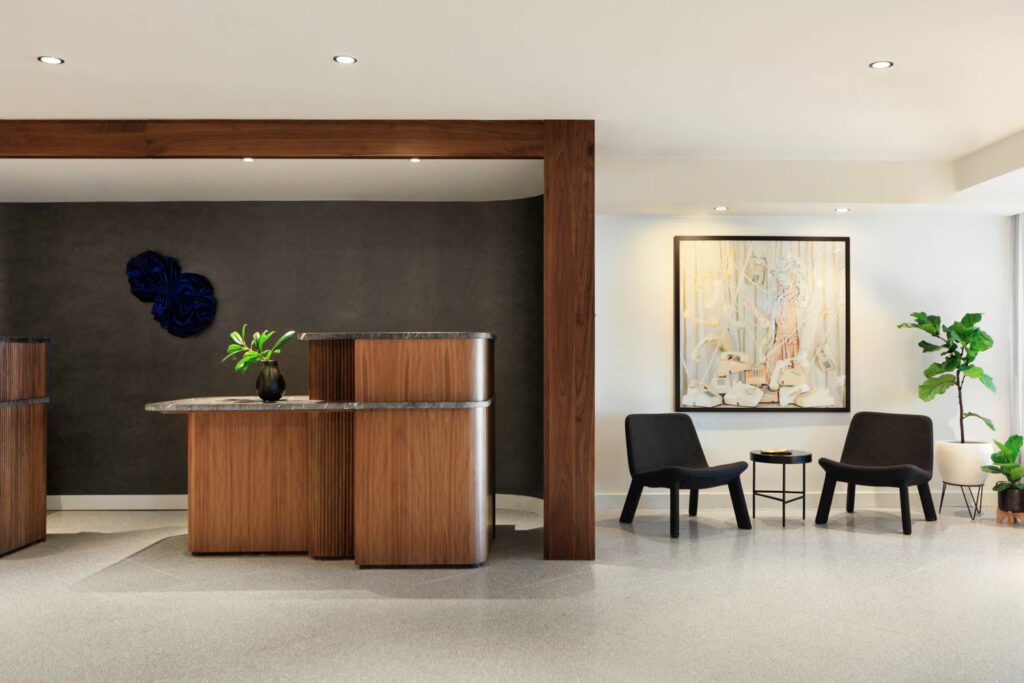 "Lighting and architectural details act as a guide for guests, subtly informing them how to move through the spaces," Sun continues, noting that changes in levels of illumination help transport guests from one experience to the next. Architectural features frame specific elements such as the hotel reception niche or create a portal-like entry to the ground-floor restaurant, Le Sel, which hints at the neoclassical buildings and monuments of the surrounding city without any of the stuffiness or pomposity that might suggest. And in the elevator lobby, subtle shifts in materials provide a transition from the public zones to the more private rooms aloft. "We incorporate natural materials in darker tones throughout the hotel," Sun notes. "Rich earth-toned fabrics and leather complement the wood and stone used everywhere."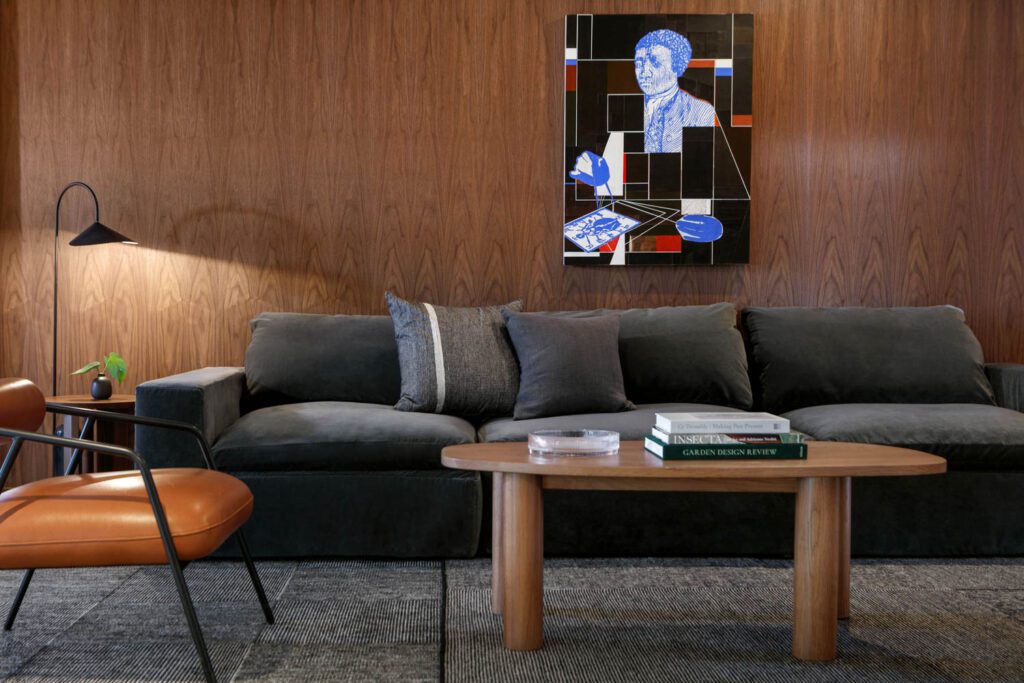 Presidential Washington gets an affectionate nod in the rooftop Lady Bird Bar and Lounge, named for Vietnam War–era first lady Claudia Alta "Lady Bird" Johnson who started a capital beautification campaign that expanded to cover the whole nation. The airy watering hole is outfitted with a lively array of colorful art, objects, and furnishings—pieces "intentionally selected to appear as if they were collected over time," Sun says—that reflect Mrs. Johnson's love of the city. D.C.'s official bird, the Wood Thrush, is also referenced through subtle evocations of its wings and plumage, most notably in local artist Meg Biram's abstract avian mural behind the tile-fronted bar. With its peerless views of the city, the terraced lounge is like a bird's bower perched high above the fray. As Sun puts it, "We chose to integrate unique objects, both new and antique, curated from across the city, much like a bird collects shiny items to build its nest." That's about as compelling an image as any hotel could wish for.