Massimo Giorgetti's Seaside House in Italy Gets a Yachtlike Renovation by Storagemilano
"Milan is a small city where big things happen," architect Michele Pasini asserts. A case in point: his meeting Massimo Giorgetti, founder and designer of the hip Italian fashion label MSGM, at the wedding of mutual friends. This led to a year-long project for Pasini, co-founder with Marco Donati and Barbara Ghidoni of Storagemilano, when Giorgetti commissioned the firm to renovate his seaside retreat—a unique haven perched at the edge of a promontory in the town of Zoagli, about 20 miles down the Ligurian coast from Genoa.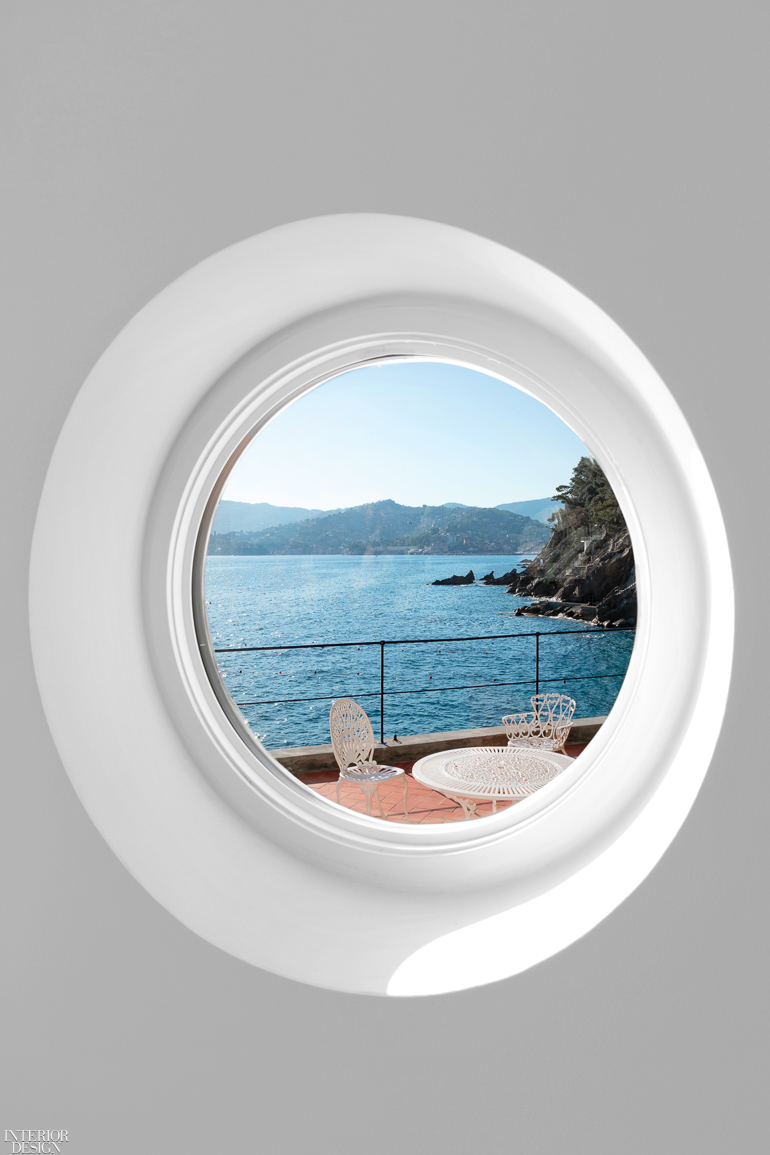 With only one hotel, Zoagli is a semisecret spot for the cognoscenti. "It's a super-easy place, the opposite of Portofino," Pasini says, referencing the town's molto elegante neighbor. "Zoagli has no harbor, so boats can't enter. I've been going there since 1999." Giorgetti, born in Rimini, is a long-time visitor, too. Yet the two men never knew each other until those nuptial festivities in 2017. But Pasini did know the fashion designer's beaconlike house, famous thanks to its commanding position, distinctive ovoid form, and twin sunshade sails that make it recognizable from out at sea. In fact, that's how Giorgetti first saw it—from his kayak—some five years ago. Smitten, he bought the property shortly before meeting Pasini.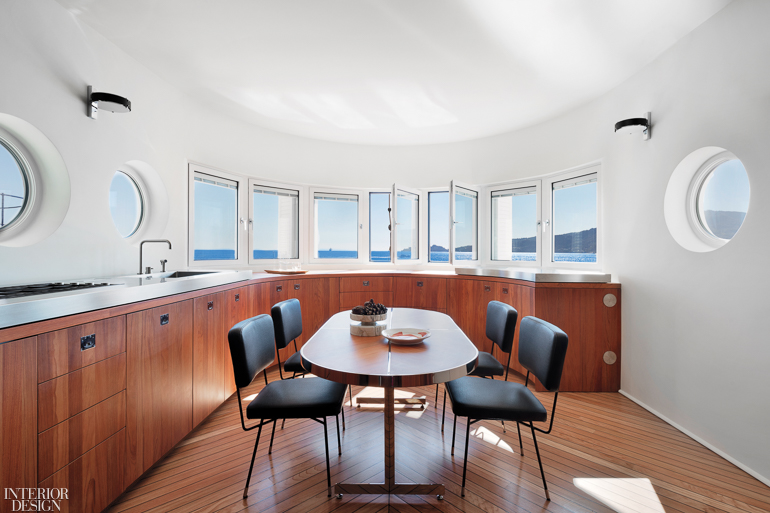 Actually, there are three structures on the precipitous site: The tiny but eye-catching main house, which dates to 1930 and, given its position, served as a wartime observation post (ergo Giorgetti dubbing it La Vedetta, or the lookout) before becoming a private bathing club; a small stone structure located farther up the hillside, now a guest cottage "where," Giorgetti reports, "you can enjoy the countryside"; and between them, another building that Storagemilano will renovate at a future date.
"The shape is unequivocally reminiscent of a ship closed in upon itself," Pasini says of the gleaming white house, which could double as the curved bridge of a prewar ocean liner. "Its form also reminds me of some beautiful buildings on the Adriatic from the '30s, but on a minor scale: not rationalist, not modernist, not quite American deco like the hotels in Miami, yet somehow recalling all those styles with humble honesty."
Given the house's historical and aesthetic importance, its exterior could not be altered, though Pasini did install some new windows. So the intervention focused on the three-level interior, which totals little more than 530 square feet—the kind of cramped quarters that boat designers regularly have to deal with. Pasini embraced the nautical analogy, approaching the project as though he were outfitting a luxury yacht. Everything was rebuilt with an eye to seamless style and optimized space. "We needed to hide things," the architect succinctly puts it.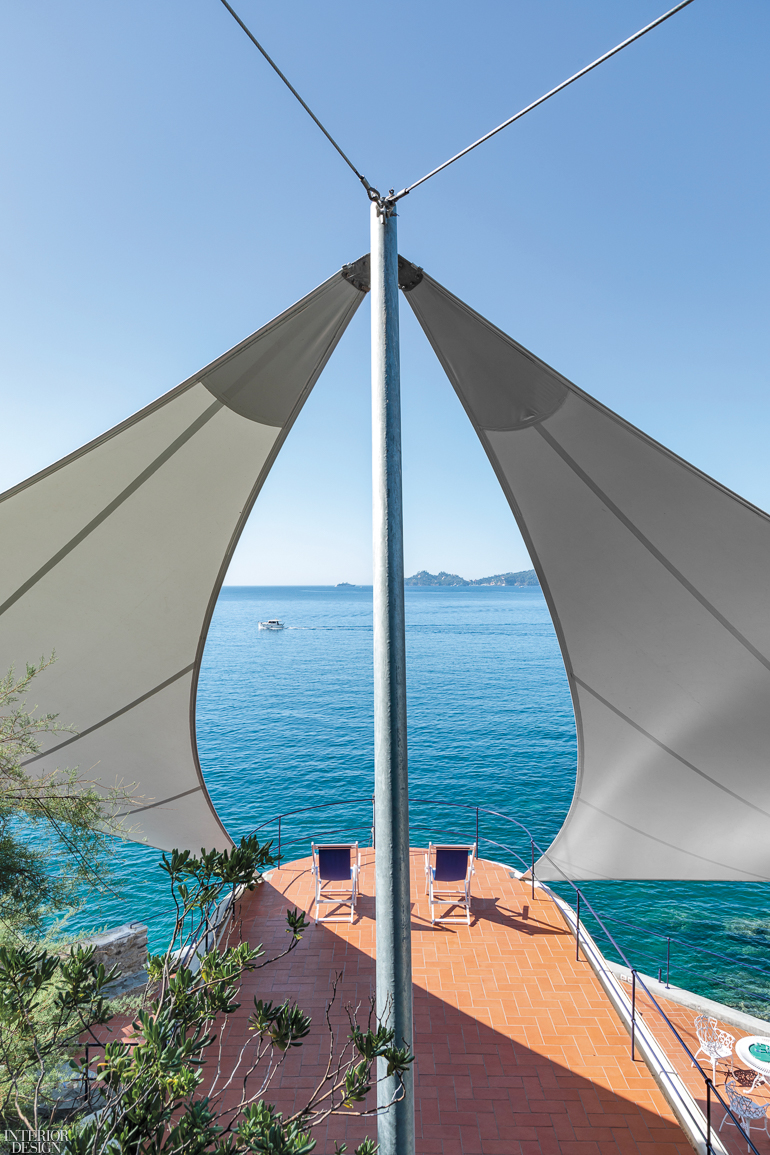 Entry is directly into the kitchen, which occupies almost all of the vessel's "prow," the biggest space in the house. The sink and stovetop sit under their own portholes, while teak cabinetry forms a graceful crescent under the panoramic view of the Ligurian Sea offered by a curved row of windows. A table in the center of the room is the perfect indoor spot for guests to congregate after a day of swimming, sunning, and aperitivi on the three terraces.
At the "stern" of the kitchen, a teak-clad half wall conceals a narrow companionway bifurcated by a tiny landing: The steps on the left lead up to a balcony just big enough to fit a sofa and flat-screen TV; those on the right lead down to a bathroom and the master suite. The treads of the staircase are trapezoid in shape, creating a beguiling zigzag effect that's heightened with LED underlighting. Storage is concealed beneath the landing floor and behind a teak-paneled wall in the bedroom, which has its own bathroom—a knockout sliver of a space that occupies part of the original stone cellar.
Pasini keeps everything looking trim and shipshape by limiting the color and materials palette. All cabinetry, flooring, and paneling comprises teak boards with rubber caulking, like traditional boat decking. The few pieces of custom furniture, such as the kitchen table and the bed, are the same wood. Both bathrooms are typically Italian, clad with broad horizontal stripes of white Carrara marble and inky Ardesia, a local slate. "It's a decorative motif of the most beautiful Ligurian churches of the 1500s," Pasini observes. Otherwise, walls are white plaster. So is the exterior finish with crisp detailing in navy-blue paint, slightly darker than the original.
When Storagemilano approached the 480-square-foot guest house, it was mostly covered with earth. Excavation involved the recovery of a quantity of rocks that, along with more Ardesia, were used to reconstruct the derelict building. The interior, which includes a bedroom and a gym, features African okoume millwork and paneling. "We use this wood a lot," Pasini notes. "It's strong and available in large slabs, which we treat with oil to make them look nice and elegant."
Those adjectives apply to the finished project as a whole, but Pasini drew the most pleasure from "organizing the space to help Massimo live better." As for Giorgetti, he says COVID-19 has helped shift his focus from Milan "to nature, fresh air, and greenery." Let's hope his beloved Zoagli never becomes posh and famous.
Project Team:
BMA Arredamenti: Woodwork, General Contractor.
Project Sources: Delta-Bo Project: Drum Sconces (Kitchen, Bedroom).