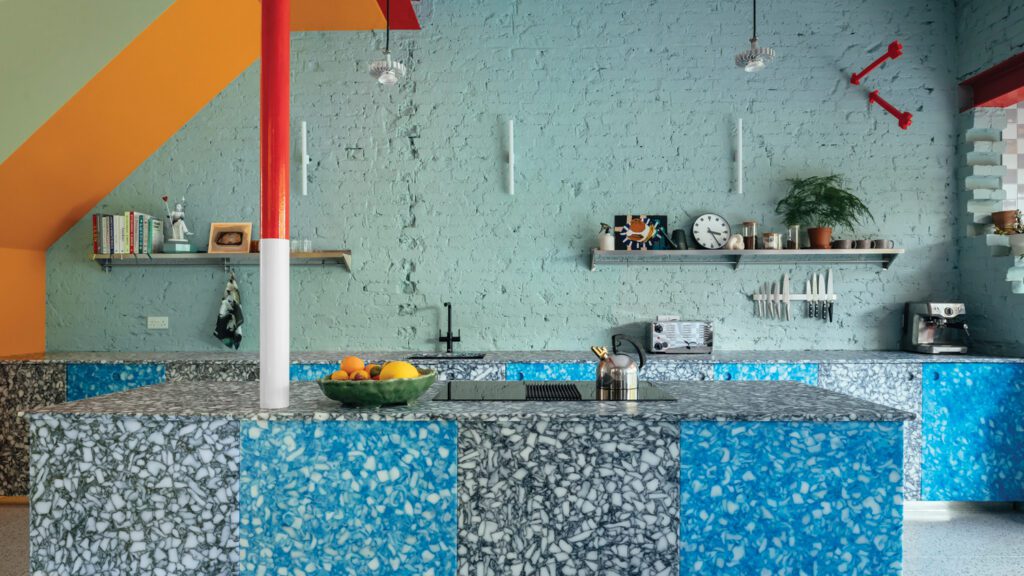 Mat Barnes References Gen X Pop Culture in His London Home
The unassuming semidetached in Sydenham, a verdant district in southeast London, had sat empty for six long years before Mat Barnes, founder of Shoreditch architecture studio CAN, got his hands on it. The two-story Edwardian brick house leaked and lacked heating—and that was before part of the ceiling caved in. Still, the Welsh-born talent knew the home could be something special.
Barnes founded CAN in 2016 but the firm's origins date to the art and design foundation year he took in 2005 to gain admission to the University of Nottingham, a period that exposed him to animation, fashion, and illustration. "That became the basis of CAN"—an acronym for critical architecture network—"which is all about bringing different aspects of the creative world into the discipline."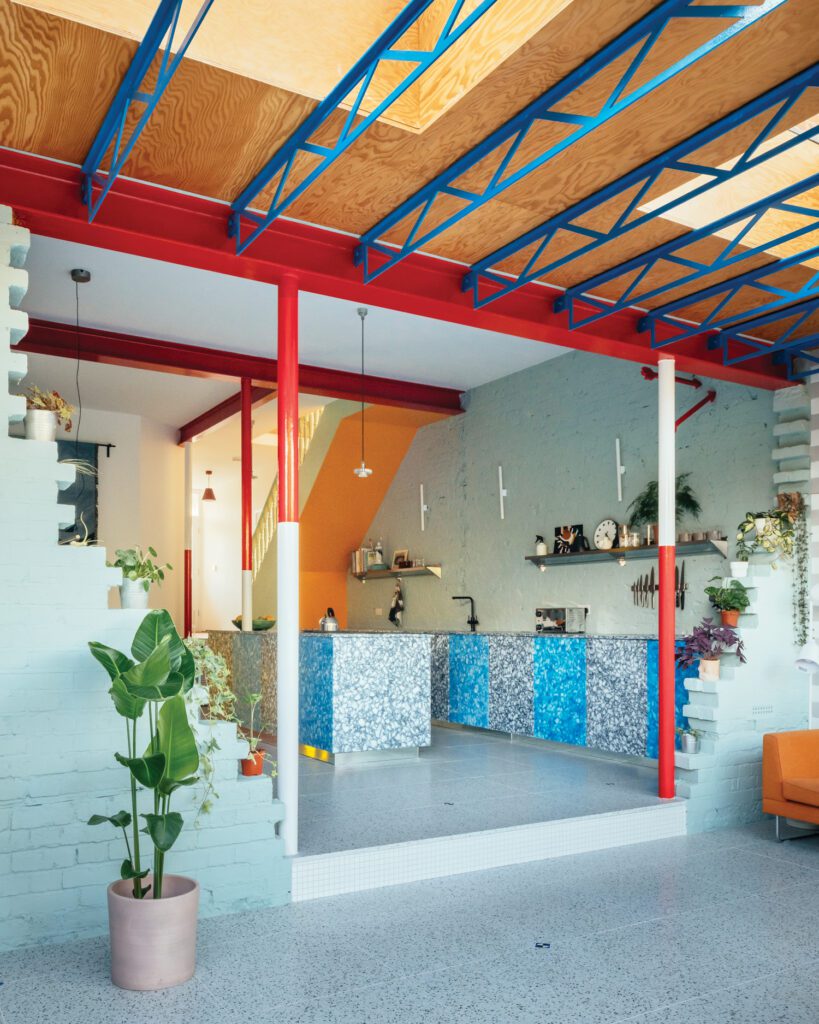 Prior to opening his own studio, Barnes worked for a time at Paul Archer Design, a high-end residential practice known for its glass-box modernism. "CAN is something of a reaction against that," he continues. "At some point in the nineties, the gallery aesthetic leached into people's homes, and everything became a bland white box: You wouldn't know who lived there or what they liked." In contrast, Barnes encourages his clients to tell all, from what music they love to what food they prefer, and feeds the sum into their project.
For this house, the client was Barnes himself, plus wife Laura Dubeck and their two toddlers. To suit family living, he rearranged the upstairs bedrooms, accessed via a newly skylit stair, and added bathrooms so the home is now a four-bed, two-bath. He also opened up the ground floor, leaving only the front parlor, now a lounge, intact. He punched through the brick rear wall to the backyard—pow!—leaving the edges ragged, to add a glass-enclosed extension that became the new living room. The busted portal is framed by twin poles and a horizontal steel I beam, a reference to a scene in Danny Boyle's seminal 1996 film Trainspotting in which a collapsing masonry wall is upheld by steel props in the squatters' digs. "I was hunting for the archetypal derelict wall," Barnes says of his source material. "I wanted to preserve the memory of the old building and the construction."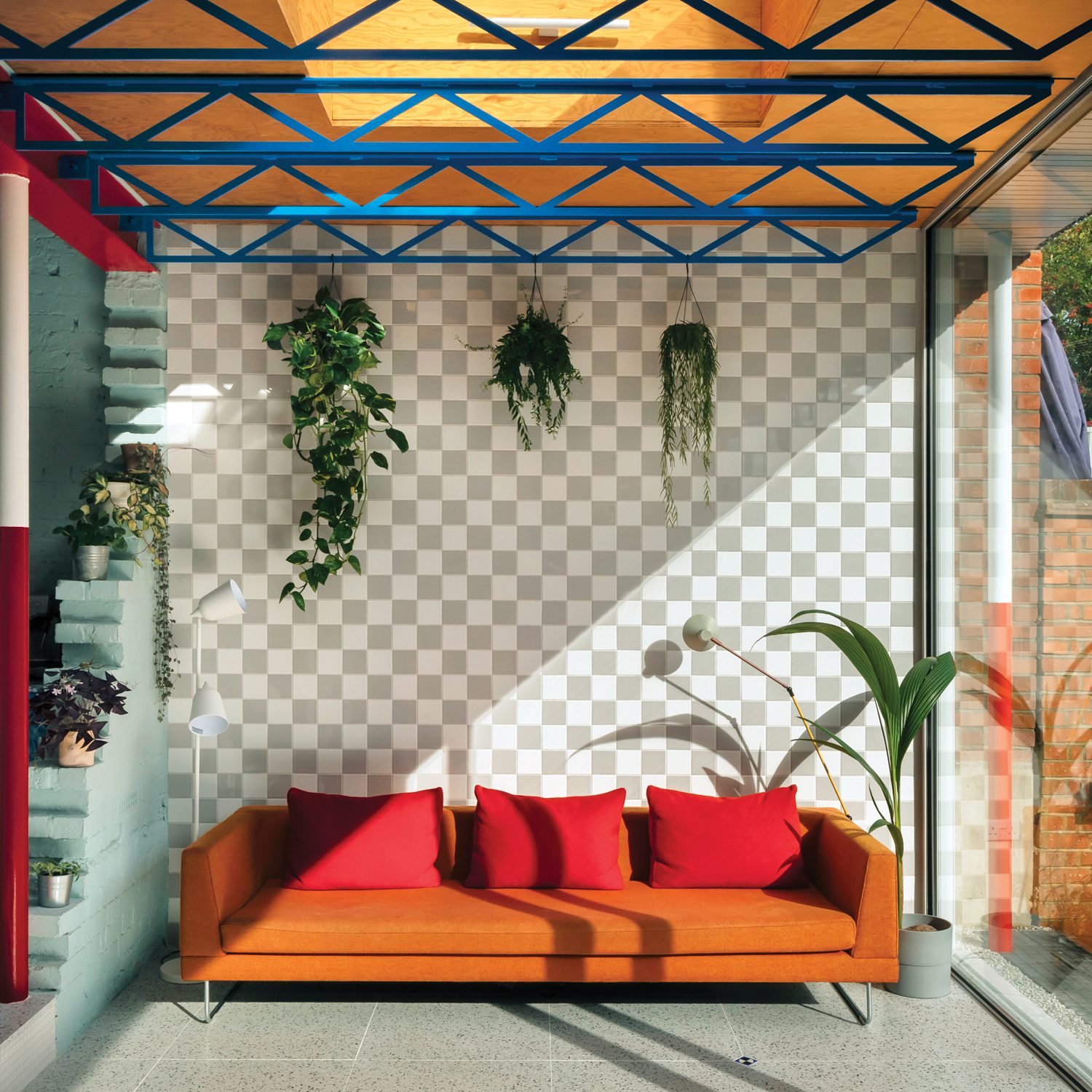 The rear extension's cobalt steel trusses nod to the same in London's 1976 Hopkins House, an emblem of High-Tech style. "I love the structural expression," Barnes notes. "Why not use the structure as the character instead of layering on plaster and then artwork?" Chromatic paint accents other architectural features, too, including the stair's pale-green balustrade and tangerine underside. "We're surrounded by so many colors and textures in the outside world that to me it feels natural to bring many different patterns and fabrics inside, too."
The extension's tubular-steel frame is deliberately thin and fragile-looking, and Barnes wanted a heavy roof in juxtaposition. That quickly morphed into something more original—a parapet in the shape of a mountain—when he came across a snapshot of Disneyland's Matterhorn roller coaster under construction in 1959. "I loved its realistic concrete mountain teetering atop a skeletal frame," Barnes explains. His precipice is made of water-jet-cut aluminum foam, created by pumping gas through molten metal, which has a texture resembling an Aero chocolate bar. (He first admired the material on OMA's Fondazione Prada in Milan.) "It's a bit of set design and a bit of architecture—a surreal landscape," Barnes notes.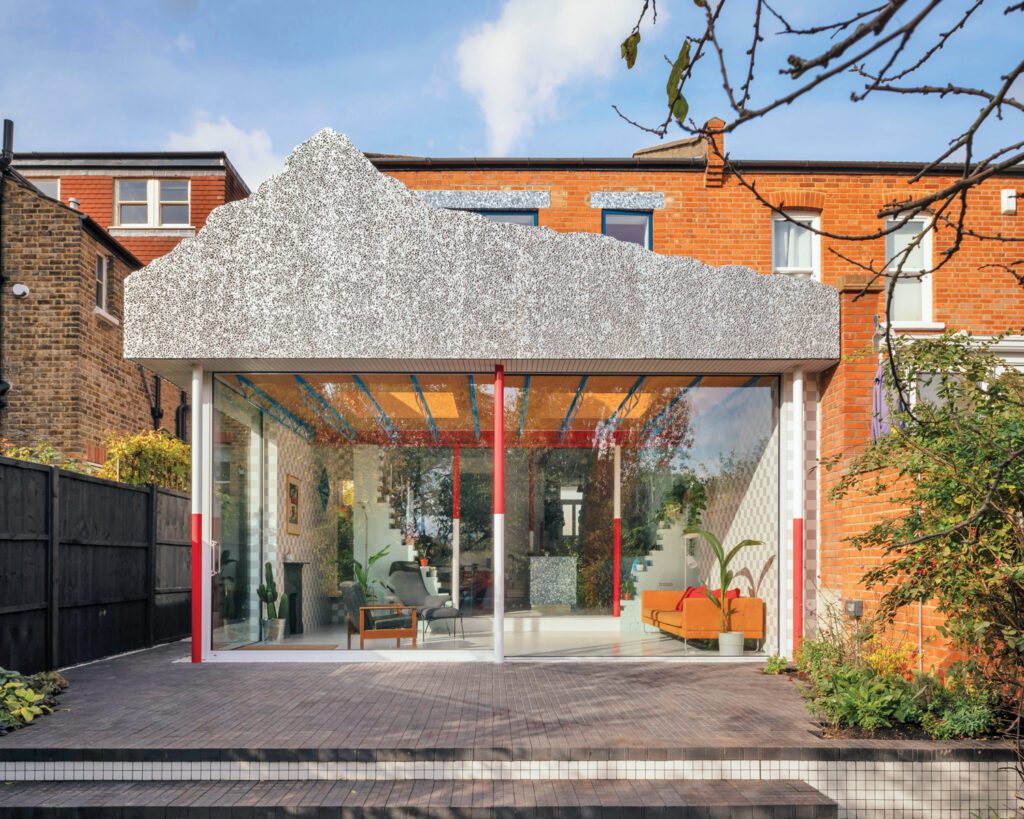 Likeminded elements followed suit, their conception aided by quizzing his wife, who studied geography, on the subject. A wall in the dining area has a cavelike texture courtesy of roughcast, a type of plaster that is thrown, instead of troweled, on. The aforementioned Trainspotting poles are painted in bands of red and white to mimic ranging rods, land-surveying instruments whose bright coloration is visible even from a long distance or in bad weather.
While Barnes' approach to the house was "about getting in as much light as possible," he says, the one off-note is the front parlor. "It's designed as a dark, cozy opposite to the rest of the interior—a winter room." The lounge is suffused in a blue tone color-matched to the walls' Dulux Marine Waters paint, from the velvet sofa to the rug (it took three tries to nail the color of the latter). Also in the same hue are the architectural fragments arrayed on the walls à la British neoclassical architect Sir John Soane's collection. "His were valuable, though," laughs Barnes, whereas these entablature bits, plaster cornice, and ceiling rose are broken and secondhand. (Such ingenuity helped keep the overall renovation budget below about $300,000.)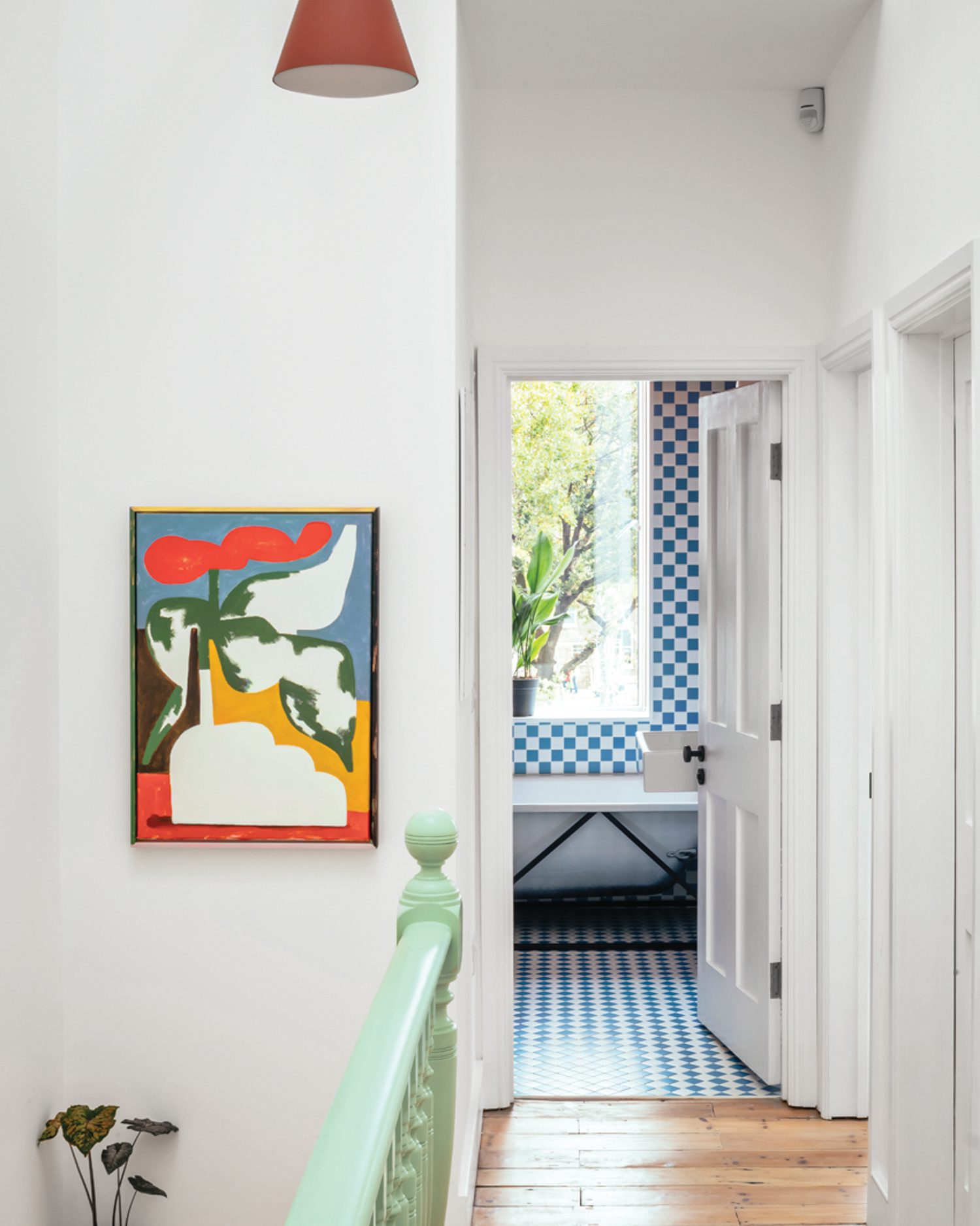 Time and again, Barnes used his own home as a test lab for interesting materials he wanted to try before specifying for clients. Take the kitchen cabinetry, which he and a mate fabricated from recycled plastic surfacing made of compressed cutting boards and milk-bottle tops. "It gives a rocky sense," he explains. "Plus, I liked the idea of making a kitchen out of chopping boards."
Tinkering, researching, and eschewing Pinterest trends for personal references has resulted in a 1,600-square-foot home as idiosyncratic as the individuals who live there. It's a hit with everyone, especially the couple's young daughter, nearly three, who because of life under extended lockdown, simply assumes everyone has a mountain on their house.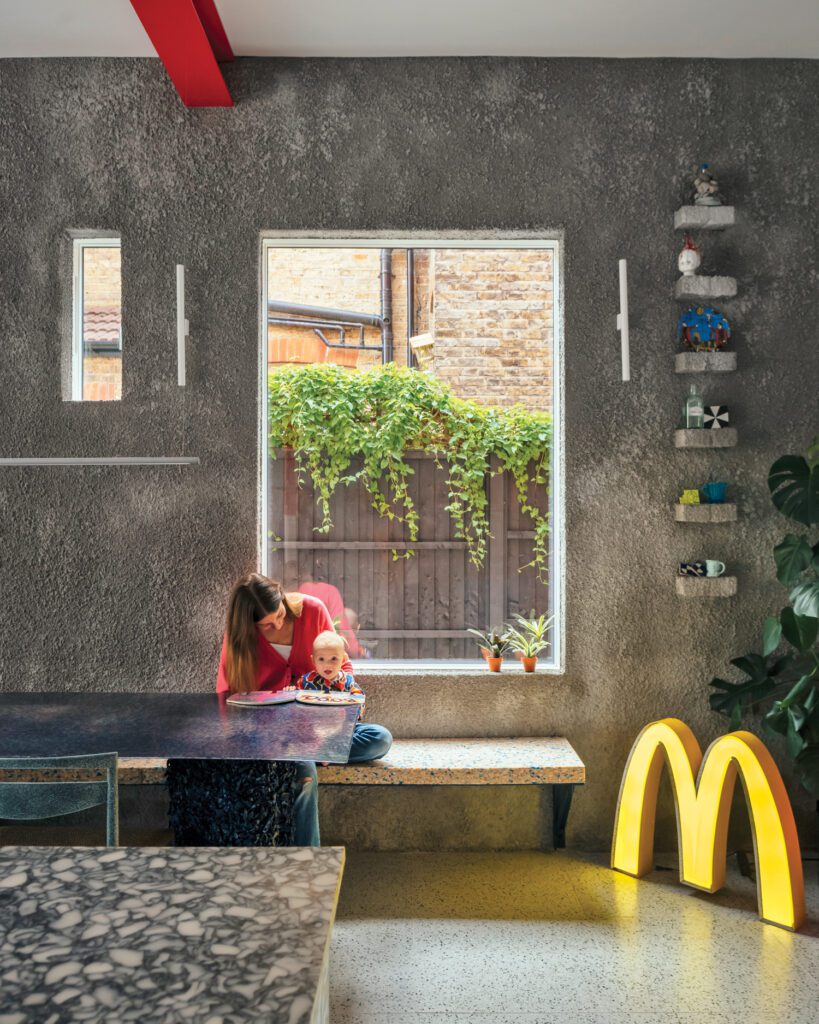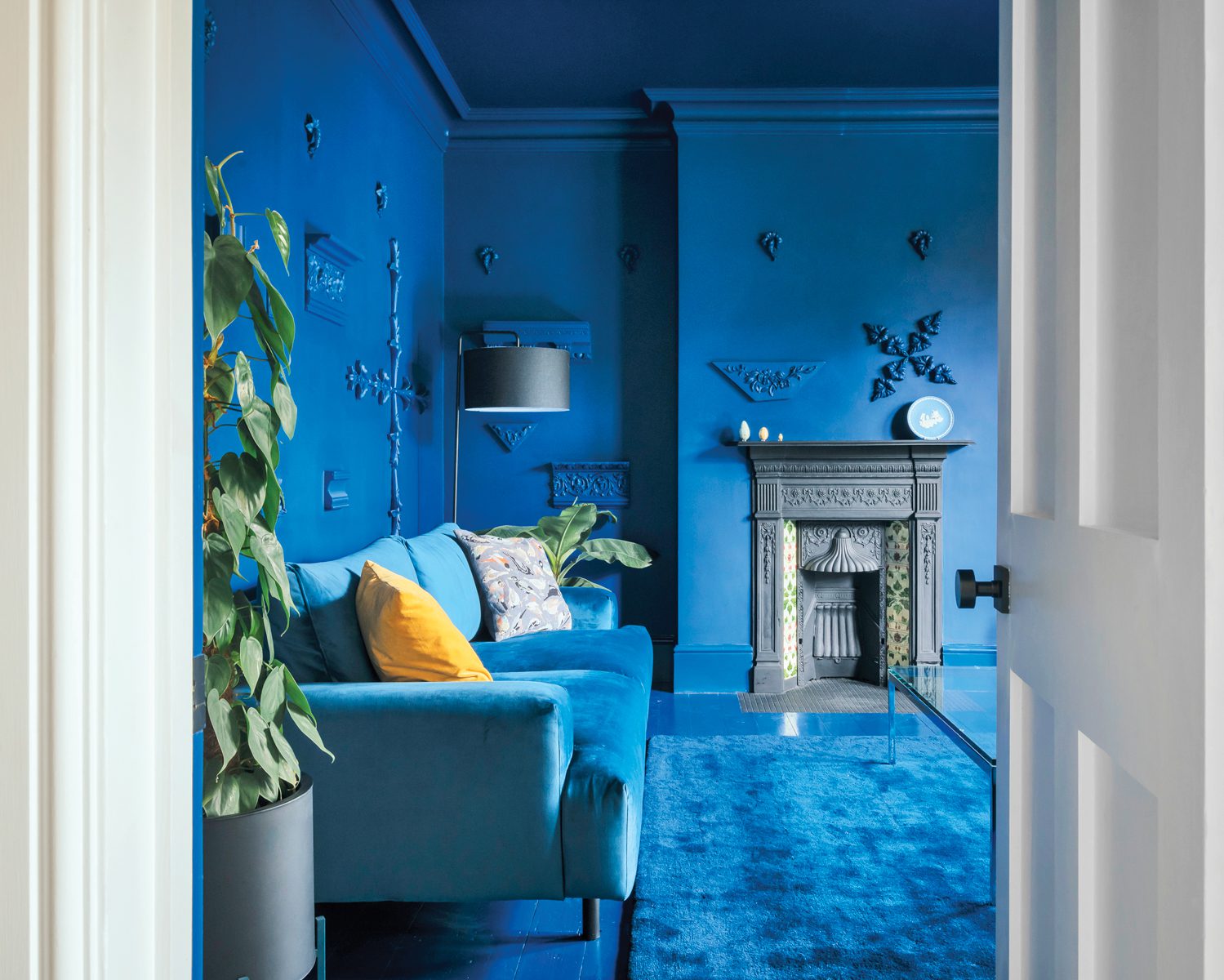 Project team
Product sources