Materials Lab in Houston is Page's Latest Innovation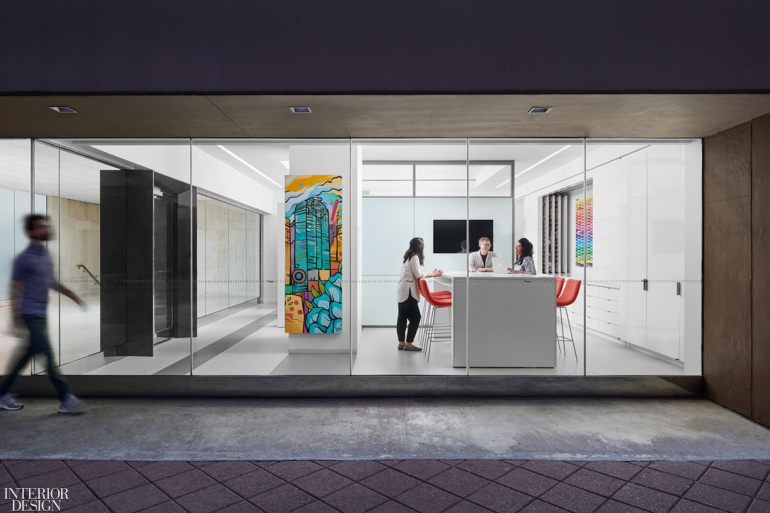 Design eyesores often are ripe with opportunity and the team at Page, a global interiors, architecture, and engineering firm, knows a good project when they see it. Page transformed a vacant storefront across from the brand's Houston office into an eye-catching Materials Lab outpost. Empty and painted white, the team updated the blank canvas of a space with a neutral palette and large-scale windows for an abundance of natural light, optimizing the environment to better evaluate materials.
Livening up the block with its colorful displays, the materials gallery often draws in passersby, allowing design inspiration to strike anyone who enters. "We thought that it would be a great idea to have our process on display to give outsiders an opportunity to experience our process," says Marissa Yu, principal and director of interior architecture at Page, comparing the experience to a chef on display at a restaurant. The playful space is kept current and in order by a dedicated design librarian, tasked with organizing, curating, and arranging an array of palettes and products.
Connected through a short underground tunnel—the very locale of Page's previous Materials Lab—the new space enables staff to host meetings, design presentations, and events, making it "a haven away from other office work," per Yu. "We consider it our 'thinking space… wherein teams are able throw ideas and materials palettes down to brainstorm, charette, and collaborate without disrupting those working at their desks." With an ever-changing variety of finishes and materials available at an arm's reach, the space has proven a worthwhile investment for Page.
"For Page designers, this unique space generates pride because it expresses our work, our approach, and our culture to the community," Yu says about bringing Page's robust energy into a space long left desolate. As brick-and-mortar stores close or move online, adaptively reusing retail spaces helps preserve economically viable and vibrant downtowns. With the intention of creating a workspace reflective of a hospitality environment, the Materials Lab is a welcome addition to Houston's design scene.