Meyer Davis Studio Fuses Past and Present in Manhattan Mansion
It's a crisp winter's afternoon on New York's Upper East Side, outside an elegant seven-story limestone townhouse designed ground-up by Meyer Davis Studio. Inside the entry vestibule, gilded wall paneling speaks the same neoclassical language as the facade's Georgian-proportion windows and Beaux-Arts wrought-iron railings. Yet the mood is entirely contemporary. Are You Really Here? asks a Jeppe Hein neon artwork. Such existential questioning terminates with the arrival of Coco the goldendoodle and a tumble of schoolboys—the homeowners' son plus coterie—who shuck their shoes and race to the basement rec room. Tradition, the cutting edge, and family life: it's a recipe that gives the home its specific charge.
Meyer Davis Studio Designs an Elegant, Modern Townhouse in Manhattan
Demolishing two townhouses that had been converted into apartment buildings cleared the way for a 14,500-square-foot seven-bedroom for the family of five. The idea—not obligated by any landmark requirement—was that the house should look as if it had always been there. To that end, Meyer Davis's longtime director Elizabeth Curry, who has worked with firm cofounders Gray Davis and Will Meyer for more than a decade and ran point on the project, walked the neighborhood to match limestone samples to surrounding mansions. Herringbone oak floorboards inside were laid with varying gaps to appear less clinically uniform—as if native to a turn-of-the-century Parisian aerie—and the wood treated to processes including fuming, staining, and tumbling until the design team was satisfied it looked suitably aged.
A Classical Shell With Au Courant Interventions
Amalgamating details culled from research into manors in New York, London, and Paris inspired the residence's delicate trim and dentil molding. Within this classical shell live au courant interventions such as the sleek kitchen, sculptural grand stair, and daring art by the likes of Tracey Emin and Jack Pierson—collected by the wife, a European businesswoman and contemporary design connoisseur. The narrative (and Meyer Davis always has a strong throughline) is that someone with today's taste remodeled a period structure. But of course, it's all brand-new—a postmodern sleight of hand tethered not to a real-world referent but magicked out of imagination. "It's one thing to renovate a historic property," notes Meyer. "It's quite another to use that as the grounding design idea, and then innovate within."
Since opening their New York studio in 1999, Davis and Meyer have built a reputation for carefully considered interiors: refined but not buttoned up, modern but not aggressively so, aspirational yet approachable. Perhaps because early in their careers they worked across a range of vocabularies—for minimalist-minded classicist John Saladino, modernist Charles Gwathmey, and deconstructivist Peter Eisenman, collectively—the partners are true stylistic egalitarians. The pair privilege neither architecture nor interiors ("they work best intertwined," Meyer declares), nor are they wedded to a single typology ("we sway toward the modern but are not strict about it," adds Davis). That fluid border crossing makes them entirely current. It was at the encouragement of David Braly, who taught them separately at Auburn University School of Architecture, that they met and opened up shop together. They have "a balance of gifts," Braly divulges. "Gray is precise; Will more laid back. Thoughtfulness versus expressiveness." After 25 years, Meyer reports, it's gotten to the point where they can finish each other's drawings.
The Townhouse Design Invites Playful, Spontaneous Moments
The home's playful, spontaneous moments were selected mainly by the wife. "I would say she found every other piece," Meyer adds—many at the Paris flea market. "She has great taste." It was she who sought out the Matthieu Lehanneur light fixture that loops in and out of the living room ceiling—part of, versus affixed to, the architecture—and Niamh Barry's orbital chandelier in the library. The architects would suggest professional tweaks, swapping the Lehanneur for the Barry to better suit the scale of the rooms, for instance, but see their role here as primarily one of facilitation.
Meyer likes to think about space as a movie, focusing in on a "scene" or "shot," whereas Davis is the master planner. When they combine their responses, magic happens. Take the grand stair that links the levels—each dedicated to a different function, from the ground-floor foyer and eat-in kitchen to the living level, then to the floor-through master suite, the kids' sleeping quarters, a media and playroom, and finally the rooftop patio. Smaller staircases sprout off the main one like spider plants, wending to the butler's pantry and the subterranean recreation zone. Curry was on-site as the plasterers fabricated the stair, sometimes tracing a pencil over the banister to show where a few millimeters could be carved away or built up to result in the most pleasing sightlines. Beside the staircase is the magnum opus, a David Wiseman commission of plaster lily-of-the-valley shoots that uncoil across the wall, as though the home's classical trim had absconded from orderly shadow-box formation to grow wild, each tendril terminating in bell-shape porcelain buds. (A similar Wiseman work embellishes the ceiling of Peter Marino's Dior flagship in Shanghai.)
In order not to detract from the installation, a chandelier that would puddle on the double-height foyer's floor was nixed in favor of a square swath of backlit stretched ceiling that reads like a James Turrell Skyspace. "Restraint," Meyer observes, "is an exercise in confidence." That is not to say there's no room for whimsy. In the kitchen, Nika Zupanc's handblown-glass Cherry pendant—another client find—throws funhouse mirror reflections above the island, the literal maraschino on top.
Walkthrough the New York Townhouse Designed by Meyer Davis Studio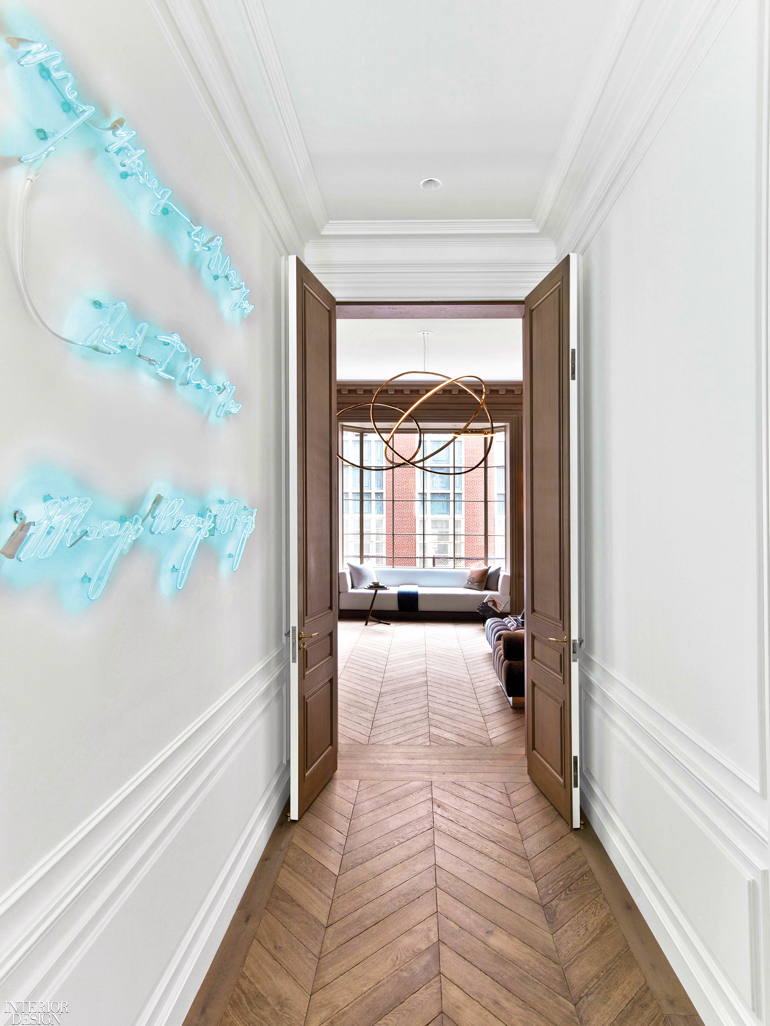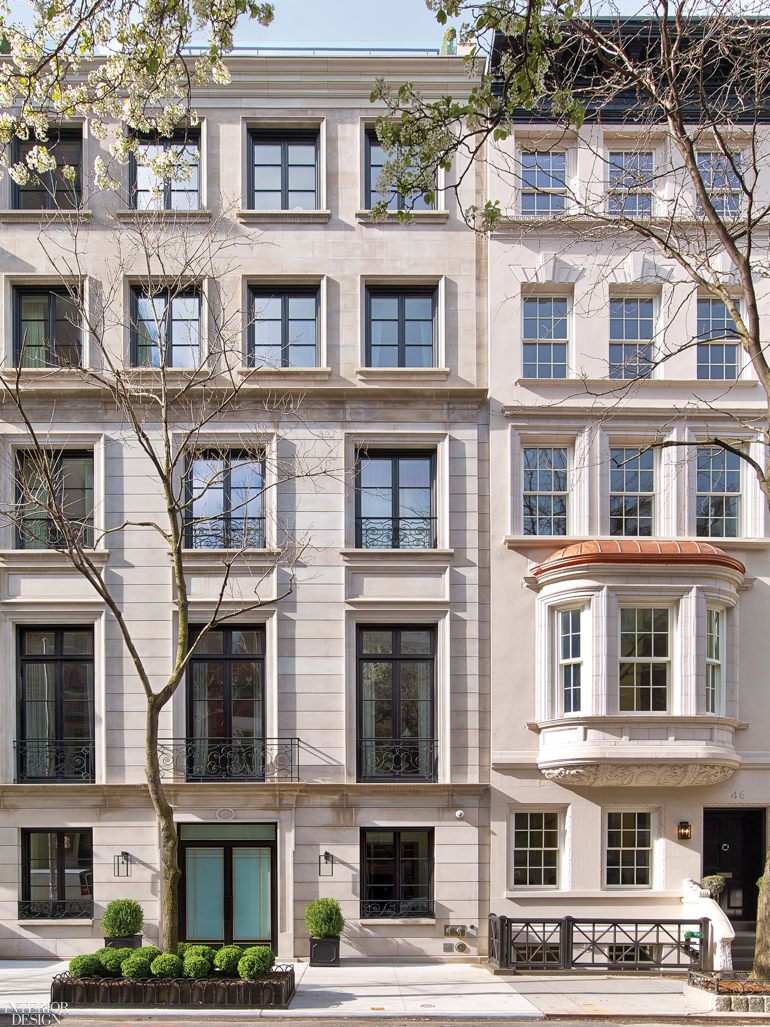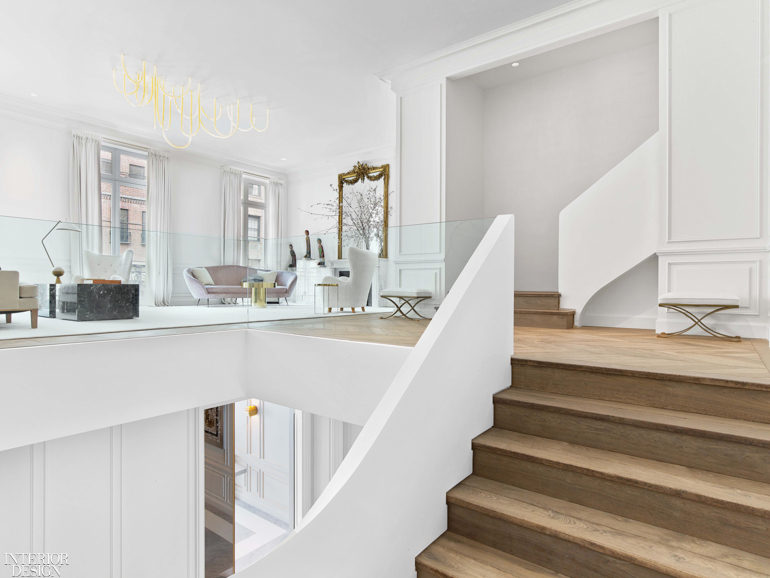 Project Team: Josh Suckle: Meyer Davis Studio. COSTA Architecture & Engineering: Architect of Record. Silman: Structural Engineer. Rosini Engineering: MEP, Civil Engineer. Classic Woodwork: Woodwork. Certified Construction: General Contractor.
Project Sources: Nika Zupanc through Qeeboo: Pendant Fixture (Kitchen). Wever & Ducré: Sconces (Foyer). Nathan Litera: Custom Console (Foyer); Round Brass Tables, Bench (Living Room). Mathieu Lehanneur Through Carpenter's Workshop: Chandelier (Living Room). e15: Tray Table. Jonas Workroom: Custom Gray Sofa (Living Room); Custom Banquette (Library). Zen General: Custom Headboard (Bedroom), Custom Wall Paneling (Reading Nook). Ultrasuede: Sofa Fabric (Reading Nook). Ipso Facto: Sconces. Niamh Barry: Chandelier (Library). Todd Merrill Studio: Custom Sectional. Workstead: Lamp. Chen Chen & Kai Williams through The Future Perfect: Magazine Rack.
Read next: Maya Baklan of Neevroremont Studio Designs an Eclectic and Colorful Home For Her Family