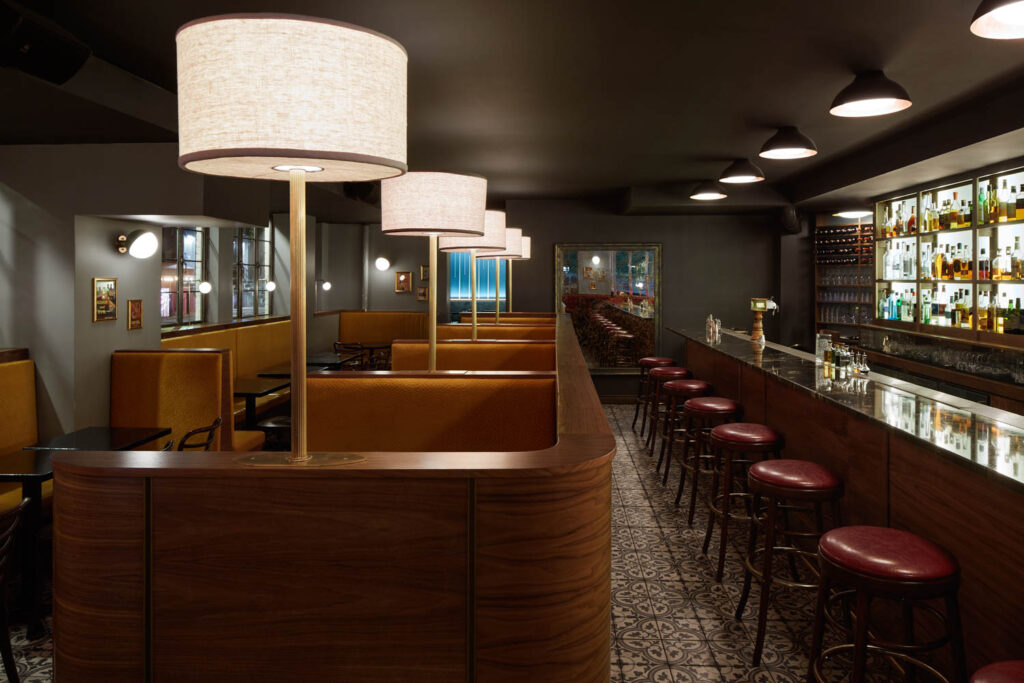 Pulp Fiction Covers Inform the Design of a New York Staple
In Manhattan's SoHo neighborhood, local bar named Milady's was a beloved fixture for decades. The space, at the corner of Prince and Thompson, has now been reborn in the hands of Lynn Gaffney Architecture for partners Julie Reiner, Susan Fedroff, Christine Williams, and Sam Sherman. They asked founder Lynn Gaffney to honor the dive bar's memory while infusing the design with contemporary energy for a refined experience. The clients requested a space that could sit 70 people, alongside a bar that was perfect for craft cocktails.
Despite the seriousness of their business undertaking, the clients provided Gaffney with playful design prompts: "Naughty Nancy Drew" and '50s and '60s erotica. "I created a collage from their pulp fiction covers and used it as a color study that helped me define the spaces," Gaffney explains. "It evoked a vibe I think we achieved—sexy, campy, smart, and empowering."
A Playful Design Makeover for Manhattan Local Bar, Milady's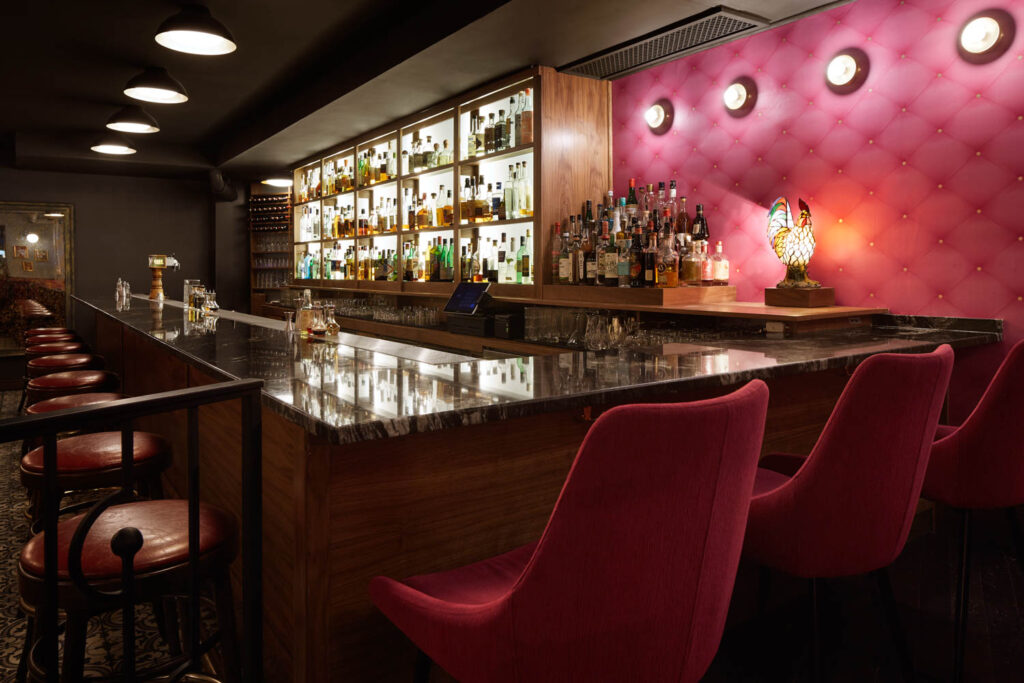 The 1,100-square-foot bar and restaurant is broken up into three distinct dining zones. There is a raspberry-colored VIP area, saffron banquettes, and mid-height gathering spaces in jade hues. Karen Wright selected fabrics and finishes throughout. "Just this side of lurid, the saturated colors help set the mood for each zone, while flattering each other so the space still works as a whole," Wright notes.
The bathrooms, meanwhile, have become a popular selfie location thanks to custom Flavor Paper wallpaper that features the inspirational pulp fiction covers. Titles include "Singing Death," "Don't Ever Love," "Curtains for Carla," "A Dame Called Murder," and many more.
During the gut renovation of the space, locals kept stopping by to ask about a pool table. The old Milady's had one, so they assumed this incarnation would as well. Rising SoHo rents made that impractical, but Gaffney felt a nod to it would be appropriate. "We gave homage to the pool table in our private dining area with color, art, and lighting." There's also a custom art installation, by Chris Reiner, that incorporates pool cues.
Custom touches throughout are the perfect complement to a thoughtfully curated food menu for both day and evening. As for cocktails, a very popular concoction is the "Naughty Nancy Drew."
Behind the Refreshed Bar Design of Milday's