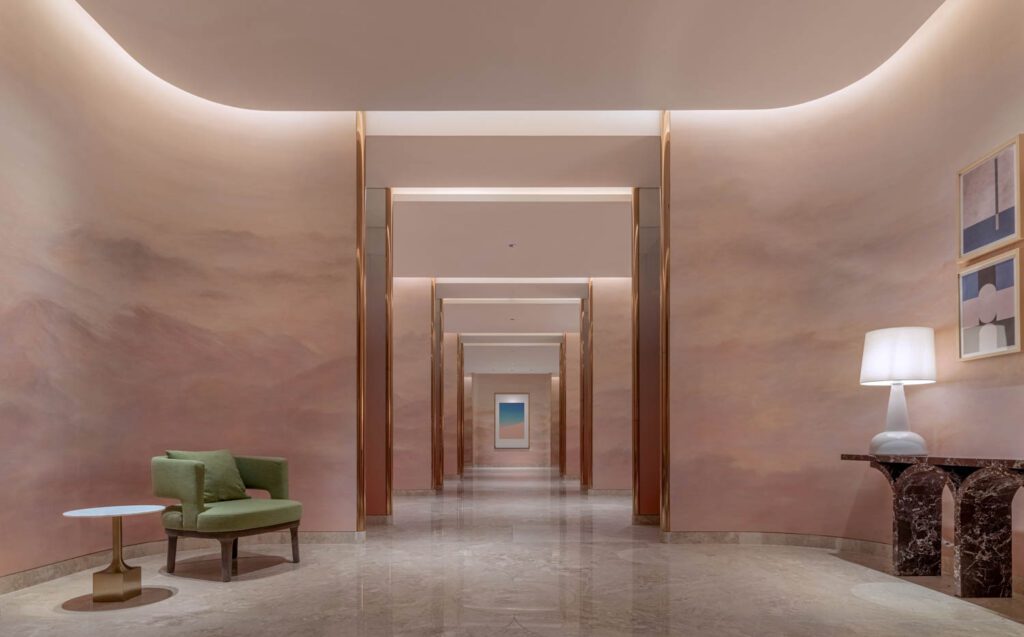 This Modern Hotel in Urumqi, China References the Silk Road
The Silk Road continues to fuel the imagination, bringing to mind rich palettes and textures. Now Hilton's latest hotel in China, the Conrad Urumqi, offers its own nod to the historic trade route that once wove through Xinjiang.
To start, the team at Toronto-based D'Lab Studio, which has more than a decade of experience working on projects in the region, delved into the local history—and architecture to create the modern hotel. "The color palette of the hotel is inspired by the historical architecture and nature of the vast Urumqi / Xinjiang desert landscape as well as the bright blue sky, snow mountains, and greenery," says C.Y Lam, parter and design director at the firm.
A water feature in the sky lobby, designed as an interior courtyard with layers of silky lines above, offers a contrast to the typically dry climate beyond the hotel walls. Meanwhile the guest rooms feature patterned screens and warm finishes that reflect cultural motifs. Not to mention, plenty of natural light—there are even windows in the restrooms—ensuring guests experience the city's past and present from all angles.