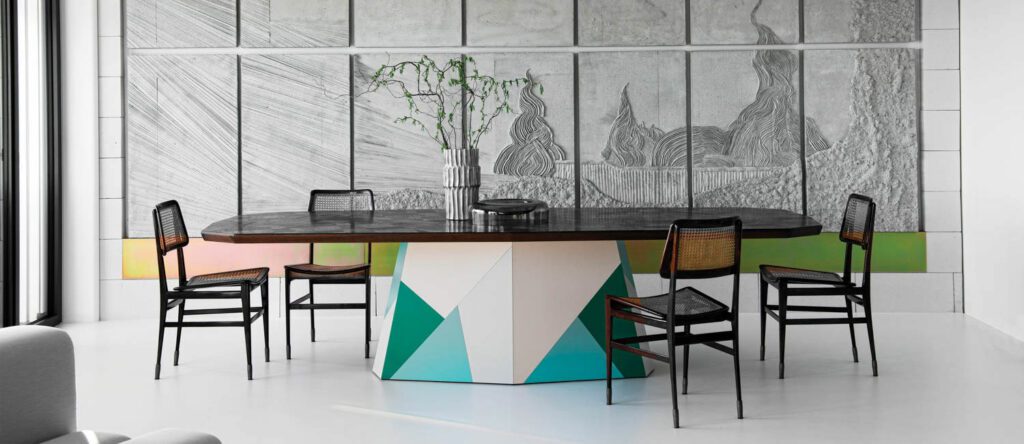 This Napoli Home by Giuliano Andrea dell'Uva Architetti is a Hidden Gem
Italy's third largest city, Naples, is not exactly known as a locus of peace and quiet. "The city is certainly chaotic," says architect Giuliano Andrea dell'Uva, who has lived most of his 41 years there. "Its charm also comes from managing to find the serene and calm in that chaos." That is precisely what he accomplished with his redesign of a three-bedroom, four-bath flat in the upscale Posillipo quarter for art/design collectors Irene and Teodoro Falco and their teenage daughter and son.
In a twist of fate, the 3,400-square-foot apartment, located in a 1956 building by Davide Pacanowski, has roots in dell'Uva's youth, when he first became acquainted with the work of the Polish-born architect, a student of Le Corbusier's. "I lived in a stretch of the Posillipo hill and was fascinated by the sight of Villa Crespi, a bold project of rationalist architecture that Pacanowski designed in 1955," he recalls. The cliffside residence, with cantilevered slabs wedged between ancient pine trees, "was, for me, a symbol of the direct relationship between architecture and sea."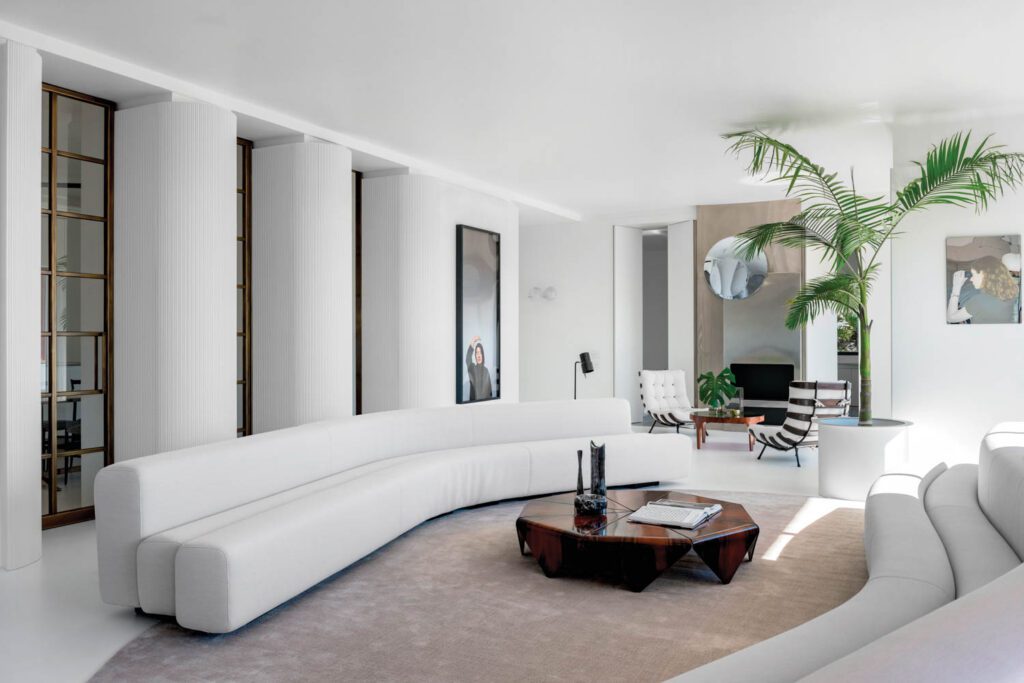 Alas, his clients' flat, though retaining some historical elements like porthole windows, had been restored in the 1990s "to a more neoclassical taste that eradicated its original charm," dell'Uva recounts. "I really tried to get it back."
Doing so entailed reconfiguring the floor plan around sea views, so that the public areas and main bedroom face the Gulf of Naples. Dell'Uva forewent corridors and divisions in favor of making the space as open as possible. The entry leads to conjoined living and dining areas (the Falcos requested a statement salon in which to receive guests) separated from the eat-in kitchen by full-height brass-frame glass doors. To the left of the living area's fireplace—a steel marvel designed by the French sculptor Robert Ascain in 1972—a curved wall subtly directs foot traffic to a row of sleeping quarters: first the main suite, followed by bedrooms for the kids, as well as their own youthful sitting room. The son gets a custom berth tucked into a space-age aluminum enclosure.
The gulf also inspired the color scheme: sparsely deployed yellows and blues (see the cipollino marble paving the entry and cladding the primary bath walls) against a background of sparkling white. The city's world-class cultural scene also figures prominently in the form of the couple's blue-chip art collection as well as covetable vintage furnishings from a cadre of specialist dealers. Elements by maestri of design invariably factor into any dell'Uva project. He grew up surrounded by the work of Gio Ponti, Franco Albini, and others, which instilled a love of design in him from an early age. "Even as a little boy I would draw houses and interiors," he recalls. (Dell'Uva was certainly precocious: his first project, at the tender age of 17, was the renovation of a family home his architect great-grandfather had designed in 1924; and he launched his own studio at 23, shortly after graduating from the Università di Napoli Federico II.)
In the living area, a pair of sinuous Pierre Paulin Osaka sofas face each other across a vintage Petalas cocktail table, designed by Jorge Zalszupin in the 1960s for Atelier Brazil. Similarly distinctive is Mario Bellini's Camaleonda modular seating—its components joined by an innovative system of cables, hooks, and rings—a current collector's darling that commands the kids' lounge. Also crave-worthy are Gio Ponti's Superleggera chairs, weighing in at little more than three pounds each, arrayed around his Pirellone table in the kitchen. Not to be outdone is Martino Gamper's walnut and multicolor-Formica dining-area table, a bespoke wonder from Milan's famed Nilufar gallery. Lighting fixtures are signed by Gae Aulenti, Ettore Sottsass, Vico Magistretti, and BBPR. Even accessories bear such renowned names as Tobia Scarpa, Bruno Munari, and Gabriella Crespi.
Also represented here are Naples art gallerists Lia Rumma, Alfonso Artiaco, and Laura Trisorio supplying works by a who's-who of contemporary talent: Marina Abramovic´, Thomas Ruff, Michelangelo Pistoletto, Jannis Kounellis, Gian Maria Tosatti, Giulio Paolini. Arguably best in show is Luca Monterastelli's site-specific bas-relief concrete sculpture, which spans more than 16 feet of dining-area wall. Site specific, too, is installation artist David Tremlett's color-saturated composition of hand-enameled tiles that forms the primary bedroom's flooring. Beside it, the architect designed a raised platform for the bed, to take best advantage of ocean views. A serene and sophisticated oasis? You bet. Not a hint of chaos anywhere.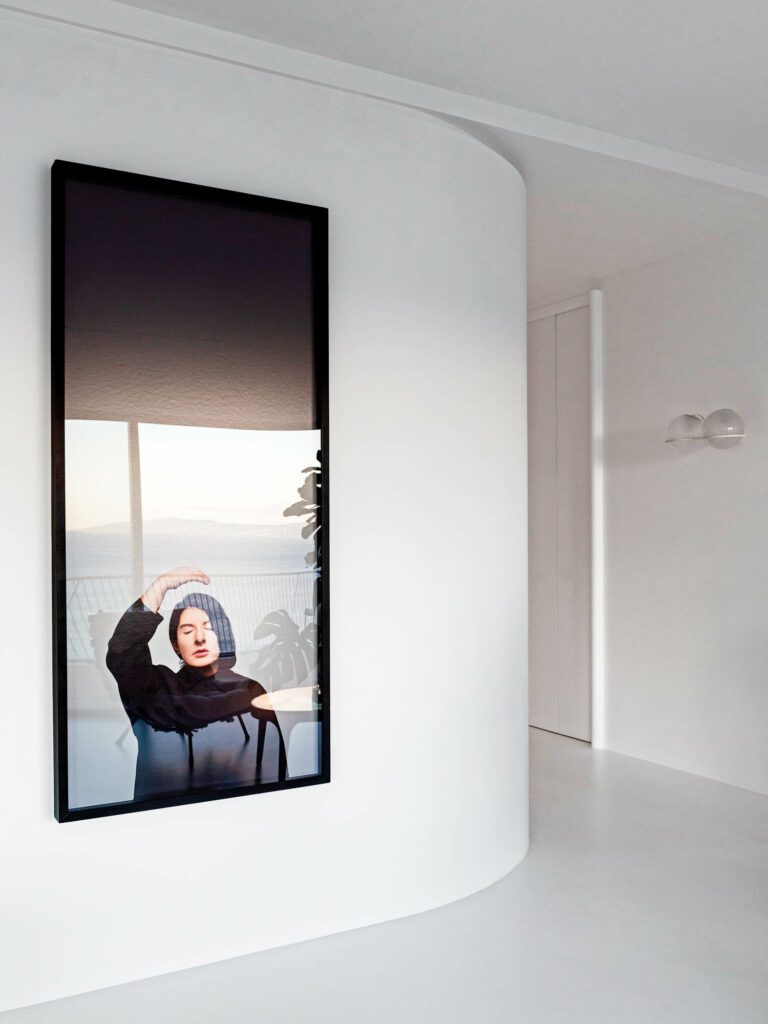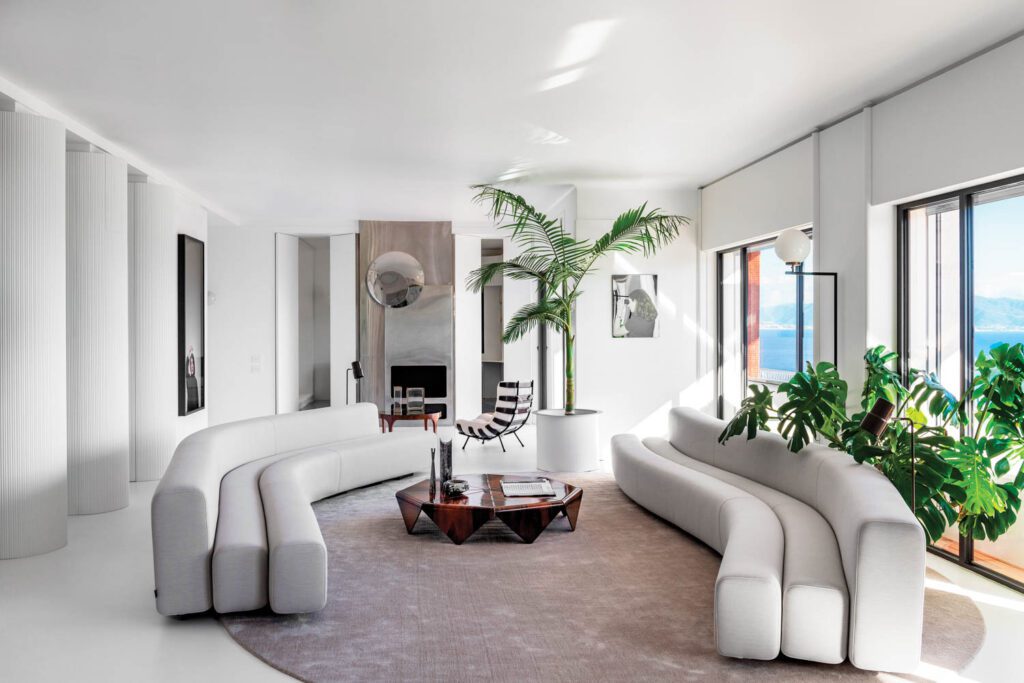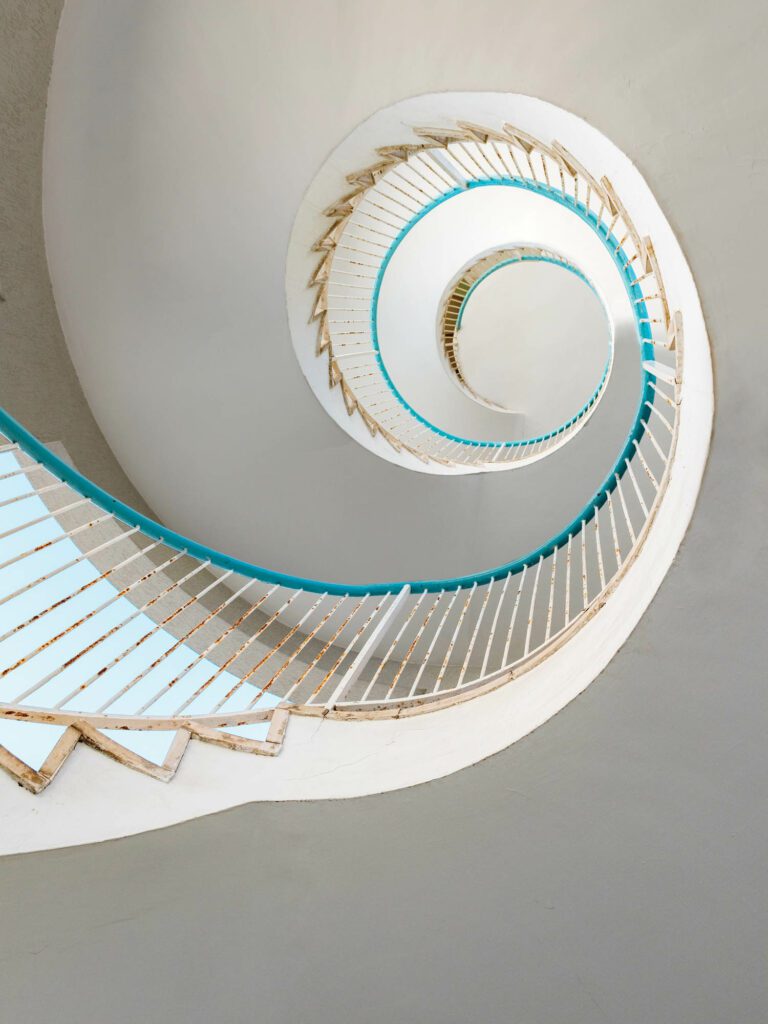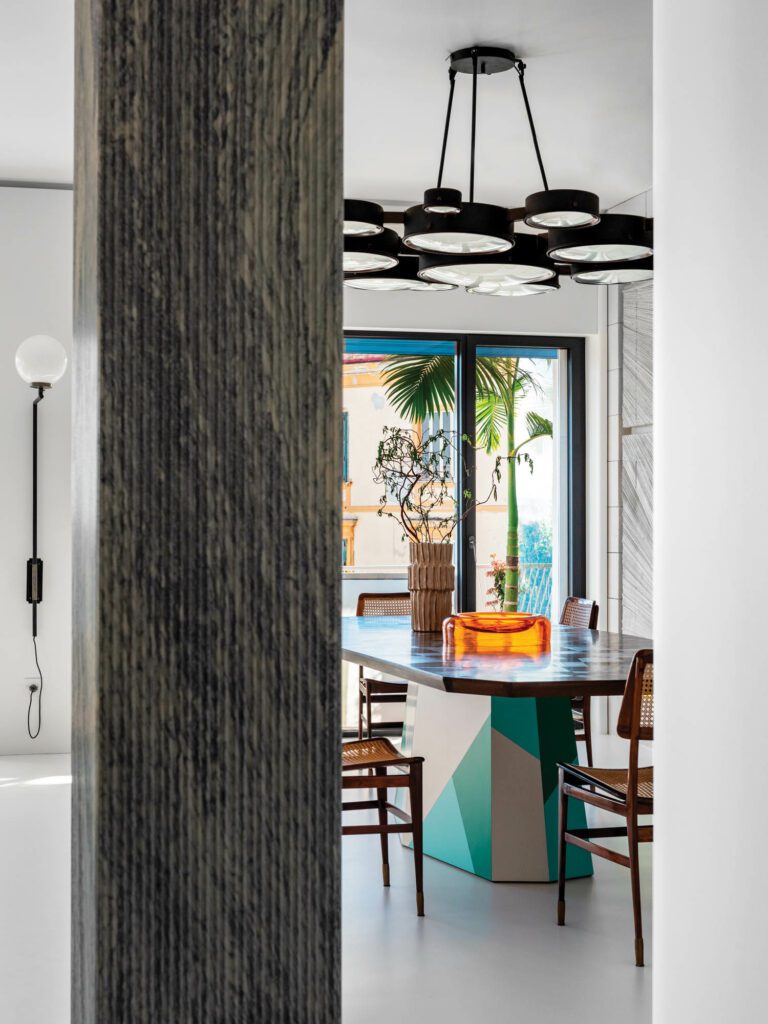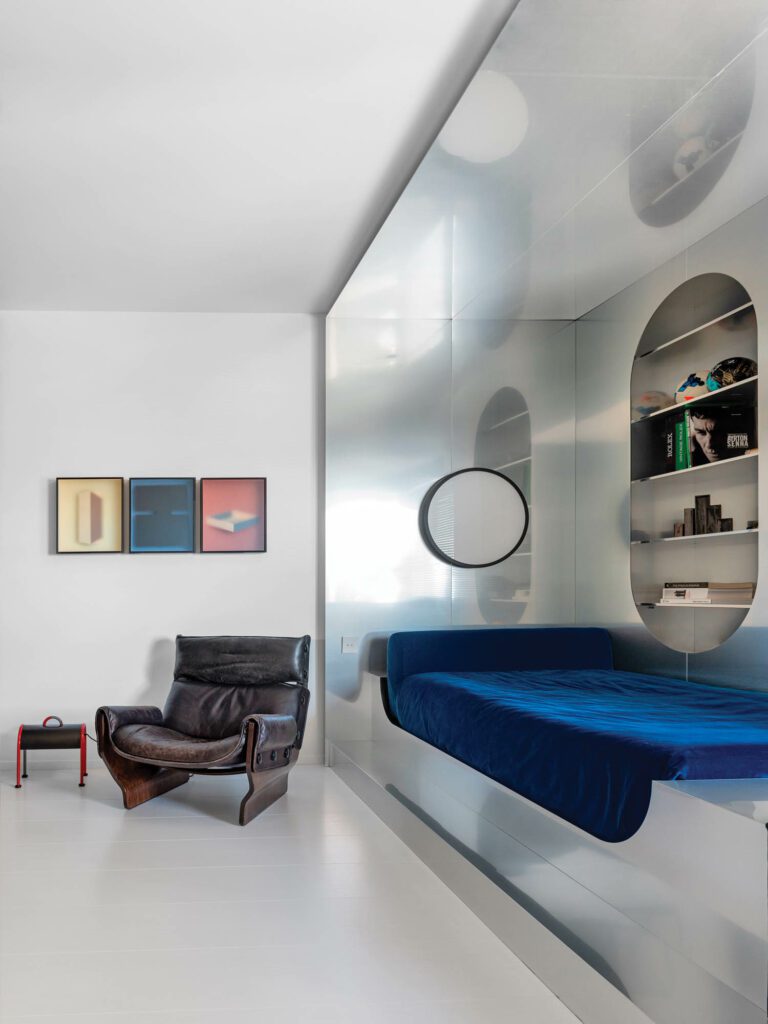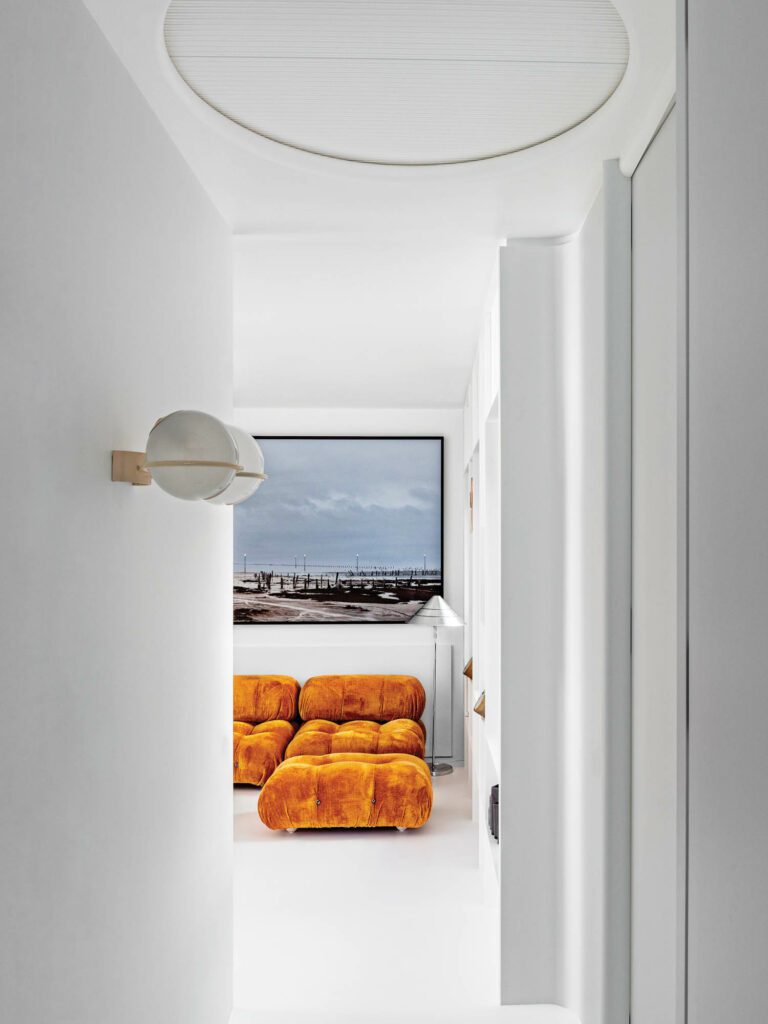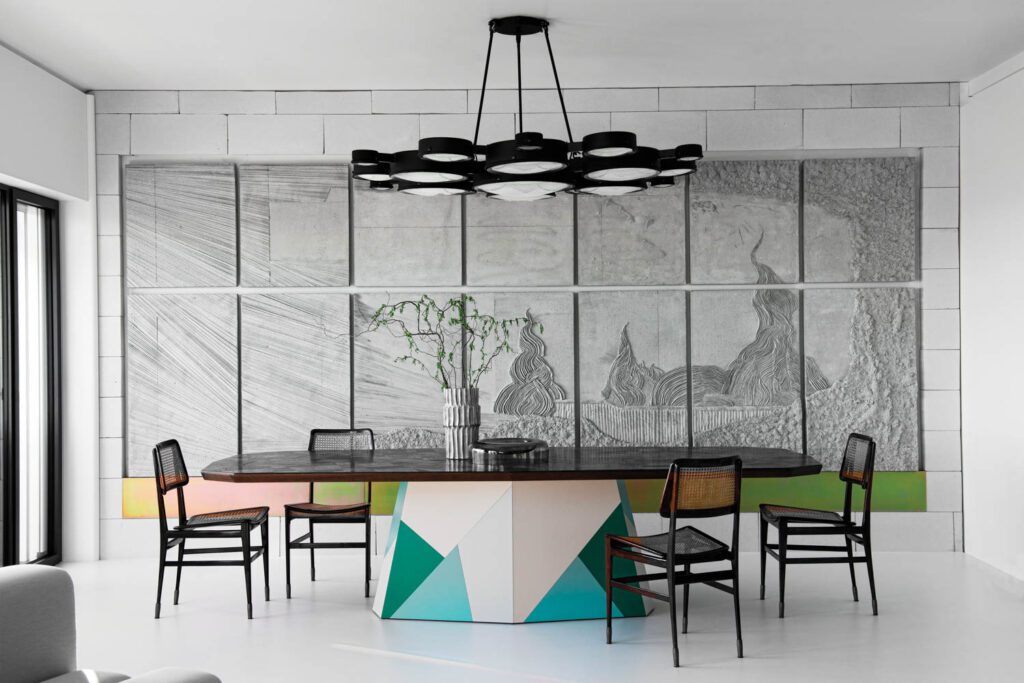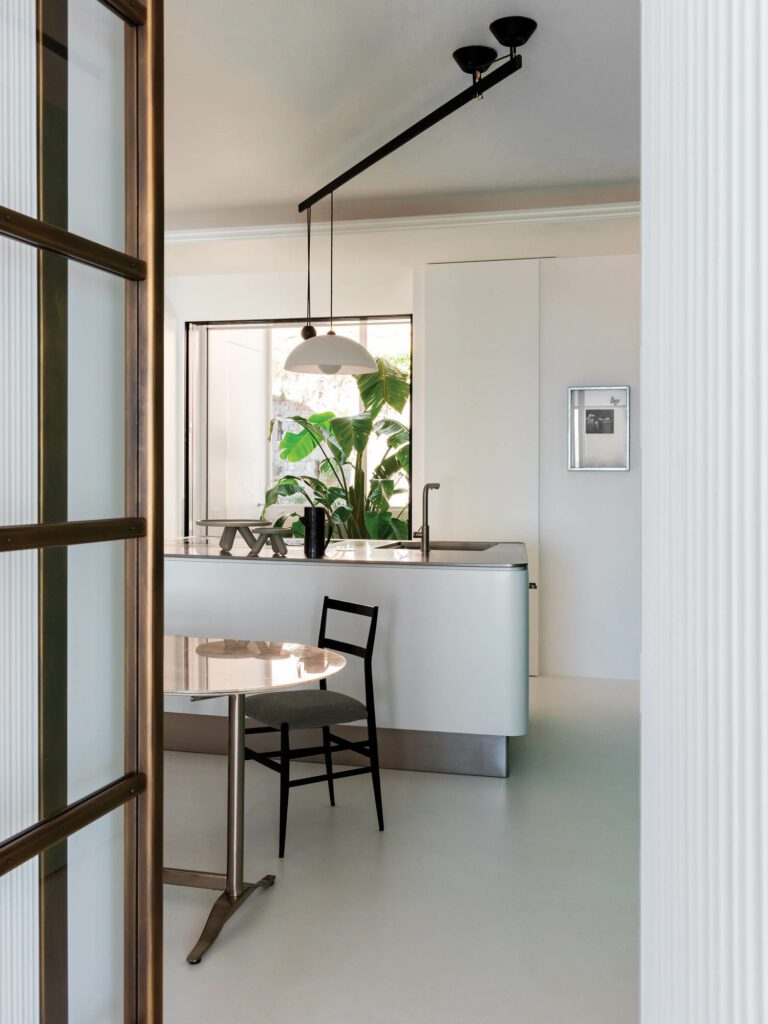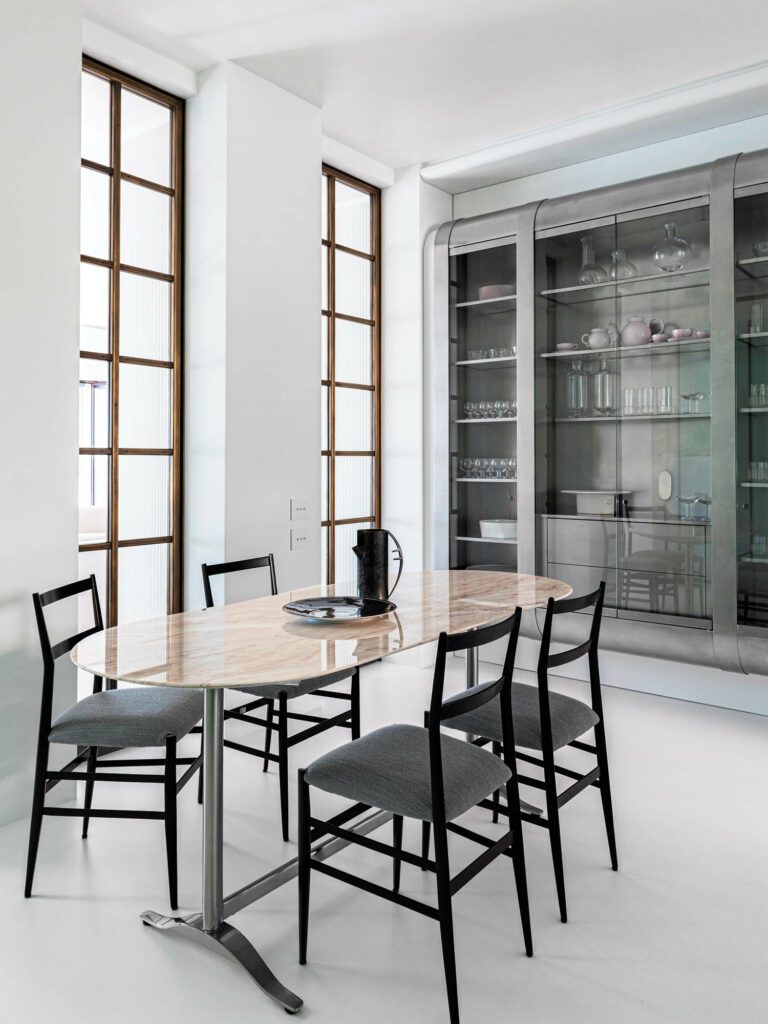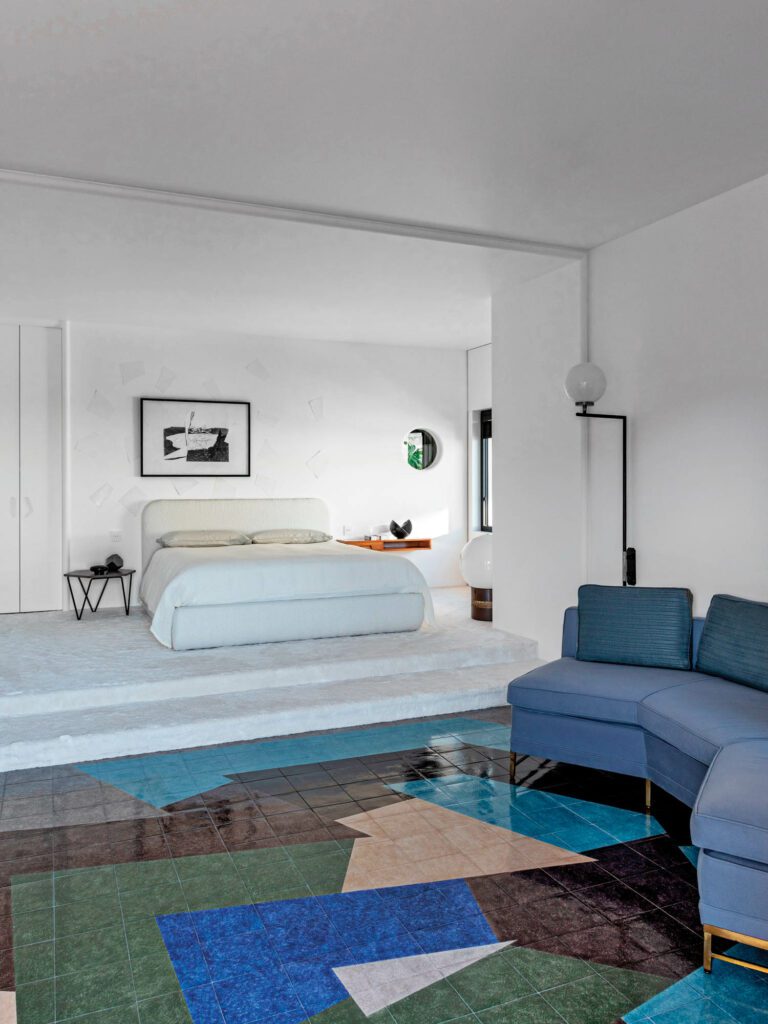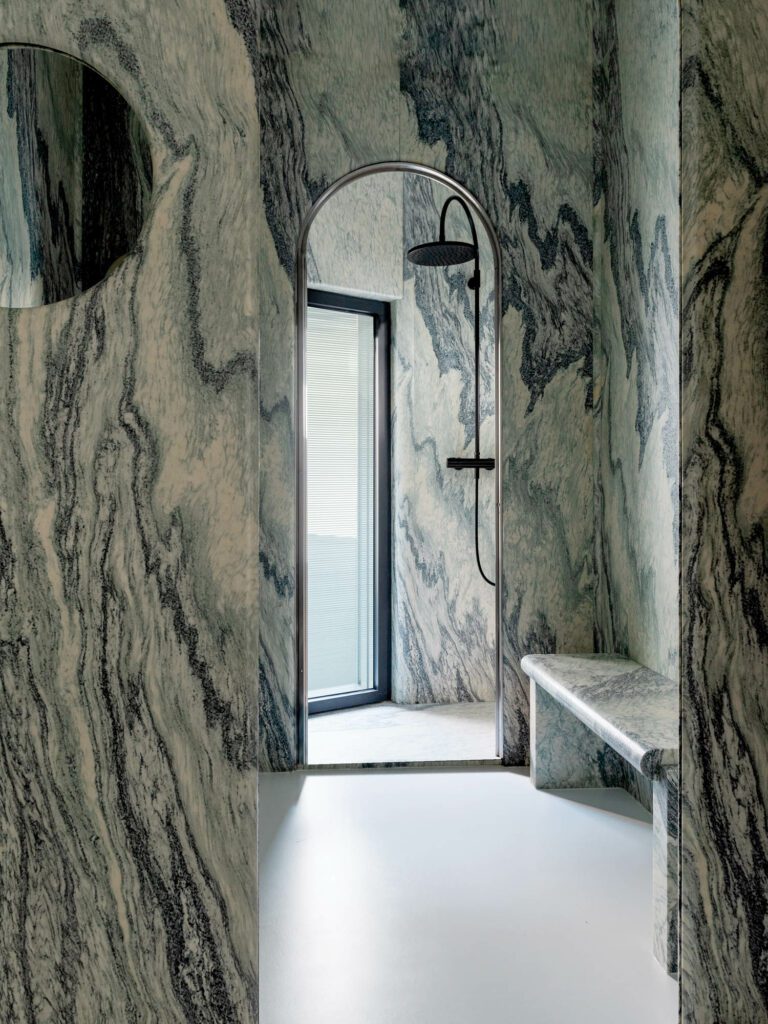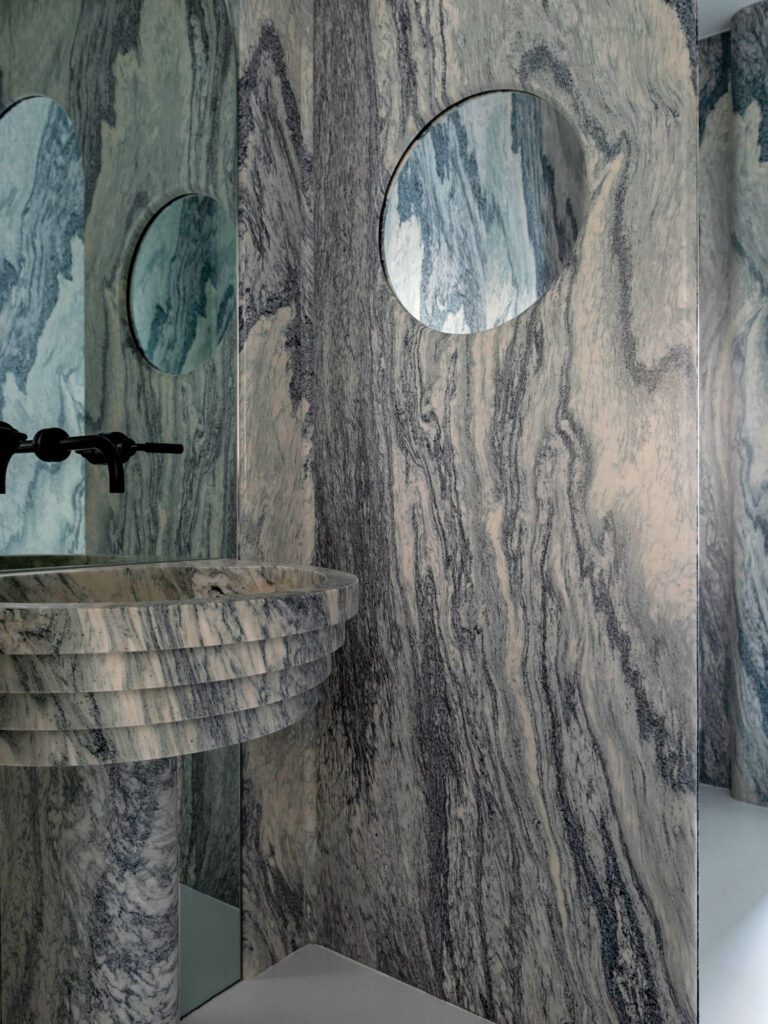 PRODUCT SOURCES
FROM FRONT