National Museum of Qatar Gift Shop by Koichi Takada Architects: 2019 Best of Year Winner for Mixed Retail
With its interlocking disks modeled on the desert rose minerals found in Doha, the National Museum of Qatar by Ateliers Jean Nouvel was one of the signal architectural achievements of 2019. Its pair of gift shops inside, designed by Koichi Takada Architects and similarly influenced by the area's natural heritage, are an interior tour de force.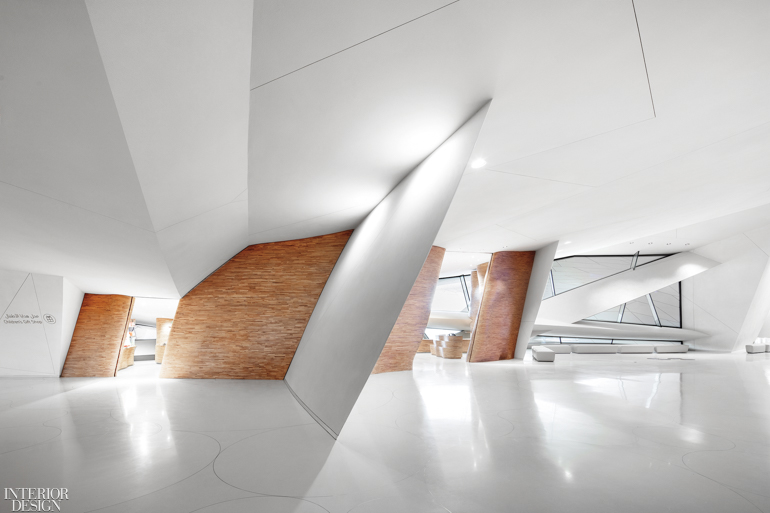 It was Qatar's Dahl Al Misfir, a wondrous cave of gypsum crystals, that provided inspiration for the shops—one for children, another for adults, together totaling 1,195 square feet. But while the cave's interior is craggy, the shops' walls are smooth and undulating, comprised of 40,000 slices of CNC-cut European oak that were designed using 3-D modeling software. The pieces were fitted together on-site—"like a giant jigsaw puzzle," Koichi Takada says—and attached with brackets to a steel-rib structure that stands free of the building.
As if all that weren't complex enough, the shelves are adjustable and the tables stand on casters, allowing staff to change around retail displays depending on the merchandise in hand. Given the design drama, visitors tend to linger—and sales have tripled expectations.
Project Team: Georgia Wilson; Terry Brabazon; Fabiola
Aabral-Monasterios.
> See more from the December/January 2020 issue of Interior Design