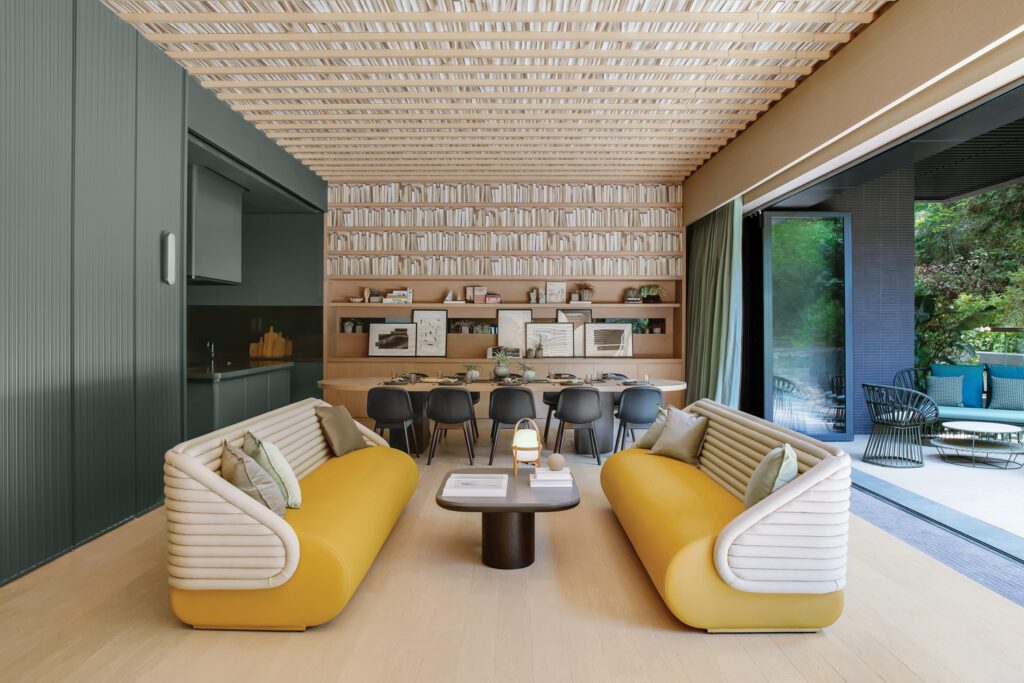 NC Design & Architecture Goes Into the Woods to Envision a Residential Tower in Hong Kong
Forest huts and woodland lodges are the inspiration behind the interiors of Timber House, a residential tower in Hong Kong by NC Design & Architecture.
Hong Kong is among the last places on earth where you might expect to find a tree house. Yet there, in the middle of the Kowloon neighborhood, straddling the end of a congested, tower-lined alley, you'll find just that: a wood cabin with a simple gabled outline that a child might draw, suspended 12 feet above street level amidst tropical foliage. Conceived by NC Design & Architecture, the abstracted cabin marks the entrance to Timber House, a new 30-story residential complex by property conglomerate New World Development and architecture firm AGC Design. It's also an invitation into a world of curiosity and childlike wonder where, NCDA principal Nelson Chow says, "People should feel that anything is possible."
Born in Hong Kong and raised between there and Toronto, Chow received a master's in architecture from Ontario's University of Waterloo before earning a certificate in men's tailoring at New York's Fashion Institute of Technology in 2005. He had always wanted to study fashion but the instability of a career in that industry made it a hard sell to his family. So he spent the first years of his professional life as an architect at AvroKO, a Manhattan firm specializing in hospitality projects. There he worked on designing everything from restaurant-staff uniforms to custom furniture, a holistic approach he took with him when he moved back to Hong Kong in 2009.
Chow founded his firm two years later, working on prominent restaurant and bar projects, including his breakthrough design for Foxglove, a slick speakeasy behind a 19th-century umbrella shop in downtown Hong Kong. "I like to think of my designs as stage sets that engage with emotional experience," Chow says. "Architects like to look down on interior designers, and interior designers like to look down on people who work at a smaller scale than they do. But I think really everything, every detail, is equally important."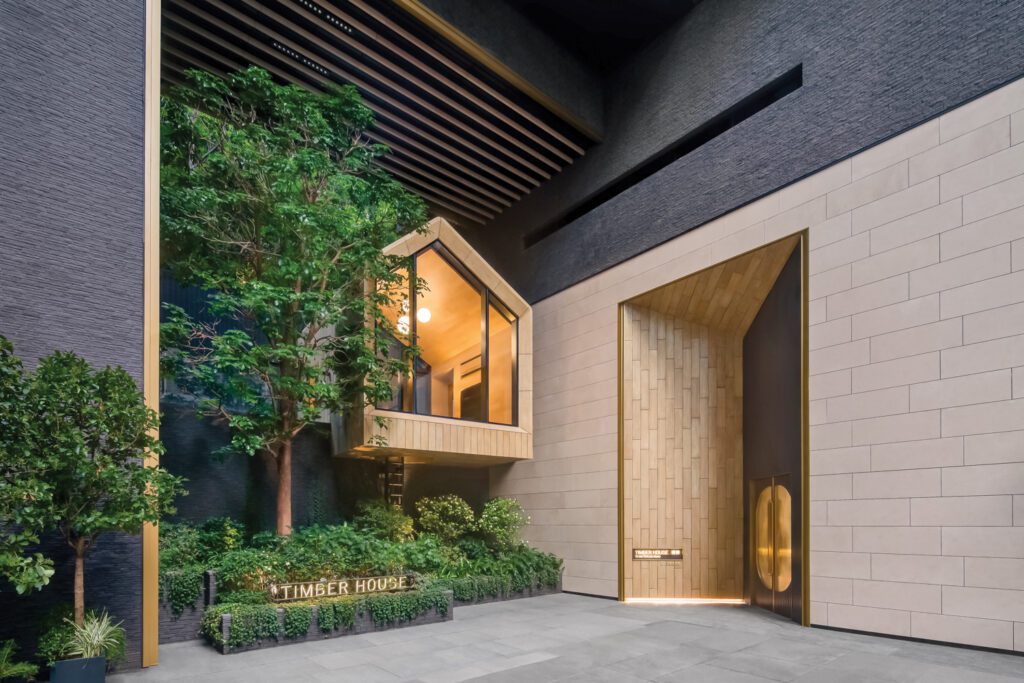 That meticulous, experiential ethos made Chow the perfect designer to head up New World Development's Timber House project. "I'm always looking for avant-garde ways to help strengthen the important relationship between society and our planet," says CEO and executive vice chairman Adrian Cheng, the driving force behind the complex. "It's very important to us that we make an impact with each property we produce, and I believe Timber House does this in a fun and creative new way." Backing onto Ho Man Tin hill, a sliver of greenery that has made its eponymous neighborhood one of the city's most sought-after residential districts, Timber House generates wonder and surprise precisely by restoring the connection between people and nature otherwise lost in the teeming metropolis. Comprising 240 apartments ranging in size from 222 to 526 square feet, the building is conceived principally for young families who move to the area for its top-notch schools.
The tree house, which floats in a three-story cutout at the building's entrance, is just the first suggestion of the witty, mysterious, kid-friendly world inside. Powder-coated corrugated steel doors with brass handles and fluted glass panels are a portal between the sun-blasted concrete maze of the neighborhood and the lobby—a cool, forest lodge of a space, its walls painted deep olive—centered on a custom blackened-steel reception desk that resembles a woodburning stove, complete with smokestack. Each of the two elevators across the lobby has a backlit blackened-steel ladder running up its rear wall; reflected in the cab's mirror ceiling, the rungs appear to offer infinite ascent toward an unseen destination. "We like to create a sense of whimsy wherever we can," Chow says, "especially in this project, which is really for kids."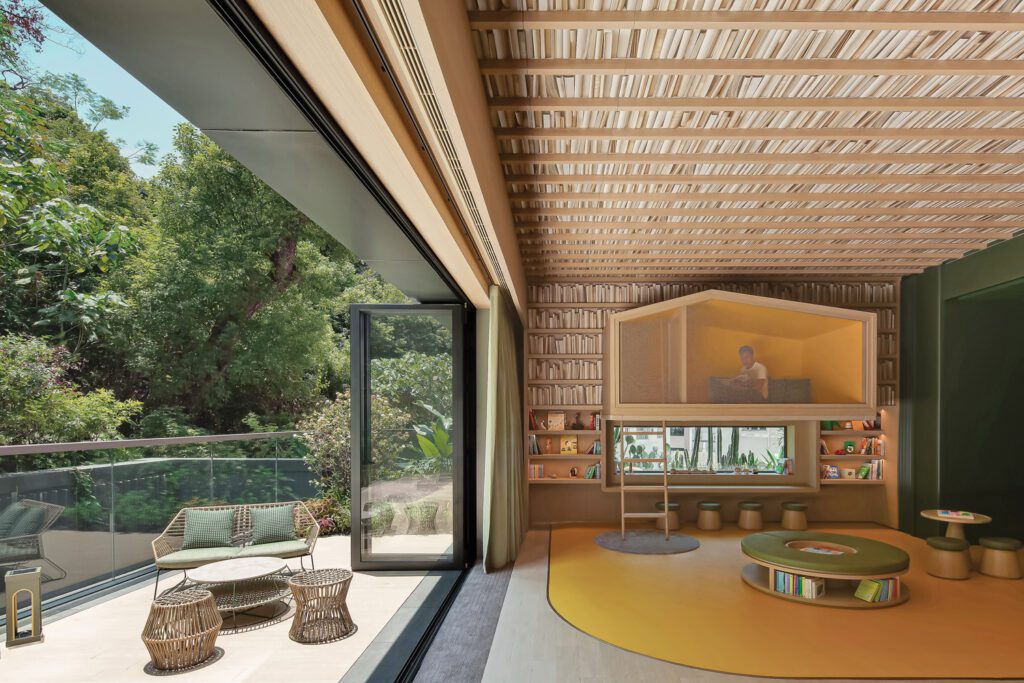 Communal amenities span the second floor. A lounge, dining area, and kitchen occupy a terraced corner space overlooking the adjacent forested hillside—a shock of green that's echoed in the pine lacquer finish on the custom kitchen cabinetry. A third of the floor is dedicated to a play area that includes a cluster of suspended cabins similar to the one down on the street. The little structures, which float above a ball pit, padded activity zone, and reading nook, are connected by tubes, like a miniature cloud-borne city built for and governed by children.
That singular combination of sophistication and play continues into the residential quarters on the higher floors. At the entrance to each unit, brass fixtures Chow calls "curiosity lights" use magnifying glasses to highlight apartment numbers. Inside, hand-picked finishes, from back painted–glass kitchen backsplashes to custom brass hardware, lend a sense of understated luxury, while a carefully chosen palette of pale grays, deep greens, and black is a far cry from the harsh, blank white of many residential-development interiors.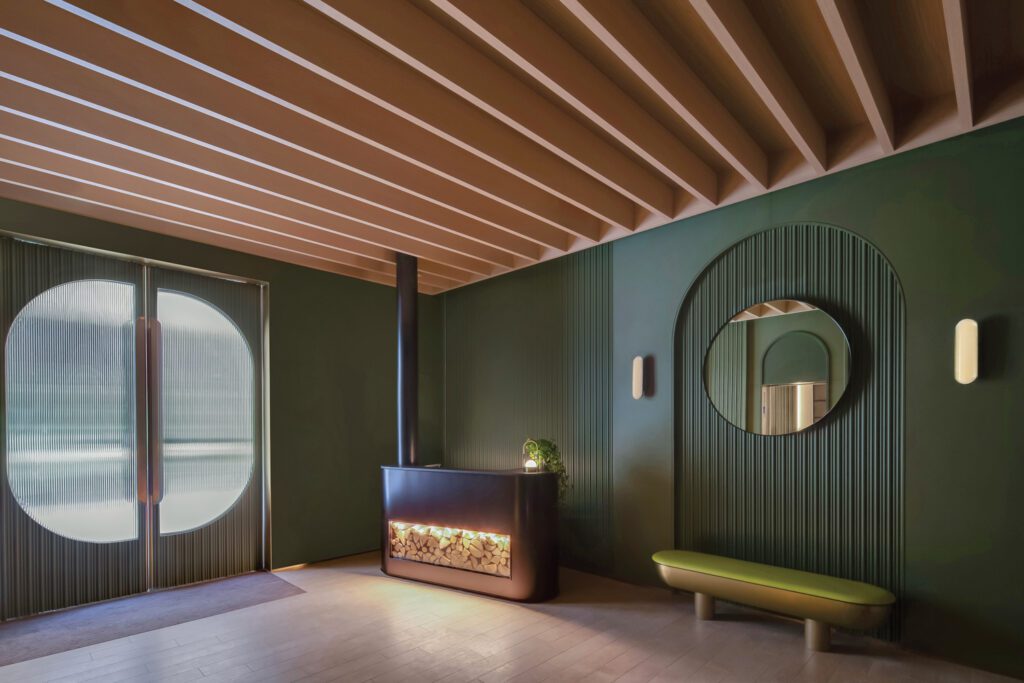 Black and gray ceramic tile clads the building's facade, which is dotted with lushly planted balconies that provide privacy for city-facing apartments. The verdure extends to a rooftop garden-farm that commands impressive views of Hong Kong's jagged skyline and gives clear outward expression to the developer's commitment to sustainability. "Every city is addressing the idea of sustainability in its own way," Chow notes, "so bringing greenery into a building, that's not just happening in Hong Kong. But in a place this built-up, every inch counts."
So, too, does every door handle, every surface, every point of connection between spaces and people—all the details that, taken together, make Chow's work so engaging. Ultimately, Timber House suggests precisely what the designer hoped: If you can live in a cabin in the heart of Hong Kong, then maybe anything truly is possible.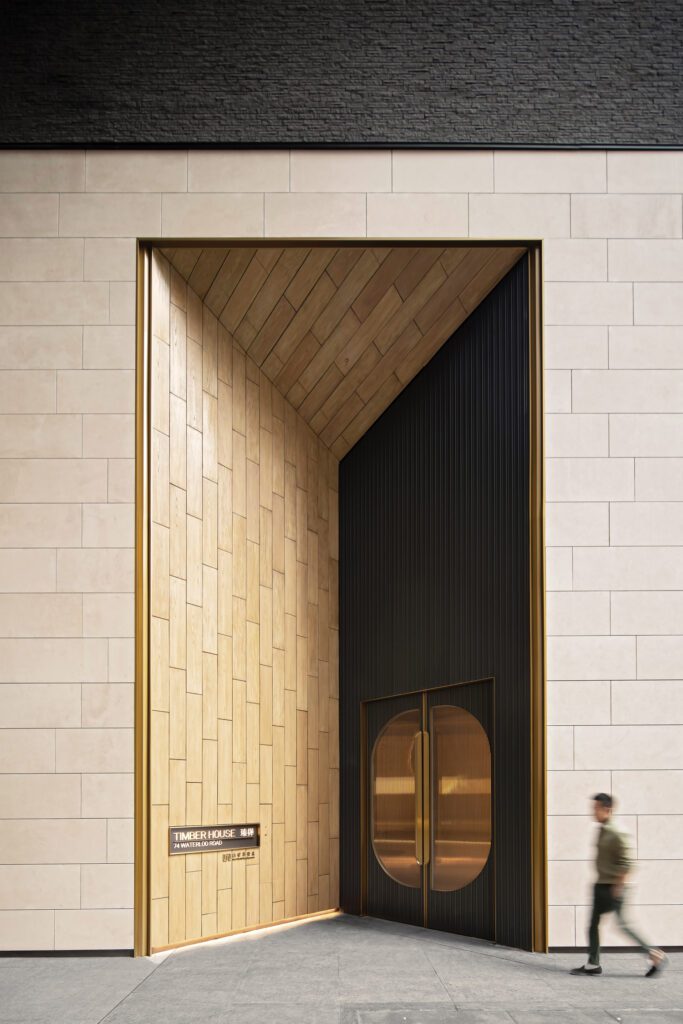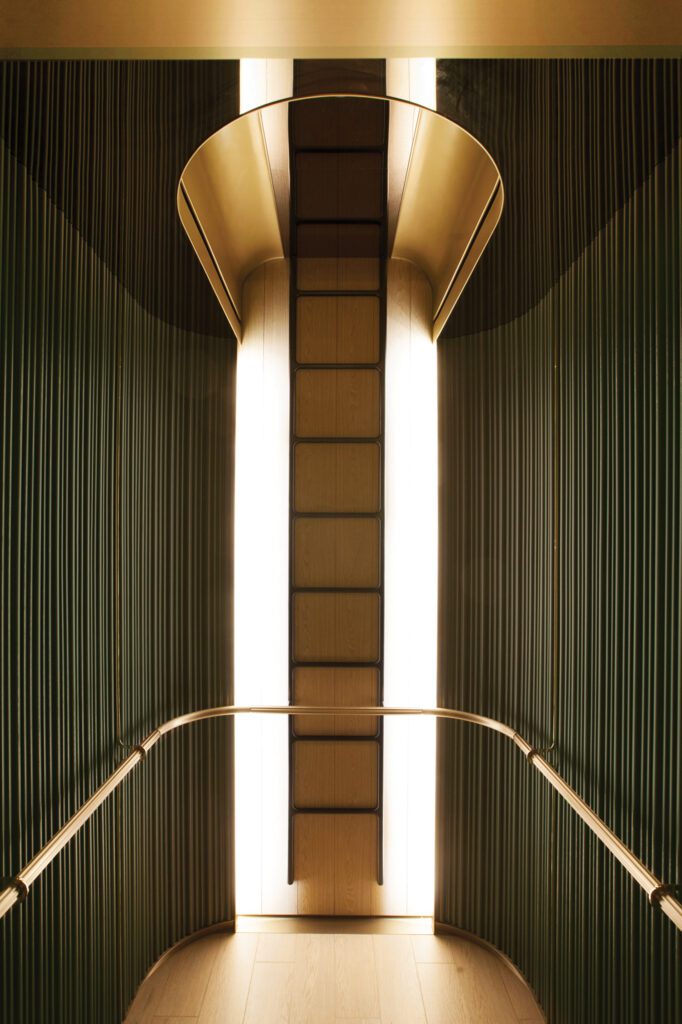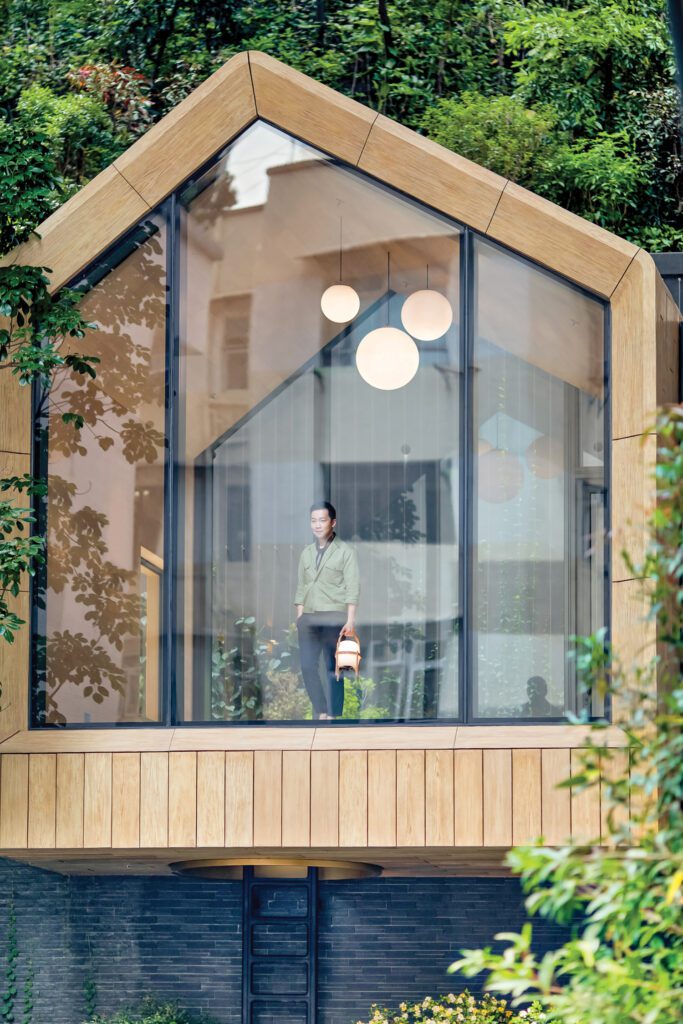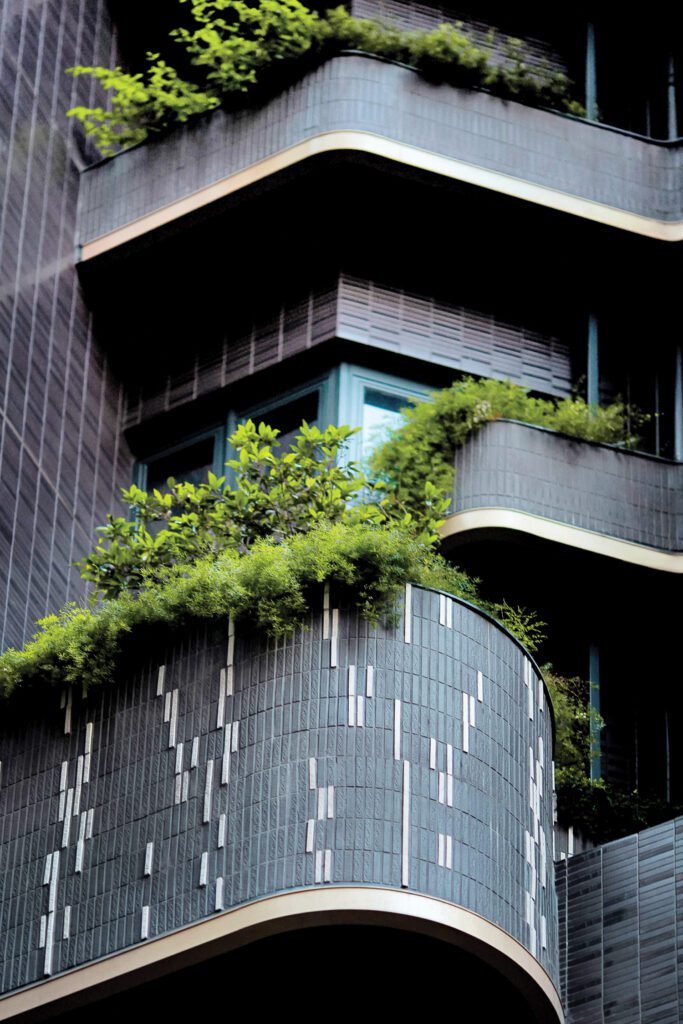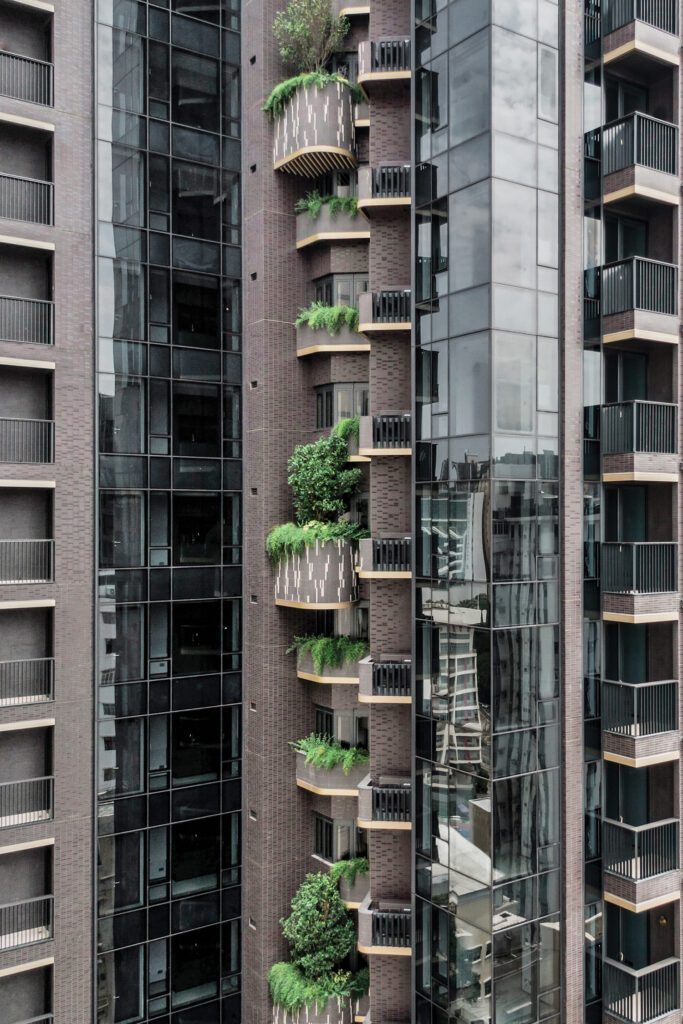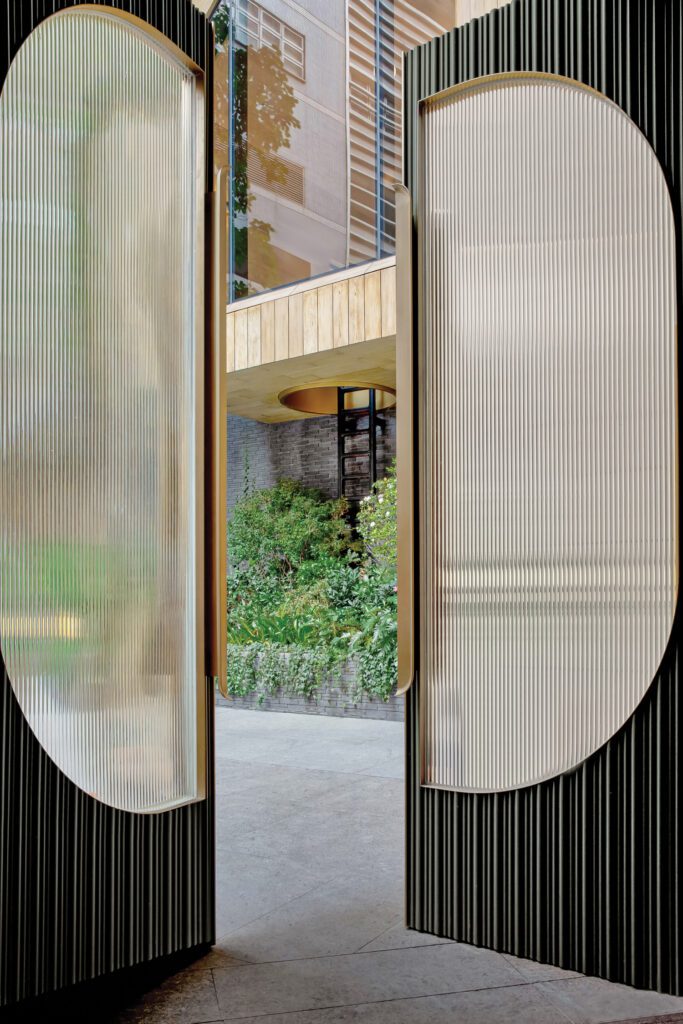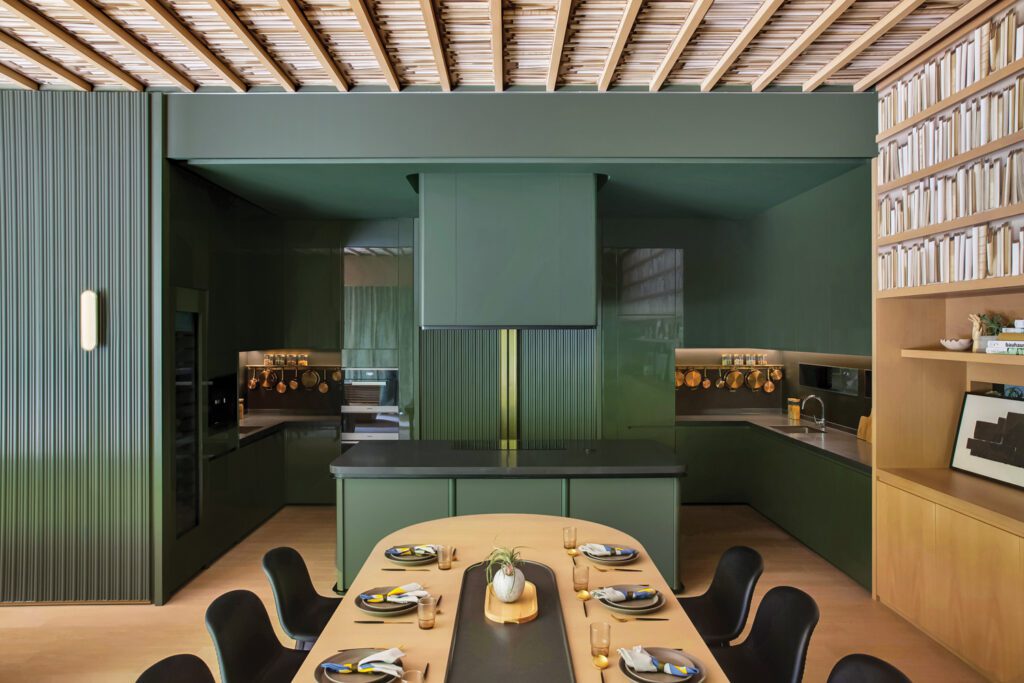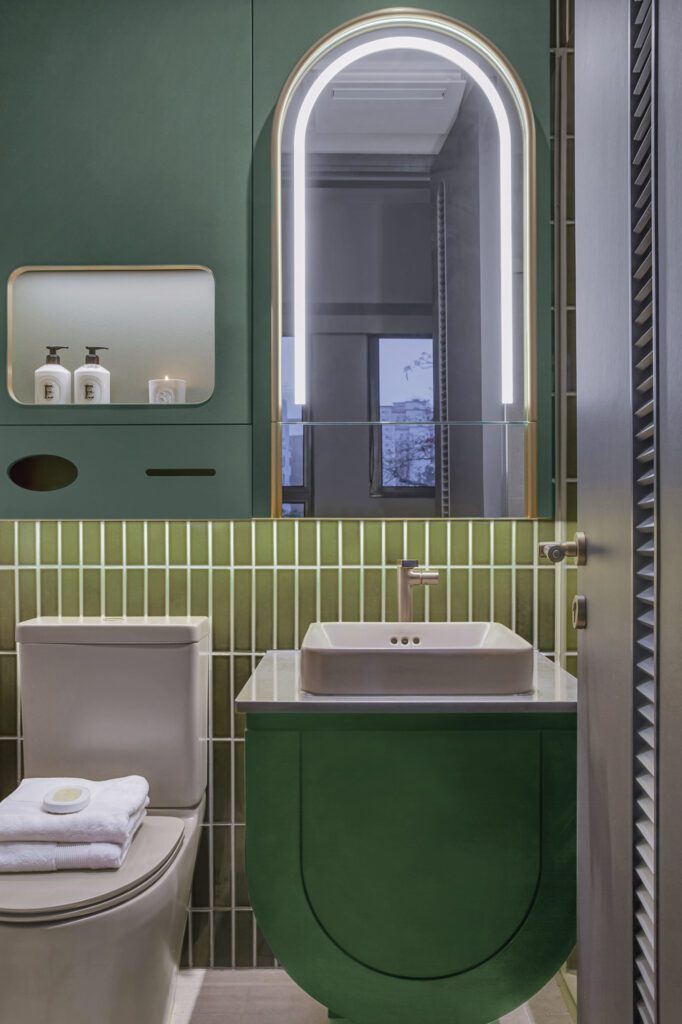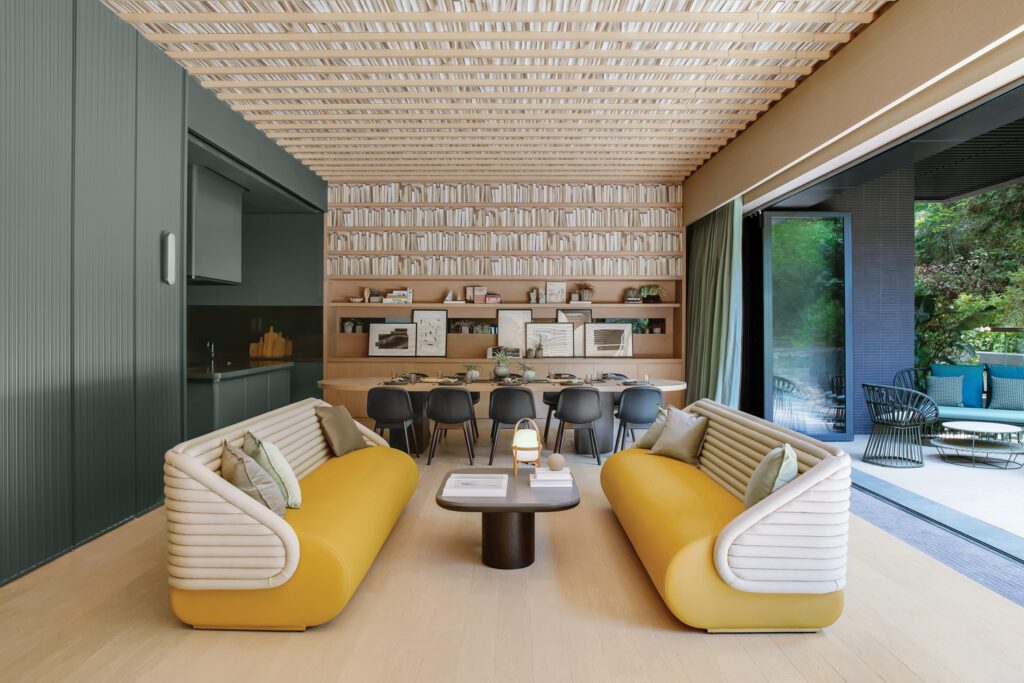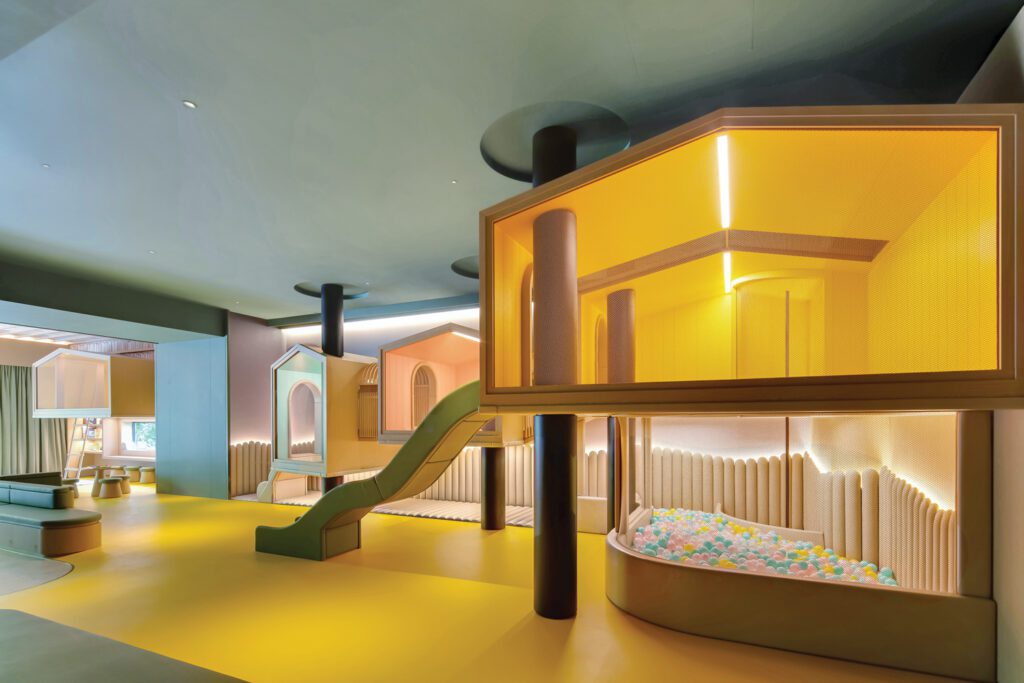 project team
product sources from front
THROUGHOUT