New in China: 10 Innovative Design Projects
From massive city centers to tranquil countryside retreats and pared-down offices, the design landscape in China remains innovative. We've chosen 10 projects that stand out—for obvious reasons.

1. Mist Hot Spring Hotel by Department of Architecture Co.
In the cocktail lounge, thousands of crystal beads hang from the ceiling like a suspended rain shower.
2. Green Retreat in Yangzhou by Neri & Hu
Constructed of reclaimed gray brick, passageways structure the compound into a series of courtyards, some sheltering minimalist gardens and water features, others housing guest suites and amenities.
3. Art Center Rooftop in Zhuhai by Shenzhen Dae
The peak is a prime vantage point for taking in views of the spire of Macau Tower.
4. World Expo Center in Qingdao by Tengyuan Design
The center is literally big enough to drive a train through. Necessary, since the goal is to attract visitors to Qingdao, an ancient coastal city of nine million people.
5. Spa Hotel Artyzen Sifang Nanjing by Hirsch Bedner Associates
The lobby's marble console stores the iPads used for check-in.
6. Layering Courtyard in Beijing by Archstudio
Mirror-finished stainless-steel tubes below the ceiling dissolve spatial boundaries, as do the glass walls selectively frosted to conjure rising mist. Clear acrylic furnishings enhance the light and transparent effect.
7. Real Estate Sales Center in Wuhan by Kris Lin
At first glance, the entrance could be mistaken for one to a contemporary religious or cultural institution. The grand arrival sequence starts with a large reflecting pool, upon which the 1,700-square-foot building behind appears to float.
8. "Resimercial" Office in Zhenzhou by G-Art Design International
A bespoke branching chandelier, Alexander Calder–esque in appearance, gently sways in the double-height space.
9. Avant-garde Fashion Office in Jiaxing by Jacky.W Design
Upon entry, the 20 staffers and visitors are greeted by a massive ash door that revolves 360 degrees.
10. Kunshan Residence by Atelier Zerebecky and Kos Architects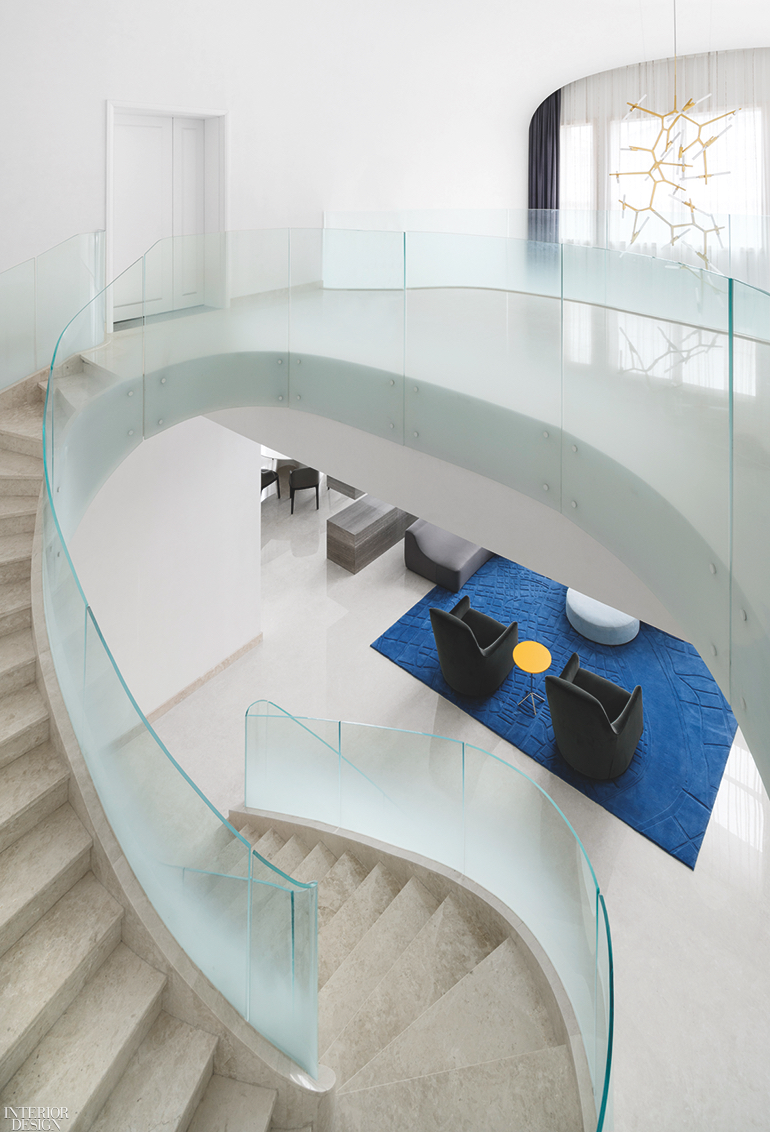 Zerebecky and Kos used slumped glass for the staircase balustrade, and the material's fogginess obscures the structural steel.
Read next:
4 Must-See Retail Destinations in China and Japan
6 Design-Minded Offices in the USA and China