New in China: 15 Visually Captivating Projects
To celebrate the Chinese New Year—today marks the start of the Year of the Rat—we're highlighting the innovative, eye-catching design taking place right now in China. Here are 15 of our favorite projects.
1. Xiqu Centre in Hong Kong by Revery Architecture and Ronald Lu & Partners
The dazzling first venue in Hong Kong's ground-up West Kowloon Cultural District is attracting a new generation to the centuries-old xiqu, or Chinese opera. The centerpiece of the Xiqu Centre by Revery Architecture and Ronald Lu & Partners is the 1,000-seat Grand Theatre. "There are few modern venues dedicated to that art form," Revery principal Venelin Kokalov says. "So we designed it from scratch." Read more about this project
2. Chongqing Zhongshuge by X+Living
Shoppers enter a fantasy world at the trippy Chongqing Zhongshuge Bookstore in China, X+Living creative director Li Xiang's eighth project for the client. The space is large—occupying two floors and nearly 14,000 square feet—but looks twice that courtesy of strategically placed mirrors that conjure the illusion of never-ending stacks. Patrons enter a dark and moody "study" outfitted with tapering bookcases, some of which hang from the looking-glass ceiling and curl around brass floor lamps to mimic lampshades. Beyond are a kids' reading area with storybook built-ins and a shelf-lined corridor with reflective flooring that creates the effect of a tunnel of tomes. In between these two zones is a double-height "ladder hall." Read more about this project
3. UCAA Dune Art Museum in Qinhuangdao by Open Architecture
Can a concrete structure in the sand protect its fragile coastal environment? Open Architecture partners Li Hu and Huang Wenjing say yes. Elsewhere in the popular resort area of Qinhuangdao, China, developers have leveled dunes to construct high-rises. But the 10,000-square-foot UCCA Dune Art Museum, an offshoot of the Ullens Center for Contemporary Art in Beijing, practically disappears into the drift—and will ultimately save the dune. Read more about this project
4. Courtyard No. 1 in Heze City by AOE
Inspired by suprematism, the early 20th–century abstract art movement, a residential sales center in Heze City, China by AOE has a glazing of UV-resistant panels intercepted by geometric apertures framed in stainless steel. Read more about this project
5. Alain Ducasse at Morpheus in Macau by Jouin Manku
Alain Ducasse at Morpheus is an homage to Jouin Manku's favored palette: neutral beiges, grays, black, and cream. "And we love glass," Sanjit Manku states. "But the question was how to push it further. We were looking for something elegant, but not too tech." The answer was found in a trip to Prague, purveyor of Bohemian glass, and the result is a stunning other-worldly dreamscape: a translucent forest of LED-lit blown-glass cylinders suspended from the ceiling and walls and reflected in pools of water that meander throughout. Read more about this project
6. Zhongshuge Bookstore in Xi'an by Wutopia Lab
Xi'an, a city considered the cradle of Chinese culture, was naturally a place where an ambitious book­-store chain, Zhongshuge, thought it should have a presence. To make just the right statement, cre­ating a literal haven for literature, the compa­ny returned to Shanghai-based Wutopia Lab, which had previously designed locations near Shanghai and in Suzhou. Xi'an's, at more than 20,000 square feet, is the largest to date. "There's a café, a gift shop, a lecture hall, and a movie-themed gallery," Wutopia founder and chief architect Yu Ting notes. Read more about this project
7. Omakase by Shanghai Hip-Pop Design
Enter a room by Shanghai Hip-Pop Design Team's chief designer Sun Tianwen and you fall into an alternate universe. Each of his mesmerizing interiors creates a discrete, futuristic world straight out of Blade Runner. A student of design psychology, Sun plays with space, light, and color to trick the eye and influence emotions. At elegant Japanese kaiseki-ryori restaurant Omakase, he evokes a sense of tranquility and refinement by showering guests in what he calls "sakura rain." Read more about this project
8. Beijing Institute of Technology Sports Center by Beijing Yishijing Architecture Design Consulting
It's quite a leap from Leonardo da Vinci's flying machine to the new sports center at the Beijing Institute of Technology, a university that specializes in military science. But the Renaissance artist and inventor's contraption was an inspiration for the soaring 170,000-square-foot structure. The flying machine's influence can most clearly be seen in the ceiling treatment of the 3,000-seat stadium, which flanks one side of a wide hallway running through the center of the building, with the 10-lane swimming pool on the other. Suspended from the roof, the ceiling is comprised of concave and convex surfaces evoking wingspans. Read more about this project
9. Nyx in Shanghai by Alberto Caiola Studio
Although named after Nyx, the Greek goddess of the night, this futuristic rooftop bar takes its inspiration from Roman ruins. A native of Pordenone, Italy, Alberto Caiola Studio design director Alberto Caiola drew on his visits to the Columns of San Lorenzo in Milan as a student. Tourist attraction by day, the colonne are a relaxed hangout by night. "They're accessible 24/7," the designer recalls. "We could grab a beer under the stars in that spectacular historical space." Such an open, comfortable spot is hard to find in densely populated Shanghai, where Caiola now lives, so it was a fitting conceit for a nightlife destination. Read more about this project
10. WuliEpochCultural Center by Beijing Yishijing Architecture Design Consulting
Beijing's Western Hills area, with its cooler climate and beatific vistas, has long been a sacred location. Lately, it's also become a desirable place to live, helped in large part by the success of the WuliEpoch Cultural Center sales office by Beijing Yishijing Architecture Design Consulting and accompanying low-rise residential developments. The complex pays tribute to the hills, partner Xiaojun Bu says, via in­teriors with "stacked layers of curved walls, one on top of the other in a crisscrossing manner." Gently sloping flooring and sinuous wood-clad aluminum ceiling panels gradually cool in color from yellow to white. Masonry nods to the Great Wall nearby. Read more about this project
11. Chinese Garden-Inspired KFC in Suzhou by The Swimming Pool Studio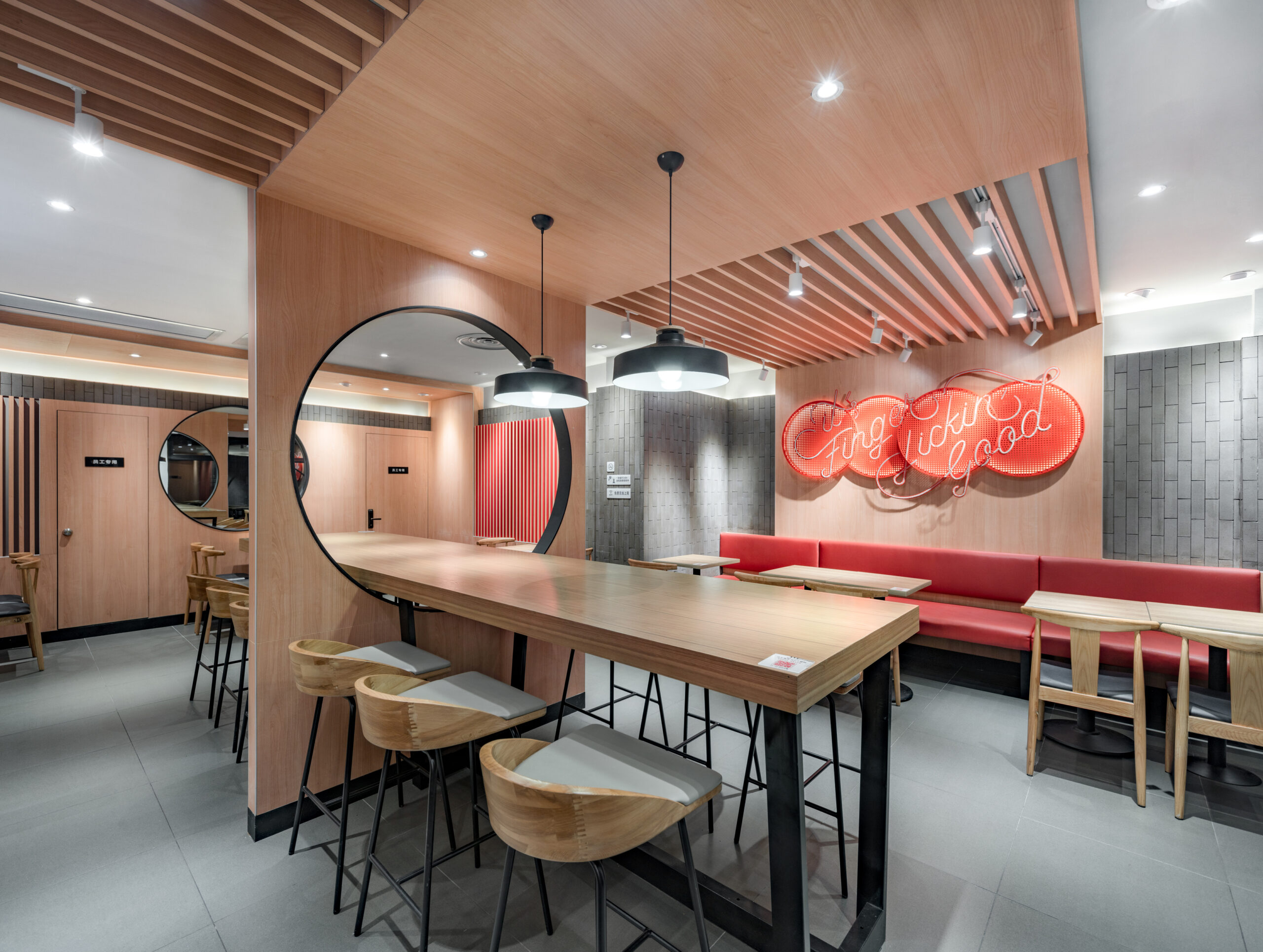 The Lion Forest Garden in Suzhou, China is a long way from Kentucky, but it served as inspiration for The Swimming Pool Studio's design of a KFC not far from the famous gardens. The 3,250-square-foot franchise utilizes traditional elements of the gardens, including circular portals and gray brick and black tile in crisp relief against white walls. "Entering the restaurant," says lead architect Jeremy Li, "is like opening a multi-treasure pavilion, meeting with surprise constantly." Read more about this project
12. Xi'an Changjiang Insun Imax Cinema by One Plus Partnership
One Plus Partnership design directors Ajax Law and Virginia Lung are arguably the world's premier cinema designers. They've masterminded more than 80 of them (and won Interior Design Best of Year Awards for five), with each as bold and idiosyncratic as the next. Although typically modern, their latest, a 45,000-square-foot cinema in the Shaanxi Province's capital city of Xi'an, was sparked by nostalgia for analog film. Read more about this project
13. Aranya Art Center in Qinhuangdao by Neri & Hu Design and Research Office
Molded concrete panels channel the rippling tide of the nearby Bohai Sea at the Aranya Art Center, a spiritually minded Qinhuangdao residential development's event venue designed by Neri & Hu Design and Research Office containing an amphitheater, galleries, and a roof deck. Read more about this project
14. XinMeng Montessori Kindergarten in Xiamen Island by L&M Design Lab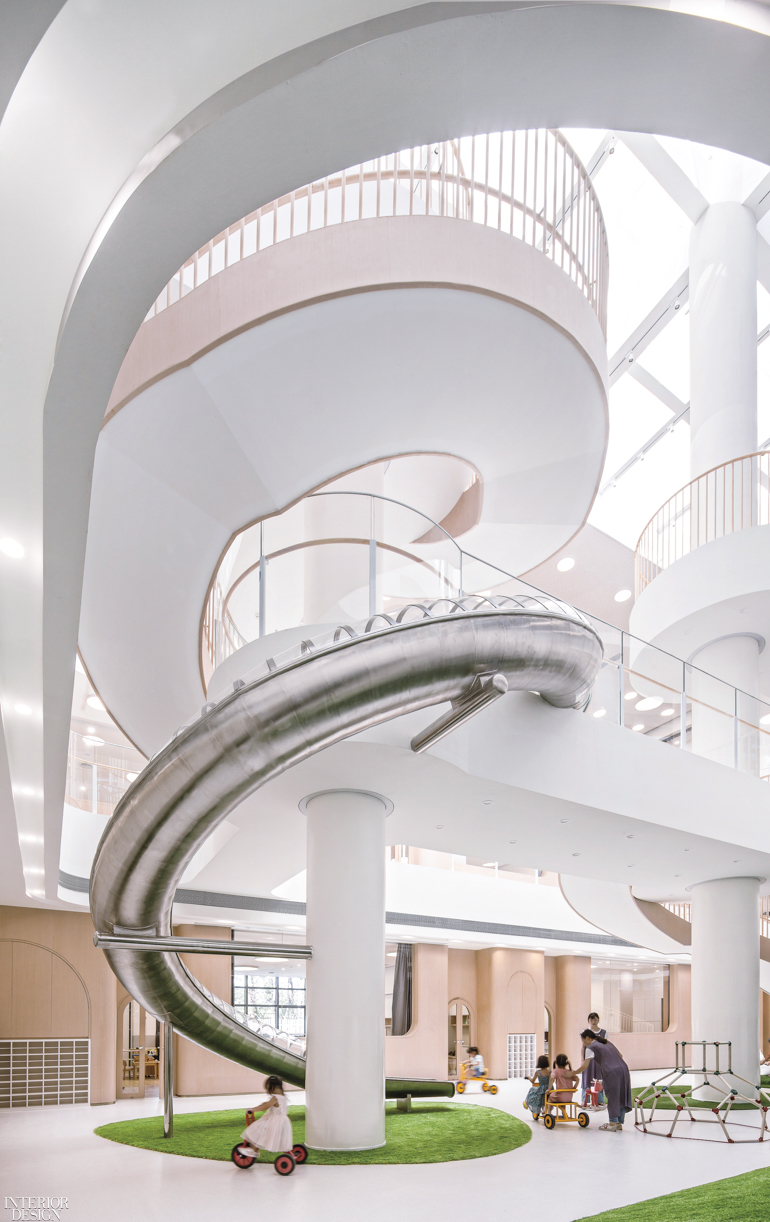 The Montessori method, a 100-year-old approach to education based on scientific observations of children, is on full display at XinMeng Montessori Kindergarten, a 53,000-square-foot kindergarten in Xiamen Island, China, serving kids ages 2 through 6. L&M Design Lab devised an airy building that prioritizes the little students' freedom and well-being and the idea of learning through discovery. Read more about this project
15. Lolly Laputan Kids Café in Dalian by Wutopia Lab
When the 9-year-old daughter of Wutopia Lab founders Yu Ting and Min Erni drew a picture of a magical land one morning, it spurred the architect couple to action. We want to make that a reality, they decided. The opportunity to do so came from two clients: PACEE Education, which provides STEAM programs to Chinese youth, and Fairyland, a restaurant group. The companies joined forces to open China's first educational family restaurant: Lolly Laputan Kids Café, a 6,200-square-foot kid-centric food and amusement venue in the north­eastern port city of Dalian, China. Read more about this project
Read more: Which Buildings and Spaces Do You Think Defined the Past 20 Years?