Nido Architecture Displays Artistry at the Drawing Hotel in Paris
When they were commissioned for the interiors of the Drawing Hotel in Paris, Nido Architecture co-founders Chiara Patrassi and Alexandra Bernaudin found them­selves teamed with an unusual set of collaborators: the hotel owner and director Carine Tissot, who is also co-founder of the city's annual Drawing Now Art Fair, and the six contemporary artists she had given carte blanche to decorate the hotel's hallways.
"We knew nothing about contemporary drawing," Patrassi says. "But the artists were all so enthusiastic, so willing to work with us and mediums they had never used before. Carine chose them well." Tissot adds, "I was lucky. I got my short list."
"It's like falling headfirst after Alice in Wonderland into a cartoon dream."
The result is five radically different floors, each one packing its own distinctive visual wow. At the top, Swedish painter Thomas Broomé played with perspective grayscale lettering to identify wallpaper images of walls, doors and bookshelves holding his "ideal library" of books like Jane Eyre and Ulysses. Watercolorist Françoise Pétrovitch chose forest green for walls on the fourth floor, simple frames for her sophisticated paintings, and variegated limpid shades for tufted wool carpeting. Down on three, draftsman Clément Bagot embedded his brilliant splashes of abstract color behind glass panes set into all-black walls. Muralist Abdelkader Benchamma came in every day for two weeks to hand-draw the trees and plants of his Forest in black ink and acrylic paint on white second-floor walls. And the psychedelic first-level work of graffiti duo Lek & Sowat—blanketing walls, ceiling, and floor—is like falling headfirst after Alice in Wonderland into a cartoon dream.
The energy of the corridors contrasts with the relaxed warmth of the rooms behind them, with artist-designed printed-fabric headboards providing a transition. "Excitement in the halls, calm in the rooms," Bernaudin explains.
The 48-key hotel was the almost accidental brainchild of Tissot, whose successful drawing fair is heading into its 13th edition this March. She was hunting for a locale for a small permanent gallery when she learned about a new 18,500-square-foot building close to the Musée du Louvre. The developer had slated it as a hotel, and after much deliberation, Tissot decided to add hotelier to her resume.
Patrassi and Bernaudin came into the project in 2016, literally on the ground floor, which was just taking shape. As usual with Parisian hotels, space was a problem from the start: The original plan for the rooms was locked in, with their square footage varying between 194 and 237. But the architects were able to make a few important changes, notably switching the curving frosted-glass shower modules to transparent glass and nixing miniscule closets for handsome glass-
and-steel wardrobes, freeing up enough space for separate toilets.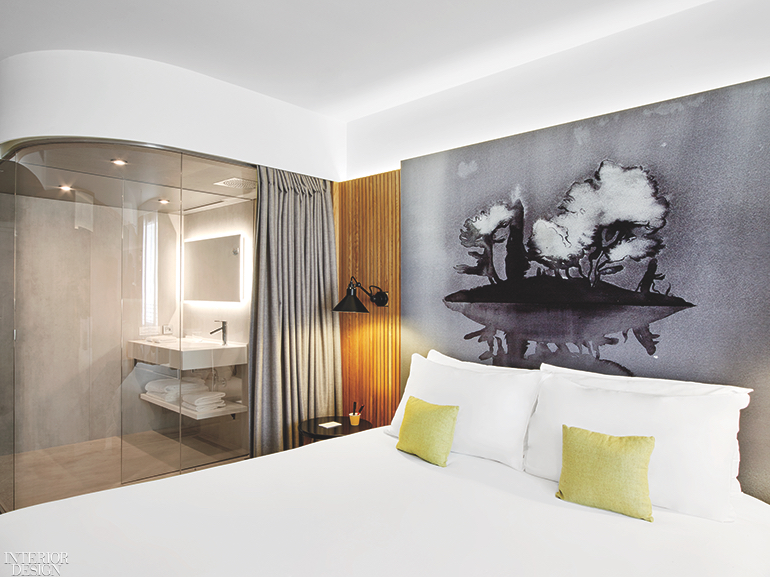 Throughout the project, Nido's key word was chaleureux, French for welcoming. The key component is wood, which appears as tinted oak paneling and in the furnishings throughout. "We're big believers in custom design," Patrassi says. Here that includes the lounge's leather sofas, bedside and console tables, the reception desk, and the bar.
Their biggest challenge, Patrassi says, was the ground level, with only 1,900 square feet of public space to accommodate the entrance, reception, retail, and the lounge. Reception is angular, with low shelves displaying books and objets for sale wrapping around the trapezoidal desk. More shelves line up along the window wall. A partition of oak rods that double-functions as a library defines the adjoining lobby, its seating area composed of a bold black-and-white rug, a loveseat by Neri & Hu, and a tubular Philippe Nigro chair that resembles contemporary sculpture. Beyond the partition is the cocktail lounge, where a window overlooks a courtyard, its red walls a tribute to Luis Barragán. Stairs lead down to the basement Drawing Lab, the contemporary gallery that started the project rolling. Seen from outside, it all looks much more like a bookstore or an art shop than a hotel. "It was important to achieve a gallery atmosphere," Patrassi says. "We didn't want it to look too 'deco.'"
Upstairs, the roof terrace is decked out in season with tables, chairs, and umbrellas, so guests can take in the view of the surrounding mansard rooftops. To access the terrace, they can ascend stairs along a corridor. "We keep thinking there might be another artist to tackle those walls someday soon," Patrassi says. For now, they're just painted white.
Project Team: Magali Amblard: Nido Architecture. Maurice Azoulay: Architect Of Record. Symbiosis: Landscaping Consultant. Douet Design: Lighting Consultant. Cap Structures: Structural Engineer. Innovation Fluides: MEP. Ramos Catarino: Woodwork.
> See more from the January 2019 issue of Interior Design