Nwankpa Design's Theory of Relativity
Challenging though they are, interior design and architecture are not rocket science. Except in the case of Relativity—then they almost are. The young Long Beach, California, company has embarked on 3D-printing rockets in a hybrid facility combining workplace and manufacturing plant. Risky business, and co-founders Tim Ellis and Mo Shahzad took an added risk of commissioning Nwankpa Design for the studio's debut commercial project. No worries, though.  Susan Nwankpa Gillespie showed her bona-fides during five years at Belzberg Architects where we first met. Setting out as an independent practitioner, Nwankpa initially concentrated on residential design. Relativity's recent completion prompted us to take a deeper dive into the work and her unconventional career path.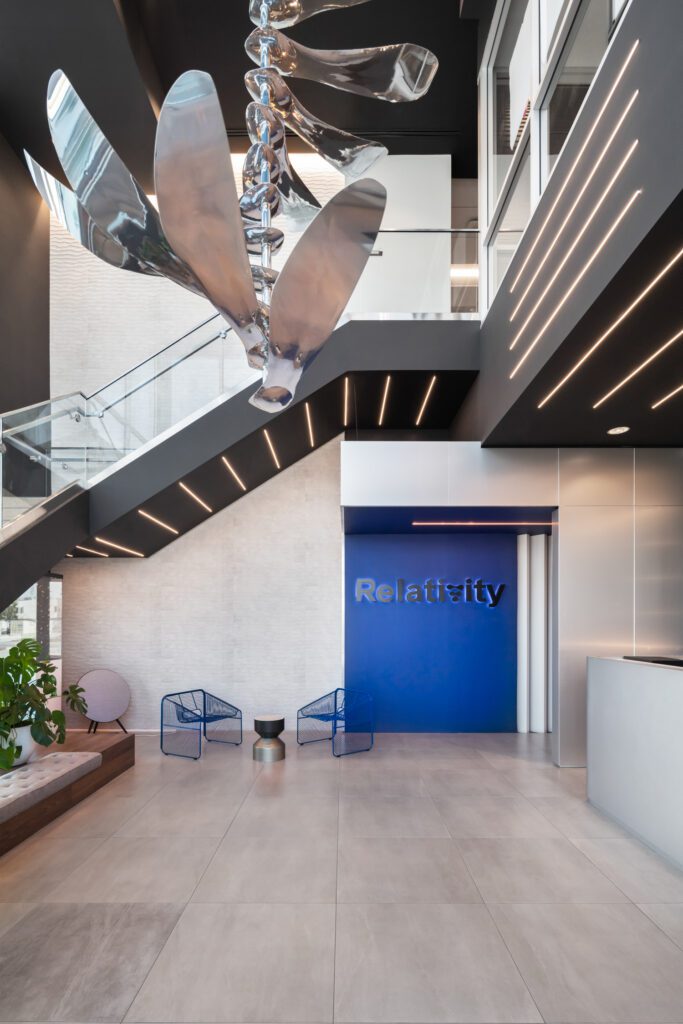 The daughter of a Nigerian father and white French-Canadian mother, she was born in Alabama, then moved to Ohio. "I went to African parties, and this connection to another place was wonderful at showing me the essence of people," Nwankpa says. "It has a strong impact on how I approach the world." Then came New York with a degree in political science from Columbia University and an internship at Morgan Stanley. Finance, she discovered, was not the right fit. So, it was off to Pratt Institute for a degree in interior design, followed by a move to Los Angeles and completion of an M.Arch degree at UCLA. "I hate being cold. I was attracted to the entrepreneurial spirit and, of course, the classic California modern homes," Nwankpa says of the move cross country.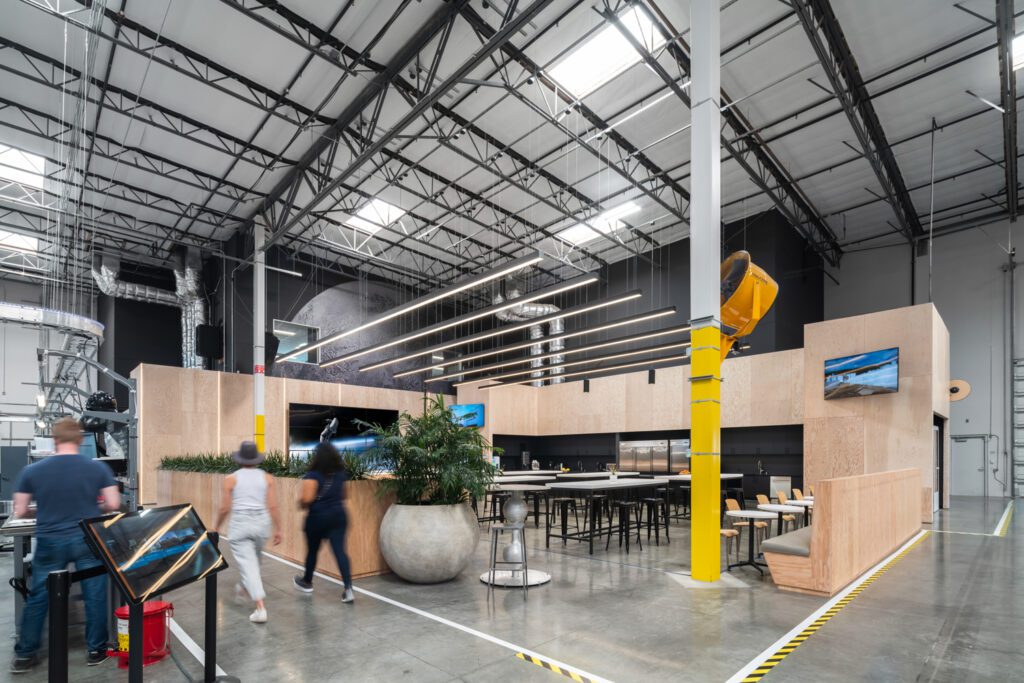 Housed as the first tenant in an office park warehouse, Relativity encompasses a 19,600-square-foot, two-floor office component and a 3,300-square-foot café within a sprawling factory spread over 95,500 square feet. Introduction makes quite an impression. Dominating the double-height lobby a suspended aluminum sculpture, courtesy of the co-founder, "suggests a seed with leaf representing motion and the machined version of something natural," Nwankpa explains. Other upscale treatments include a custom-color paint for the cobalt focal wall, a whitewashed Douglas fir slat wall for visual privacy, and a pair of groovy wire chairs from the local L.A. firm, Bend Goods. On the other side of reception comes a lounge where the palette changes to plywood panels for the wall and porcelain tile for flooring.
Meanwhile, open workspaces are interspersed with plenty of soft lounge seating plus compelling art and graphics conferring a bit of a gallery vibe. For starters, some of the rockets' 3D-printed components are elevated to sculpture; they're displayed upon painted MDF pedestals framed by LED strips embedded in a lengthy wood wall. An acrylic underwater seascape, again courtesy of the co-founder, hangs over a Herman Miller table meant for sharing. Upstairs, a secondary lobby boasts biophilia from the Belgian company Green Mood as an anteroom to more work zones. Here, a custom wall covering portrays a rocket engine sketch—more art as branding.