Olson Kundig Reinterprets the Ark at the Jewish Museum Berlin
It's not unusual for a museum to have an advisory council. But the members of it are usually not between the ages of 6 and 12. Such was and is the case, however, for a recently opened addition to the Jewish Museum Berlin. Anoha is a permanent exhibition dedicated to children that aims to tell the narrative of Noah's Ark through the Torah (the museum's name is abstracted from the word Noah). And it does so in the storytelling hands of Olson Kundig.
Anoha is housed in a 1960's concrete structure that sits across the street from the main museum. The 70,000-square-foot building operated as wholesale flower market until 2012, when part of it was converted into an educational center and library by Studio Libeskind, also responsible for the 2001 extension to the main museum. An international competition to create a children's space led to Olson Kundig being awarded the commission, helmed by principal Alan Maskin.
Anoha Tells the Story of Noah's Ark at the Jewish Museum in Berlin
Now a freestanding, 23-foot-high, 92-foot-diameter structure resembling a giant bagel fills much of the hall. Made from a native spruce and supported by 40 arched laminated trusses, its inviting round shape was inspired by a mix of ancient and modern sources—and that visitors would be between 3- and 10-years-old (thus the Children's Advisory Council). "When we began conceptualizing, we found an old book by a British Museum curator," begins Maskin, who has designed numerous children's exhibits during his 30-year career; this is his first outside the U.S. "He had uncovered a Sumerian tablet, in which there were the dimensions and materials for how to build a Mesopotamian ark, except that it was round. We were fascinated by that." That led Maskin to find a new version of the story—a prescient tale of environment, inclusivity, and diversity.
"There are over 500 versions of a flood narrative and some pre-date the Old Testament by thousands of years," he continues. "There's a Noah character, a boat, animals, but mostly there's this sense of making a new world. We connected with that because, at the time of the competition, four years ago, Berlin was receiving more refugees than any other country. So we were thinking of a place where all children were welcome to play." But the addition also had to feel contemporary, so Maskin  looked to Stanley Kubrick's 2001: A Space Odyssey, specifically the round form of Discovery One, the fictional spaceship. "We thought about a merger of two different approaches to travel and bringing people together, working for survival, so that became the project's impetus."
Interactive Elements Invite Children to Explore The Space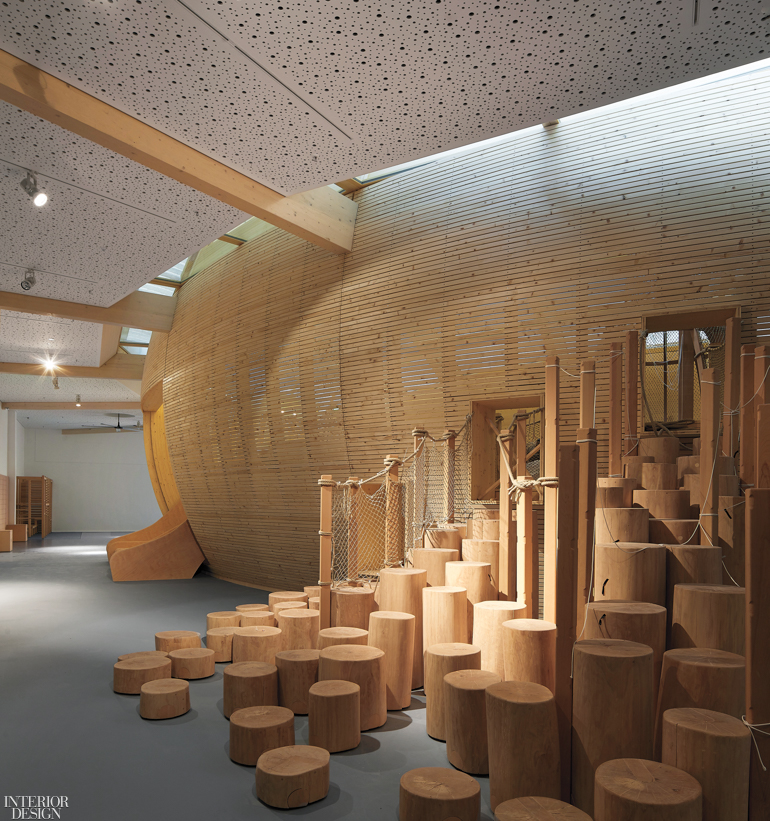 The result indeed feels as if a spaceship has landed. Its interior, however, is arguably where the real magic happens: ramps, slides, cubbies to open, tunnels to crawl through, felted balls to pass down tubes—everything to promote immersive play. Floors are a spongy vinyl wherever there is any possibility of falling. This is full-bodied fun.
The 150-strong menagerie of animals in and around the ark are also a central attraction. A team of 18, mostly local artists were commissioned to design them, and all, from a 10-foot mammoth to a 3-inch cockroach, are handmade from repurposed materials. Likenesses are innovative and brilliant: A giraffe has a drum body and a saxophone head; old carpet samples yield an enormous, sprawling sloth; discarded fire hoses form a majestic rhino. The idea is that kids should touch them, move them, help them—all without realizing they're exploring ideas about migration, co-habitation, and the needs of animals. "When I grew up, I read the Noah's Ark story in a book," recalls Maskin, who was an art teacher for 14 years before becoming an architect. "But here, the kids become part of the story. Time will tell how they interact with the architecture, but I think they are going to know what to do."
Artful Animals Create A Whimsical Journey Within the Ark
Where the new space and the original structure interact particularly beautifully is in the center, outside the ark, which forms an inner courtyard that operates as an events space. While one is sheltered by the cast-concrete scoops of the orig­inal building's roof, you're also effectively outdoors. It's where one really gets a sense of how the wooden ark is able to make use of the daylight that pours in through its lanternlike upper openings. In fact, the project's passive daylighting and natural ventilation are part of OK's sustainability strategy and rare for a museum.
The annexed rooms that lead from the building's entrance to the ark are well thought out, too. A darkened corridor is floodlit with digital rainfall, the sounds building with procession toward the impending flood. An acoustic perforated ceiling recalls a starry sky. There's also a workstation, encouraging young visitors to collaborate with one another and build their own vessels, which they can float on a metal river test track. "This museum project," Maskin reflects, "has the biggest ambition in terms of equity—the idea that children from all over, whether Muslim, Jewish, or Christian, can play together here. If you
have a friend you love, you can't discriminate against them."
Keep scrolling to view more images of Anoha >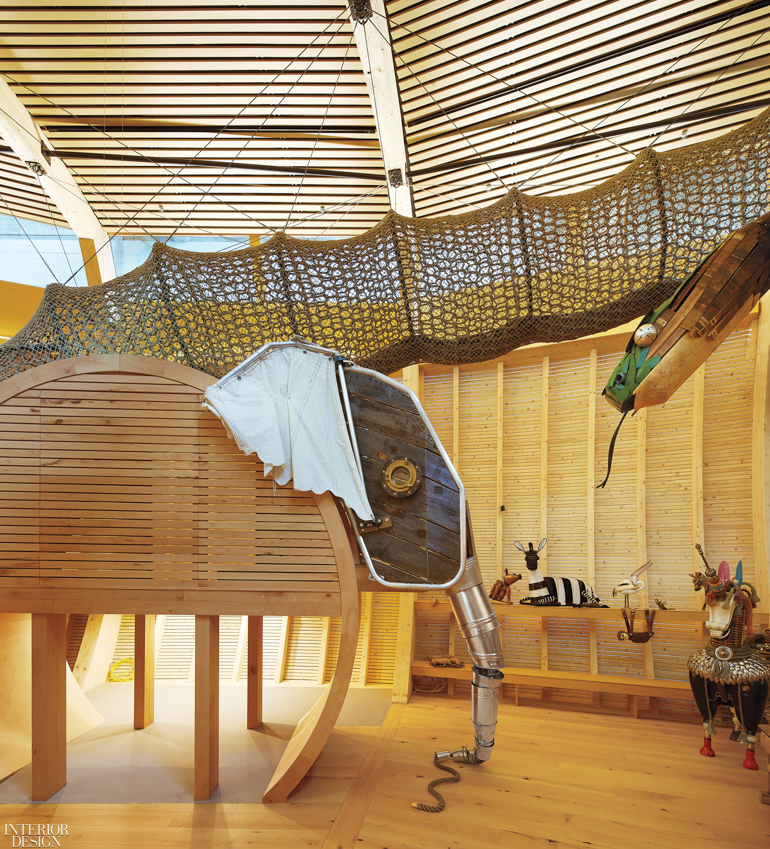 Project Team: Stephen Yamada-Heidner; Martina Bendel; Jerome Tryon: Olson Kundig. Blieske Architects Lighting Designers: Lighting Consultant. Iglhaut + Von Grote; Kubix: Exhibition Designers. Eisat: Structural Engineer. Rentschler Und Riedesser: MEP. Ingenieurbüro Für Elektro­technik Grothe: Electrical Engineer. Labs Von Helmolt: Wood Supplier.