One Bucket at a Time by 5468796 Architecture and Factor Eficiencia: 2017 Best of Year Winner for Installation
Some call it extortion, others thievery. However you label it, blocking parking spaces with concrete barriers, planters, or empty buckets to extract fees from drivers is commonplace in Mexico City. Referencing the hijacked spots, this temporary installation invited passersby to interact with it during Mextrópoli, the city's four-day architecture festival.
After collaborating remotely, 5468796 Architecture founders Sasa Radulovic and Johanna Hurme and architect Pablo Batista flew down from Winnipeg, Manitoba, to work on-site with the local firm Factor Eficiencia's principals, Gerardo Salinas and Fermín Espinosa. Taking 2,500 gray plastic 5-gallon paint buckets and tying them together with yellow nylon rope was a process that required five days to complete. It resulted in a wavelike curve that thousands of visitors climbed, played, and lounged on. Additional buckets, left freestanding, functioned as perches for impromptu conversations.
Demonstrating how public space can be reclaimed, the installation celebrated the power of design to inspire. "It was beautiful to see how architecture engages people," Radulovic says. "The value was beyond that of the purely sculptural qualities." Nevertheless, those qualities were noteworthy. Now that Mextrópoli has ended, the online conversation continues about the installation, as eye candy for Instagram.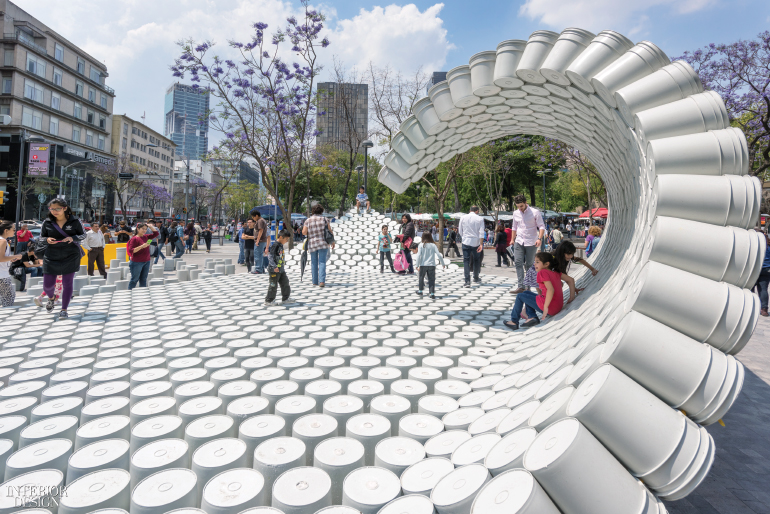 Project Team: 5468796 Architecture: Apollinaire Au; Ken Borton; Jordy Craddock; Ben Greenwood; Caroline Inglis; Andriy Ivanytskyy; Jeff Kachkan; Eva Kiss; Stas Klaz; Lindsey Koepke; Kelsey McMahon; Colin Neufeld; Simone Prill; Hugh Taylor; Trent Thompson; Matthew Trendota; Shannon Wiebe; Jenn Yablonowski. Factor Eficienca: Jaime Sol; Alberto Salvador.
> See more from the December 2017 issue of Interior Design
> See all 2017 Best of Year winners and honorees