Orms, Shawn Hausman Design, and Archer Humphryes Architects Transform a 1970s Office Building into the Standard London
Despite its name, there's not much regular about the Standard London, the American hospitality brand's first hotel outside the U.S. Housed in the former Camden Town Hall Annexe—a striking 1974 brutalist building—the property injects its own dose of hip into the rapidly gentrifying King's Cross area. Across the street sits the former Midland Grand Hotel—Sir George Gilbert Scott's iconic redbrick Gothic Revival frontispiece to St. Pancras railway station, long shuttered but recently reborn as a hotel and apartment complex—behind which lies 67 acres of redeveloped industrial wasteland, now a vibrant mix of repurposed historical structures, contemporary architecture, and green public spaces.
The Annexe, an eight-story concrete office slab, might well have joined the ranks of demolished brutalist icons across Britain. "Those buildings were so heavy in their nature," says Simon Whittaker, associate at Orms, which was responsible for the Standard's exteriors. "Back then, architects didn't necessarily think about how to dismantle and demolish structures or how to adapt them for future life—they were really built for just one purpose. But our first approach is always to look at retaining a building."
In true brutalist fashion, the facade—a grid of precast concrete panels framing rectangular windows with rounded corners and tinted glass—forms an integral part of the structure and couldn't be removed. For a more up-to-date look, Orms replaced the aging bronze glazing with double panes of clear glass, which also help combat the noise from the street below. More dramatically, the firm demolished the bulky rooftop mechanical plant to make way for a three-story, steel-and-glass addition comprising two floors of guest rooms and a penthouse restaurant, Decimo. The latter is serviced by an external elevator—a dashing phone booth red, glass-wall capsule—that provides panoramic views of the city.
The weight of the addition meant that new steel columns had to be threaded through the existing waffle floor slabs, while structural stability was increased further by building a new internal elevator core and shear wall. Otherwise the interiors, a collaboration between Shawn Hausman Design and Archer Humphryes Architects, show no sign of the necessary reinforcements. Rather, they display a ton of personality, prefigured in the oversize blue revolving door that marks the new entrance and also provides the first hint of the swaths of color within. There are rich reds, deep blues, vivid greens from the many plants dotted through the public areas, and a rainbow of hues on the innumerable books neatly catalogued and shelved in the lobby lounge. "When we took over the property, there was a public library on the ground floor," Shawn Hausman explains. "What we've done is create the library we wish we'd found, rather than the one we did." Outfitted with custom bookcases, vintage seating by Tobias Scarpa and Mario Bellini, and a wood-lattice ceiling, the resulting Library lounge has, as Hausman says, "an elegant, institutional quality."
Upstairs, the 266 guest rooms can be divided into three main—and wildly varying—typologies determined by their location within the building. First are those hugging the original periphery walls, where the emphasis is on the curved windows. "In a lot of hotels, by the time you're in your room, you have no sense of what's going on with the outside of the building," Hausman notes. "With these windows, you really get the feel of the Standard's exterior from inside the room."
Next are the rooms housed in the addition. "Those are a different design vocabulary because the architecture up there is quite different," reports Hausman, who took advantage of the setback to create terraces with outdoor bathtubs. "Everybody thought I was crazy to do this in London, but I bet they're going to be very popular."
The third typology comprises windowless rooms located in the core. "The floor plate was previously deep-plan office space, and the dark central area remained a conundrum," David Archer, of Archer Humphryes Architects, says. "But we saw the conditions as an opportunity." The team created rooms that are, as Hausman observes, "womblike without being claustrophobic," thanks to a coup de théâtre: Screened by nothing more than a glass wall hung with wood Venetian blinds, each plant-filled, ipe-floored bathroom is flooded with artificial daylight, so it's like looking at some tropical outdoor shower. Which is about as far from a standard London view as you can get.
Keep scrolling to view more images of The Standard London >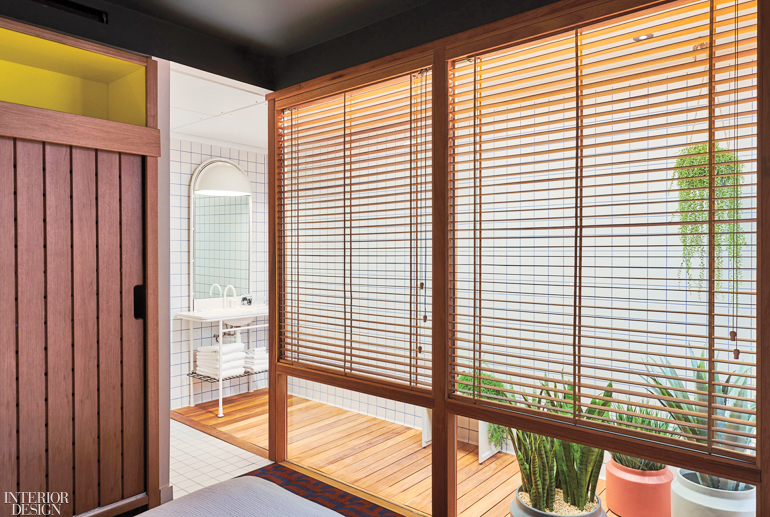 Project Team: John McRae; Christian Natterodt; Nick Milton: Orms. Jessica Kimberley; Oskar Kohnen; Amelia Shirley: Shawn Hausman Design. Isometrix: Lighting Consultant. Noyau: Custom Leatherwork. McLaren: General Contractor.
Project Sources: Axis Elevators: Custom External Elevator (Exterior). Nanimarquina: Custom Rug (Lounge). Wallace Sewell: Custom Blanket (Curved Guest Room). Ames: Rug (Addition Suite) Throughout: A.T. Cronin Workshop; Distinction Hospitality: Custom Furniture. Kalmar: Custom Lighting. Midland Alloy: Custom Windows.