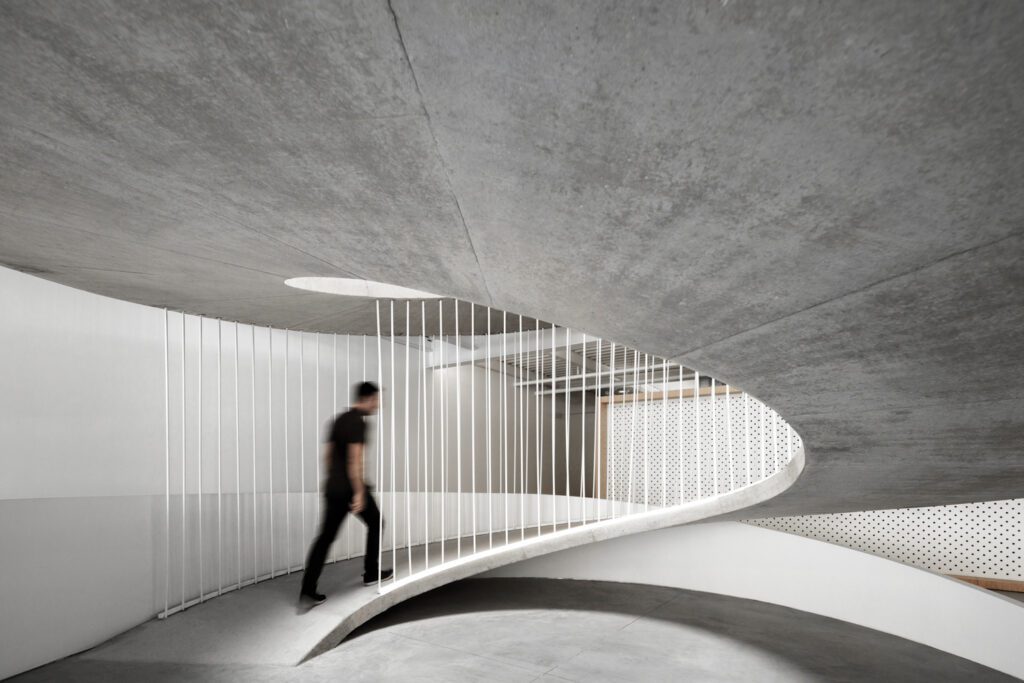 Paulo Merlini Architects Joins Two Buildings With a Sculptural Ramp
"Architecture can create emotions," observes Portuguese architect Paulo Merlini. "When you go through a building, there can be mystery and surprise." Merlini, who founded Paulo Merlini Architects in Porto in 2007, is known for his evocative designs. He has wrapped a bakery in lacquered wood slats that resemble dripping icing, built a calming house-shape white box for a dental clinic, and hung 10,000 chopsticks from the ceiling of a tiny sushi restaurant. Recently, Merlini infused an open-plan office—that most humdrum of spaces—with a sense of novelty and discovery, as well as created a comfortable and inviting environment that employees would feel safe returning to post-pandemic. In Matosinhos, just north of Porto, he made the shared work space of Clavel's Kitchen, a culinary communications agency, and technology company E-goi feel like a small city, centered around a showstopping concrete ramp that symbolizes mobility and unity.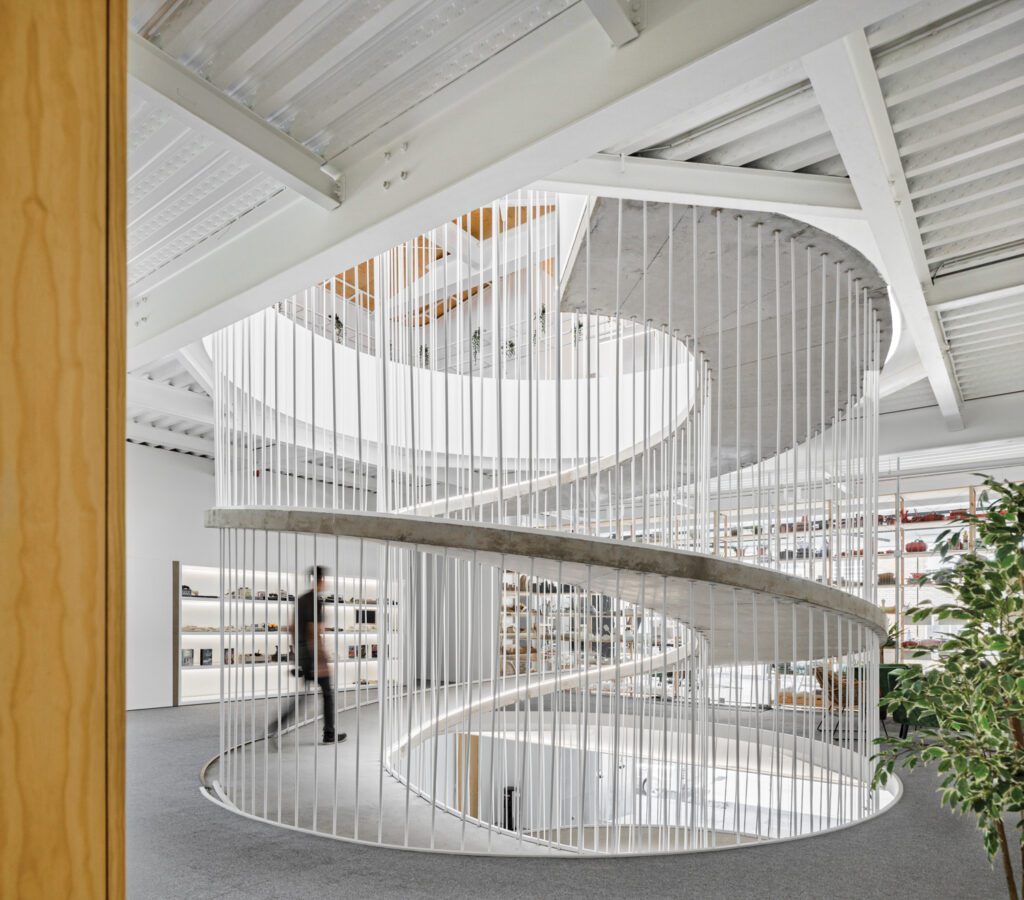 Maria João Clavel, the founder of Clavel's Kitchen, knew Merlini from their days studying at the Universidade Lusíada of Porto. Pre-COVID, she and her husband, Miguel Gonçalves, the CEO of E-goi, had fast-growing businesses and needed to expand their offices, which occupied a two-story warehouse. They kept the warehouse but bought an adjacent property, demolished its existing structure, and hired Merlini to design a new building in its place. He had to combine the warehouse and new structures, align their floor slabs, and merge their interiors so they felt like one. Clavel and Gonçalves envisioned a refined and unpretentious open plan that could accommodate more than double their 130 current employees. But it had to be flexible enough to pivot with the businesses; for instance, the clients asked for a large café that could be turned into a restaurant should they ever need to lease out space.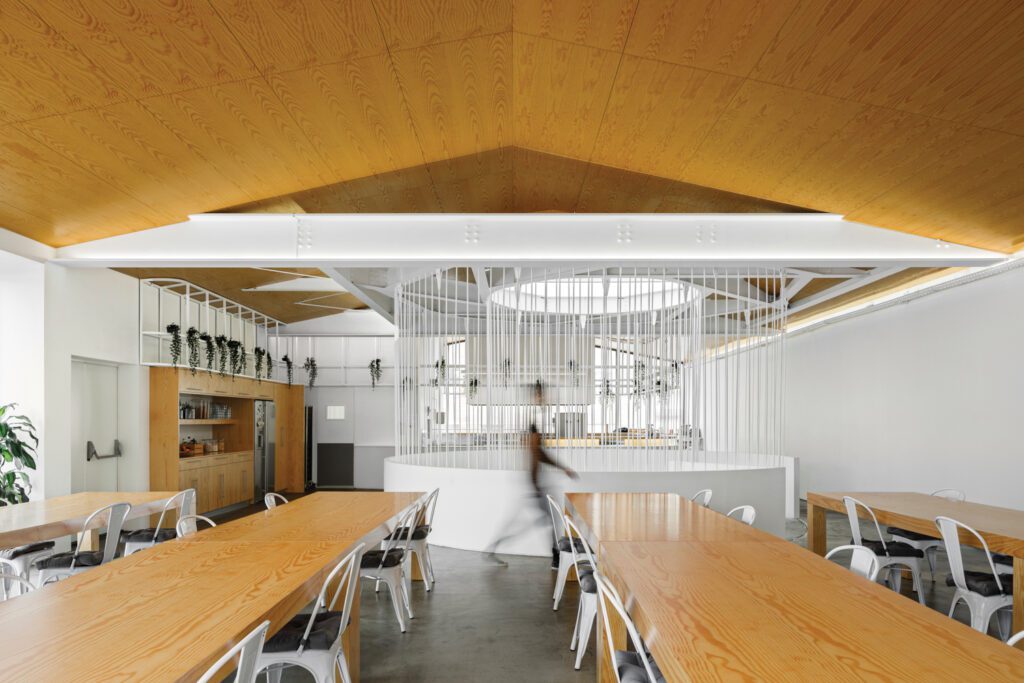 Merlini had little leeway on the exterior. Aiming to preserve its industrial character, Matosinhos, a fishing port and growing business district, required that the new three-story construction match the height and pitched roofs of the surrounding warehouses. But local laws did permit a glass facade to bring light into the deep .15-acre lot. Facing north, the windows illuminate an airy second-floor photography studio for Clavel's Kitchen; passersby on the street can see its open shelves stacked with colorful crockery and Dutch ovens. "We thought it was charming that people could look into this dynamic room," Merlini notes. They can also glimpse the oak bar along the window of the top-floor café, where employees perch with a coffee and look out at the city, and the white metal frame around its open restaurant-style kitchen.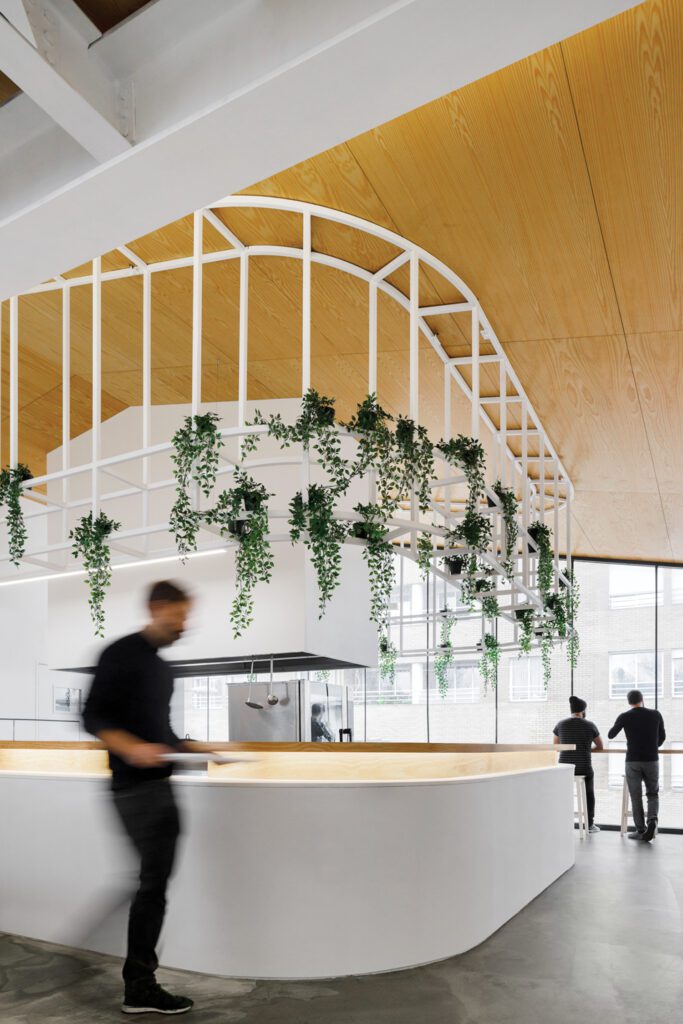 Just inside the entrance, a curlicue concrete ramp is the expressive heart of the 30,100-square-foot project. Taking the shape of an orange peel, the 4-inch-thick slab winds 200 feet from the ground to the third floor and is capped by a skylight. White-lacquered iron tubes support the ramp from above and double as guardrails, while tensile grips at each floor keep the ramp from bouncing. Merlini came up with the idea in part to avoid the restrictive fire codes that govern staircase design in Portugal, but he also thought a ramp would suit the relaxed seaside vibe of Matosinhos. "People take the metro here from Porto, then ride around on bikes and scooters," he says. "We thought, What if you could go up the ramp with a bike." The clients nixed that plan—"People tried it but we found it too dangerous," Gonçalves admits—but still gave it the green light, appreciating it as an art piece that makes the office unique. Indeed, looking up from below, the skylight resembles an aperture at the end of a camera lens.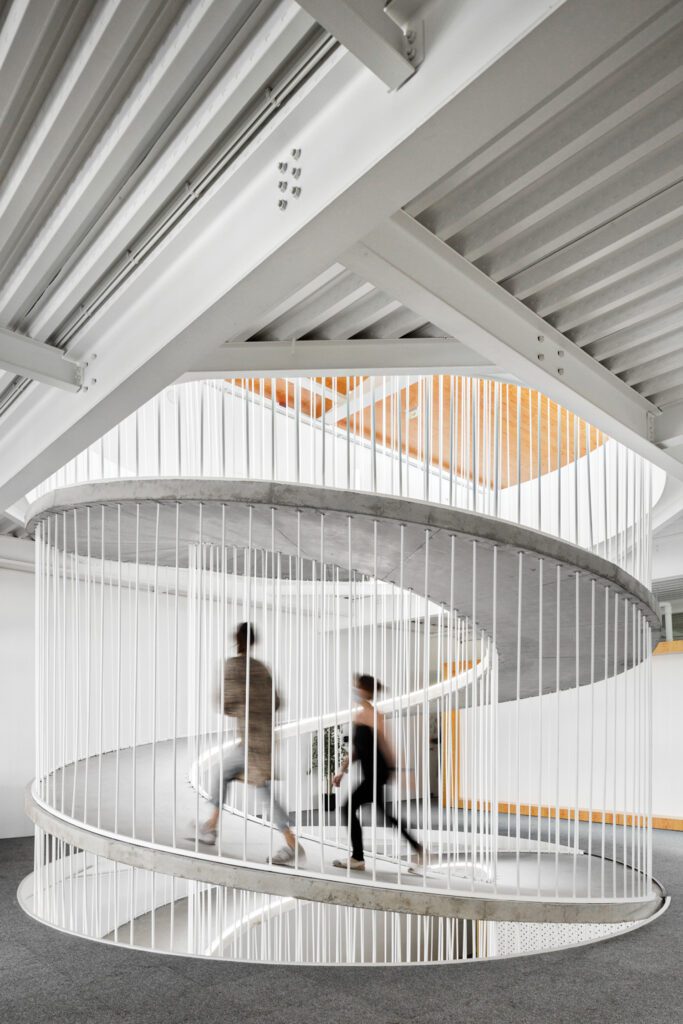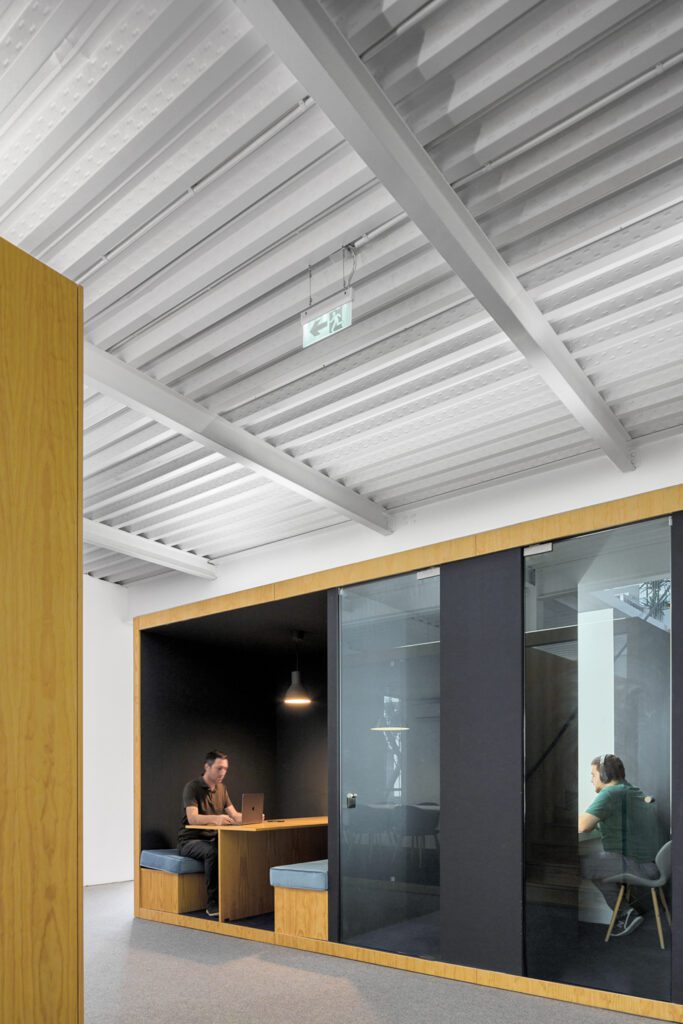 Beyond the ramp, the work spaces reveal themselves gradually. The layout takes inspiration from the mazelike streets of Venice, where a plaza or canal is often just around the corner. "In New York, there's a grid and you can see straight down an avenue," Merlini says. "Venice is a richer environment because you are always finding something." The architect didn't want a Manhattan-style view across each floor, but instead walls that limit the perspective and spark curiosity. So, he enclosed formal meeting rooms, casual discussion pods, and video-call booths in a series of oak boxes, with painted and upholstered interiors that signal their different functions. "The boxes are never aligned," Merlini explains. "If you go down a corridor, you see the middle of a box. People have to walk around to understand the building and find what's around the corner."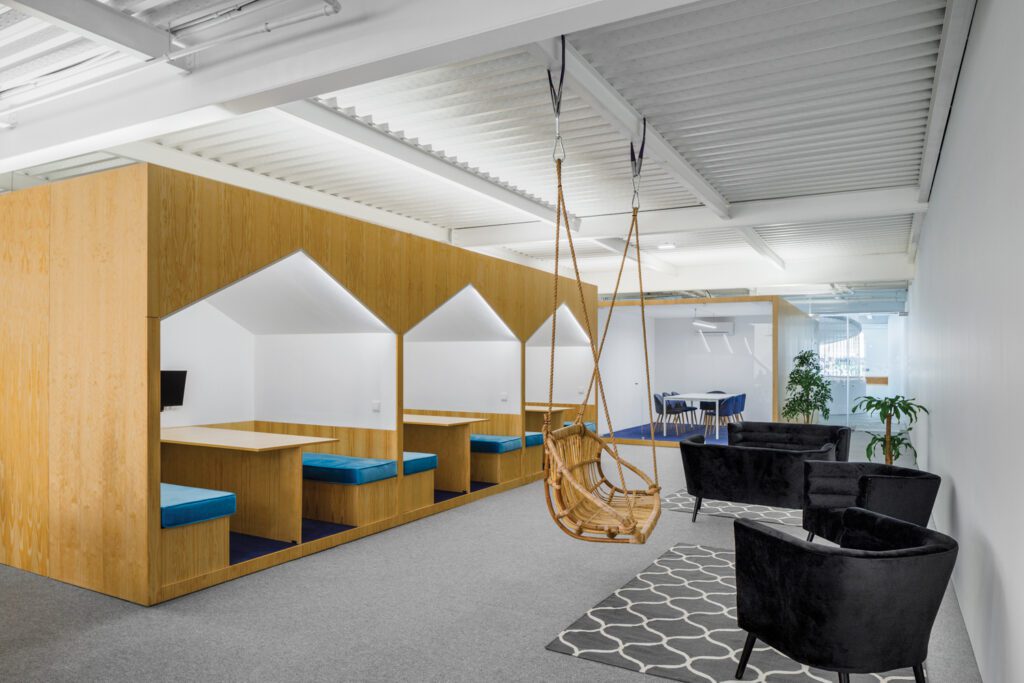 Workstations cluster around the boxes. E-goi has several independent subsidiaries and each has its own group of fixed desks, though they're designed to be reconfigured easily. Some face a back garden or an existing courtyard. "The openness of the whole building feels free and breathable, with natural light everywhere," Gonçalves reports. "We're now at about 50 percent occupancy," he continues. "And while we support the flexibility remote work offers, we think it's very important to have people in the office, at least for some days per week. So the first thing is to make them want to be here, which is what we tried to achieve with Paulo."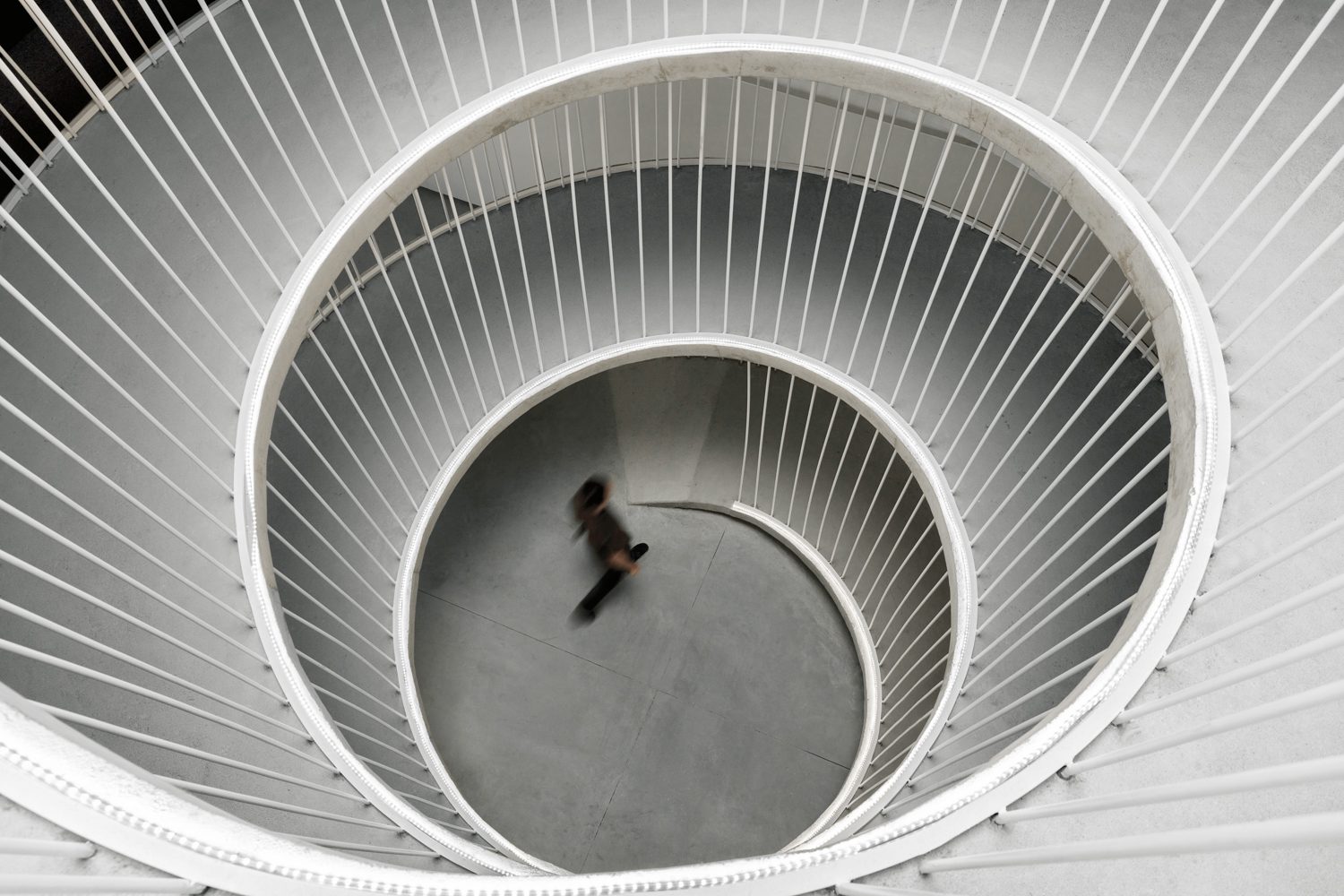 Around the aforementioned boxes are empty swaths that have no set program; they're for employees to appropriate as they like. Staffers that have been coming into the office have taken to working on the ottomans scattered around or using a dark carpeted nook for focused thinking. "We're trying to let them humanize those spaces, because it helps them feel like they belong," Merlini says. "In fact, we develop all our projects as centers of positive manipulation of the brain." That explains why his favorite design detail of this project is not the winding ramp. It's that the employees have made the office their own.
Project team