Peter Marino Channels Chanel with Stores in Istanbul & Tokyo
Talk about a banner year…and a half. That's what it's been for Interior Design Hall of Fame member Peter Marino and his longtime client Chanel—a col­laboration that's a quarter century old, so far. Peter Marino Architect has just completed a renovation of the Paris flagship, near Coco Chanel's original boutique, atelier, and apartment, and a renovation of a Chanel boutique in New York. And there's more. "We received commissions for four build­ings, all ground-up," Marino begins. "That's powerful." A Chanel building in Seoul, South Korea, is imminent and another in Chicago has debuted. Also recently opened are Istanbul and Tokyo, both projects extraordinary for their approach, he notes: "The number-one goal was not high-volume sales but image creation." He therefore worked outside-in, starting with facades that are real showstoppers.
Was Chanel creative director Karl Lagerfeld involved in generating any of the store designs before his death? "No," Marino responds, "but he re­viewed them all."
Little Black Dress and Pearls: The Istanbul Store
It takes but a glance to get the unmistakable allusion to high fashion: Angled panels of shimmery white marble, framed by blackened steel on the facade of Chanel in Istanbul, are the architectural equi­valent of Coco Chanel's white pleated blouses. This five-story beacon, set back behind an entry plaza of gray marble pavers with a black granite reflecting pool, is sited on the city's less touristy Asian side, but there's a purely New York reference at play, too. "It's me imitating the Seagram Building, with its most elegant entry," Peter Marino says. At Chanel, the glass doors and immense window are surrounded by more white marble panels, this time applied flat.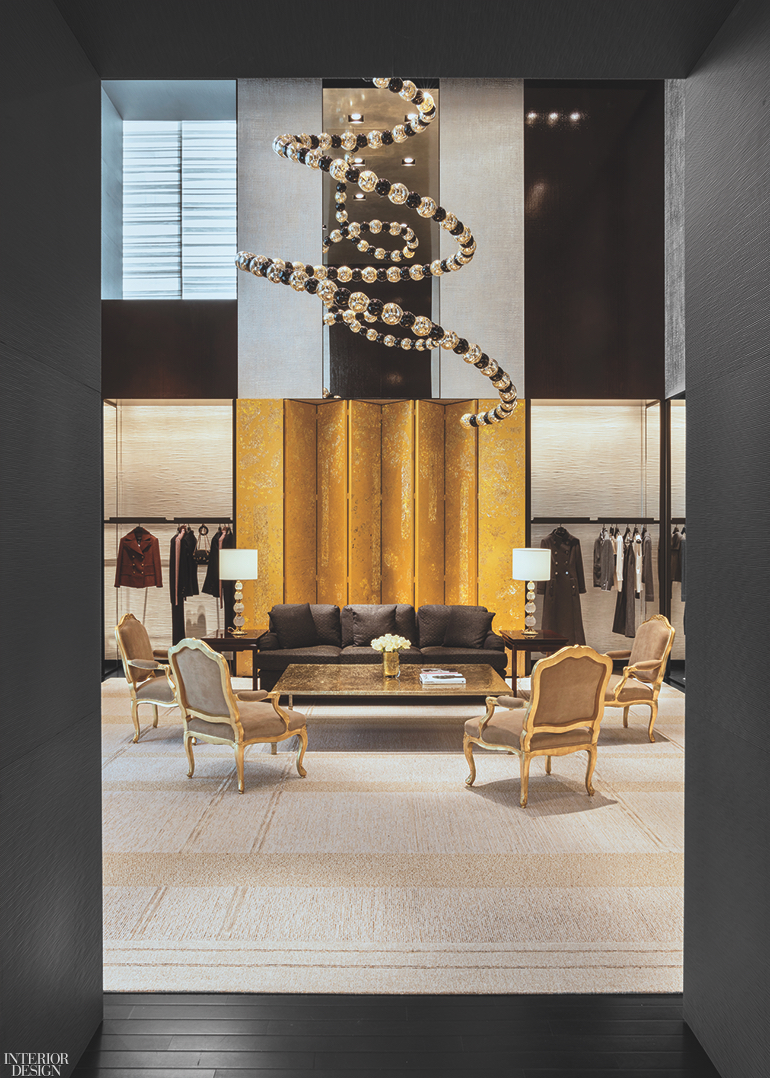 Inside, the look is less retail emporium, more gallery. Marino "dressed" the interior in crackled lacquer, textured plaster, ebonized oak, and additional gleaming marble. Bespoke luxury—enriched by the motifs of pearls, folding screens, and mirrors—pervades the three levels devoted to sales. The top two levels accommodate offices, bringing the total to 8,800 square feet. A roof garden hosts VIP events.
Back to the art component, omnipresent in Marino's oeuvre—we discover more in unexpected places. How about the elevator lobby where a photographic portrait of Mademoiselle Chanel adorns a black plaster wall? En route to a terrace, there's a triptych that a contemporary artist created from vintage photos of her. A Curtis Jeré sunburst glows in a corridor off the shoe section.
The fragrance display practically counts as a work of art, with a wall treatment in fragmented glass and mirror
surrounding the product niche. Speaking of mirror, nothing says "Chanel" more than the mirrored stairwell, Marino's homage to that of the original headquarters. Reflected in the accordion panels, the white marble steps are topped by a caramel-colored silk-wool runner with a black "necklace" pattern knotted into the field off-center.
Overlooking this mise-en-scène sits the shoe salon, where the mirrored ceiling combines with the stair's mirrors to an effect that's positively kaleidoscopic. To welcome the well-heeled clientele, Marino provided slipper chairs upholstered in tweed in coral, ivory, gold, and black. Think a covetable Chanel jacket.
Project Team: Tobias Lundquist; Darren Nolan; Paola Pretto; Glenn Stevens; Amy Raiter: Peter Marino Architect. Oral Architecture & Engineering: Architect Of Record. Front: Facade Consultant. Fisher Marantz Stone: Lighting Consultant. Erk Proje: Mechanical Engineer. Cenacchi International: Millwork. Altinsoy Insaat Construction: General Contractor.
Dressed to the Nines: The Tokyo Store
Standing tall amid the posh Ginza shopping district, Tokyo's latest Chanel location is assured superstar status. First, this is Chanel. Second, it's a ground-up project signed by Peter Marino.
Who could miss the slender nine-story tower's black-and-white facade, with its rhythmic composition of matte panels and fritted glass? As Marino explains, "The windows of varying dimensions intentionally cause the building to appear as more of a sculptural object than a series of floors atop one another." To absolutely solidify the art reference, he invited the participation
of a renowned artist, Shuji Mukai, a member of the radical Gutai move­ment, which is a precursor to arte povera.
Mukai embellished the windows to create an abstract composition that stayed in place for the shop's first two months. Marino's take? "They were scribbles resembling Japanese calligraphy."
"We designed the shop specifically for the Japanese customer, not tourists," he continues—the latter can patronize another Chanel boutique just two blocks away. "Customers have to go up four levels to see the entire collection." Apparently, they don't mind.
The verticality is due to the building's minuscule footprint, barely 40 by 50 feet. Each level is basically only one room. "In Tokyo, there is respect for every bit of space," Marino interjects. "They practically sell real estate by the square centimeter." (In American reckoning, square footage here totals 10,500.)
The lower levels, constituting the retail component, pretty much adhere to the Chanel standard: handbags and other accessories on one, shoes on two, ready-to-wear collections on three and four. Five through seven are offices. Eight, however, introduces a new development in the world of Chanel. A spa, the Salon Beauté, consists of two treatment rooms and a full-on glam make-up center, so the elite clientele emerges relaxed and camera-ready for a night on the town. When VIPs need to explore fashion options for the next event, the Salon Privé on nine stands at the ready.
Marino characterizes the interior overall as "even more gallerylike, with a higher level of art, serious furniture, and more precious carpets and fabrics," the rationale being that traffic is lighter and the clientele more respectful. The international art cache includes Agnes Martin limited-edition lithographs on vellum, lending a contemplative effect to a reception area, and a Hiroshi Sugimoto photograph of the Aegean Sea, setting a soothing tone for a spa treatment room.
For the ne plus ultra of artful furnishings in ready-to-wear, Marino chose a pair of bronze armchairs by Laurence Montano and upholstered them in custom-woven navy-and-gold leather. Marino also commissioned Nancy Lorenz for an eight-panel screen combining gold leaf, moon gold, and lacquer. He loves folding screens, as did Coco Chanel, particularly of the Coromandel variety.
Project Team: Stan Jones; Jacquelyn Van Eck; Paola Pretto; Simon Wutherich; Glenn Stevens; Soojung Rhee: Peter Marino Architect. Fisher Marantz Stone: Lighting Consultant. J.Front Design & Construction Co.: Woodwork. Taisei Corporation: Structural Engineer, MEP, General Contractor.
Keep scrolling to view more images of the projects >
Read next: Sybarite Uses Curve Motif to Unify 20-Story SKP Department Store/Cinema in China