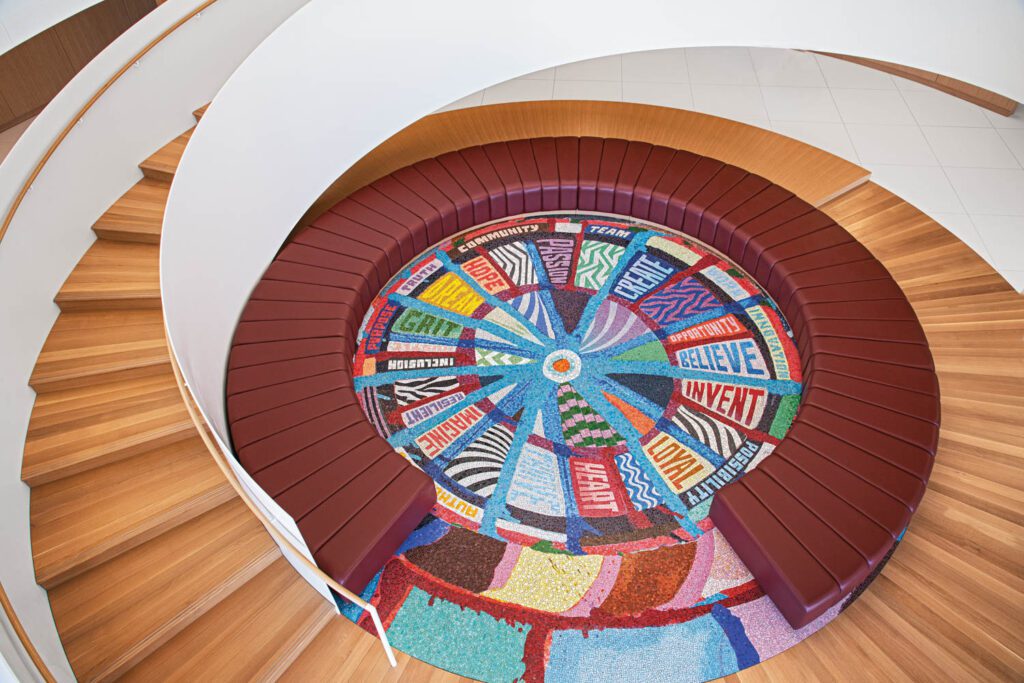 Pophouse Captures the Collaborative Spirit of Rock Ventures for its Detroit Headquarters
2022 Best of Year Winner for Medium Corporate Office
The infill of an office building in a downtown Detroit complex had just been completed when Pophouse decided to blast an enormous hole through two floors of it. The firm was planning the new headquarters of Rock Ventures and the Rock Family of Companies, and the designers envisioned a monumental spiral staircase at the point where angled sides of the complex meet. The staircase, the central feature of the project, would not only connect the lower and upper levels of the 50,000- square-foot office but also unite the multiple teams housed there, creating serendipitous opportunities for employees who don't normally work together to come into contact while going up and down the stairs, fostering a sense of being part of a larger enterprise. But, of course, demolishing brand-new construction would be expensive and disruptive.
Another client would almost certainly have said no. But Jennifer Gilbert, the founder and creative director of Pophouse, had the ear of her client, Dan Gilbert, founder and chairman of Rock Ventures, Rock FOC, and Rocket Companies, to whom she has long been married. And as his wife and partner in many ventures, she is part boss, too, and was thus able to call the shots much more than is usually the case on the commercial projects the studio works on—with stunning results. "Wearing the creative director hat and some of the owner hat was great," she recalls.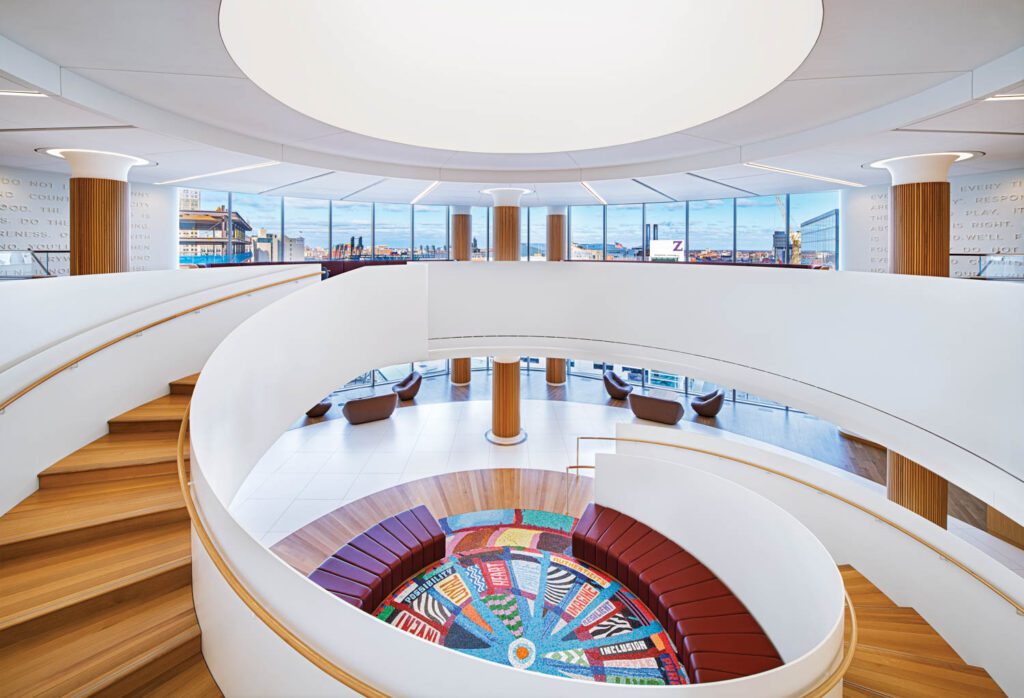 Not that she was doing the work alone. Just as her husband's business has grown—it began with his founding of what would become Quicken Loans in 1985, and the Rock Family of Companies now includes a portfolio of more than 100 diverse entities including Rocket Companies, 100 Thieves, Stock X, Dictionary.com, and the NBA's Cleveland Cavaliers—so, too, has Pophouse. The firm, which is also part of the Rock FOC, prides itself on a data-driven approach to design that incorporates the latest findings on things like biophilia. So when Rock Ventures and the Rock FOC were ready to move from cramped former quarters elsewhere in the complex to a roomier, more sophisticated space, Pophouse was up to the job.
Chrissy Fehan, the firm's design director, and her colleagues fleshed out a scheme that incorporates multiple circular spaces, not the least being the spiral stair in its airy atrium, based in part on research suggesting that such spaces spur creativity. The first is in reception, on the lower floor. Here, under backlit stretched fabric, a terrazzo floor is modeled on Detroit's hub-and-spoke street grid. The waiting-area gallery just beyond is circular, too. Where circles were not possible, Pophouse rounded the corners of private offices and installed curvy furniture through­out, notably plump Pierre Paulin chairs in reception, a long and winding sofa by Koz Susani Design in a lounge, and an impressive 16-foot-diameter conference table in the boardroom, which itself is round in shape.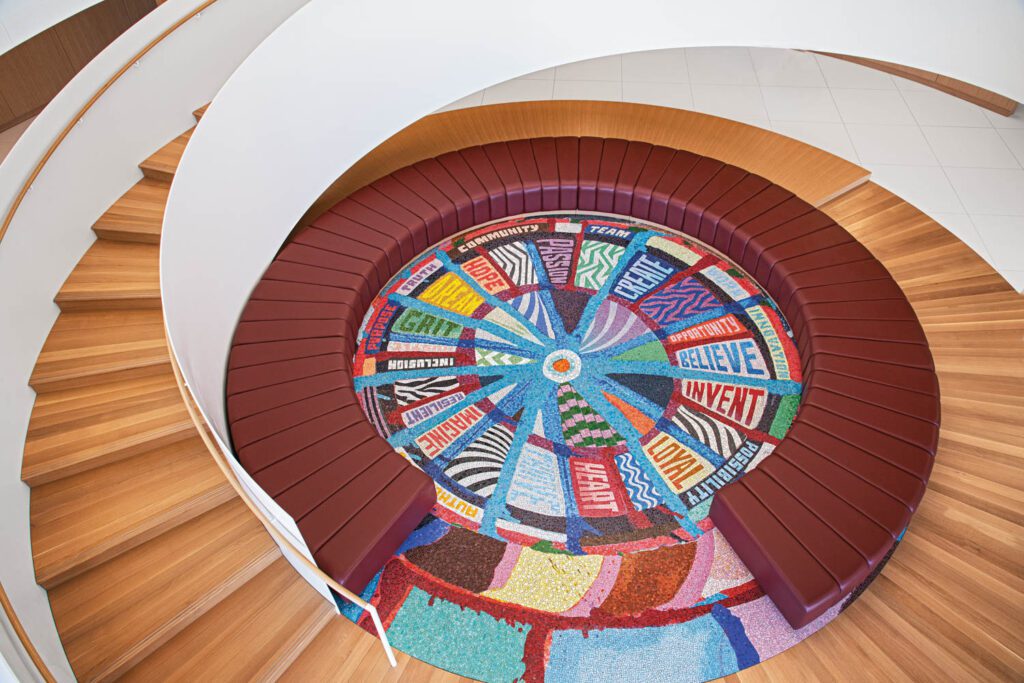 Also key to the office's concept is lively artwork, on which Pophouse collaborated with Library Street Collective, a downtown Detroit gallery that focuses on artists, both local and not, who push boundaries. One standout piece, by Faile, anchors the grand staircase: It spirals down to a colorful round of inlaid mosaic tile incorporating such words as "heart," "hope," and "dream." "It embodies all the great work happening in our city," says Fehan, who came to Detroit for college and then stayed. Pophouse surrounded the installation with a C-shape bench made of modular sections that can be removed so the area can be used for events. The inclusion of works by local artists Jason Revok and the late Charles McGee underscore the Detroit-proud theme.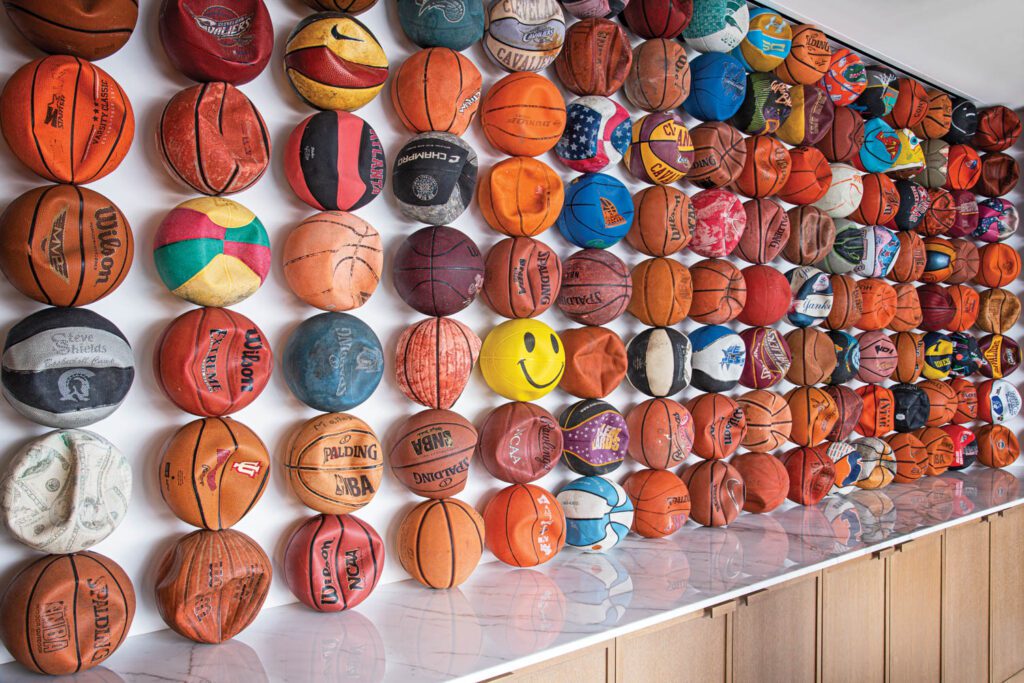 Then there are the basketball-related installations. A wall in Dan Gilbert's office is devoted to a Tyrrell Winston assemblage comprised of dozens of deflated basketballs, including, of course, a couple from the Cavaliers. Outside his office, a room-size walk-in closet has a shelf with autographed balls plus, hanging from clothing rods, various team jerseys from which a lucky visitor might get to make a selection to take home. "We used to have all the Cavs things stuffed in a storage closet," Jennifer Gilbert says. "Why not celebrate it?"
She and her team also paid homage to her husband's "isms"—sayings such as "yes before no" and "simplicity is genius"—in the auditorium, where Cody Hudson rendered them on acoustical wall panels; rift-cut white-oak millwork here and throughout the headquarters further dampen sound. For the auditorium's seating, the designers used sleight of hand: a benching system that incorporates Eames Molded Plywood Dining Chairs, minus their chrome legs.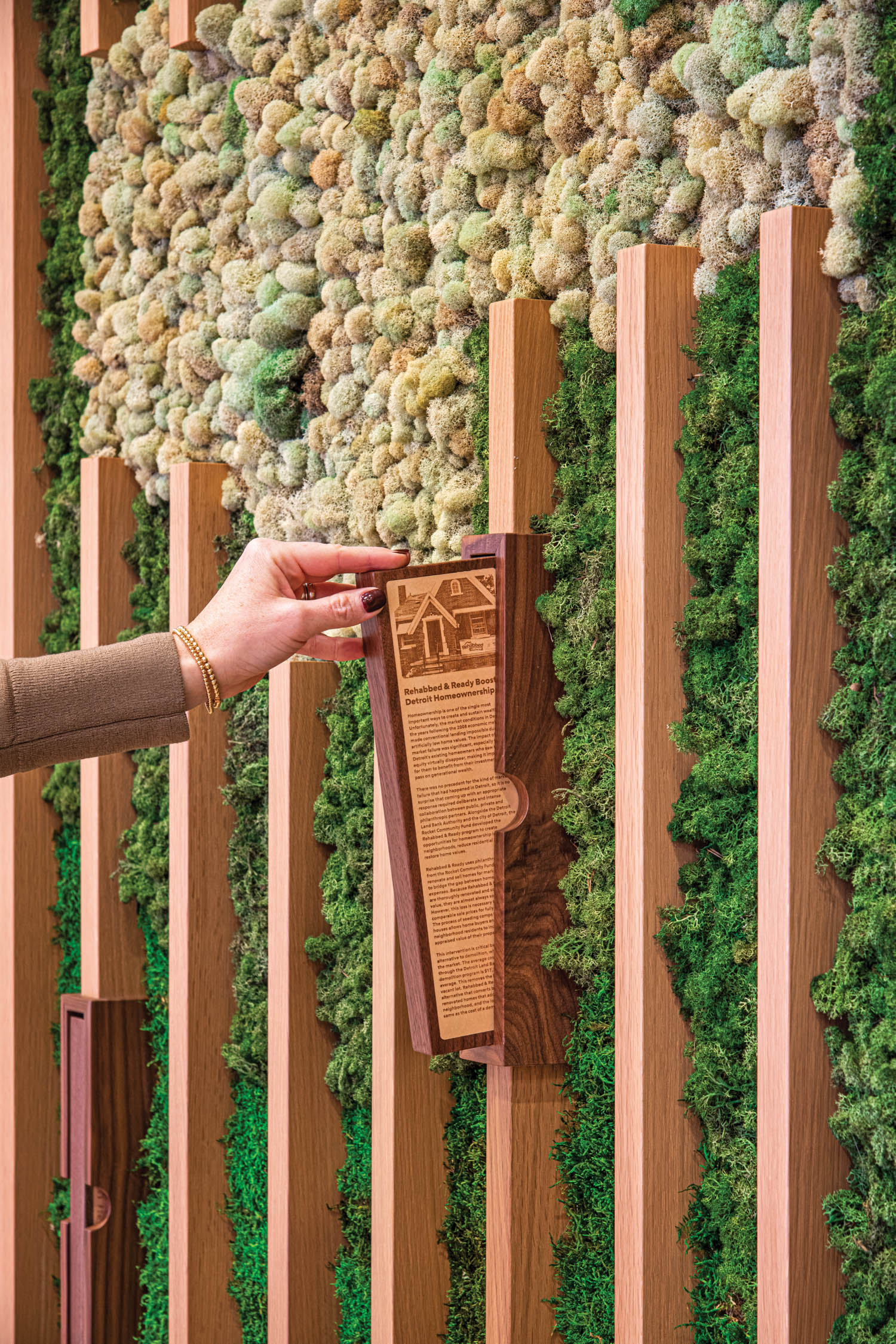 Equally inventive is a wall of preserved moss near a part of the office devoted to the Rocket Community Fund and the Gilbert Family Foundation, the philanthropic organizations the couple run that are devoted to growing opportunity and equity in Detroit as well as other national and international causes. The moss maps out Detroit's municipal districts in varying shades of yellow and green. Small wooden boards that slide in and out of sleeves embedded in the plant matter are laser-engraved with stories about the work being done by their organizations.
If it's not already clear, Dan Gilbert is a Detroit native, his wife grew up in one of its suburbs, and together they are dedicated to revitalizing the Motor City. A dozen years ago, Dan Gilbert relocated Rock Ventures and the Rock FOC to the then-languishing downtown, and, in the years since, Bedrock, a real estate company he controls, has been redeveloping properties in the area. Last year, the couple announced a $500 million pledge to build opportunity and equity for all Detroit residents who have faced systemic barriers to economic and social mobility. The city's comeback and the Gilberts appear to be inextricably entwined.
---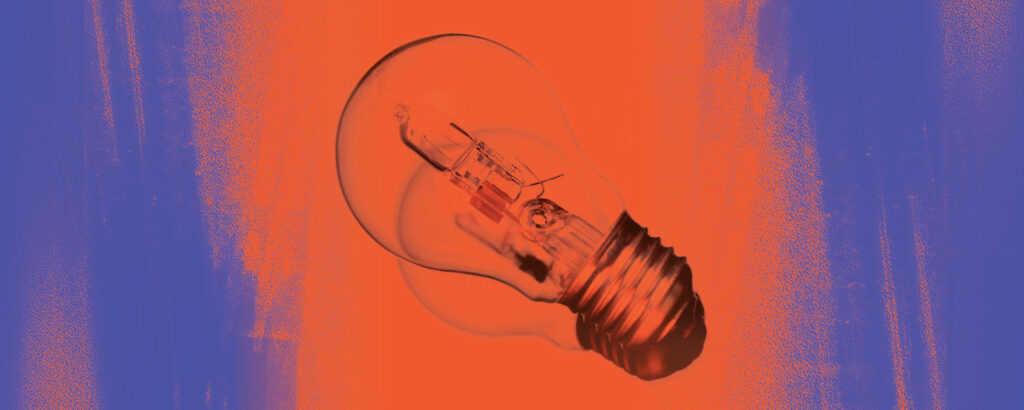 See Interior Design's Best of Year Winners and Honorees
Explore must-see projects and products that took home high honors.
---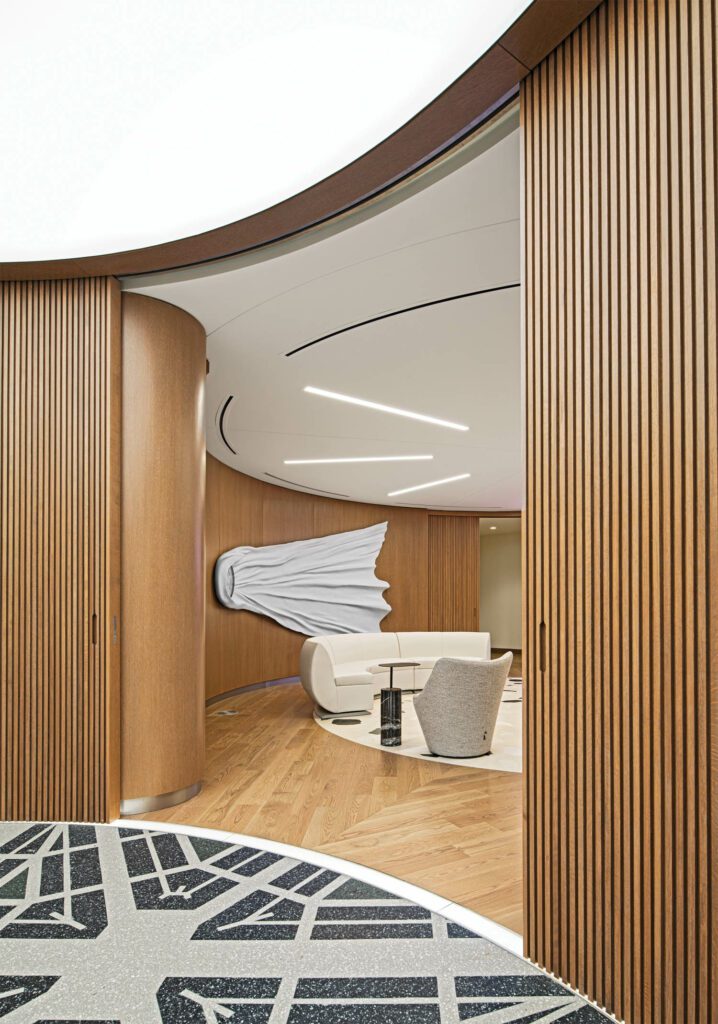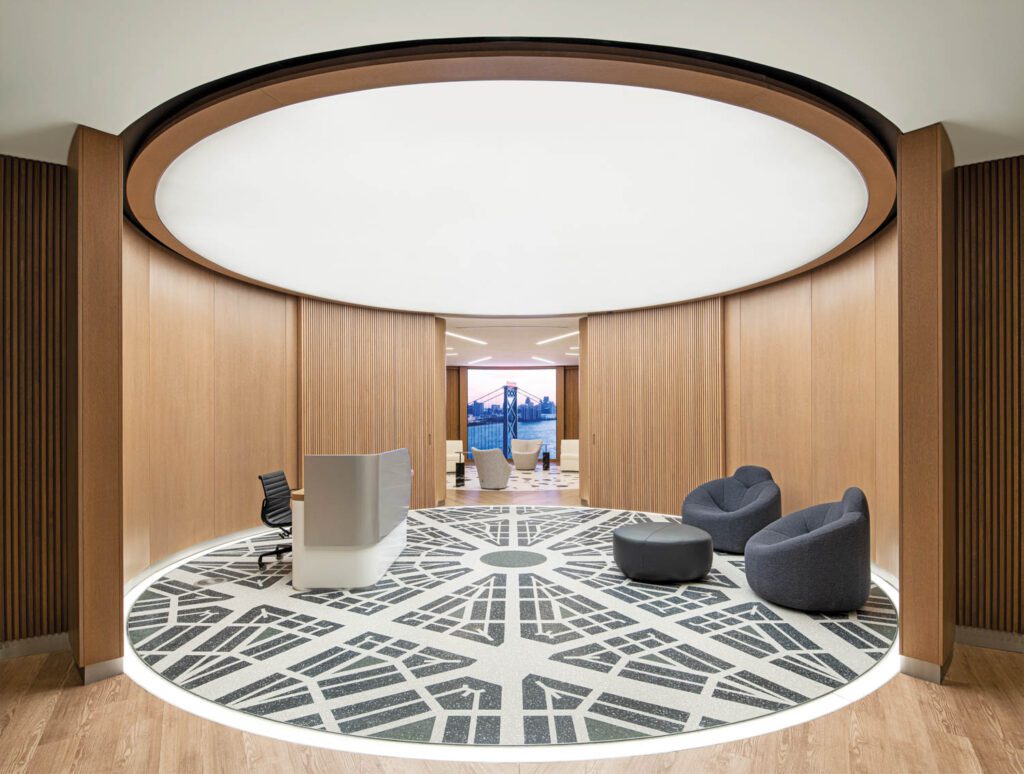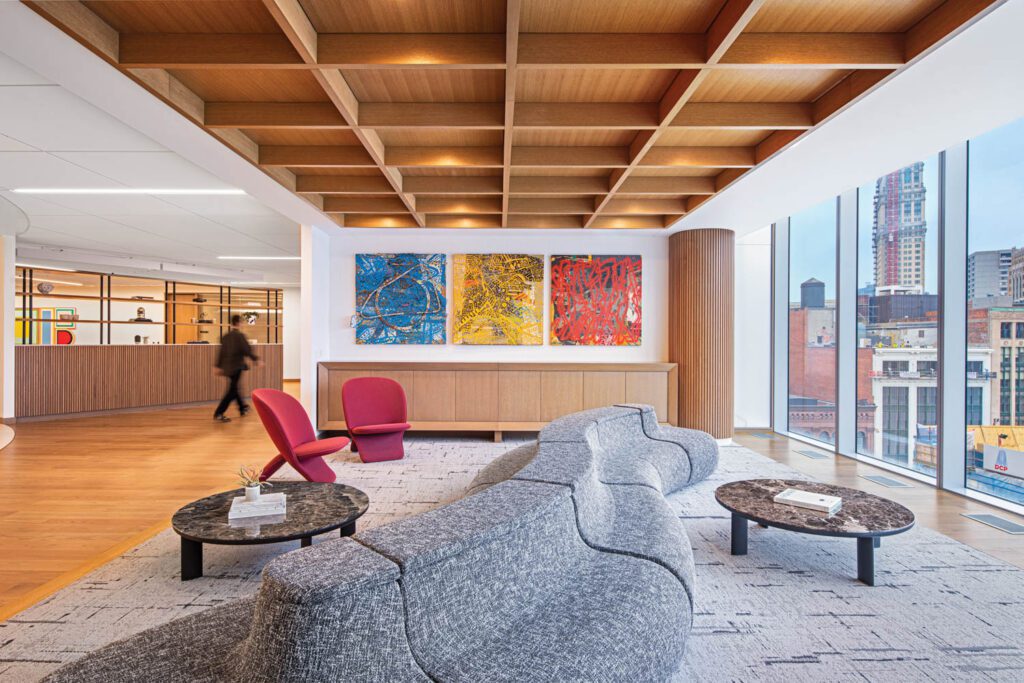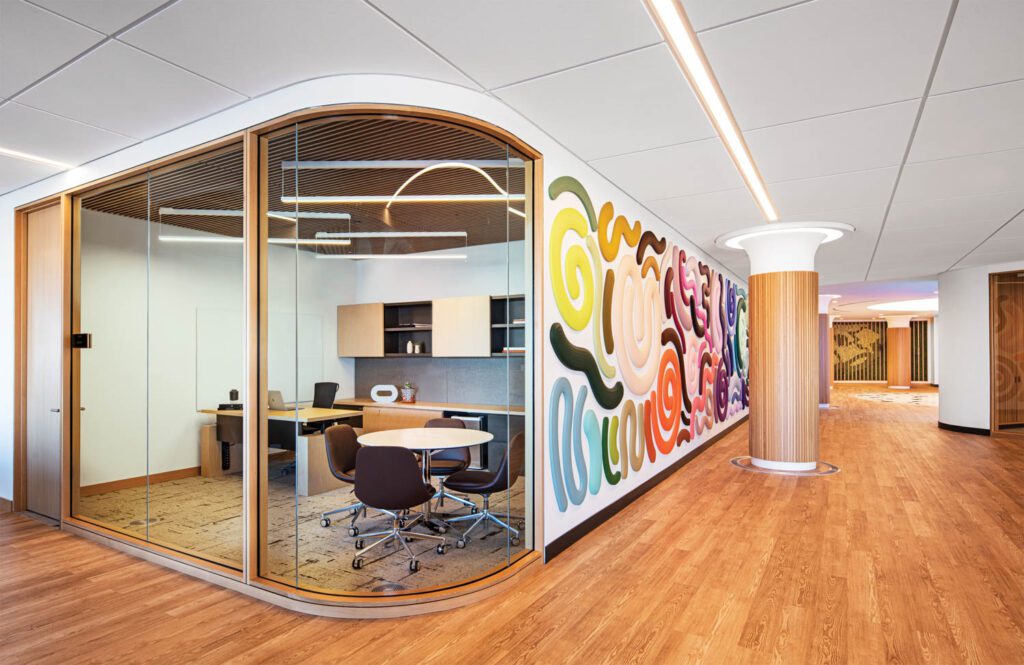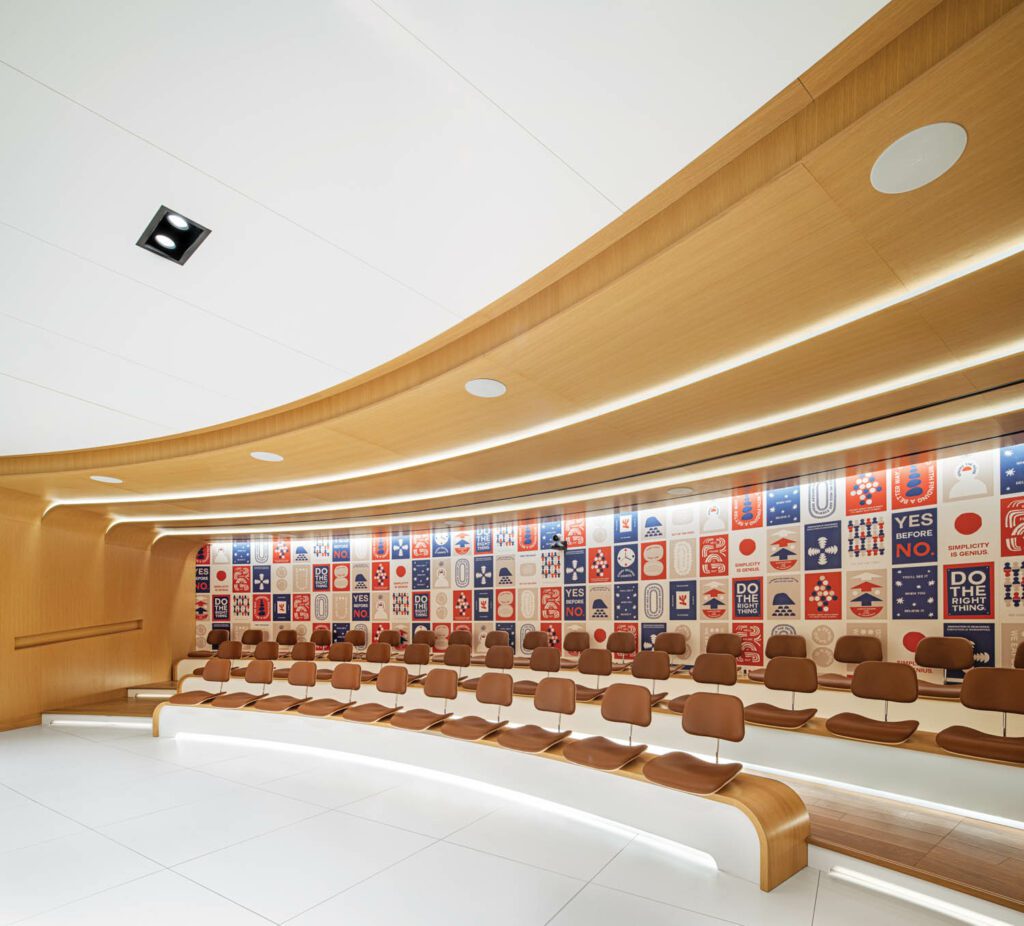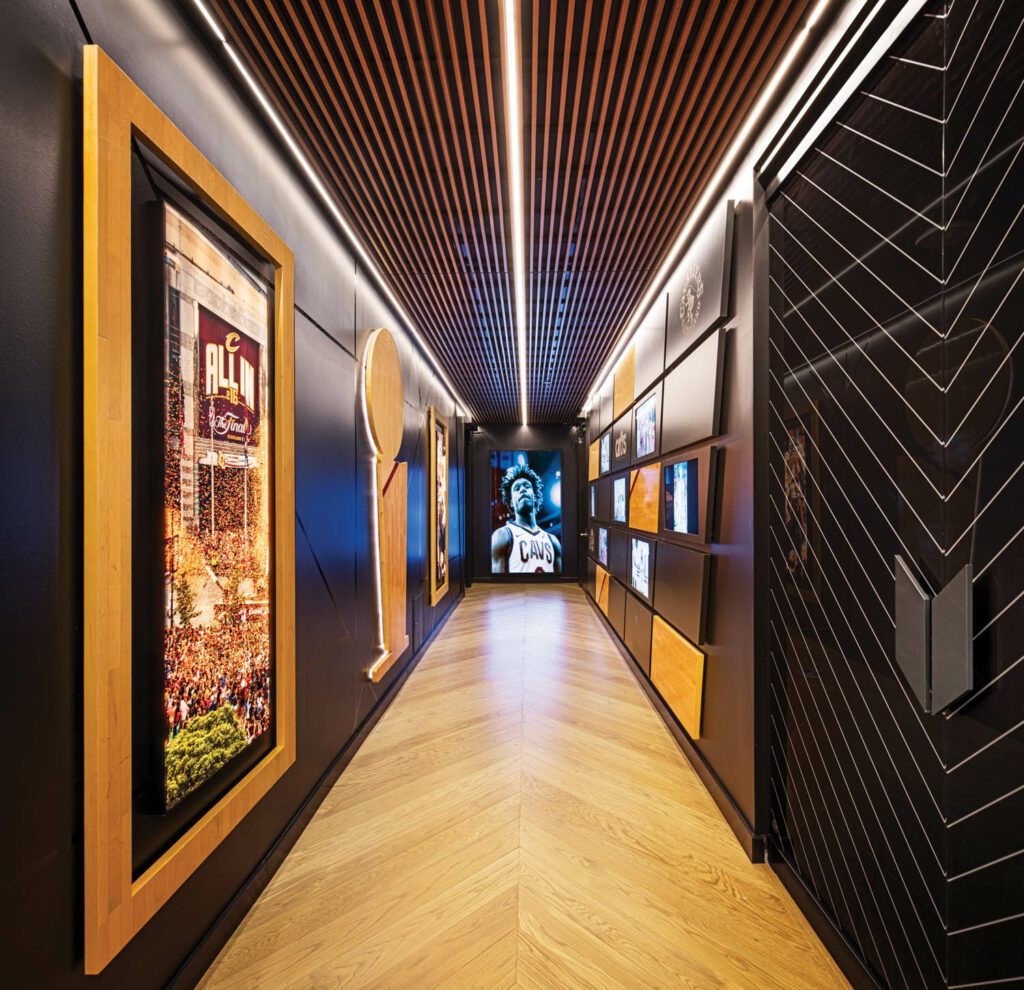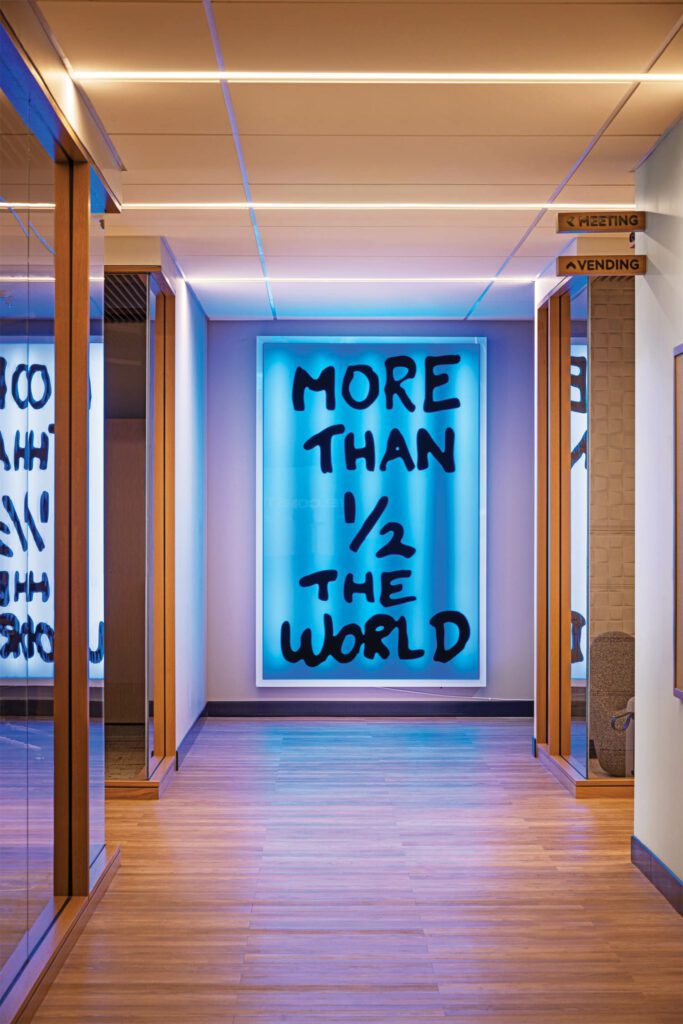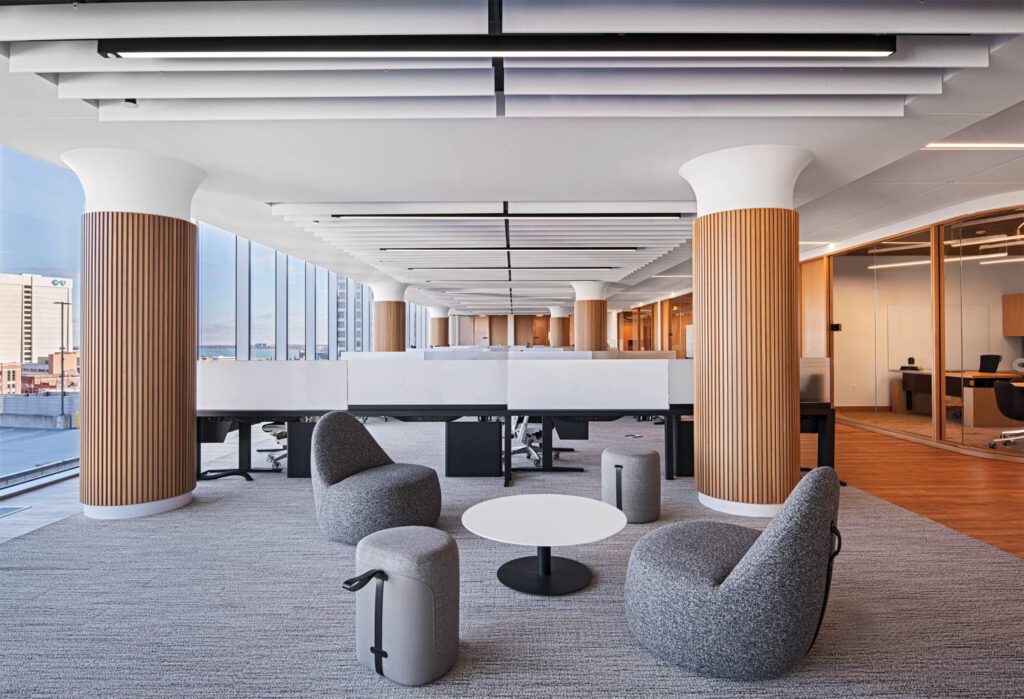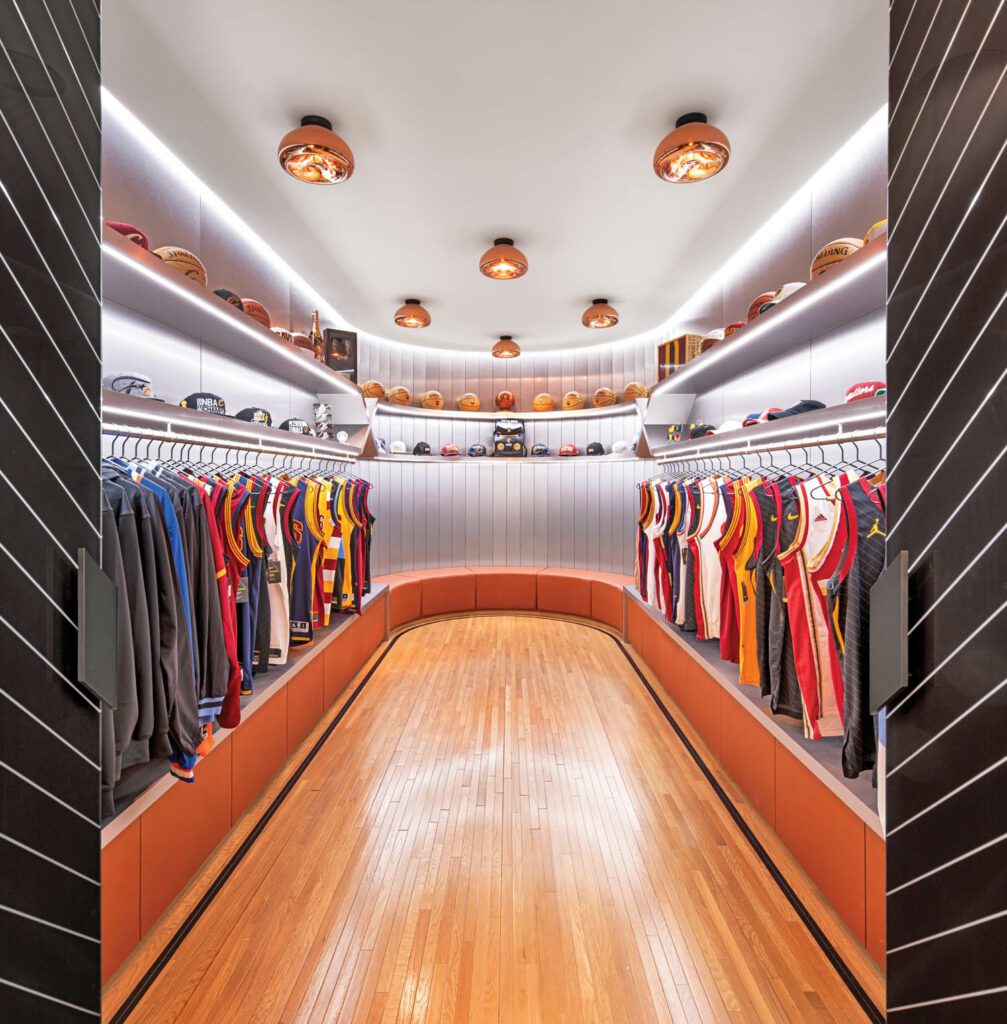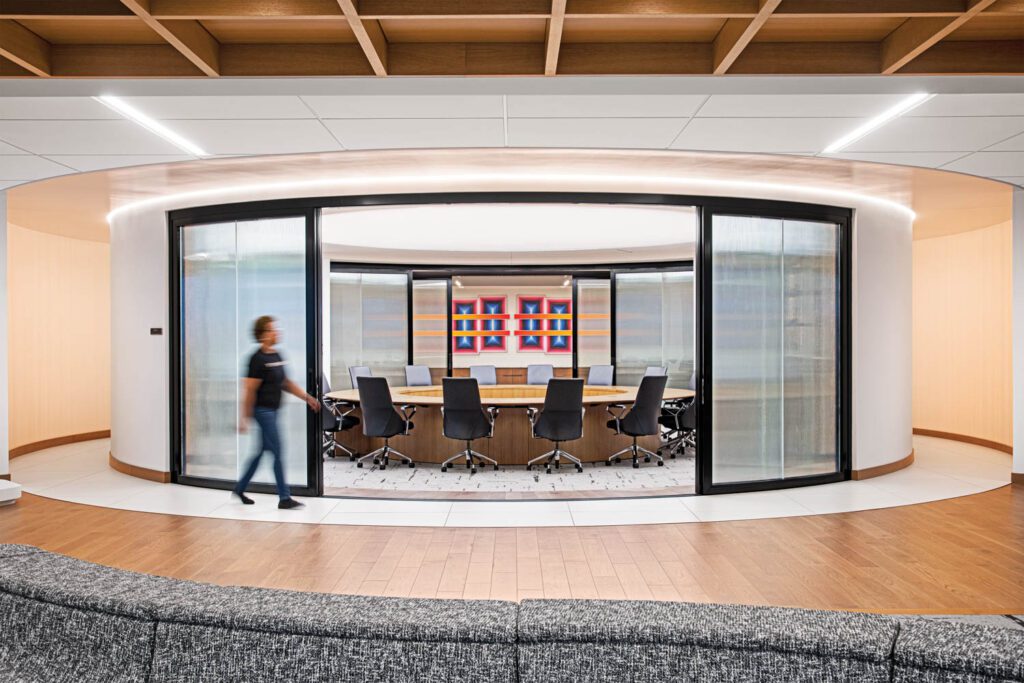 project team
project sources