Pops of Color Modernize an Apartment in the Heart of Historic Kiev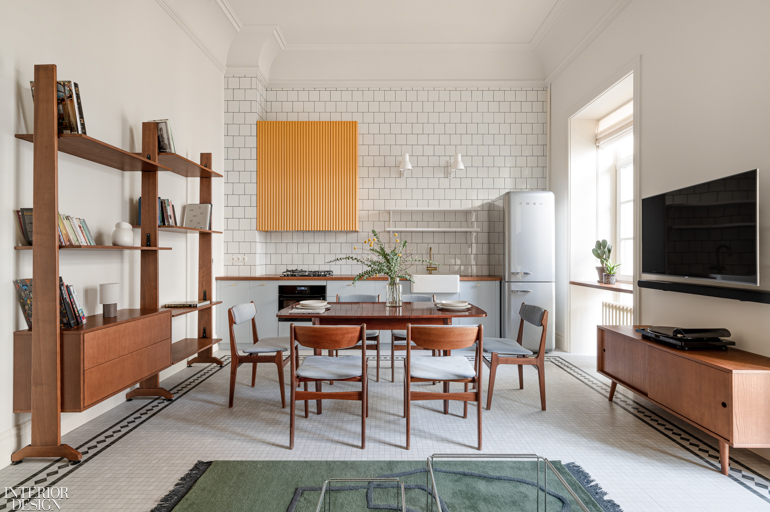 When tasked with enlivening an apartment in the center of Kiev for a young graphic designer, Yevheniia Dubrovska, founder of her namesake studio, gravitated toward bright hues and bold tiles to reflect her client's aesthetic sensibilities. "There were a lot of tiles in the client's mood board," shares Dubrovska. "I liked this idea," she adds, noting that the home features three different types. White glossy tiles line the kitchen wall, while smaller tiles with a patterned perimeter cover the floor. And in the bathroom, pink-hued tiles capture the eye—coating the floor, walls, and even the bathtub.
The roughly 700-square-foot space, accented by vintage furnishings (including a refurbished table from the homeowner's grandmother) and custom pieces created by Dubrovska, such as the sofa and built-in cabinets, is marked by pops of color throughout. "Here, I decided to try yellow, which I had never worked with before," Dubrovska says, pointing out the yellow armchair that led to a further examination of the color. Shades of sky blue also punctuate the space, appearing on the wardrobe, kitchen cabinets, and bathroom ceiling. "I sincerely fell in love with the family who turned to me for the design," gushes Dubrovska, emphasizing that collaboration is key, especially with longterm projects. The resulting home is fresh and vibrant—a serene space to unwind that speaks to the history of the building and its surroundings.