Pro Athletes and Soccer Moms Work Out Side-By-Side at the St. James Training Center by HKS
An Olympic swimmer, a quarterback from the NFL, and… members of the pee-wee hockey team. Rarely would you put them altogether. But at the St. James in Springfield, Virginia, they share the same turf—along with professional and recreational soccer players, Zumba participants, and young gymnasts. That broad appeal makes the St. James, which bills itself as a premier sports, wellness, and entertainment center with the motto "Welcome to your best," unique in the Washington area. It also presented a challenge for Emily Macht, who, as the director of commercial interiors for HKS, spent more than four years designing the three-story, 435,000-square-foot facility.
"The idea was that it would attract a diverse group of users," Macht begins. As a marathon runner with two soccer-playing daughters, she was pretty much the target audience. "Everyone had to feel comfortable, not intimidated," she says. "To strike the right balance, the center had to be sophisticated but still appealing for casual pickup basketball games, like at a park." There would be more to it than flexible courts with height-adjustable nets.
The developers were ambitious. Locals who met playing football at William & Mary, Kendrick Ashton and Craig Dixon had quit their jobs in finance and law, respectively, to build the St. James, which occupies a 20-acre suburban site. Their vision encompassed a regulation-size indoor soccer field and swimming pool, two ice rinks, squash courts, batting cages, a gymnastics center, and elite training equipment, plus a restaurant by celebrity chef Spike Mendelsohn and a spa. The sheer size of the St. James made the project daunting but Ashton and Dixon also specified an upscale, timeless atmosphere. Macht's solution: Keep the design simple and let the sports speak for themselves.
She and her team began by organizing the floor plan. The clients envisioned an open, bright space, with abundant windows—exterior and interior—providing glimpses of the activity, "so people would feel engaged in a sport even if they're not there to play it, creating a sense of excitement," Macht notes. She centered the interconnected volumes around a main corridor, which has views of the basketball courts, soccer field, and climbing wall. A skylight runs the length of the building, reducing the reliance on LEDs.
HKS has experience in athletics design, having built such complexes as the Dallas Cowboys's AT&T Stadium and the Orlando, Florida, campus of the United States Tennis Association. But the firm had never packed over 30 sports under one roof. The team consulted specialists about the proper flooring for the gymnastics center and on where to hang scoreboards.
> Check out our projects page for more design inspiration
Given that this was a high-end facility, Macht's instinct was to bring in a rich mix of finishes, but her clients preferred a more minimal look. She had to work with a muted white-and-navy color palette, limited materials, and exposed ductwork. Says Macht: "We said, Let's celebrate the structure," which has a brawny exterior of corrugated metal, concrete, and sky-blue polycarbonate panels. "Inside, everything was painted, detailed, and coordinated, her team triple-checking that all lighting was hung correctly. "Those are moves that elevate the design." Gallons of crisp white paint cover walls and ceilings, creating a clean look throughout. Polished-concrete flooring and sleek furnishings signal that this is no YMCA.
Macht had some leeway in the restaurant and the spa. "We felt it was important to bring more color and texture into those spaces," she continues. At the cheekily named Vim & Victor, the all-day eatery, philodendron and agave plants separate the dining room, serving papaya salad and strip steak, from the café, where guests can plug in laptops and drink cardamom chai on sunny yellow-upholstered lounge chairs and sofas. Other furniture is restrained but luxe: blocky gray-upholstered armchairs, beech barstools by Hee Welling, and crisp white Eero Saarinen tables.
Courted, the spa, also had to feel luxurious yet professional, since it offers medical treatments like cryotherapy as well as waxing and facials; a mom and a football player might get pedicures at the same time. At its reception, the oak-veneered desk and mirrored glass set a warm, refined tone, and in the 10 treatment rooms, each outfitted with a Philippe Starck Ghost chair, LED-lit coves cast a soft glow.
There was also the issue of noise. Macht controlled acoustics in the spa, which sits above the basketball courts, by isolating it in a separate volume, essentially a box within a box. Sound-absorbing ceiling tiles keep shouts from ricocheting down the halls. In fact, despite the hum of activity, the entire building is remarkably quiet. "There's a vibrancy, but it's well-contained," Macht says. "You can be engulfed in each space and experience it on its own, or you can walk down the main corridor and see it all." And that "all" could be Major League Soccer team DC United training, the youth basketball league run by NBA star Kevin Durant practicing, or even a kids' birthday party. Proof that the St. James is a slam dunk.
Keep scrolling to view more images from the project >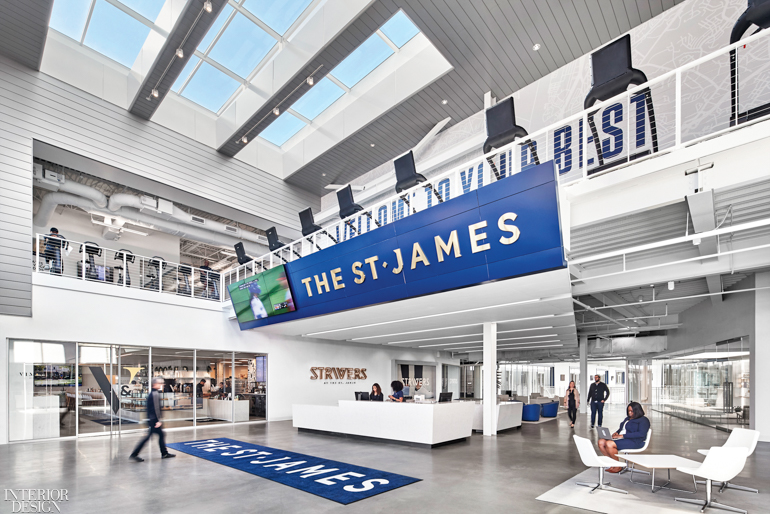 Project Team: Fred Ortiz; Mike Drye; Jeff Vandersall; Serge Plishevsky; Herb Blain; Gary Inglis; Jason Huber; Nathan Ferrance; Indy Lamba; Jonathan Cantwell; G. Jason Hendricks: Hks. Gensler: Custom Graphics. Thornton Tomasetti: Structural Engineer. Smith, Seckman, Reid: Mep. Bohler Engineer­Ing: Civil Engineer. L.F. Jennings: General Contractor.
Product Sources: From top: Alcoa Architectural Products: Metal Panels (Facade). CPI Daylighting: Poly­Car­Bonate Panels. Aquatic Design & Engineering: Pool Design (Pool). Myrtha Pools: Pool. Ductsox: Ducts. Connor Sports: Floor (Basketball Court). Atas International: Custom Canopy (Entry). Masland Carpets: Rug (Lobby). Encore Seating: Chairs, Table (Lobby), Tables (Lounge, Hall), Chairs (Hall). Super Sky Products Enterprises: Skylights (Lobby). DuPont: Desk Solid-Surfacing (Lobby), Countertop Solid-Surfacing (Massage Room). Hussey Seating Company: Seating (Squash Area). Entre-Prises: Climbing Wall (Lounge). Steelcase: Sofa. Feelux: Mirror Lighting (Massage Room). Cobalt Surfaces: Floor (Massage Room, Spa). Formica: Cabinetry (Massage Room). Kohler Co.: Pulls, Sink. Delta: Sink Fittings. Oakworks: Bed. Knolltextiles: Wall Covering (Massage Room, Spa). Design Within Reach: Chair (Massage Room), Low Tables (Café). Mannington Commerical: Floor Tile (Hall). Astroturf: Turf (Indoor Field). Eggers Industries: Desk Material (Spa). Herman Miller: Tables (Spa, Café). Allermuir: Gray Chairs (Café). OFS: Yellow Chairs. Stylex: Sectional. CB2: Planters. Hay: Barstools. Muuto: Side Chairs. Throughout Universal Concrete: Exterior Concrete. YKK AP America: Curtain Wall. Duckpin Design: Custom Signage. Reggiani Illumi­Nazione: Recessed Ceiling Fixtures. Ecosense Lighting: Cove Lighting. Armstrong: Acoustical Ceiling Treatments. Benjamin Moore & Co.; Sherwin-Williams Company: Paint.