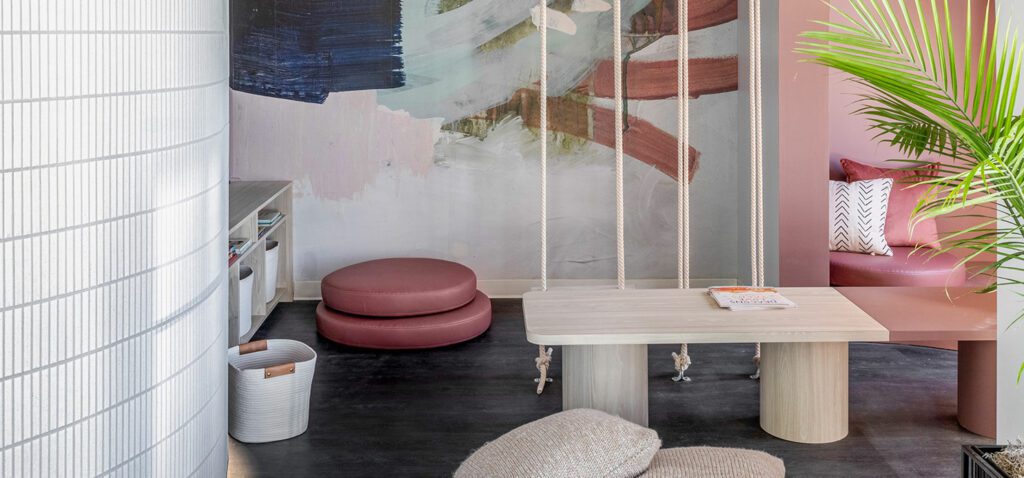 PROjECT Injects Elements of Play into BEAM Pediatric Dental Studio in Tennessee
The typical dentist's office doesn't include swings. Or for that matter, logos based on Morse Code, furnishings of marble and chenille ready to glam up a boutique hotel's bar, or a signature scent—in this case, a blend of black tea, bergamot, and cedarwood. But little of Dr. Neha Shah's BEAM Pediatric Dental Studio office in Chattanooga, Tennessee is typical. Including how she selected an interior design firm—in this case, sliding into Chicago-based PROjECT's DMs after becoming their fan on Instagram.
PROjECT founder Aimee Wertepny and her design team, Jennifer Kranitz and Stacey Kallenbach, worked closely with Dr. Shah to conceive a 2,500-square-foot space that forgoes the typical sensory overload of pediatric health care spaces. "No primary colors," says Wertepny. "Dr. Shah didn't want the office to look like Sesame Street." Instead, they opted for a palette of rose and pine, with white oak shelving and Carrara.
"And sound was a huge concern," says Kallenbach, "because we wanted the front to feel serene and lounge-y, more like a home than an appointment office." That meant siting patient rooms in back, in a careful sequence pairing private exam rooms, semi-private treatment areas, a larger treatment space, an X-ray alcove, and a sterilizing room, while still offering what she calls "corner moments" for caregivers and parents to play and reassure the kids. That kind of care also inspired the swing: "They are proven to calm anxiety," says Wertepny, "that's why we incorporated them into the kids' hangout area: to calm their nerves."