Publicis by Clive Wilkinson Architects: 2016 Best of Year Winner for XXL Office
Executives hoping to grab the fabled corner office need not apply at the North American headquarters of this global advertising agency. Combining three existing levels with five new ones, the 190,000 square feet accommodate 1,200 employees not one of whom can close a proprietary door. "We're a communications agency, and we needed to break down the walls that prevent communicating," CEO Andrew Bruce explains. He therefore turned to Interior Design Hall of Fame member Clive Wilkinson, whose portfolio already boasted offices designed according to Activity Based Working, developed by the workplace consultant Veldhoen + Company. A major part of the appeal of this arrangement, letting staff choose where to work, is efficiency: With a third of employees typically off-site, it's possible to have 1.2 people for every seat.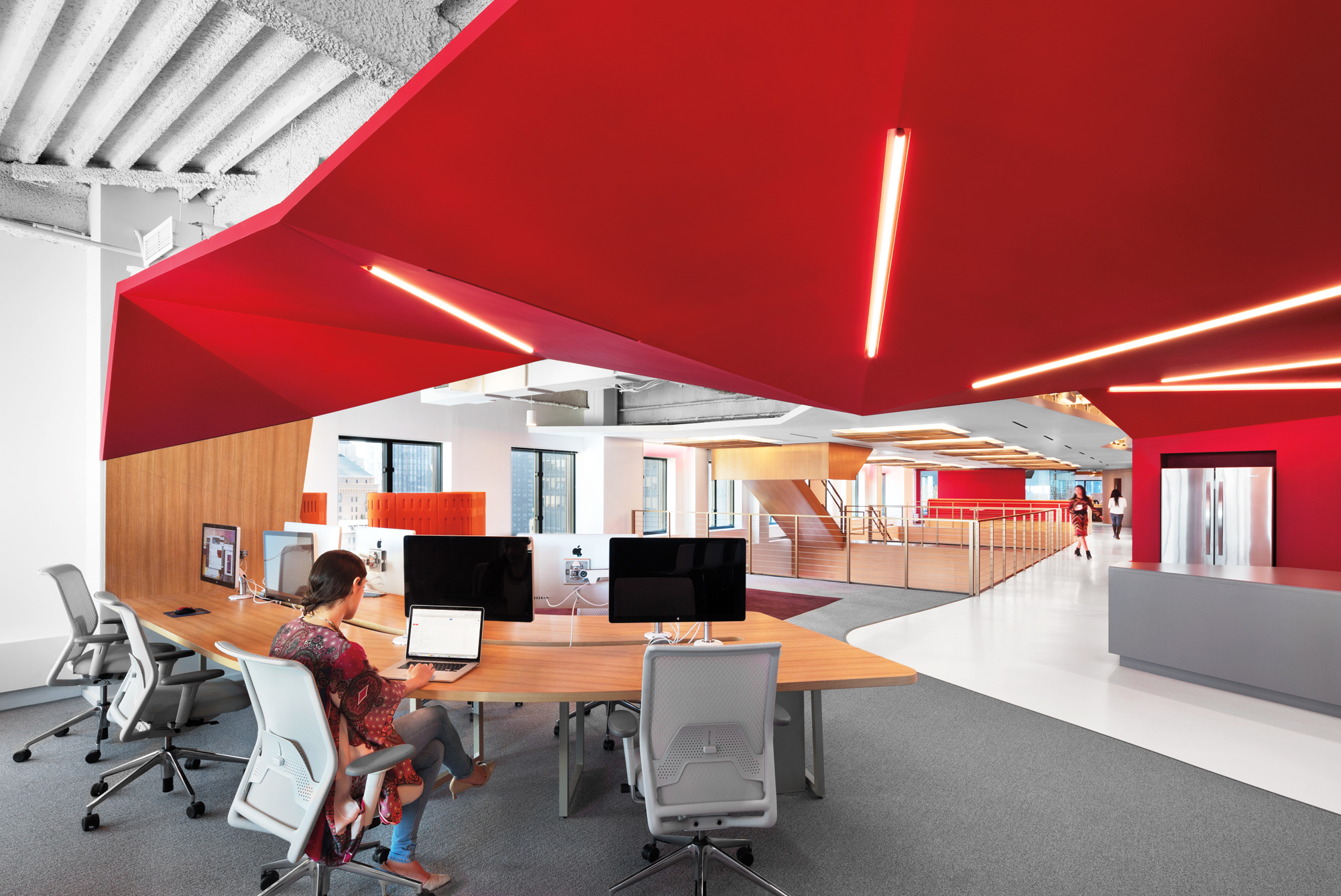 Once Wilkinson had buy-in, he confronted a standard building configuration, with an elevator and mechanicals core. Treating it like "the trunk of a tree rising through," he explains, he masked the box-iness by nesting asymmetrically angled volumes around the sides. Irregularly shaped communal desktops, built-ins often sheltered by canopies, dominate the office-scape. And a grand stair angles across the broad atrium to connect three middle levels. Thus the communication emphasis—the ability to see, be seen, and reach out—flows back and forth, up and down.
Project Team: Chester Nielsen; Caroline Morris; Miya Hongo; Humberto Arreola; Jesse Madrid; Ying Song; Benjamin Howell; Caroline Duncan; Reiko Wei; Evan Bliss.