Puro Lodz Hotel by ASW Architekci and Superfutures Honors a Polish City's Rich Artistic Heritage
Puro Lodz in Poland was far from an easy commission for Superfutures founder Andy Martin and ASW Architekci partners Michal Ankiersztajn, Dariusz Stankiewicz, and Jaroslaw Wronski. It had taken Martin several years to persuade the owner of Puro Hotels to let him craft the 75,000-square-foot interior of the brand's sixth property. "We had to convince him that we could offer something different," Martin begins.
Once they finally got the gig, the team found itself struggling with all sorts of spatial challenges in what Martin calls an "awkward site." Puro Lodz had a few differences of its own to offer. It stands between the neo-baroque Poznanski Palace from 1903 and a renovated late 19th-century red-brick factory now a mixed-use complex. But the hotel is also a ground-up, five-story construction, so it's both metaphorically and spatially lodged between the city's industrial past and its future as a hip urban playground.
That meant the building took the alinear form of a long, narrow rectangle, which, Martin says, "became one of the project's unique qualities." But, "It was extremely challenging from a design perspective. The common areas could be rearranged, but we were basically stuck with the footprint." It wasn't what he'd expected, but Superfutures made it work.
Martin has been running a London firm called AMA for two decades. He launched Superfutures when companies began submitting requests for pro­posals that required him to oversee the art direction of projects, and, as he puts it, "employing the necessary creatives."
> Browse through more hospitality projects featured in Interior Design
And Puro Lodz is loaded with the work of creatives. Superfutures utilized the local artistic resources to design the hotel. Poland's third largest city, it boasts several excellent art museums, the Herbst Palace Museum and Muzeum Sztuki among them, plus the renowned National Film School in Lodz, and the in­teriors reflect that heritage. The firm worked with Puro Hotels art advisor, Zuzanna Zakaryan, who consults on all properties, to help select the modern art. She sought out the best students and graduates from the photography department of the film school as well as area craftspeople and illustrators. "Our collection is based on a young generation of emerging artists that not only fit with the spirit of the interiors and the city but are also a good investment," she says.
The seven suites feature original wall hangings by hometown weaving studio Tartaruga. Some of the 130 guest rooms feature original illustrations inspired by Lodz's famous interwar pioneers of avant-garde art, Katarzyna Kobro and Wladyslaw Strzeminski. The lobby staircase descends alongside a cinematic mural from local illustrators Ilcat and Maciej Polak. And contemporary painting and photography, as well as vintage film posters, populate the remainder of the project.
That includes its crowning glory, Cinema Paradiso, an in-house movie theater that pays homage to Lodz's filmmaking culture. "We pushed to get a cinema into the scheme somewhere," Martin says. "We tried the underground garage, an external one in the forecourt, but we finally decided it would get more use inside the hotel." The second-floor space can also function as a meeting room, with the adjoining bar area great for break-out sessions. (There's an official conference room on the same floor.) "Hotel guests often sit in their rooms to watch TV," the architect continues, "so the cinema is an attempt at providing social activity."
Martin, who worked on the furniture selection closely with the owner, settled on a European-centric "dusting of new creative designs," he says, to combine with his custom pieces throughout, including the chromatic 1960s-inspired carpet in the cinema and conference room. Other pieces are what he calls "visual classics" with an eye toward comfort, such as the Verner Panton bar chairs and stools upholstered in plush turquoise or blush velvet. That palette extends to some walls, coated in saturated salmon, indigo, or teal paint. Guest rooms, however, are more restrained, with furnishings by the likes of Hans Wegner and millwork in pale tones; white ceramic tile lines guest bathrooms. And reception, with its desk that morphs into a stair, is outfitted almost entirely in gray concrete.
> Check out our projects page for more design inspiration
While the hotel may honor classic elements of Polish life, it also features two restaurant concepts of today: a healthy snack bar serving smoothies and wholesome breakfasts at a long communal table and an organic bistro with a Thai vibe. There's also a state-of-the-art spa with a view of Poznanski Palace that Martin says shouldn't be missed. In all, it's an interior born from substantial artistic tension and original ideas. The project's wealth of creative talent, Martin says, "adds another layer and complexity to the experience. It put us off balance a bit—and the guests benefit."
Keep scrolling to view more images of the project >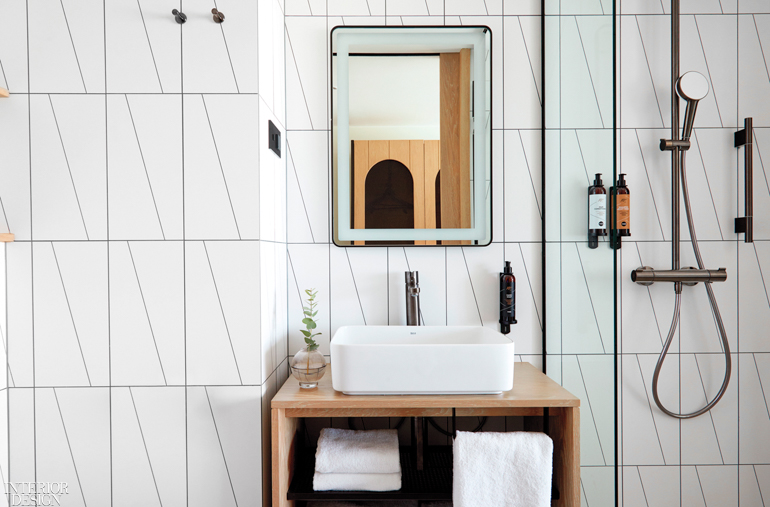 Project Team:
Martyna Antczak-Galant; Michal Karykowski; Hanna Sawicka; Maria Swarowska: ASW Architekci. Nadia Sousa; Ben Webb; Mitch James; Kathrine H. Børresen; Adrian Jönsson: Superfutures. Atrium: Lighting Consultant. Bud-Ekspert: Structural Engineer. Elsa Projekt: Electrical Engineer. Wiso: Plumbing Engineer. Hotel Inwest Ireneusz Dudek: General Contractor.
Product Sources:
From Top: Verplan: Chairs, Stools (Cinema Bar). Wenart: Custom Table (Conference Room), Side Table (Suite). Vibia: Pendant Fixtures (Reception). Arrmet: Stools (Bar), Chairs, Stools (Bistro). Caloi: Custom Chairs (Cinema). Gubi: Lamps (Suite). Carl Hansen & Søn: Chairs (Suite). Chelsom: Custom Sconce (Guest Room). Hansgrohe: Shower Fittings (Bathroom). Kvadrat: Cur­tain Material (Suite). Muuto: Cocktail Table. Moroso: Sofa. Throughout: Ege Carpets: Custom Carpet. Kasthall: Custom Rugs. ITNYS: Flooring.