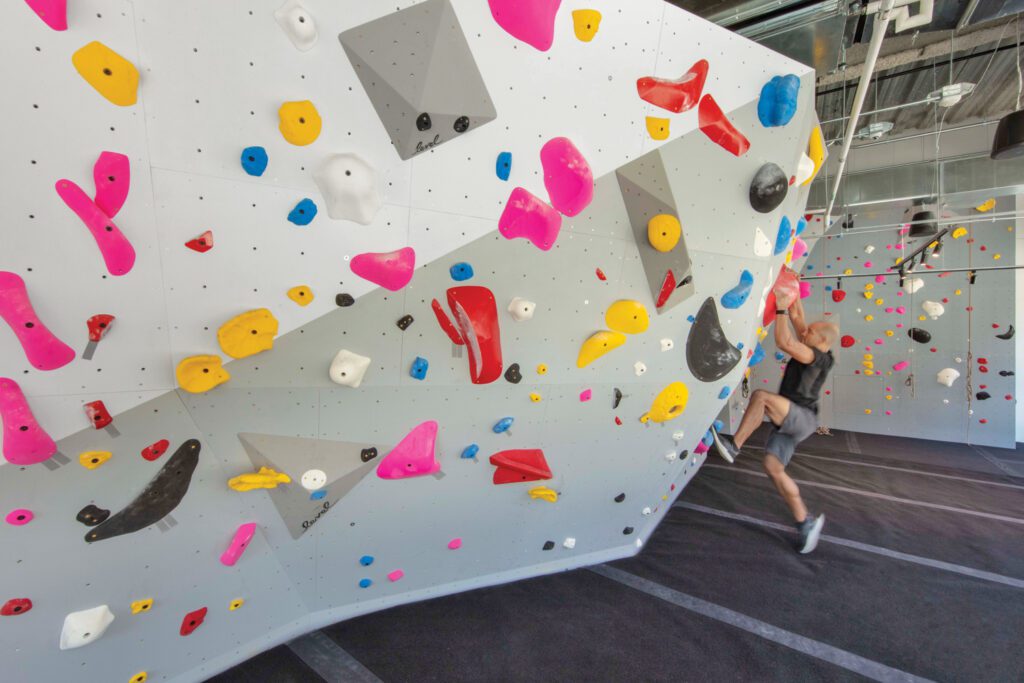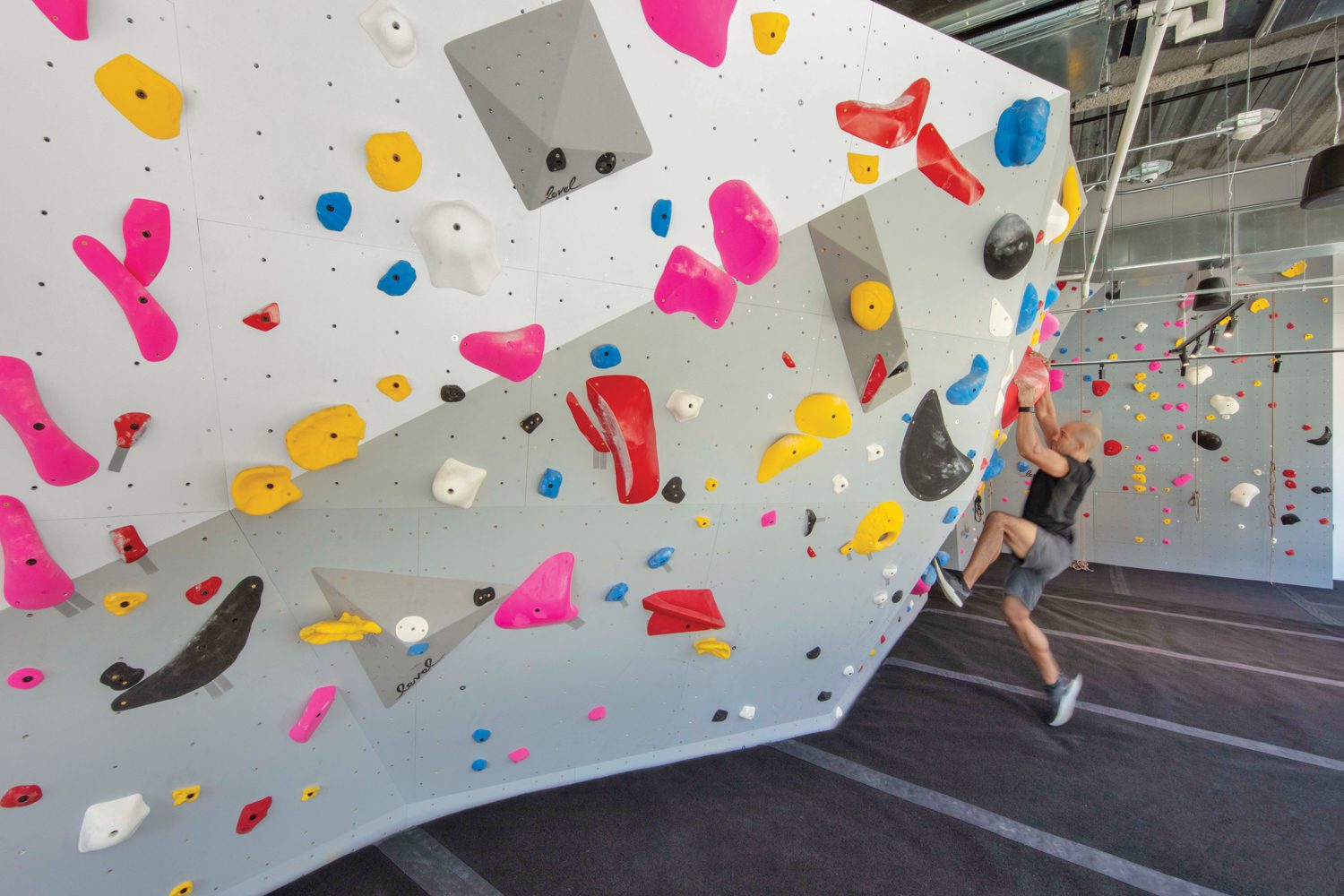 Rapt Studio Employs an Outdoorsy-tech Aesthetic for VF Corporation's Headquarters in Denver
VF Corporation has come a long way since its founding as a maker of gloves and lingerie. Once named Vanity Fair, the 120-year-old company has ditched the intimates line, built a portfolio of 13 outdoor and apparel brands, and made it a mission to promote active, sustainable lifestyles. Most recently, VF re­located executive headquarters from Greensboro, North Carolina, to Denver, where it shares a 10-story downtown high-rise with five of its previously dispersed brands: The North Face, JanSport, Altra, Icebreaker, and Smartwool. For this major strategic move, VF called on a trusted partner, Rapt Studio, to conceive a vertical campus that fosters intramural collaboration.
Rapt has worked with VF since 2000, creating offices first for The North Face in San Leandro, California, and then for several other labels. That history was important for the Denver project because it required "empathy for each of the brands," says Rapt CEO and chief creative officer David Galullo, who led the project with design director Mike Dubitsky. Sharing a roof with the parent company "was like a teenager being asked to move back home. We could stand strong and say, This is how the brand needs to identify itself." Rapt's challenge was to design a workplace that reflected the ethos of VF as well as the character of its subsidiaries, which make everything from ergonomic footwear (Altra) and merino socks (Smartwool) to backpacks (JanSport) and outdoor gear (The North Face).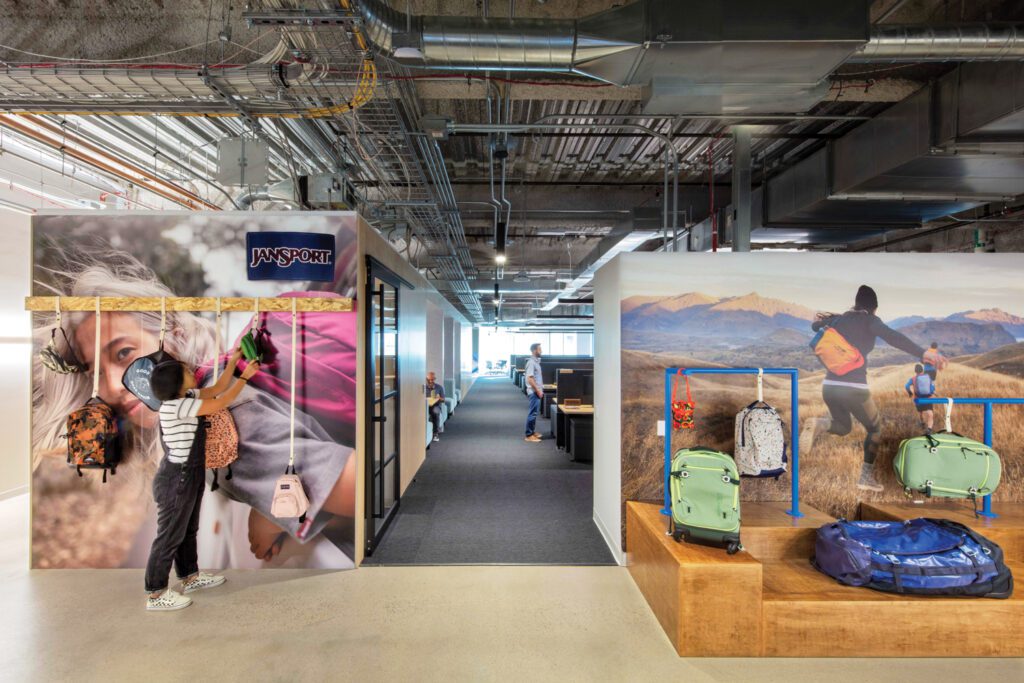 Taking on the project in 2018, Rapt began with spatial organization, making stacking diagrams and considering how employees would move through the 285,000-square-foot building. The team researched the work habits of different departments and what they needed to be productive, like material libraries for product designers. "Our discovery dives deep into the personality of groups and how they fit into the purpose of an organization," Galullo explains. "We focus on how a company supports its workforce." He believes that strategy made Rapt's concept for VF resilient when the pandemic hit during the construction phase. So far, layouts are unchanged; desks were always well-spaced. Though most of the 1,200 employees at VF Denver are still remote, the 300 or so who have trickled in this summer have ample room for social distancing.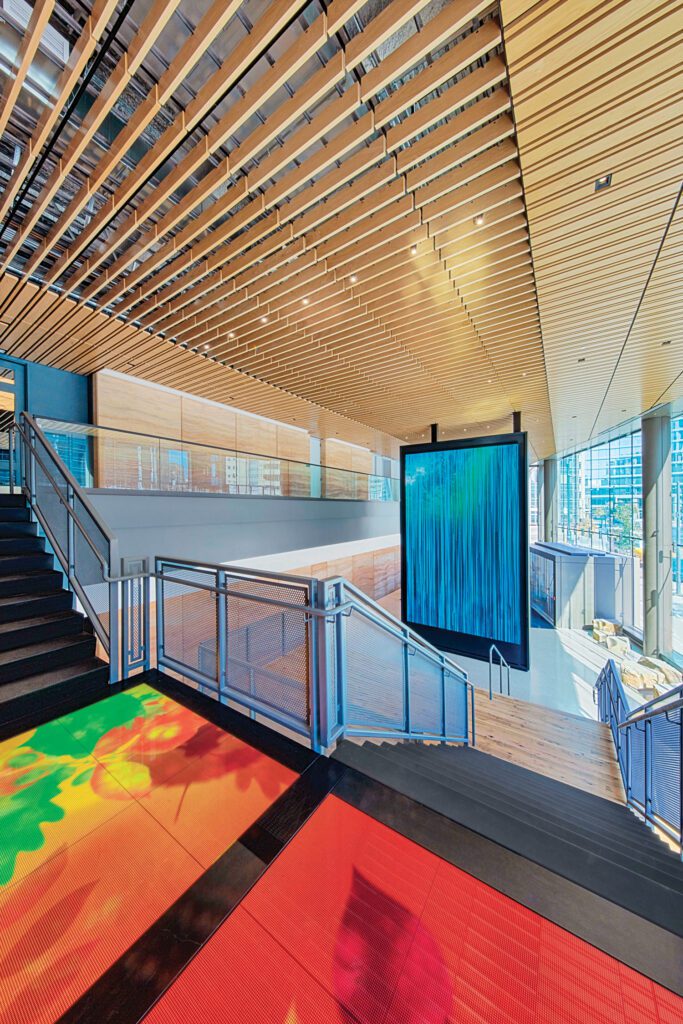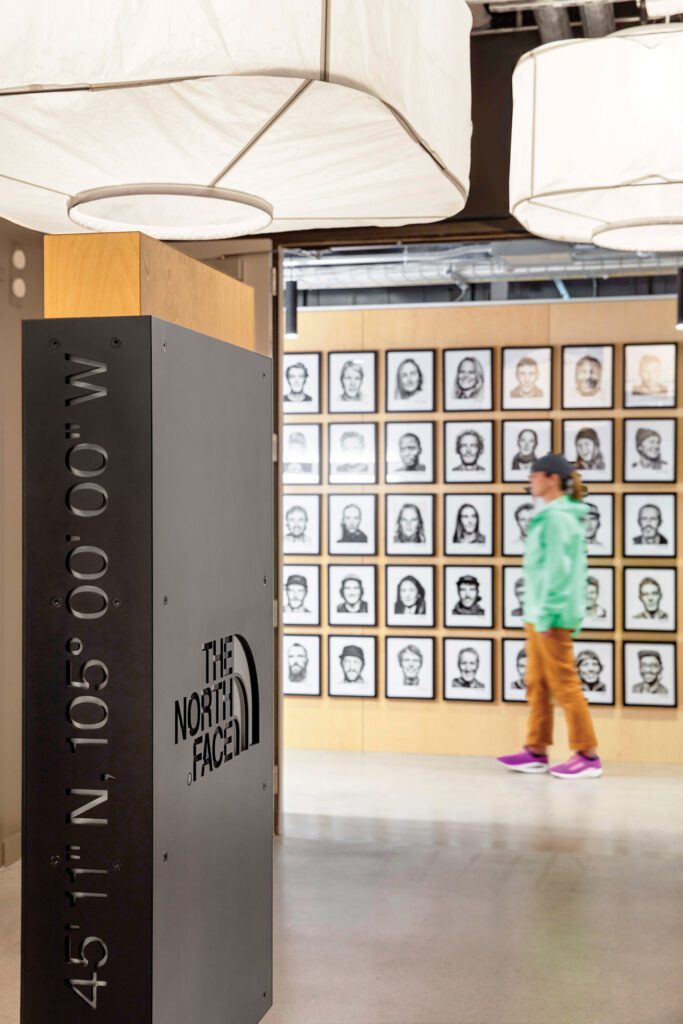 Each brand has its own office, lounge, and tinker zone. On floors four to seven, The North Face has the largest footprint, with a communicating stair and maker spaces at each landing; Smartwool occupies the eighth floor and the other companies share the third. "We worked with each group to develop ways to express their brand that go farther than this month's advertisement," Dubitsky remarks. On the Smartwool floor, for example, a local crafts collaborative installed woven yarn pieces on colorful vinyl-covered walls, while The North Face's corridors are lined with framed drawings of its sponsored athletes (climber Ashima Shiraishi, runner Coree Woltering).
All employees share the double-height lobby and fitness center on the ground floor, a coffee bar on level two, a pair of lounges, and a café with terrace on the fourth. "Our big push was to develop spaces where people from different brands would come together and share best practices," Galullo says. For the common areas, he and Dubitsky used earthy materials and interactive graphics to channel the company-wide focus on technology and the outdoors. Entering the lobby, staff and visitors encounter a 12-by-20-foot screen displaying nature photography or abstract imagery, boulders serving as benches, and a rammed-earth wall that looks like sedimentary rock. Whether you work for Altra or JanSport, "You feel you belong there," Galullo observes. "The lobby isn't heavily identified with one brand, but it's in sync with all of them."
Beyond is the fitness center, designed with input from professional rock climber Conrad Anker. It not only has a 26-foot-high climbing wall but also an alpine training center where employees can exercise with oxygen depletion. "A lot of people who work there are avid climbers, so we made sure there wasn't just some dopey corporate gym," Galullo continues. Prospective employees get a close-up view of this company culture: The second-floor interview rooms face the climbing wall. "You could be interviewing for a job while someone is climbing 15 feet away," Dubitsky notes. "It presents a notion of purpose around the company, that it's a lifestyle."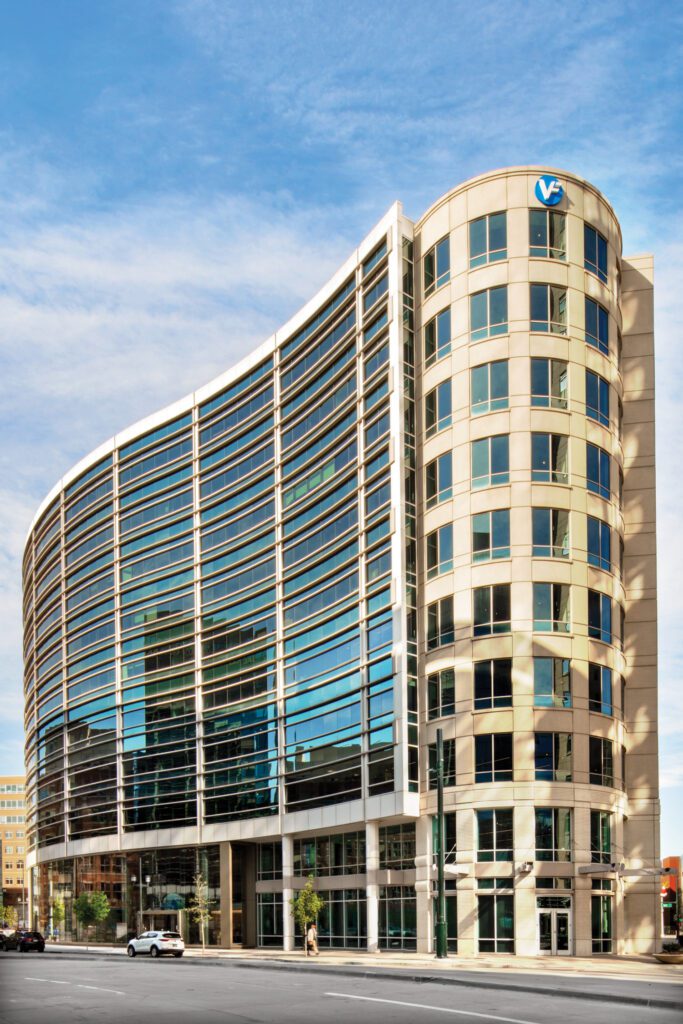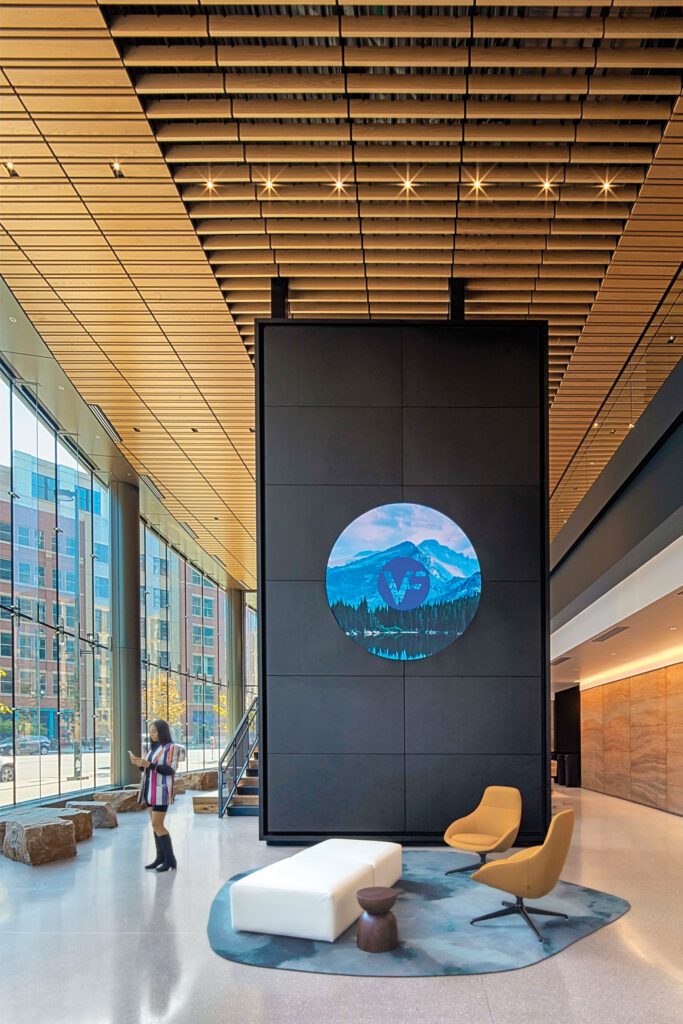 The mountaineering theme continues throughout the building. In the elevator, video panels depict scenes from different altitudinal zones as it ascends, from grasslands below to snow at the top. Finishes and materials in the lounges subtly correspond in green, brown, or gray tones; in the ninth-floor leadership office, white-ash flooring and white-oak benches evoke the frosty nival zone. GPS coordinates on painted-steel wayfinding pillars similarly make trekkers feel at home.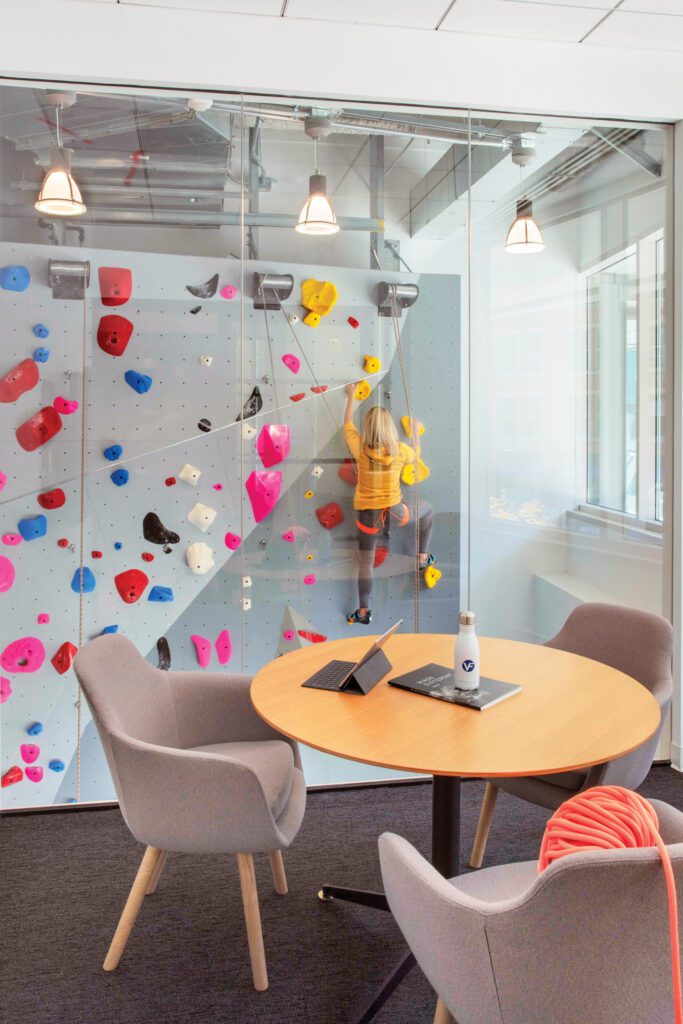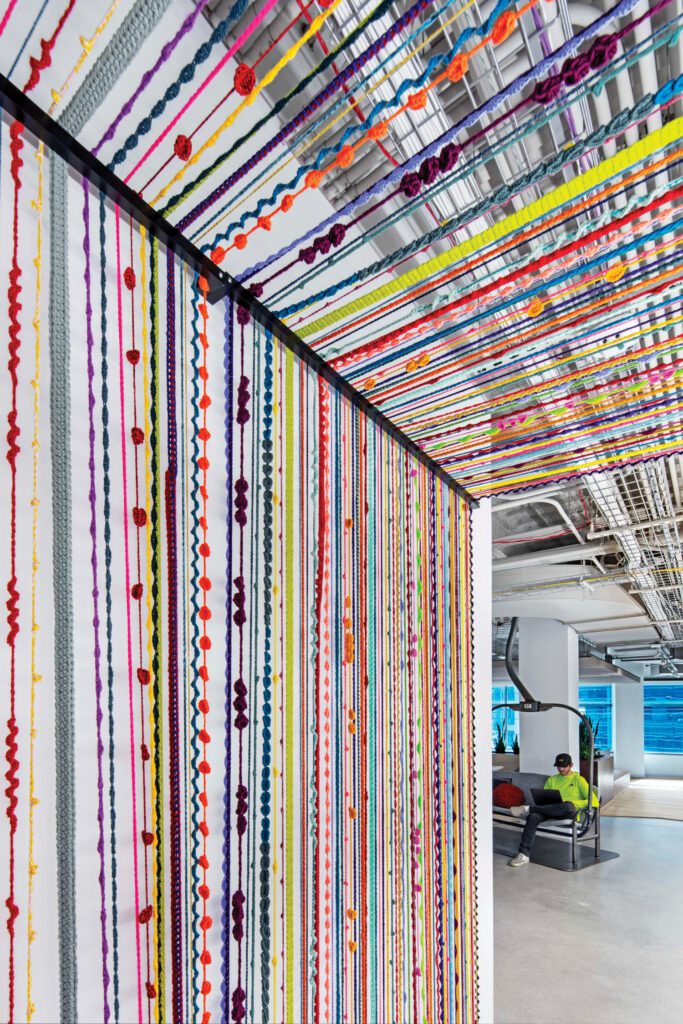 Most VF employees will work from home at least until October, and the company expects a mix of in-person and remote going forward. But the office will be vital to its future. As VF chairman, president, and CEO Steve Rendle states, "People are wired to connect with each other, with nature, and with a sense of purpose, and Rapt designed this space to capture that spirit." After all, there are certain things you can't do over Zoom—rock climb with colleagues among them.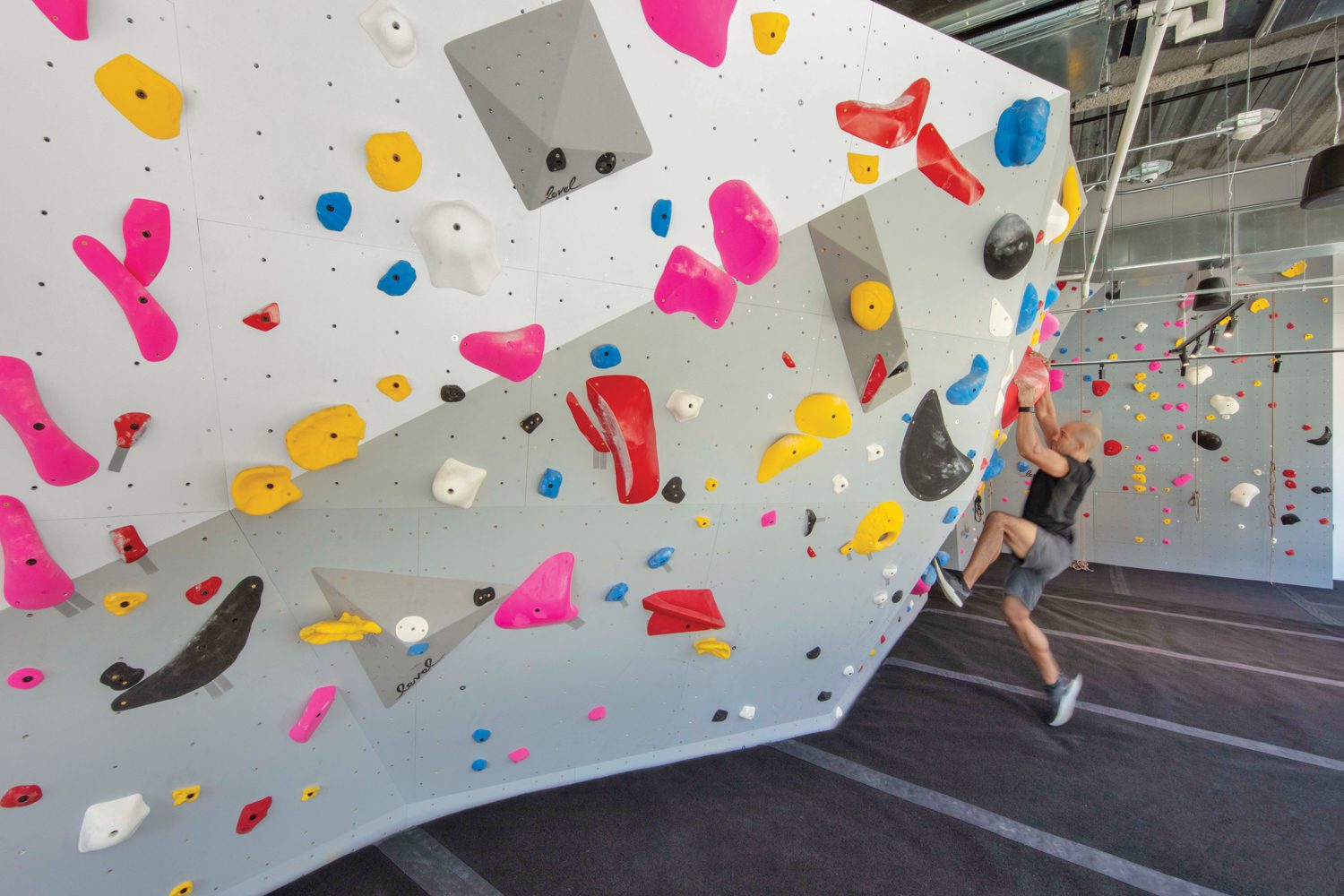 Project team
project sources from front
project sources throughout