Rapt Studio Transforms Mid-Century Marina Del Rey Complex into an Airy Tech Hub
Leveling the single-story smattering of 1950s garages and factories was one option. Renovating, repurposing, and enlarging them was another. The former would provide a blank slate, the latter more of a challenge—but more character. Rapt Studio CEO and chief creative officer David Galullo, prolific designer of workplaces for such companies as Google, Twitter, and PayPal, opted to retain all but one of the six brick and concrete-block structures for the Marina Del Rey, California, campus now called MDR Truss. Today, it's home to Zefr digital advertising, the Bouqs Co., an online farm-to-table flower delivery service, and real estate developer the Bradmore Group, the client that hired Rapt for the 130,000-square-foot project. So enamored with the result, president and CEO David Bohn decided to move the company into one of the buildings.
"David was looking to take advantage of what was here before," begins Galullo, just off the plane from Milan, where Rapt showcased its debut Salone del Mobile installation Tell Me More. "He and his team understood that these little industrial buildings could actually add up to something pretty." Rapt was tasked with creating the master plan for MDR Truss: Initial meetings with the client illustrated how the 3-acre site would be used, where cars could park, and how Rapt would work with the landscape architect to plant low-water and native species and create pedestrian pathways, among other essential changes. Bradmore was so impressed with the concept that the initial budget was increased. Ultimately, Rapt added a second floor to one building, de­cks to two of them, cleaned and re-painted all exterior masonry, and relocated entryways and exits and inserted roll-up glass garage doors for more light and better flow in nearly all the buildings. Additional outdoor spaces such as fire pits and a lawn for employee pets even "feel a bit resort," Galullo notes.
Watch now: "Tell Me More," Rapt Studio's Installation at Salone del Mobile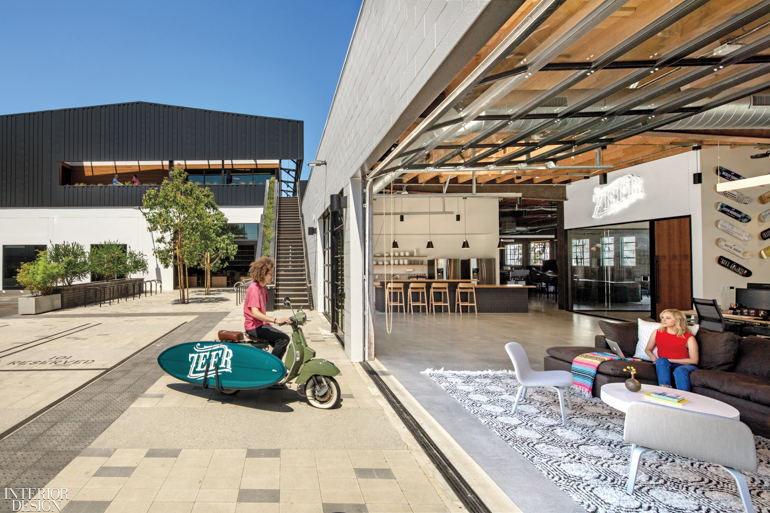 Rapt was then hired again by Bradmore for its interiors and by Zefr for its offices, which occupy 40,000 square feet across four buildings. "We were morphing the exterior design based on what the interiors needed," Galullo explains. Because all six buildings were leased prior to the completion of construction, the firm was able to deeply customize the design.
Creating an upgraded space for Zefr meant pushing a company with a start-up mentality—it was founded in 2008 and focuses on YouTube content targeting—into a more sophisticated space. "The idea was like Hey, we still want to be scrappy, but let's have moments where we remind people that we're heading in the right direction," Galullo says. "For us, a brand is about the organization's attitude, personality, and culture." The result is a mixture of refined custom sectionals and walnut tables with furnishings from the hipper end of mass retailers and unpretentious, locally focused artwork. "It doesn't feel like a dorm room, more like your second apartment," Galullo adds, glancing down from the deck off one of the building's newly added second floor at the rack of staffers' sandy surfboards and the Zefr-branded skateboard ramp.
In Zefr's main building, Rapt took advantage of the 16-foot ceiling with site-specific installations. One is at the entry: a cascade of white ribbons designed by art fabrication company Settlers LA that's akin to an enor­mous ocean whitecap but that Galullo de­scribes as "kind of flowy." Neptune Glassworks, another area artisan, pitched its canopy of handblown glass orbs to Rapt and it ended up above the café, where occa­sional blue walls further nod to sea and sky.
Galullo calls Rapt "transdiscipli­nary, which is like equal measure on every discipline coming together to form something new." In the case of Zefr, that meant curating an art and furniture offering "that's an interesting and eclectic blend," he says. "The last thing we want is for the office to feel like it was decorated to be perfect. People spend a lot of time here, so we focused on the spaces where people are going to hang." So, for Zefr's myriad lounge, meeting, and break-out areas, there's always a duo of lounge chairs, plus a sofa, coffee table, and rug—a homey configuration that differentiates them from the rows of workstations.
The approach also meant eschewing corner offices (although there are private phone rooms in the core of each building as well as traditional conference rooms). One corner did surprise Galullo, however. It's that outdoor deck space he created off a building's new second floor. "I was worried it might feel like a cage because we wrapped it into the structure," he recalls. "But it turned out to be an unexpected nugget."
"When we set out on this project, we had to tell the story of both Zefr and the site's history," Galullo concludes. "It couldn't just be about maximizing the number of parking spaces, although we did wrestle with that for quite some time." In a locale where car culture still rules, that's saying something.
Keep scrolling to view more images of the project >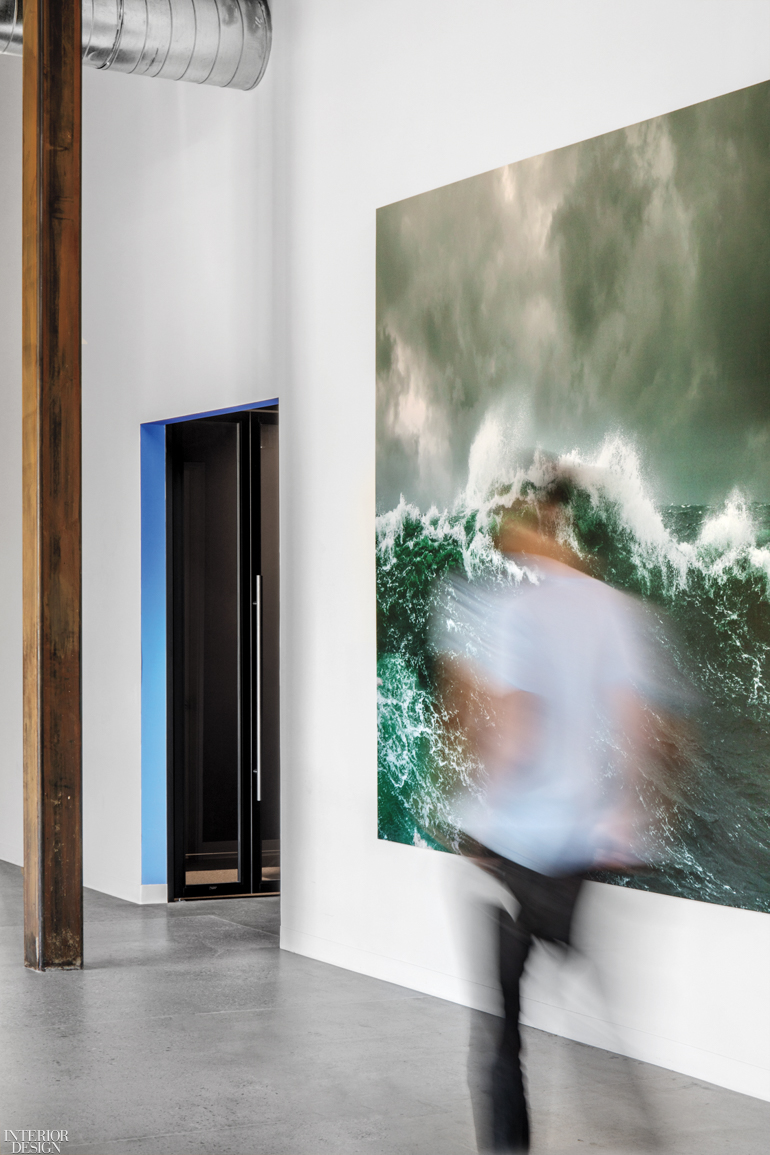 Project Team: Sam Farhang (Creative Director); Kristen Woods; Derrick Prodigalidad; Krisada Surichamorn; Glenn Yoo; John Stempniak; Gigi Allen; Andrew Ashey; Scott Johnson; Michael Maciocia; Sasha Agapov; Alex Adamson; Semone Kessler; Rosela Barraza; Daniela Covarrubias; Justin Chen: Rapt Studio. EPT Design: Landscape Architect. Structural Focus: Structural Engineer. KPFF: Civil Engineer. E Engineers: Electrical Engineer. Tarantino Construction: General Contractor.
Product Sources: From top: Muuto: Chairs (Lounge). CB2: Table. Louis Poulsen: Pendant Fixtures. Grand Rapids Chair Co.: Stools. Restora­tion Hardware: Sofas (Lounge, Deck), Coffee Tables (Meeting Area, Deck, Break-Out Area). AM Cabinets: Custom Desk (Reception). Ladies & Gentlemen Studio: Pendant Fixture. Stoneland: Custom Panel. Framebridge: Custom Wall. Normann Copenhagen: Sofa (Meeting Area). Industry West: Chairs (Meet­ing Area), Café Chairs (Reception), Chairs (Café, Break-Out Area, Meeting Room). Herman Miller: Task Chair (Reception), Tables (Café Booths). Alexander & Willis: Custom Sofa (Reception), Custom Tables (Café). Source International: Chair (Meeting Room). Fab­ricut: Drapery. Flat Vernacular: Wallpaper (Café). Apparatus: Sconces. Softline: Lounge Chairs (Break-Out Area). Hay: Chairs (Conference Room). FabriSPAN: Ceiling Panels. OCL: Pendant Fixtures. Ege: Carpet. Pair: Table (Conference Room), Custom Workstations (Office Area). SitOn­It: Task Chairs (Office Area). Modulyss: Carpet. Roll & Hill: Pendant Fixtures (Café Booths). AM Cabinets: Custom Banquettes. Holly Hunt: Banquette Fabric. Sherwin-Williams Company: Paint. Throughout: West Elm: Rugs. Pfeifer Studio: Side Tables. Bp Glass Garage Doors: Cus­tom Garage Doors. Assa Abloy: Door Pulls. Lumenwerx: Linear Fixtures. Senso: Pendant Fix­tures. Wac Lighting: Track Lighting.